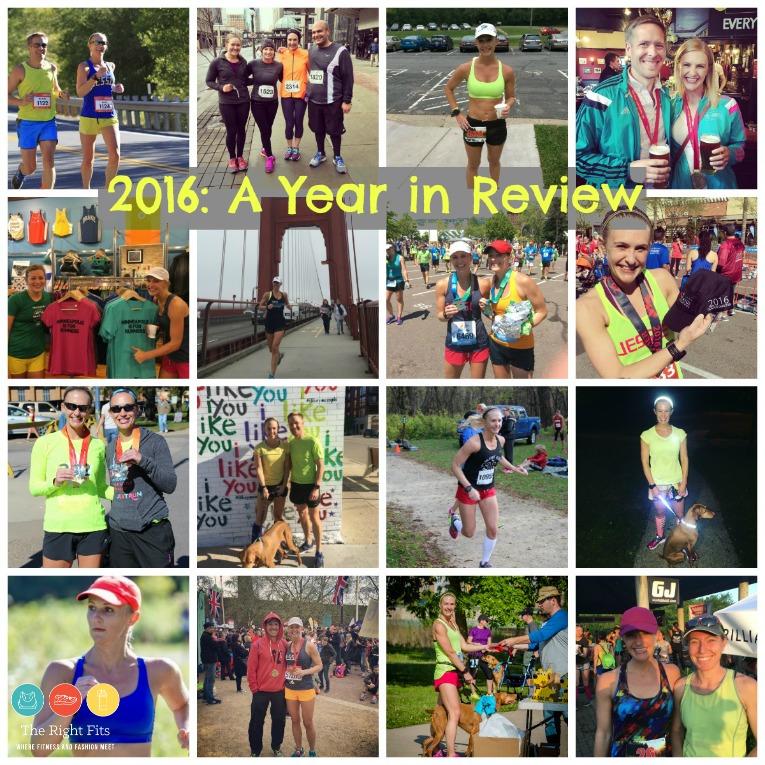 Can you believe that 2016 is coming to an end? It has been quite the year- some good things, some bad things (cough *the election* cough) but HEY! This is a running blog. Today I'm going to reflect on RUNNING in 2016. I'm linking up with Courtney at Eat, Pray, Run DC to share this Year in Review post.
Here goes…
I started 2016 deep in training for the Phoenix Marathon. I ran the Securian Winter Half Marathon as a tune-up race to test out marathon pace. Then on February 27, a mustached-Dustin paced me to my first Boston Qualifier, with a time of 3:39:26.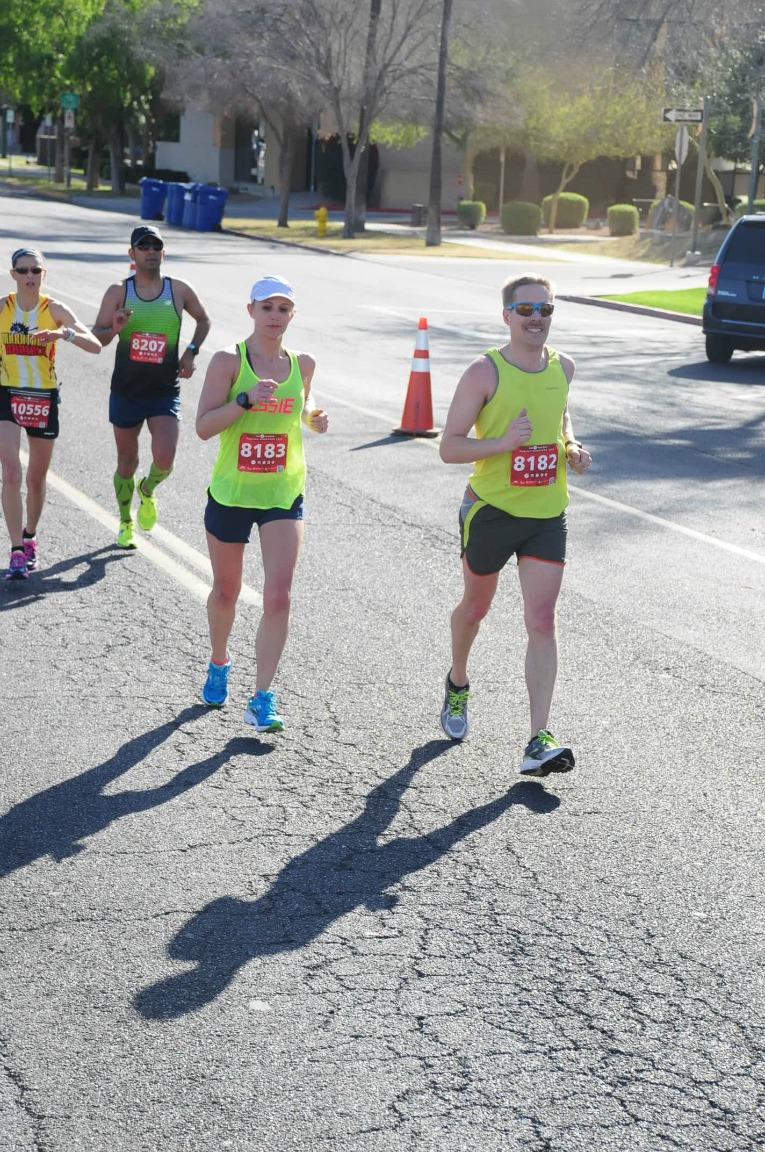 I was excited to have a BQ time, but I knew that wasn't going to be enough to get me into Boston.
So after Phoenix, it was on to the next marathon!
We had booked our trip to London for the Virgin Money London Marathon many months before. I didn't expect it to be a PR race, and it definitely wasn't; I was dealing with some shin splints in training which led to a lot of pool running for this marathon. I went into the race just hoping to enjoy the experience and maybe keep my time under 4 hours.
I had an AMAZING time at this race- one of my favorites so far- and I surprised myself with a 3:49, which felt incredible the whole time. This is what marathons SHOULD feel like, right? So much fun.
After London, FOMO (fear of missing out) and a positive experience at Grandma's the previous year led me to register for Grandma's again in attempt to get a "better" BQ in Duluth. But far-from-perfect conditions (Black Flag conditions actually!) let to a painful race. I ran the exact same time as London (3:49) but it was a lot less fun. I swore off Grandma's Marathon after that one…Uff-da.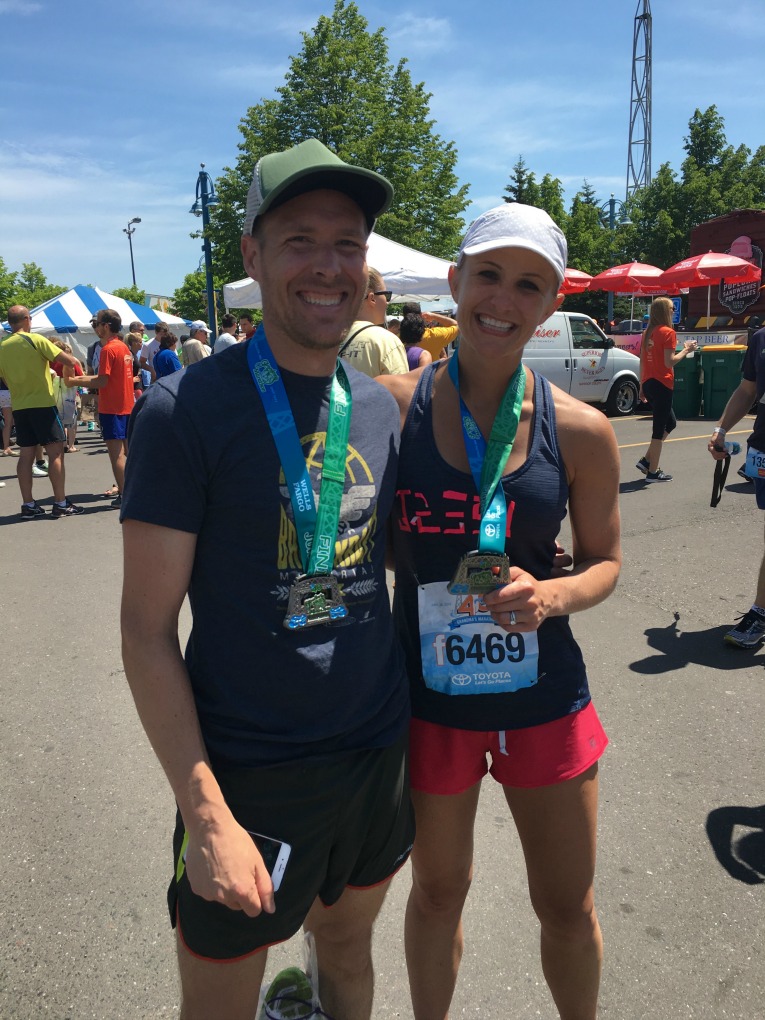 Yet I really wanted to register and run Boston in 2017 (since Dustin was already running it), so I found a "last-chance" marathon, the Big Cottonwood Marathon in Utah on September 10th. This beautiful downhill course was harder than I expected. Yes, downhills are great cardiovascular-wise, but so hard on the legs! I definitely went through a dark place around mile 21…there may or may not have been a scene between me and my patient pacer 🙂

But, alas, it was a successful last chance BQ as I ran a 3:35:37, which give me enough time under the 2:09 buffer necessary to register for Boston 2017.

But my marathon journey of 2016 wasn't quite over; I wanted to pay it forward, so I ran the Twin Cities Marathon with my sister Erin. She set a huge PR and had a wonderful time, and I had a wonderful time pacing her!

So…that's the high level summary of my running in 2016. Here are my answers to the questions on Courtney's link-up.
2016 Races:
Ah, so many races. I guess I just listed all of my marathons, but there were a handful of 5k's, a 1-mile race, some trail runs, a 15k, and more. I paced a friend at a half marathon, which was fun.
Another highlight was the Brian Kraft 5k where I finally broke 22 minutes!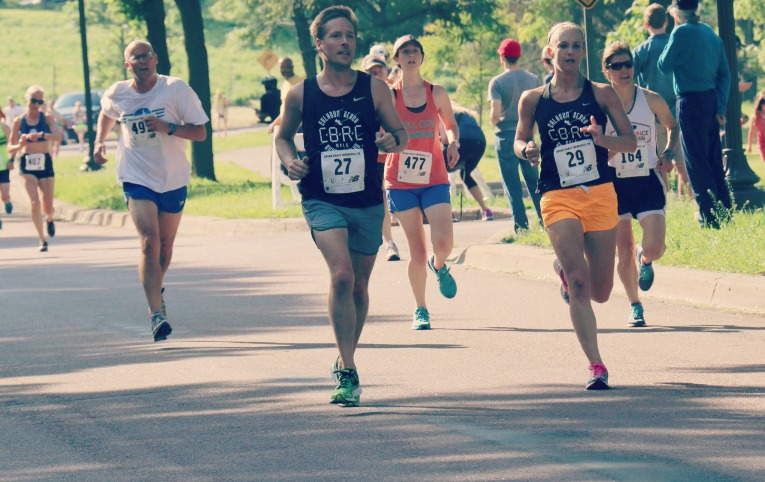 I also LOVED running the Fast and Furry 8k with Matilda. She got 2nd place!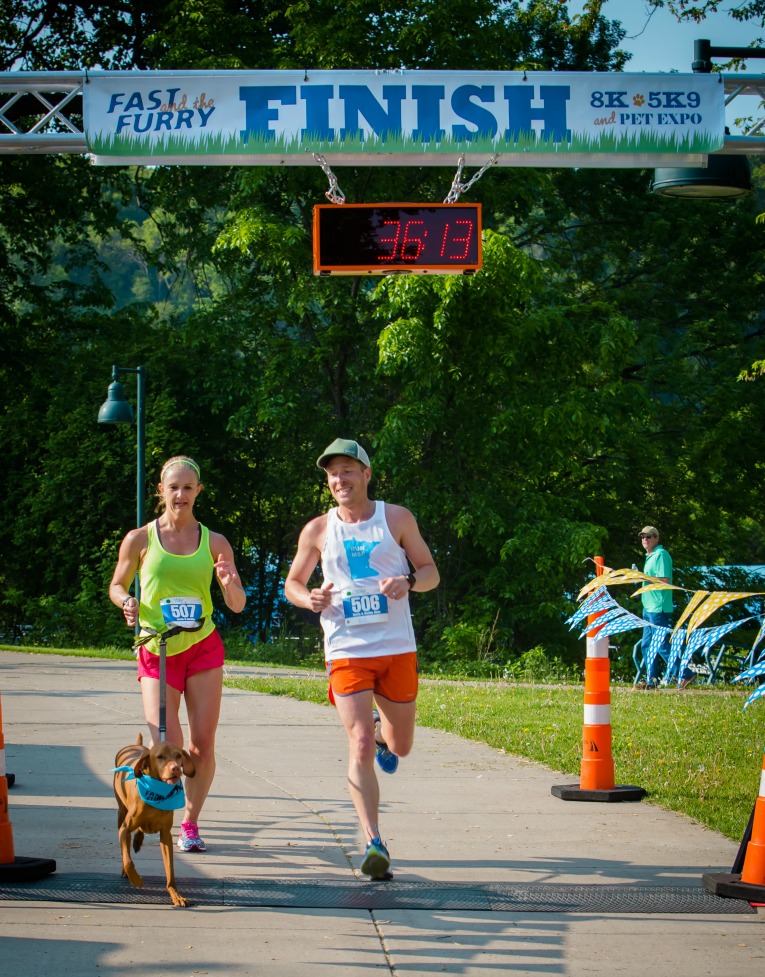 Best Running Experience:
So hard to pick just one, but I think I'd say the London Marathon. Incredible experience. I will never forget the thunderous cheers while crossing the Tower Bridge or the grand finish at Buckingham Palace.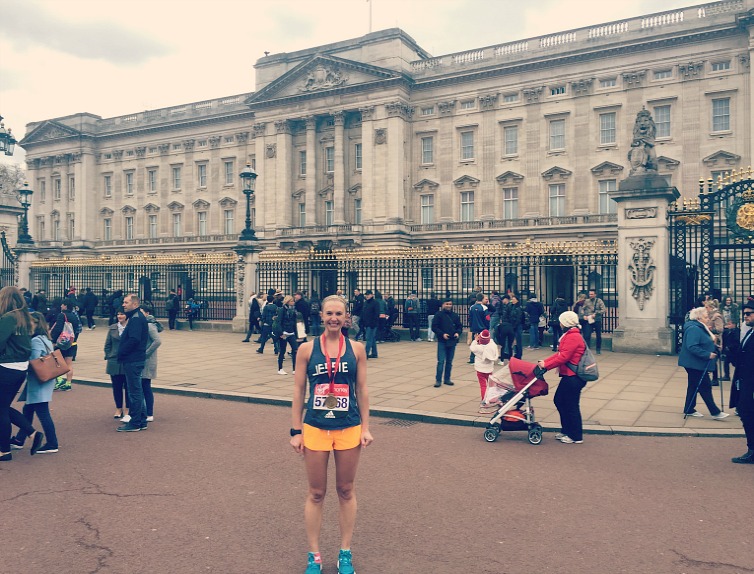 Best New Piece of Running Gear:
So much fitness fashion this year- I love all these shorts and stocked up on so many…But the biggest purchase and probably the one that will last the longest (lifetime warranty!) is our new treadmill.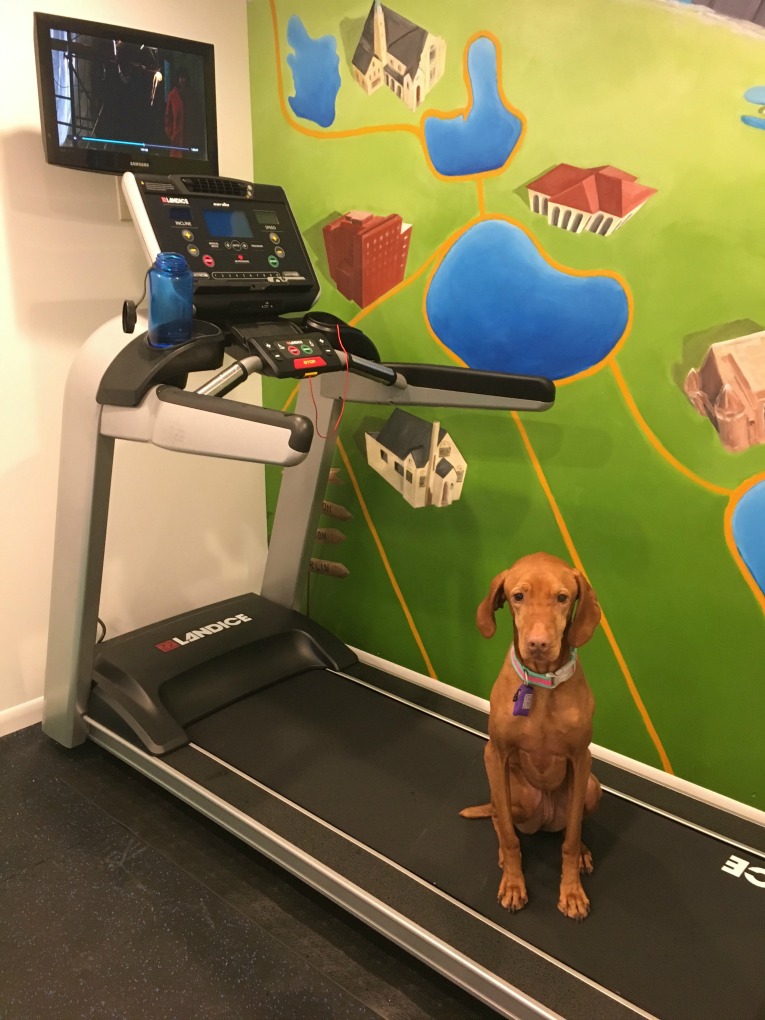 Best Running Advice You've Received This Year:
I had the opportunity to listen to Kathrine Switzer speak in May (read all about it here). She was very inspirational. One of my favorite things she said was that the secret to success is to show up. You'll never achieve your goals if you don't try. You have to put yourself out there.
And I can definitely say that this year I sure did try- again and again. 🙂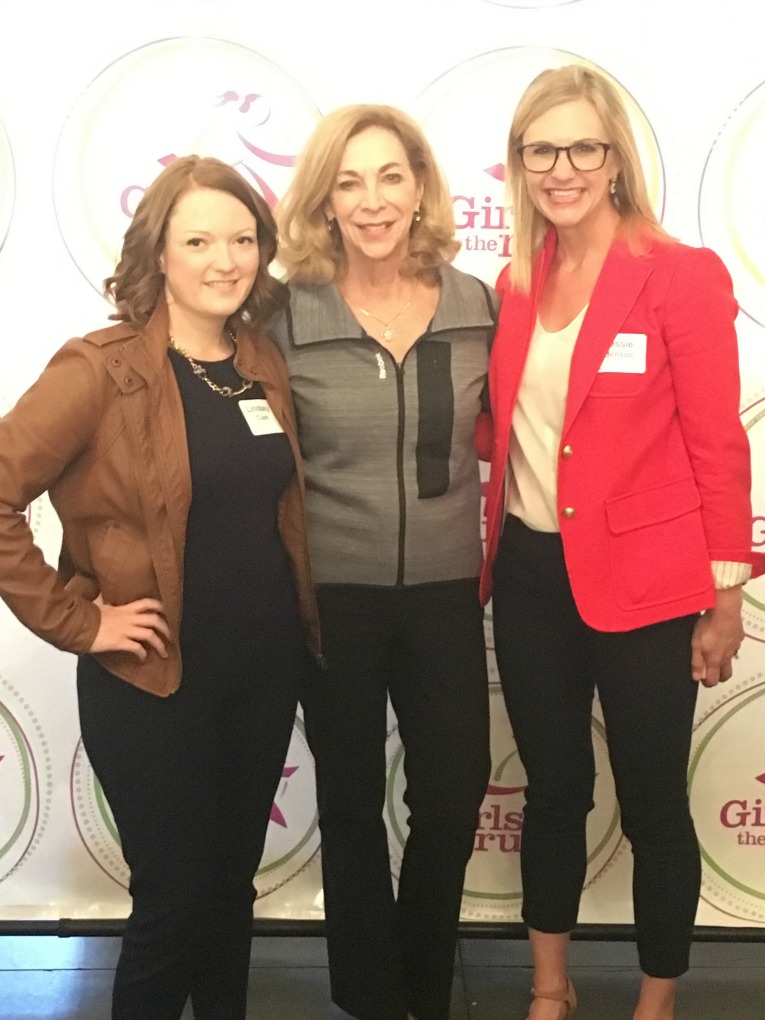 Most Inspirational Runner:
I am constantly inspired by my runner friends, family, professional athletes, and other bloggers. Meb Keflezighi seems like one of the most awesome runners ever. Kara Goucher? I know her. Kind of my idol.
One of my favorite bloggers is Erin from Sweet, Sweat, Life. I know her "IRL" and she's one of the most positive people you'll ever meet. She's an Ironwoman (just ran Kona this year!) vs. "just" a marathoner, but you should definitely check out her blog.
I also joined Strava this year and I love following along with the training of local and professional athletes- you should check it out! It's a social media platform JUST FOR US!
Favorite Picture from a Run or Race this Year:
Ha, I think this post is full of my favorite pictures! The one from Cottonwood above with Dustin giving the sly thumbs up makes me laugh every time.
If you come sum up your year in running in a few words, what would they be?

Thank god for running.
2016 was a crazy year, but running was always there and it gave me so much joy, and provided amazing experiences and memories.
Looking forward to most in 2017:
Probably the Boston Marathon. Will it live up to the hype? Probably not. I don't think I will love it any more than Tokyo or London. (I mean, what's so special about Boston after all?)
But it is still my 'victory lap' after a hard-fought road to qualification and it is a race with so much history that I am very excited to be a part of. I'm also keeping my fingers crossed that I get into the NYC Marathon as well to close out my final World Major Marathon. Then it's on to the Seven Continents Club with Antarctica in 2018!

Some of my favorite posts in 2016:
I added this question to the link-up because I enjoy looking back at what I wrote here over the past year.
Pacing My Wife to Her First Boston Qualifier <- Dustin's guest post fills me with so much love. Clear heads, full hearts!
10 Things You Can Expect to See at an International Marathon

UK vs US Running Lingo!
Pokemon GO: Failed Fit or The Right Fit?
Favorite Post-Long Run Brunch Places in Minneapolis!
Matilda's Guest Post from the Fast & Furry 8k
It's been quite a year here at the Right Fits and I want to thank anyone who is out there following along with my running journey..my life journey, to be honest.
I hope you find something of value here- whether it's fitness fashion, a race review, a new workout, whatever it is, please spread the word about my little blog and keep coming back to connect!
Bloggers, join Courtney's link-up here:
(Visited 455 time, 1 visit today)