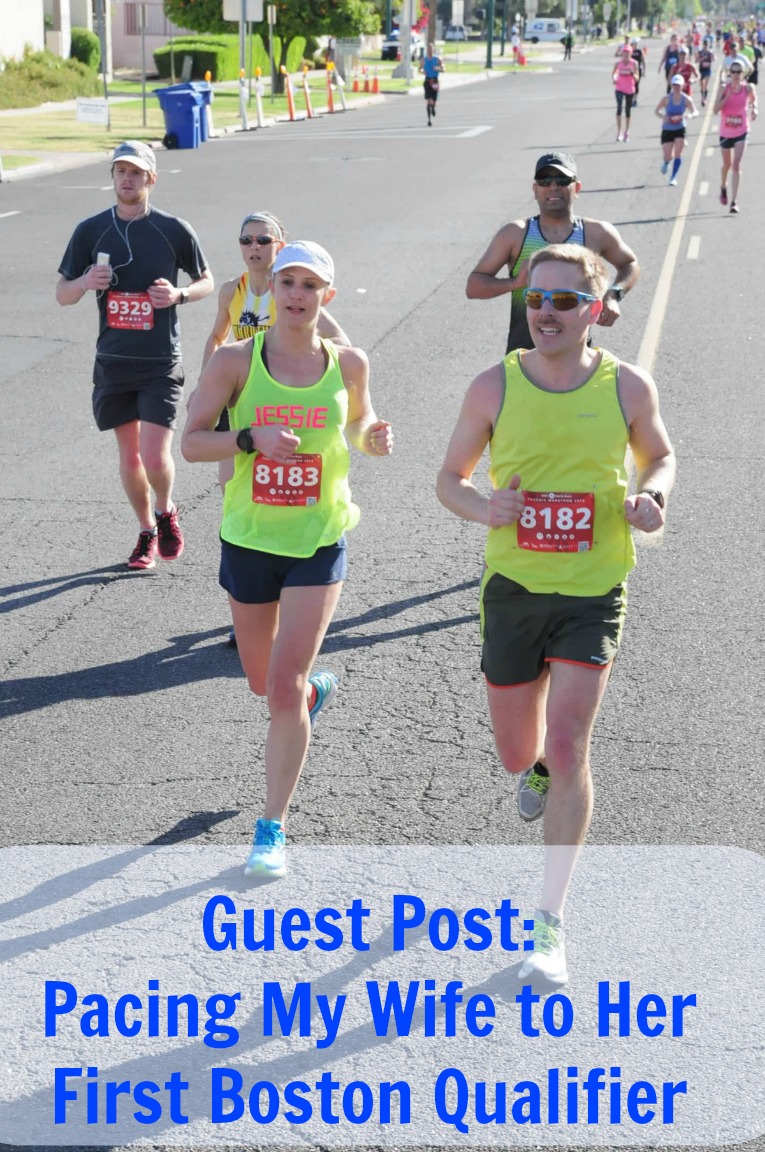 By Dustin Benson
So I agreed to spend three wonderful hours and thirty+ potentially more dramatic minutes pacing my wife to qualify for Boston at the Phoenix Marathon. Should you find yourself in a similar situation, I bet you'd like to know how to handle it.
Why?
I was very fortunate to have a successful race last fall at the Richmond (VA) Marathon. We had great weather, my training came together well, and I was able to qualify for Boston with a 3:03. Given that I turn 40 this summer, I had plenty of cushion for Boston 2017. Jessie unfortunately just missed qualifying with a 3:40:41. She had trained well, was definitely in shape for it, but some pacing mistakes cost her in the end. We already had London 2016 planned but she decided to give qualifying another shot earlier in the spring.
"Wouldn't it be fun if you paced me?"
Well…yeah…that would be super fun? Jessie and I do run together when we get a chance. Last winter I helped pace/push her in some of her workouts. From time to time she would provide me with some "constructive criticism" on things I could do differently, so I had an idea of what the last 10k of a marathon would be like. The truth is, after my fall race, I felt I owed the running gods. Why not earn some sweet, sweet, running karma by helping someone else accomplish their goals? I was in.
Training
While the paces I would need to run for this race would be very comfortable for me, I didn't want to take training too lightly. You're still running 26.2 miles, over 3hrs on your feet. While I didn't do a ton of speed or tempo work, I did make sure to log the miles (~50 mile weeks). I also did some of Jessie's workouts with her, including some long runs at marathon pace. I wanted to get used to the pace and become familiar with how Jessie would be feeling at that pace.
The one thing I think is incredibly important to remember when you agree to pace someone is that it's not about you. The person you are pacing needs to be able to take you for granted, that you are just going to be there beside them to support them, no questions asked. So don't skimp on the training because you think it'll be an "easy" run for you, it isn't fair to your runner.
The Race
Judgement day was upon me. Training didn't have the usual high intensity vibe as it normally does so the race kind of snuck up on me. The weather forecast was questionable at best, even though cool at the start and with the benefit of dry heat, it was still going to be a cloudless 88 degree day. If you've been to the Southwest, you know that on a clear day the sun is hot even if the air isn't.
Was I ready to do this?
Is Jessie going to hold up in the heat?
Am I going to hold up in the heat?
Oh dear god, don't let me screw this up…
I found myself more nervous for this race than I had been in a long time. We had our race plan which thanks to the significantly downhill first half, was going to mean flat splits. The one wild card was going to be mile 14. From there until mile 16 we were going to be taking a physical inventory to decide whether we would power through or, if the heat was proving problematic, back off and save it for another day. A race plan is always a good idea when you're running your own race, doubly so when you're running together as there would be no surprises. I knew exactly what was expected of me.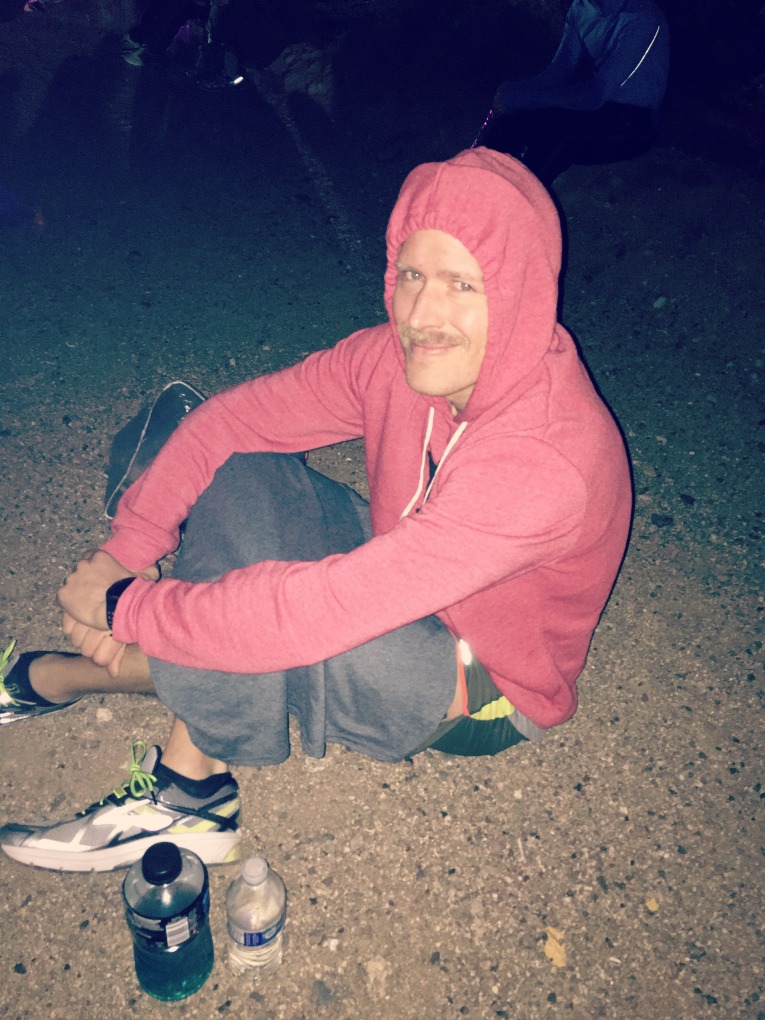 We're quiet bus people.
There are two types of people on the bus to a marathon start; those who must share every detail of their running/training with whoever will listen and those who want to relish the calm before the storm. For us, there would be no race prep on the bus. Know thine runner.
I can't lie, the first 20 miles went pretty smooth. My primary focus was making sure Jessie didn't get carried away on the early downhills. We wanted nice even splits with this race and nothing ruins a race faster than going out too fast. Although we weren't exactly deep in conversation, I tried to keep some light chatter going as a distraction and made sure we were hitting all the tangents. The only hiccup being Jessie's insistence that I be on her right side at all times.
Our Garmins were very close in terms of distance, but it was interesting to see how they would vary by 5 seconds or so each mile; one mile she would show 8:10 and I'd show 8:15, and then the next it would be the other way around. I had been worried that the slower pace would throw off my running mechanics, making the easy pace feel not so easy. Fortunately, there were no signs of that happening.
At mile 14, we checked in to see if the heat was becoming a deal breaker. Jessie seemed to be feeling okay and we were still holding back on the paces, so we pressed on. The sun was getting higher but it wasn't an obvious problem at that point.
By mile 18, the sun was bright and hot; there wasn't a lot of shade out there. Jessie started to vocalize her discomfort a bit…"I'm really getting hot."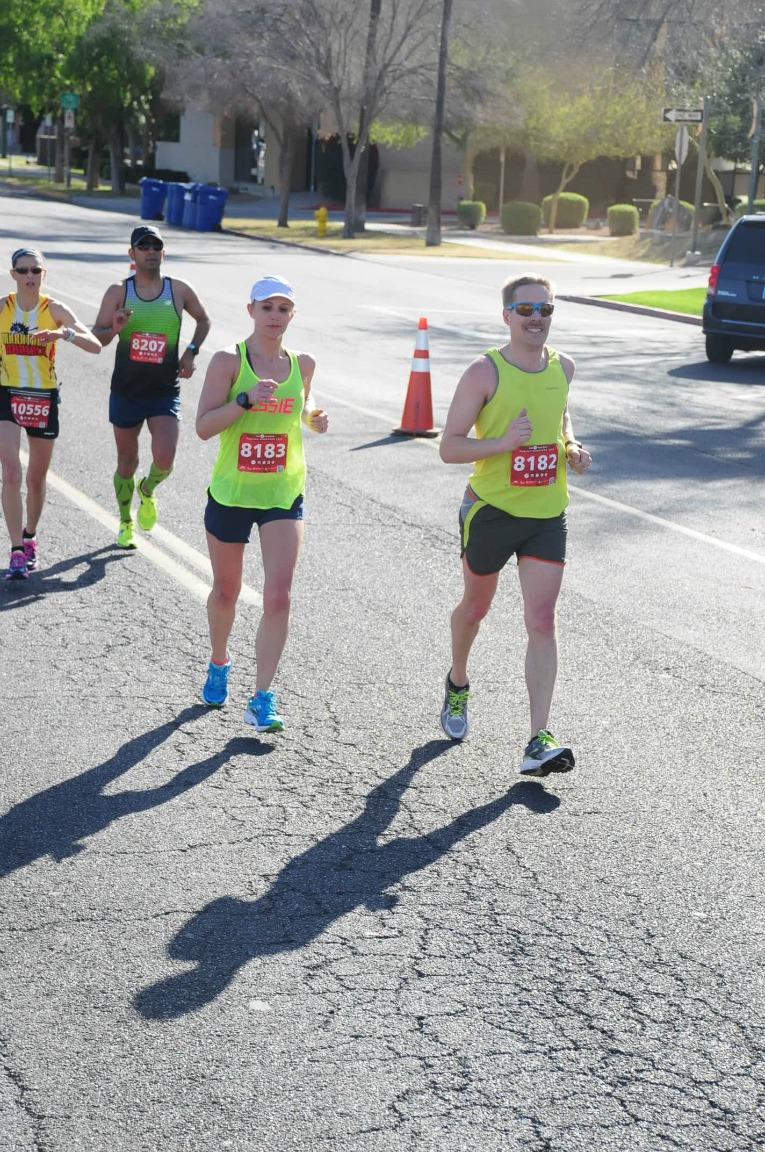 Fortunately, it was still friendly vocalization. This is when I started taking on another task, picking up an extra water at each stop so I could dump it on her head. At some point I also started carrying her hat. Hats are great for keeping the sun out of your eyes but also trap a lot of heat, plus, dumping water on a hat is kind of pointless.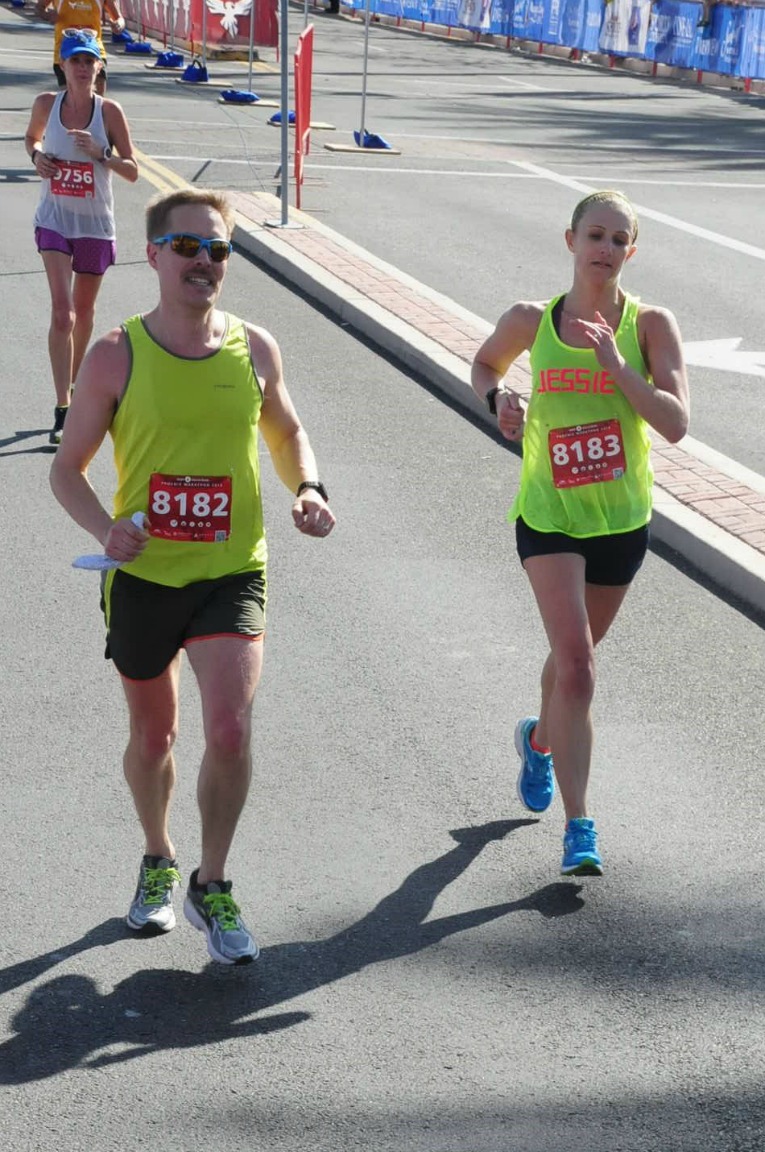 We were still on pace by mile 20, but I could tell she was starting to struggle. At this point she walked through her first water stop. We had some room, we were on pace for 3:36 at mile 20, but I knew how quickly walking can burn through time. My goal was to keep her from getting discouraged and get her moving again as quickly as possible. From a spousal relationship point of view, I knew the last 10k was going to be "interesting". I focused on frequent positive affirmations, trying to toe the thin line between encouraging and annoying.
There were a couple more short walk breaks and, I can't lie, I was getting worried. So when the pace started to slow a bit, I didn't press the issue, better slower running than more walking. Ok, fine, I'll admit it, I did bring up the pace a few times. This was met with increasingly serious refrains of "I AM PUSHING AS HARD AS I CAN." Point taken.
About a mile and a half from the finish the 3:40 pacer passed us. I had been doing the math in my head and knew it was getting close but seeing him run by was a wake-up call. There are two ways marathon runners react to getting passed by the pacer, either they rally or resign. Fortunately Jessie chose rally, I can't say that surprised me. Once I knew where her head was I redoubled the encouragement. For the last mile I was laying it on pretty thick, I wanted to see if I could get a kick out of her. We caught and passed the pacer. While I was happy about getting her finish line kick going, I was even happier that I was able to get smile out of her in the last mile with an inside joke. Not only was it distraction, it also meant she had room for a bit more discomfort, we picked up the pace.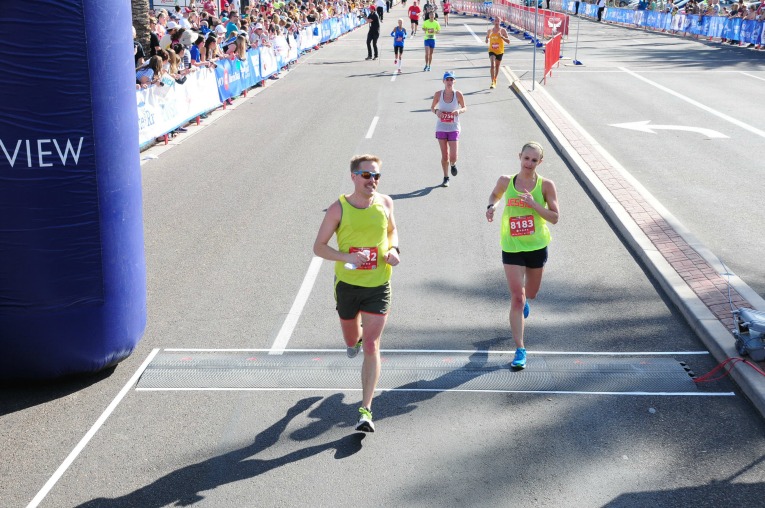 I had given up tracking the time too closely, she was running as fast as she could. As we charged across the finish line, I saw the 3:40:04 on the finish line clock, my heart sank, but then I glanced down at my Garmin to see that beautiful 3:39:26. OMFG, we did it. The first thought in my head immediately after that was, "Is she happy to have qualified or disappointed by not qualifying by enough (based on recent Boston registrations)?". From the smile on her face, I knew it was the former.

Crossing the finish line with a PR is huge rush, helping someone else do it was even better. Agreeing to pace Jessie was the right (albeit only) choice.
Would I do it again? I don't see why not, I legitimately enjoyed the experience. There are a few personal race goals I'd like to tick off in the next year or so but after that I'd definitely be up for pacing Jessie again.
Would I do anything differently? The mustache…I should have shaved it.
Thank you Dustin for taking the time to write this post and of course, for pacing me to a BQ! Love you 🙂
P.S. I kind of miss the 'stache!
P.P.S. If you missed MY recap of the race, catch up on that HERE!
(Visited 629 time, 1 visit today)