Marathon #21 complete!
State #16 checked off the list.
On Saturday, February 27, I completed my 21st marathon, the BMO Harris Phoenix Marathon (i.e. often referred to as the "Mesa Marathon," and not to be confused with the Rock n Roll Phoenix Marathon)
We flew into Phoenix Friday morning, arriving around noon. We headed straight to the expo.
Expo:
The marathon expo was held on Friday, February 26 from 9:00 am until 9:00 pm at the Sheraton Mesa Hotel. Parking was free and plentiful. It was a small-ish expo, and a little crowded, but it was still quick to pick up our bibs and gear.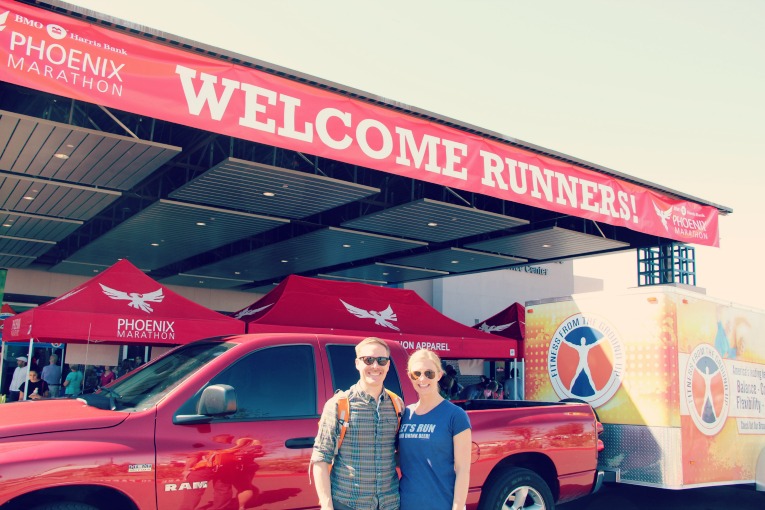 I was really surprised by the cool tank tops that all female runners received. The women received a tank (with a zippered pocket!) and the men's shirts were the same color/material, but short sleeved. We both received matching arm sleeves. Very nice!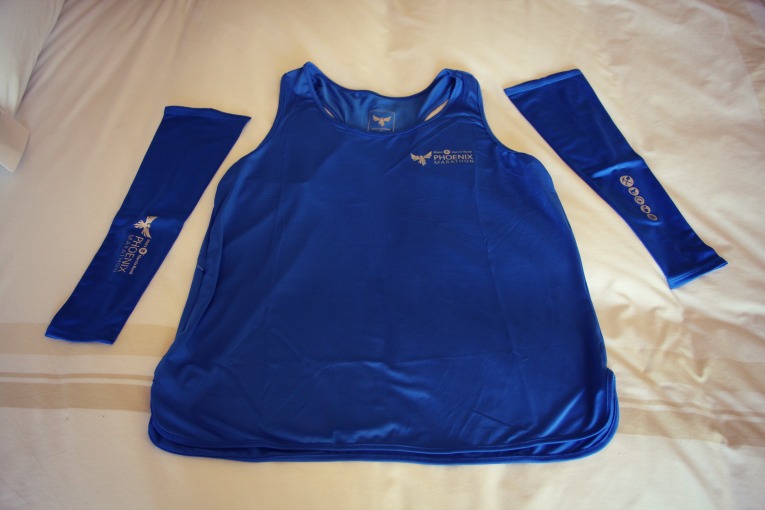 I also purchased a cotton "Run PHX" tee from the official race gear. They were actually getting pretty low on supplies of race gear by the time we were there, but I'm happy with this cozy tee.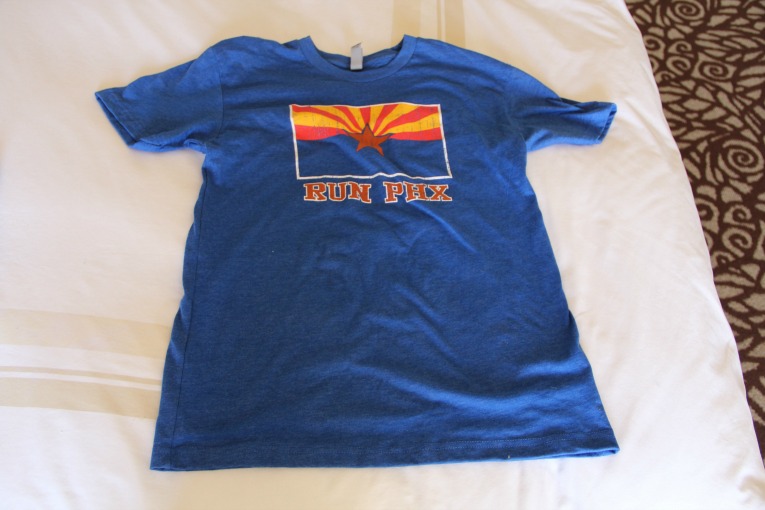 Marathon Morning:
The marathon started at 6:30 am. There was also a half marathon and a 10k race associated with the event. Both of the other races started at 6:30 but from a different location. The Phoenix Marathon is a point-to-point course, so we had to catch a shuttle bus to the start at 4:30 am. The buses ran from 4:00 am until 5:15 am. I heard that some people actually had to chase down the last bus. Plan ahead and get there on time.
(At the start line…with a beautiful Saguaro behind me!)
The Start Line:
We arrived at the start line around 5:00 am. We had plenty of time to use the port-a-potties and plenty of time to hang out by the fires and heating lamps, not that it was even that cold. It was probably about 55 degrees at the start.
I enjoyed the start line area; I didn't feel all that nervous because I knew what my plan was and I was excited to have Dustin with me to hold me to it. It was a really cool, laid-back vibe at the start. It reminded me a lot of the St. George marathon (one of my favorite marathons.)
Around 6:00 am, I took a GU and we dropped off all our gear at the gear truck and made our way towards the starting line. With about 3,000 full marathoners, there weren't corrals for different paces, but there were pacers. Dustin and I placed ourselves close to the 3:40 pacer. Around 6:20, there were fireworks (such a nice touch) and the national anthem. Promptly at 6:30 am, it was RACE TIME!
Course:
The Phoenix Marathon is a point-to-point course. The first 5-7 miles are mostly downhill. Dustin had to keep reminding me to slow down; it was easy to get going too fast with the downhill.
After the first downhill segment, the course was mostly flat with a few rolling hills. There were plenty of support stops (every 2-3 miles in the beginning and then every mile toward the end). The volunteers at the support stops were enthusiastic, but there weren't a ton of fans along the rest of the course (though it was nice to have Dustin's mom and stepdad to look for at the halfway point!)
The first half of the course was much prettier than the second half. The first half had great views of the desert and mountains, whereas the second half was a bit more industrial and not quite as scenic.
The Weather:
Ugh, the weather. It was 91 degrees the day before when we went to the expo. Kind of psyched me out just a bit.
The average high in Phoenix at this time of year is closer to 70 degrees. Last year, it was overcast and a high of 71 for the race. For our marathon? The high for the day was 89 degrees. Clear skies. All sun. NOT ideal. Obviously, I was stressed about the weather and how it would affect me (i.e. read this post.)
Fortunately the whole thing about "dry heat" is true. By the time we finished the race, it was almost 80 and while the heat was definitely a factor in my personal performance, it didn't feel as hot as 75 would feel in Minneapolis. The "no humidity" definitely helped.
Fitness Fashion:
I wore my favorite Oiselle roga shorts, a Moving Comfort bra, this Brooks tank (so light- I plan to buy it in more colors!), this Lole hat, my trusty Brooks Ravennas, a pair of Fitsoks, and my Garmin 225. I used this tape to put my name on my shirt.

Dustin wasn't convinced to put his name on his shirt, but I did at least get him to wear a similar color as me:

Fuel:
As I mentioned above, I took a GU about 30 minutes before the start of the race. I have done that for my last 3 marathons and it seems to work well for me to start fueling before the race. Throughout the race, I took 4 more GU's, usually every 5 miles or so. They gave out Clif Shots on the course, and while I grabbed one, I only took the GU's that I brought with me. They served Gatorade Endurance on the course; I drank water and Gatorade at basically all the support stops since it was so hot.
*Also, I upped my salt intake in the day before and morning of the race, sprinkling more salt on my bagel with peanut butter race morning. I ate two bananas race morning and a cup of coffee.

My Performance
If you follow me on Instagram/Facebook/Twitter, you already know the results.
My splits paint a pretty good picture of what happened.
Mile 1: 8:18
Mile 2: 8:16
Mile 3: 8:13
Mile 4: 8:11
Mile 5: 8:30 (there was a big uphill here, Dustin told me to keep 'even effort'<–what a smart pacer)
Mile 6: 8:19
Mile 7: 8:11
Mile 8: 8:11
Mile 9: 8:09
Mile 10: 8:10
Mile 11: 8:18
Mile 12: 8:06
Mile 13: 8:07
Mile 14: 8:13
Mile 15: 8:11
Mile 16: 8:12
Mile 17: 8:11
Mile 18: 8:19
Mile 19: 8:13
Mile 20: 8:51…the heat! I started walking through the water stops here.
Mile 21: 8:10
Mile 22: 9:07
Mile 23: 8:53
Mile 24: 8:48
Mile 25: 9:00
Mile 25: 8:35
0.2 mile: 7:43
Total time: 3:39:26
They say the marathon is won/lost in the last 10k. Of course, I wasn't looking to "win" anything, but I would say the last 10k clearly determined my race results. You can see exactly where the heat started to get to me- the last 10k. It was so sunny and so hot at that point. I could feel my core body temperature rise with the temperature and it became a task to try to cool down.
But still, I did it. I qualified for the Boston Marathon. Yes, yes, I know that 34 seconds is not enough to allow me to actually register for Boston, but give me my moment….
I qualified for the Boston Marathon. I'm a Boston Qualifier!
If you would have asked me 5 years ago, I would have told you that I never thought that this was possible, but I did it. I did it in the heat.
I was on pace for 3:36 until mile 20. Maybe if it were cooler, I could keep that up. What can I do on a cooler day?!? I'm excited to find out!
There was a PR bell at the finish line. You can bet I rang the sh*t out of that bell 🙂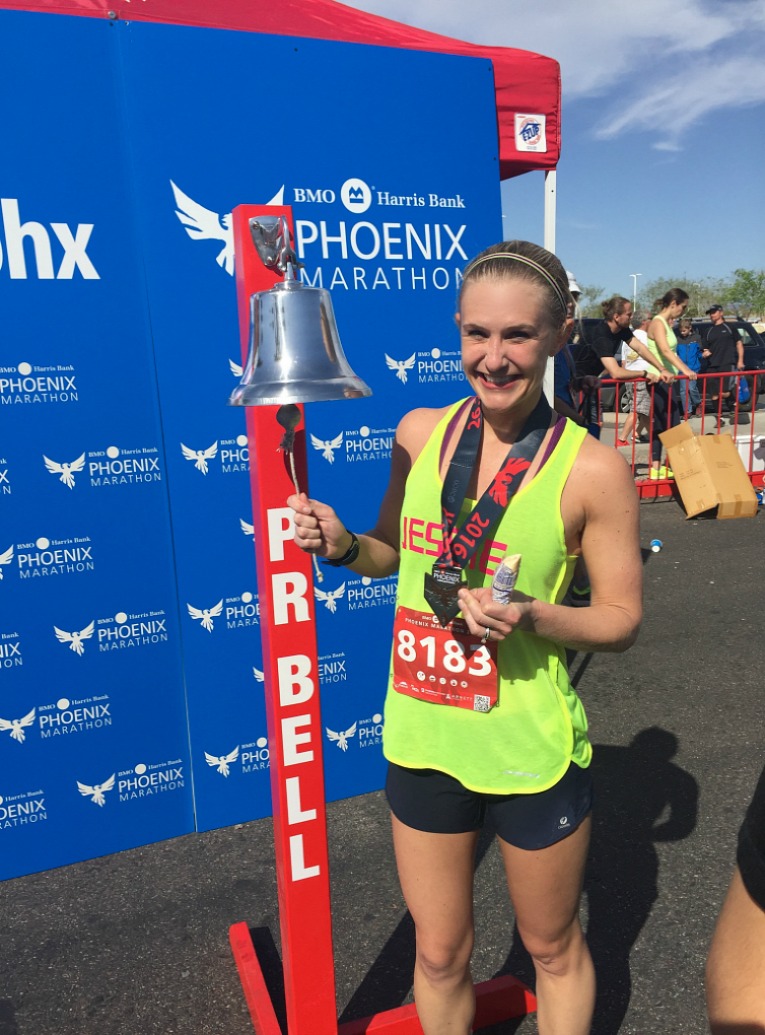 My total mileage per my Garmin: 26.21 miles!
Damn, that's a pretty good job of running the tangents, right? I give all the credit to my pacer, who constantly directed me to the correct side of the course.
My Pacer:
Dustin: he was a perfect pacer. Running 26.2 miles with my husband was really special to me. I know it sounds a little corny, but it was really awesome to run a marathon with him.
Running is a huge part of our lives and sharing the experience with him was very cool. This was my 21st marathon and his 24th, but the first time we have covered the 26.2 miles together.
His mom took this short video of us coming into the finish line. This may never happen again, so I will treasure this footage!
I asked Dustin to write a guest post about pacing me, so I'll let him share more of the details on that, However, I can say that the first 18 miles or so were really fun; we chatted, we commented on other runners (who can run a marathon with their hair down? Boggles my mind), enjoyed the scenery, and the experience together.
But that last 10k or so when the heat really started to get to me? That was a little tougher, to say the least. I may have yelled at him once or twice. "Don't push me anymore. I'm pushing as hard as I can!"
But he was patient and stuck with me and did so many things to make it easier on me. He'd run ahead at water stops to get extra water for me to pour on myself to cool off. He took my hat when I decided that "it was making me too hot." He did everything he could to help me and I couldn't be more grateful. Thank you Dustin!
Thanks also to my coach Antonio Vega of Zoom Performance. This was my fourth marathon working with him. With each training cycle, I feel like he gets to know me and the training gets even better. I really have enjoyed working with him.
Thank you also to my mother-in-law and Dustin's stepdad for cheering for us and hosting us for the weekend. They treated us very well!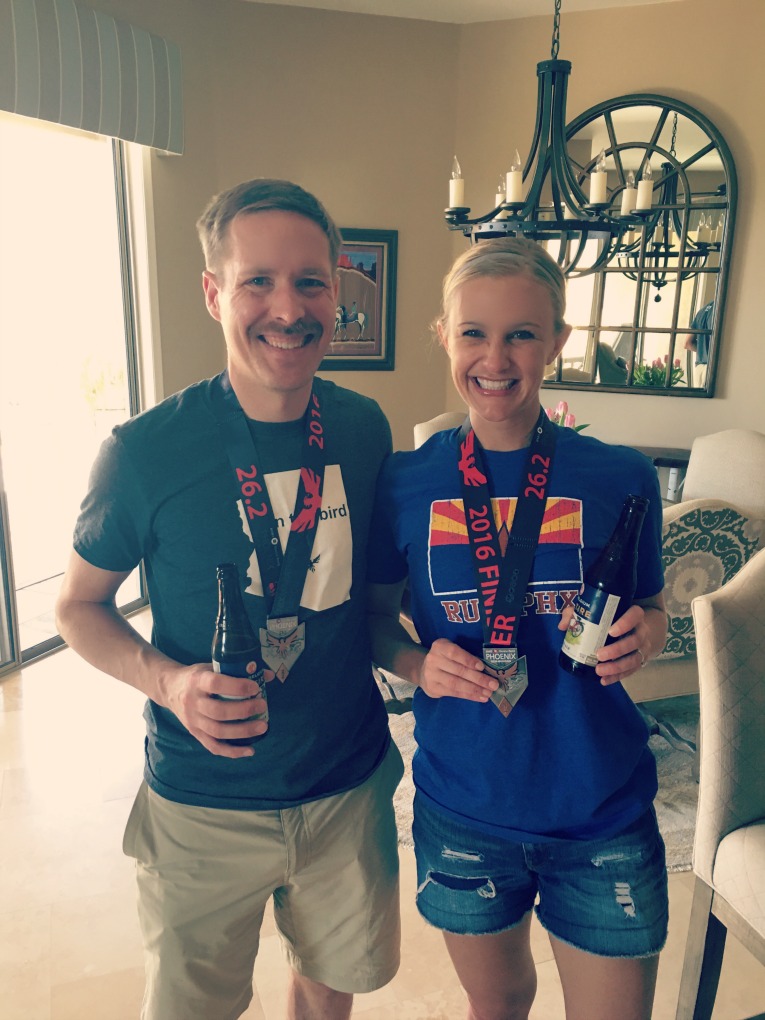 Overall Experience:
Overall, I enjoyed the Phoenix Marathon. Even if it hadn't been my first BQ, I think I still would have had a positive experience here. Yes, it was hot, but you can't control the weather. The organization did their best to have enough support out there to help with the heat. It was well-organized and a generally pretty course.
We stayed in Phoenix until Tuesday with my in-laws. They were great hosts and we really enjoyed our mini-getaway. I hope to write a "Fits on the Road" post with some info of what else we did while in Arizona.
And stayed tuned for Dustin's guest post on pacing me!
(Visited 1,805 time, 1 visit today)