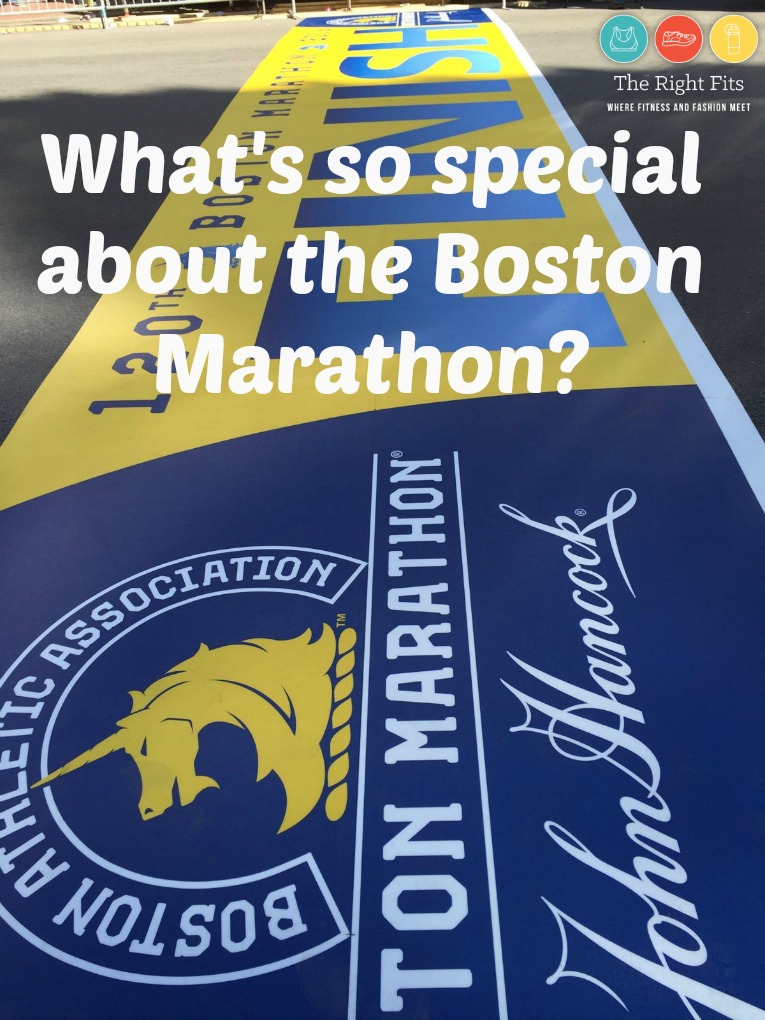 This Monday marks the 120th running of the Boston Marathon. 120th! This marathon has been around since 1897. Amazing.
It's always held on Patriots' Day, the third Monday of April. It's a unique race because it's on a  Monday, but it's a special race for SO many reasons.
What makes it so special? 
Well, part of the allure of the Boston Marathon is that it's so hard to qualify for the Boston Marathon.  The qualifying standards have changed over the years (they became "harder" by 5 minutes a few years ago). The standards have always been seen as a challenge for most runners. For many, getting a Boston qualifier (a BQ!) is a lifetime running achievement.
Current Standards since 2013:
| | | |
| --- | --- | --- |
| Age Group | Men's | Women's |
| 18-34 | 3:05 | 3:35 |
| 35-39 | 3:10 | 3:40 |
| 40-44 | 3:15 | 3:45 |
| 45-49 | 3:25 | 3:55 |
| 50-54 | 3:30 | 4:00 |
| 55-59 | 3:40 | 4:10 |
| 60-64 | 3:55 | 4:25 |
| 65-69 | 4:10 | 4:40 |
| 70-74 | 4:25 | 4:55 |
| 75-79 | 4:40 | 5:10 |
| 80+ | 4:55 | 5:25 |
But just qualifying is not enough these days. I got my BQ this year at the Phoenix Marathon, but only by 36 seconds. For 2016, runners needed to qualify by 2:28 or more. Just qualifying doesn't guarantee entry…(and definitely do NOT think about cheating to obtain entry.)
The combination of the challenge of qualifying and inherit pride of doing so, as well as the long history are part of the magic of this race.
In the running community, one of the first questions someone might ask you is, "Have you run Boston?" Answering "Yes" somehow legitimatizes you as a runner (in some minds- not everyone has that goal or that mindset.)
Of course, there were the bombings in 2013, which were so incredibly tragic. But then there were the amazing stories of courage and community that came after that tragedy that made this marathon a symbol of so much more than just running. It seems that these stories added to the magic of Boston.
I haven't run Boston, so  I can only comment on its magic as an outsider. So I asked a few of my friends for their thoughts leading up to running their first Boston Marathon.
Here they are:
Recently I've been thinking about how I qualified at Grandma's last year and how my immediate family and my running friends were there to help me celebrate achieving my goal. I especially remember how the CBRC bikers (Betsy in particular I remember) were out there on the course shouting at me around 2 miles from the finish. "You're going to do it! You're going to Boston!"  I am so grateful for all of their support (literally I tear up thinking about it still). For me, going to Boston is a time to celebrate and enjoy the efforts required to get there (hard, time-consuming workouts, double runs, fending off injury, etc.) and also a time to reflect on the achievement of qualifying and to give thanks for the support of friends and family that have been with me on this journey. 
This will be the only time to say this is my first Boston so I'm excited to take in all of the new things: the expo, the sights on the course, the fans, and the other amazing athletes. 
I'm most excited for the hills, though. I probably haven't done enough hills this season so it might be a disaster, but I usually LOVE hills and the opportunity to attack them. I'm excited to see what the course has to offer and to see how my body holds up through the notorious hills. 
As most women probably do, I feel I connect very deeply with the fact that it is the 50th anniversary of the first woman, Bobbi Gibb, running Boston. I love the thought of breaking down barriers and I think there are still a lot of barriers to break down for women and it's great that it brings awareness and inspiration to do more of the same. I want to know how I can help get a statue of a woman put on that course!"
To build off of what Lindsey says, women weren't officially allowed to register until 1972 but its now almost evenly split between men and women. This year marks the 50th anniversary of Bobbi Gibb running the marathon- the first woman ever to run the Boston Marathon (unregistered.)
After her, Kathrine Switzer was the first one in run the marathon as a registered runner. She registered under the gender-neutral "K.V. Switzer." When they figured out she was a woman, they tried to pull her from the course!
Bobbi Gibb and Kathrine Switzer together paved the way for women (like me!) to be able to participate in this amazing event.
I find these stories inspirational and I can't wait until I some day get to run this marathon. I started this post to INSPIRE you while explaining why the Boston Marathon is such a big deal.
With that said, not everyone thinks that the Boston Marathon is magical. One "friend" I asked had a different opinion. Let's just say I know this guy pretty well- in fact, he even has ties to Boston (he went to high school and college there.) He provided a bit less of an inspiring answer.  And he has even qualified by a significant margin and will be running next year, so it's not that he's just bitter!
Here are his "anonymous" comments:
"I just feel it's been so stigmatized to the point where it makes you feel bad to have to say, "no, I haven't qualified" even if you are a serious runner. I know it's a big deal and a strong symbol for marathon running but it has such a weird elitist jacket-wearing stigma these days that it kind of annoys me.  It's the Lululemon of marathons. The hills?  I'm sure they are tough but it's no Imogene, no Western States.  Just kind of hilly compared to the courses most people use to qualify for Boston.  You have to admit, the Boston jacket  is to running as the [lululemon] scuba hoodie is to yoga."
Well, everyone is entitled to their opinion. I think it's good to hear different viewpoints, right?
I want to end this with a more inspiring story, so here are my friend Laura's thoughts about running Boston for the first time tomorrow:
"Running Boston hasn't been my lifelong dream. It hasn't even been my dream since my first marathon – my goal was to finish and if it happened to be under 4 hours, so much the better. By the time I was training for my second marathon, I realized I could probably qualify. That wasn't my race, but since then, Boston has been The Goal. I started working with my coach, Dan Walters, and breezed through the qualifying time at Grandma's, my third marathon, with a solid 8-minute margin.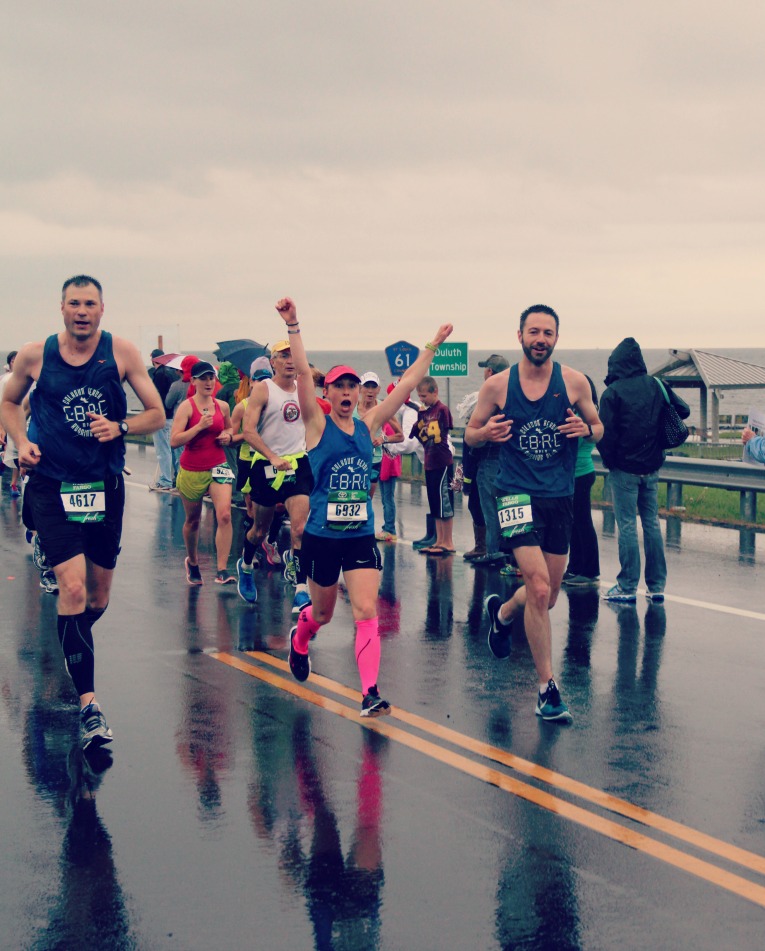 Since training for Grandma's, everything has centered around the Boston Marathon. When I developed a stress fracture training for Chicago last fall, my wise coach convinced me to take time off by repeatedly telling me, "Boston is your Super Bowl. Chicago is for fun, but Boston is your Super Bowl."
The Boston Marathon. The oldest annual marathon in the world. The race whose inaugural run consisted of only 15 runners and today has swelled to around 30,000. The last 4 months have been building toward this race, but it never really seemed real until I hit the taper. I've never really had race nerves – Grandma's should have been the marathon to make me anxious, trying to qualify, but in my head, it was just a given that I would run the time I had worked for. This time around, the honor and prestige to be one of the few thousand runners toeing the line in Hopkinton on Monday worked its way into my mental game. I'll be honest; there have been some incredibly rough workouts over the last couple of weeks. I get in my own head, picture getting to Boston – the race that's dominated my training and my thoughts for over a year – and completely falling apart. I've also been thinking beyond the race and wondering what on earth I'm going to work toward next. What other goals could there be besides Boston?
Thankfully, I have an amazing coach who is constantly a voice of reason (usually the voice telling me to take a break when I want to push through illness or an injury) and was able to talk me off the ledge. Yes, Boston is my Super Bowl. It's what we've been working toward for months. But – newsflash – I'm not in it to win it. The Boston Marathon is about the love of running. It's about the passion, both from the runners and their sport, and from the people of Boston. The number of spectators swells to be 10 people deep by the time you're sprinting down Boylston and it's not people who are standing and waiting for their runner – these are folks who have been camped out since 8am and cheering for Every. Single. Runner. It doesn't matter if you hit your goal time or your PR. Boston isn't about the numbers or the data (although nailing a negative split wouldn't be the worst thing in the world). Boston is about soaking up every inch of the 26.2 miles from Hopkinton to Copley Square and enjoying every second. Boston is about taking pride in what you do. Boston is about taking months, years of hard work and leaving it all on the course. Come Marathon Monday, I definitely have my goals, but no matter what the splits end up being, I am just excited to be running."
So awesome. Great story!

Thank you Laura and Lindsey for sharing your thoughts and best of luck tomorrow. Enjoy the magic of the Boston Marathon!

How do you feel about the Boston Marathon? Is it magical or over-hyped?
(Visited 596 time, 1 visit today)