Last Saturday, I "ran" the Imogene Pass Run and it was intense.
I put the word "ran" in quotations because no one except the elite runners at this race actually run the whole thing. The majority of participants hike a significant portion of this run.
The Imogene Pass Run is a 17.1 mile race from Ouray, CO to Telluride, CO over the Imogene Pass. It climbs from 7,700 feet at the start line in Ouray to 13,114 feet at the summit.
It was one of the hardest physical races I have ever done, but also one of the most beautiful. I hadn't mentioned this race on the Right Fits because I wasn't really training for it. Sure, I was running 60+ miles a week, but all of my training was at sea level, on pavement, and it did not include a lot of hills. I didn't have huge expectations for the race other than try to have a good time and hopefully survive without any broken bones!
Dustin had run the Imogene Pass Run twice in the past back when we were dating, but I didn't join him then. He really loved it, so I was curious what it entailed. A few months ago, he suggested that we both do it this year. With our fall marathon a bit later (November 14) this race wouldn't interfere too much with our marathon training. I wasn't sure it was for me, but I said sign me up anyway! A September getaway to Colorado sounded fun; we had a good time in Boulder for Dustin's 50k in May, so I was happy to plan another Colorado trip. But this mountain run was quite a bit harder. Significantly harder.
Getting there:
Telluride isn't the easiest place to get to from Minneapolis. Thursday night, we flew into Grand Junction, CO connecting through Salt Lake City. Grand Junction is still 2.5 hours from Telluride, so we had a long day of travel on Thursday, arriving in Telluride after midnight. I'll share more on our trip on a "Fits on the Road" post as Telluride was a really cool place to visit. But for this post, I'll focus on the race.
Packet Pickup:
Runners had two options for packet pickup- in Ouray (where the race starts) or in Telluride (where the race ends and where we stayed at the Hotel Telluride). Rather than make the one-hour drive to Ouray, on Friday we just grabbed packets in Telluride. If we had gone to Ouray, there would have been more of a course overview and pasta dinner but we didn't want to spend more time in the car. In the past, Dustin stayed in Ouray for the race. This was his first time staying in Telluride.
Packet pickup was short and simple. We got there right before noon and there was a bit of a line outside the historic opera house where it was held, but it moved quickly. We were given bright yellow technical tees- and the women's cut didn't include a v-neck!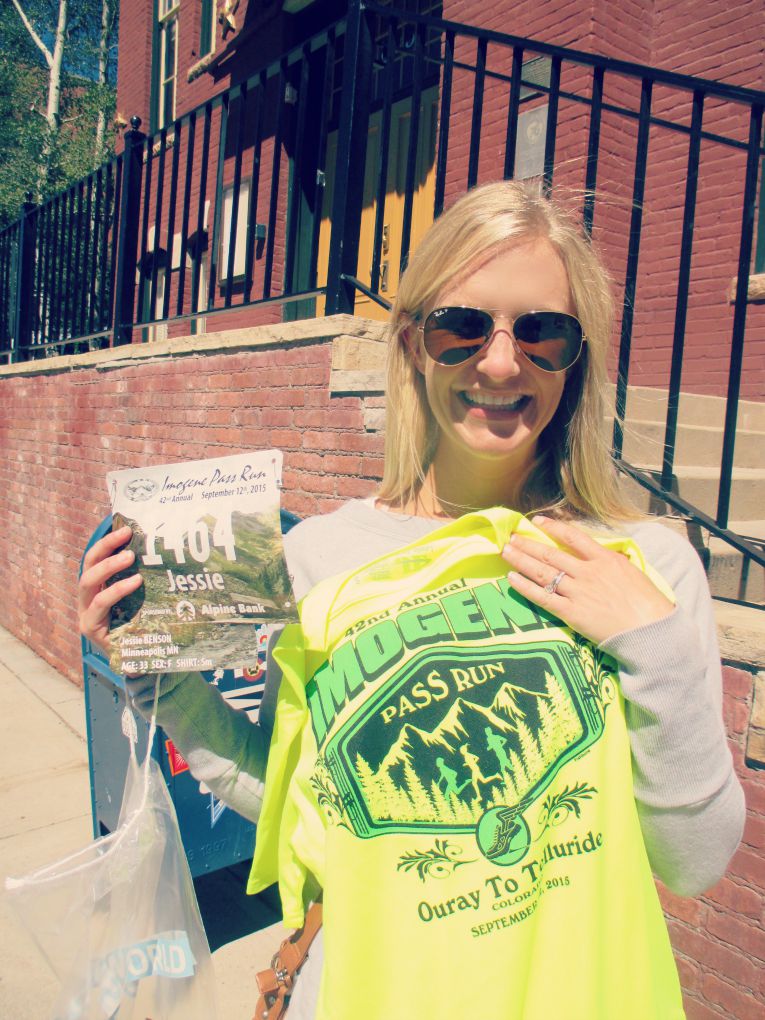 Actually, the shirts might have been unisex. I kind of like mine.
We also received a commemorative aluminum cup and our bibs.
There were signs posted at the pickup reminding us that this was a dangerous mountain race: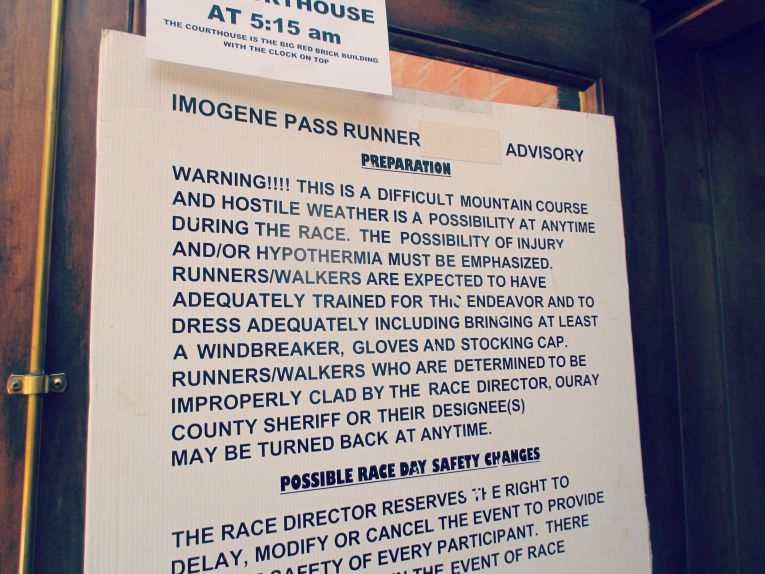 Race day:
Since the race started in Ouray, we had to catch a school bus at 5:15 am outside the courthouse in Telluride. I dozed a bit on the ride to Ouray, but everyone else was super talkative and excited about the race. For many people, this is a bucket list race that they were really excited to do. In fact, registration fills in about an hour! (Dustin was on the ball with our registration).
I was a little nervous though and kind of wanted to block all of them out as they all seemed to be way more experienced mountain runners than me. I preferred to not think about the challenge that I was about to begin; I didn't want to psyche myself out.
We arrived at the start line around 6:30 and were able to wait inside the community center until closer to the race start of 7:30 am.

It was pretty chilly at this point, with temperatures in the mid-40's. The race directors require that runners bring a jacket, gloves, and a hat as it can be very cold at the summit. This year's forecast looked warm and clear, but the weather can change quickly in the mountains.
From the race website,
"Mountain weather at this time is famously "squirrelly" (rapidly changeable), and participants through the years have encountered a variety of weather conditions ranging from virtually perfect to terrible. This spectrum of weather during the race is in fact part of its lure and mystique. In good weather years the challenge of the mountainous traverse is rewarded by unsurpassed vistas and no small feeling of accomplishment upon crossing the finish line. In bad weather years, the wind, fog, rain and/or snow along the course make the successful arrival in Telluride a virtual rite of passage into the realm of true mountain running."
No cotton attire was allowed! I had my jacket around my waist and gloves/hat in the zippered pocket of the jacket.
The weather at the summit was 39 degrees when we started, which apparently is pretty warm for this time of year. Many years there is snow, ice, and gusty winds at the summit. We really lucked out this year though and the weather was perfect.
The community center had bathrooms and there were more porta-potties at the official start line two blocks away. At 7:15, we dropped our gear check bags back on the bus that would return to Telluride and we headed to the start line.
There were around 1,300 people at the start line. It was a clear beautiful morning and I felt grateful to be participating in such a unique event. I was nervous; Dustin had voiced some concern that I might not make the 2.5 hour cutoff time at Upper Camp Bird (mile 7.5) and I started to wonder the same. Was I really capable of this? We had run just 4 miles on Friday in Telluride and I was freaking out then about the altitude. How was I supposed to run 17 miles up to 13,000 feet?  What was I doing here? I am not a mountain girl….I had some serious doubts.
Promptly at 7:30 am, the gun went off and the race began. We started on about ½ mile of pavement- which would be the only pavement for the next 17 miles. Pretty quickly, we made a sharp turn and started up a steep hill. The trail had begun and it was challenging from the start. I was walking within the first mile! But everyone around me was doing the same. The next 10 miles were a lot of speed walking and then running as I could on the few flat areas. I noticed I was averaging about 12 minute/miles for the first 5 miles.
At mile 5 we arrived at Lower Bird Camp, our second support stop.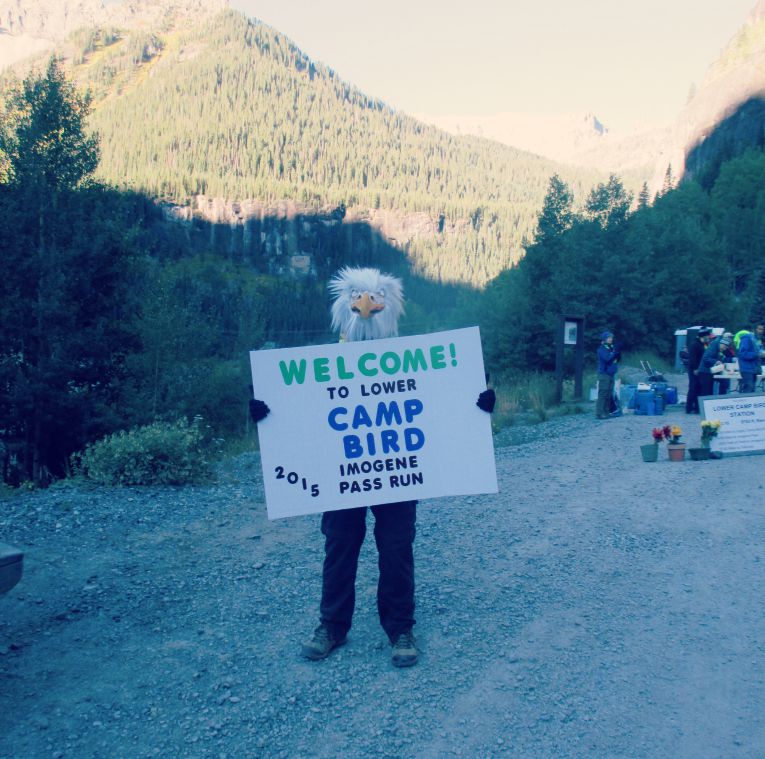 I did the math in my head and realized that I could comfortably make the cutoff at mile 7.5 if I was able to keep up the pace. But I'll be honest- that pace was not easy. I was not trained for this!
The cutoff at Upper Camp Bird allowed for a 20 minute/mile. Seems so easy right? Not so much. The first 5 miles were a good mix of running and some speed hiking up the hills. It was so hard and my pace creeped closer and closer to that 20 minute/mile time.
Guess what though? I did make the cutoff with 50 minutes to spare. Nothing to worry about after all!
After Upper Camp Bird, there was no more running. Everyone around me was just hiking.
The last two miles to the summit were about a 20% grade. It was a struggle just to put one foot in front of the other. It was like walking up very steep stairs. And the altitude! I just could not catch my breath.
The race director's race advice was "keep moving forward." Continuous forward motion. I just tried to keep moving, even though I was going about 25 minute/mile at this point- definitely slower than the required pace earlier in the race. In fact, as we slowly progressed towards the summit, I was going so slowly that my Garmin thought I had stopped moving! Ha!
(picture courtesy of Kevin Lambert)
I took comfort in the fact that I was surrounded by locals who were moving just as slowly as I was. Everyone just marched on towards that elusive summit.
Around mile 9, you could hear the volunteers and the cheering at the summit. And then you could see it. And then, after nearly 3 HOURS of hiking, I had reached the summit.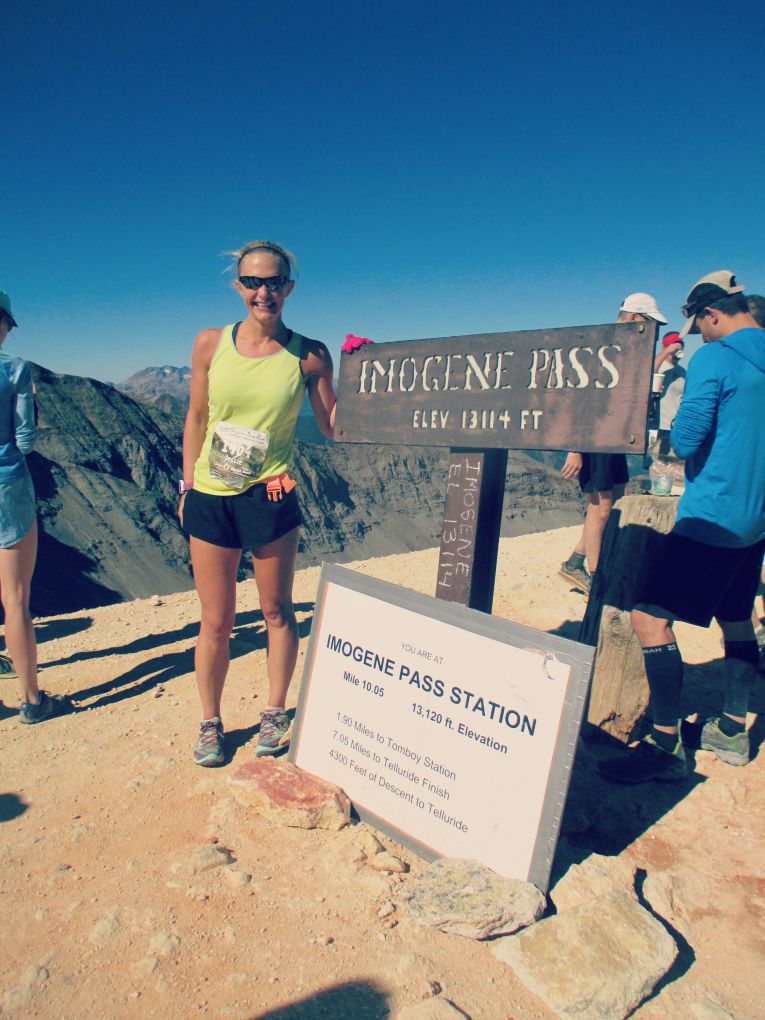 Imogene Pass, elevation 13,114.
It was BEAUTIFUL. I got choked up looking around me at the beautiful scenery and seeing how far I had climbed. This Minnesota girl who had a meltdown the day before during a 4 mile run because of the altitude had reached the summit.
The Imogene Pass Run was hard. But I can do hard things.
The support stop at the summit was unbelievable.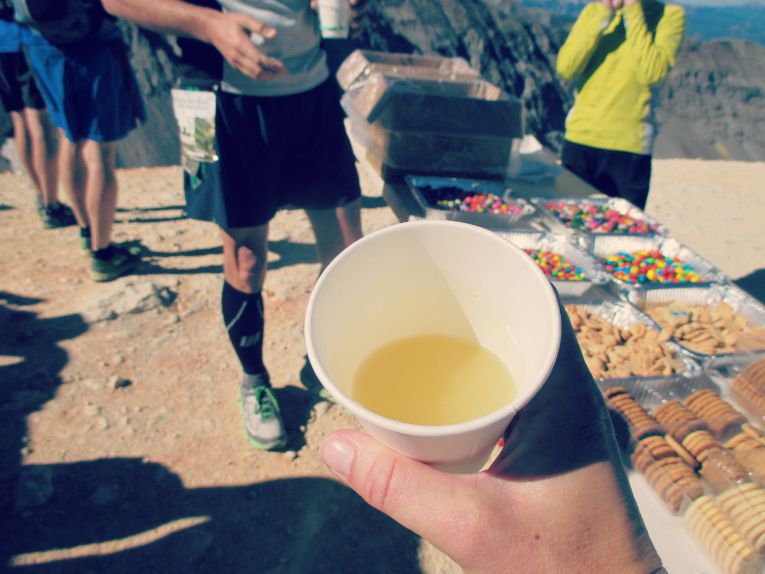 They had hot chicken broth, Gatorade, cookies, fig newtons, jelly beans, water, and plenty of volunteers offering to take your picture. Dustin didn't bring a camera with him, but I am so glad that I did. Though the pictures don't even do the beauty of the view justice, I am still glad I was able to try to capture this moment.
After hanging out at the summit for a good 10 minutes, it was time to make my way down to Telluride. 7 miles down. Should be easy right? No. Coming off of the summit was an incredibly steep section of very loose, large rocks.
I had read on the race overview that this section is one where most runners fall and most injuries occur. I am not an experienced trail runner who knows how to maneuver this kind of terrain quickly. Runners were passing me here left and right. One woman shouted out to me, "Lead with your nose, not your toes" as I timidly made my way down trying not to fall. She could clearly tell I was not an experienced mountain runner.
Dustin had told me I should be able to make up a lot of time on the down, but my pace was still quite slow here. I know I should have let gravity pull me down, but I also did not want to take a hard fall and break something (for some reason, I had visions of breaking my front tooth? In reality a broken wrist would be more common).
As we continued down, I started to gain a little more confidence in my ability to stay upright on the rocky trail. It took a lot of focus; you could never falter in your attention to the terrain. Each step had to be planned.
But that confidence would be shot the minute I'd see someone else take a nasty fall. They were all going so fast and the falls looked so painful! One wrong step on a rock and UFF-DA- down they went!
I saw a lot of bloody hands and legs on the descent. Imogene Pass Run has a Facebook group and post-race, lots of runners shared pictures of their grisly injuries from the downhill portion. I couldn't believe how hard this downhill section was, and it TORE up my quads. If you have ever done a downhill race, you know this feeling (i.e. the St. George Utah marathon tore up my quads quite a bit too, but not this bad.) Somehow I managed to never fall and I did eventually start picking up my pace though it wasn't until probably mile 14 that it flattened enough that I was actually able to run. Even then, I still had to stay completely focused on watching my footing so as not to trip on all of the rocks.
Support:
There were support stops every 2-3 miles and the volunteers were so awesome.
The People:
Trail running is a different beast than road marathons. I am an experienced road marathoner but I am a fish out of water at a mountain race like this. However, the other runners were very friendly and supportive. During the last few miles climb towards the summit, I was struggling, and the runners around me offered up words of encouragement. There were also more spectactors on the course- not a LOT, but a few people had made their way up there to cheer and it was a welcome surprise.
The Weather:
I never needed my jacket. I had my Sweaty Betty ultra run jacket that rolled up into its own fanny pack around my waist, but I never took it out after the start (I did use the fanny pack for my camera and GUs – it worked pretty well) It actually started to get pretty warm on the descent. By the time we made it to Telluride, it was in the upper 70's and sunny. HOT.
The Finish Line:
The finish line was grand. I was pretty darn glad to get there. We finally hit pavement for the last 100 meters and we were greeted by lines of spectators cheering along the final stretch.

I saw Dustin on the sidelines as I neared the finish (he snapped these photos) and he said he was happy that I was smiling. He figured that meant I had enjoyed myself.
I had.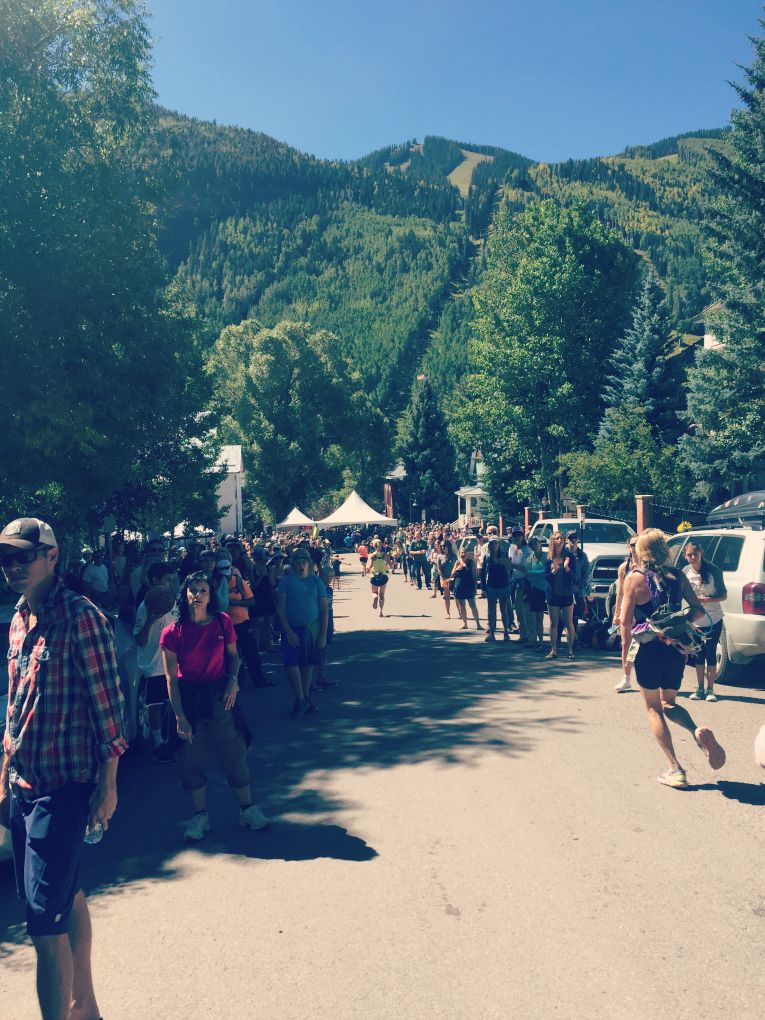 I crossed the finish line 4 hours and 11 minutes. Yep- it took me longer than some of my slower marathons to cover 17 miles. My official pace was just under 15 minute/miles. Considering how slowly I was moving at the summit (25 minute/miles) I felt pretty good with that. It left me in 574 place out of 1,300 runners or 34/110 in my age group.
The finish line had more chicken broth, peaches, pretzels and more goodies. At this point, I was extra glad that we had decided to stay at a hotel in Telluride rather than Ouray, as otherwise we would have had to get on an hour bus ride back to the start. Instead, we hung around the finish for awhile, ate lots of peaches, and watched other runners come through.
I am the first to admit I was grossly unprepared for this experience. To really excel at a race like this, I think you must live in the mountains. You must be an experienced hiker as well as a technical runner for the downhill portion.
I am not either of those things, but I survived and I enjoyed it. It is probably a "one-and-done" experience for me, but one that I am glad that I did. I was more sore on Sunday after the race than I have ever been from a road marathon. I seriously couldn't believe how sore my quads were. My coach had scheduled 9 miles total of recovery but I barely made it 4.5 miles. I'm hoping my legs feel better tomorrow!
The Imogene Pass Run was amazing. If you want to do a true mountain race, this is a really great choice.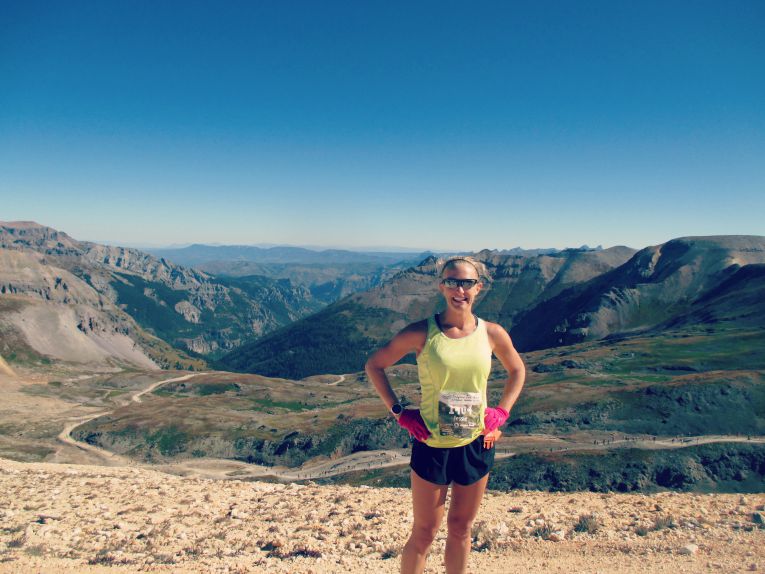 (Visited 3,174 time, 1 visit today)