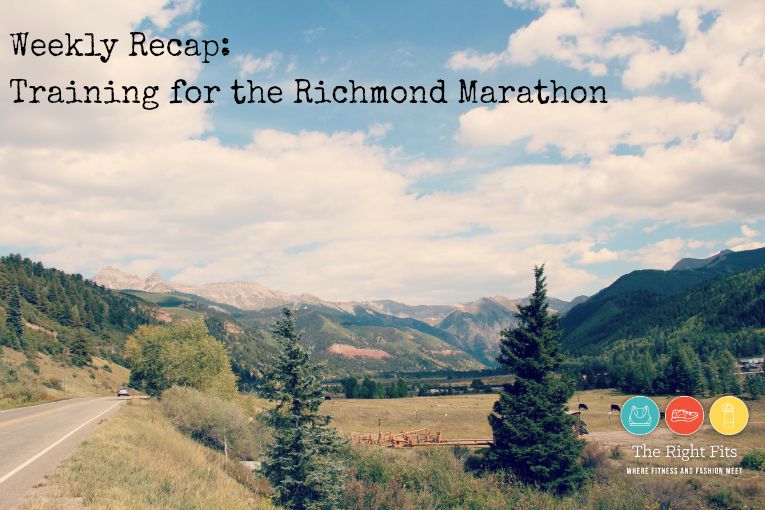 I'm behind on my weekly recaps! I know that these recap posts aren't my most popular type of posts, but personally I enjoy writing them. I like reflecting back on my training each week and documenting it all down here. So stick with me please 🙂
September 7-13:
Monday: Labor Day! We were at the cabin, so Dustin joined me for my tempo run. I had 2 miles to warm-up, then 6 miles at a tempo pace of 7:45, then 2 miles to cool-down. Dustin kept me right on pace, which was really hard to do on the hilly roads at the cabin. It felt so great to have a workout where I actually hit the paces exactly as much coach prescribed. 10 miles total. After returning to Minneapolis, I did 4 more easy miles (SUPER slow) for 14 on the day.
Tuesday: Complete rest! After the big double run the day before, this rest day was very welcome.
Wednesday: 8 miles with my friend Lindsey before work and 5 more miles with her again after work! We had to laugh that not many people have a friend who will run TWICE in one day together. A great friend to have.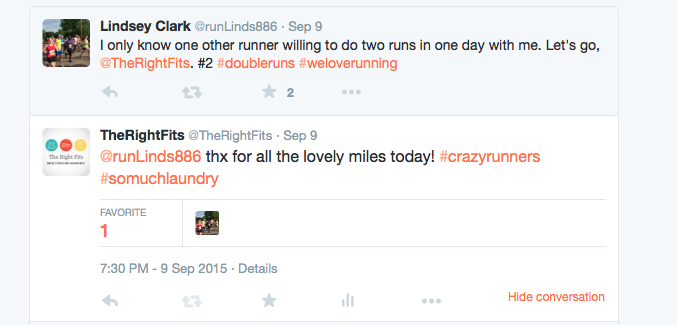 Thursday: Short 100m sprints. 2 mile warmup, 10x100m sprints, 2 mile cool down for 5.5 miles today. That afternoon we flew to Telluride, CO.
Friday: 4 mile run in Telluride at altitude of 8,000 feet.
Saturday: The glorious Imogene Pass Run!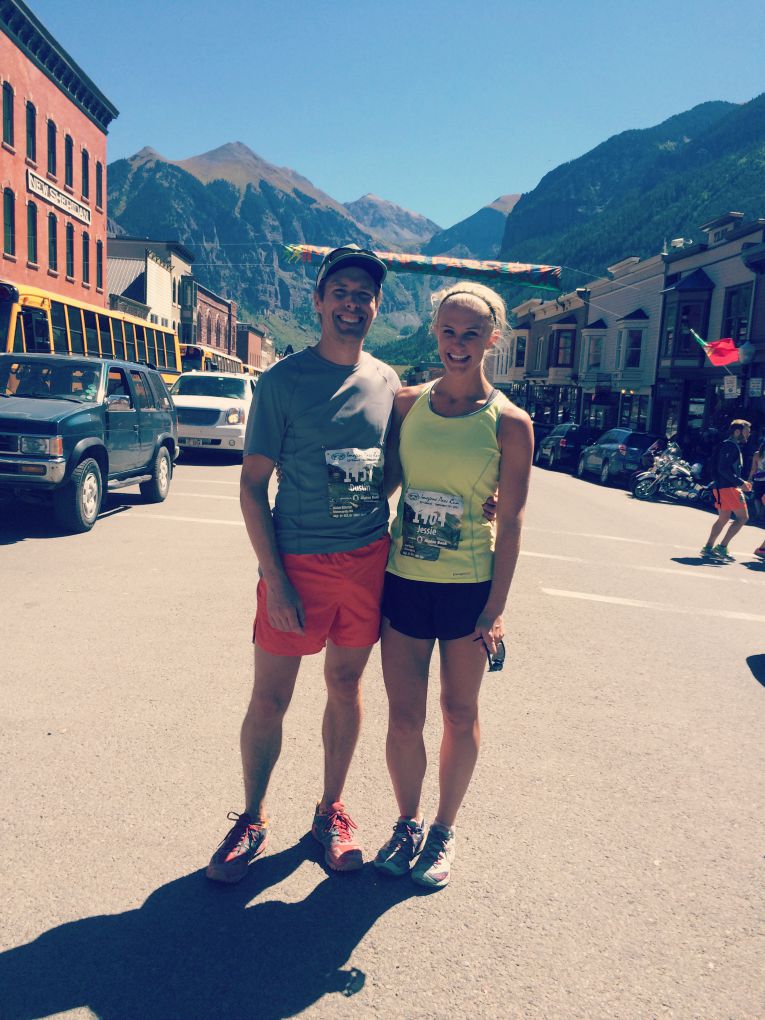 Sunday: A very sore 4.5 mile jog in Telluride.
Total: About 58 miles
September 14-19
Monday: Rest day! Legs were still quite sore from the Imogene Pass Run and we were traveling back to Minneapolis most of the day.

Tuesday: 7.5 mile easy run in the AM, 4 easy miles in the PM for 11.5 miles on the day
Wednesday: Tempo workout- my coach said this workout was optional depending on how my legs were feeling post-Imogene. They were still a little sore but not terrible, so I gave the workout a shot; it wasn't a complete failure. 2 mile warm-up, 6x1200m at a 7:40 pace with 1 minute recovery in between, 2 mile cool-down. About 10 miles total. I walked during the 1 minute recovery.
Thursday: I was supposed to meet a friend in the morning, but there was a serious storm going on. Instead, I had to do 5 miles on the treadmill. It had been awhile! It wasn't so bad; I watched Peaky Blinders on Netflix…anyone else watching this show? I'm only on season one, but I am definitely hooked!
Friday: 7 miles in the AM with my friend Sara from Sweaty Ponytail at Mill City Running's Flapjack Friday! Can you believe that sky over Minneapolis on our run? Gorgeous.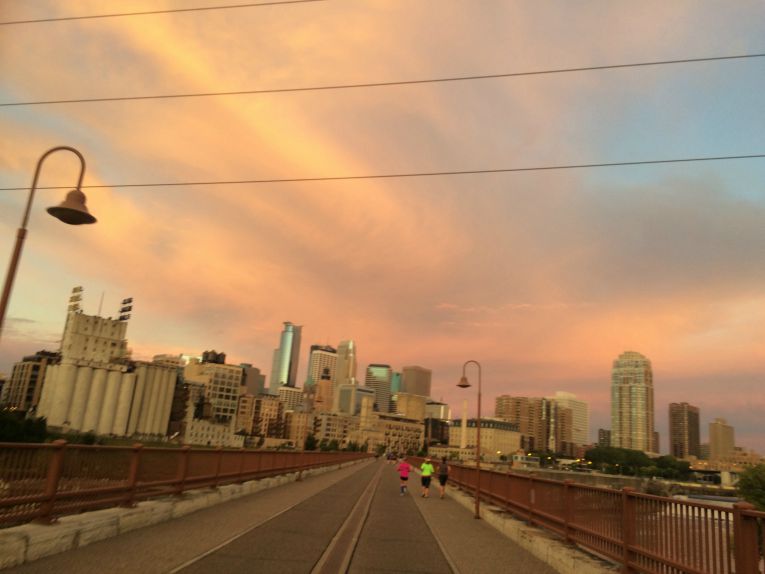 Unfortunately, I didn't have any time for flapjacks and had to zip home as fast as I could afterwards to make it to work on time. But it was a fun run with a great group! I had 4 more miles after work with Matilda the vizsla in the rain. I was not feeling that run, but I managed to tough it out for 11 miles on the day.
Saturday: 20 mile long run with the Calhoun Beach Running Club! The weather was absoutely beautiful and I felt pretty good throughout the run. I did, unfortunately, take kind of a rough fall though around mile 10. It's funny that I ran up and down a mountain last weekend with no injury but a few slippery leaves in Minneapolis left me in rough shape!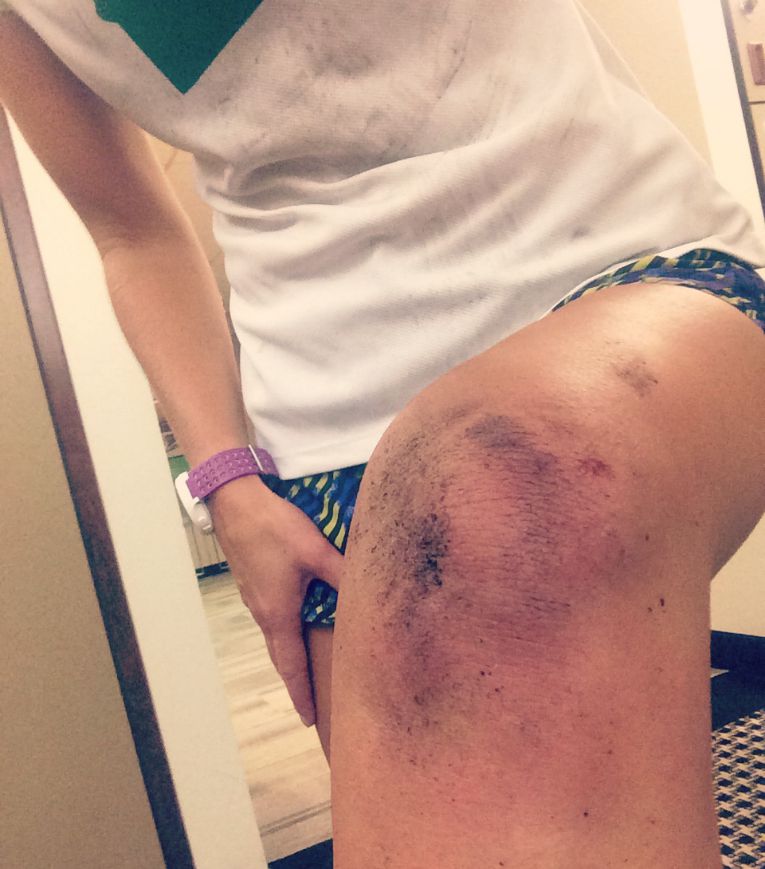 That evening, we joined our friends in Stillwater for dinner at LoLo's (YUM!) and then a little Oktoberfest celebrating at Gasthaus Bavarian Hunter.

Sunday: 7.75 easy miles in the morning and 5 more miles in the rain with Dustin in the evening. 12.75 miles on the day.
Summary: About 70 miles. Yikes! That's a big number for me, though almost all of the miles were easy or recovery after Imogene tore up my quads worse than I (and my coach) expected.
Two big weeks of training in the books. Richmond is now 7 weeks away. It's crazy to think we are only 7 weeks away from the middle of November! Fall will fly by.
One more quick non-sequitur- I received the New Balance catalog and their adorable winter running gear has me kind of excited for cold weather running. This jacket is definitely on my birthday wishlist!
(Visited 290 time, 1 visit today)