Dustin survived his first "ultra!" I tagged along and survived my first trail run (25k) at altitude.
The word "ultra" marathon is such a broad term. I guess it means anything longer than 26.2 miles and most "ultras" are trail races. It seems that in the "ultra" world, the 50k distance is just a "beginner" race into the world of ultra long distance, with 50 and 100 milers being quite popular. But in my world, a 50k  (31 miles) is pretty darn impressive!
Dustin's "ultra" was the Greenland 50k in Larkspur, CO. We flew into Denver on Friday, in time for lunch at "True Food Kitchen" in the Cherry Creek area (so good!) and then packet pickup at the Runner's Roost running store in Denver.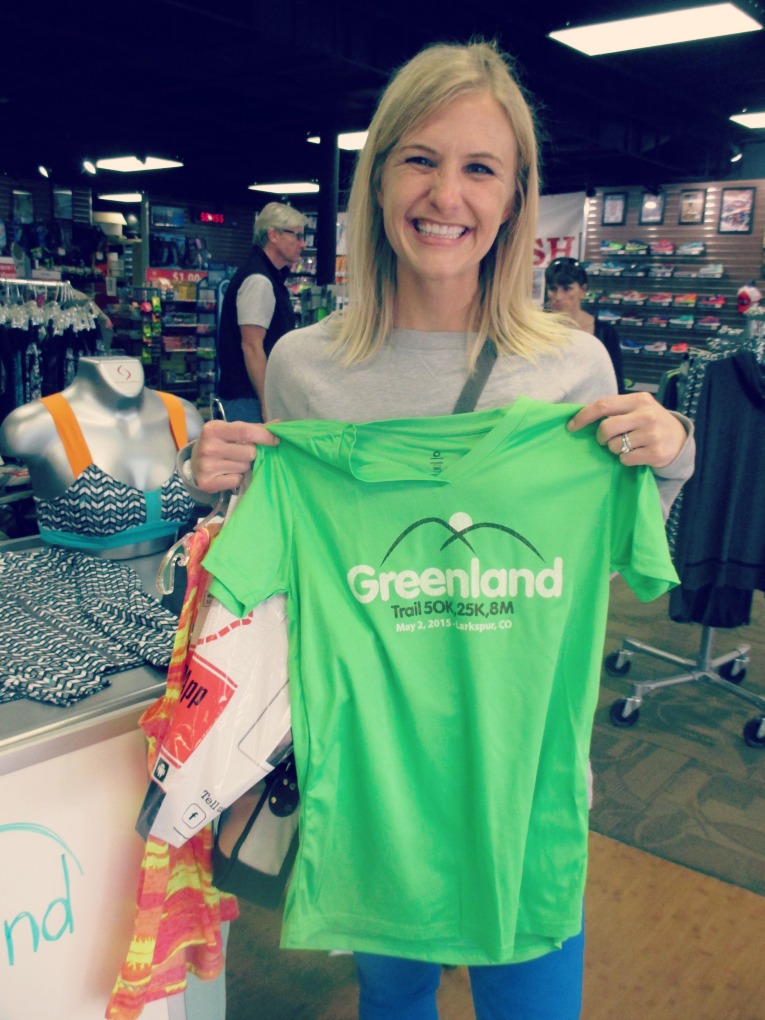 Packet pickup was a casual affair, but the Runner's Roost store was pretty impressive- quite large with all kinds of running goodies! We were only there for packet pickup, but I couldn't resist purchasing this Saucony Daybreak tank – such a fun pattern. I can't wait to try it out!
Race Day: The 50k started at 7 am and the 25k started at 7:30. There was also an 8 mile race that started at 8 am. We arrived around 6:30 am with plenty of time to spare before the 50k started. There was plenty of parking right by the start line too….just don't leave your manure in the parking lot!
One thing I noticed while waiting for the 50k to start is that trail runners have a lot more GEAR than I'm used to seeing at road races. Most of the runners had some sort of hydration pack, with quite a few Camel paks, all kinds of compression gear, and more.
I suppose that this race did encourage runners to bring their own bottles to reduce waste with the paper cups and clearly most runners obliged.
Course: The course consisted of loops of trail at Greenland Open Space. It was a beautiful area with a view of Pikes Peak in the background (in the header photo above!) The 8 mile was one loop, the 25k was two loops, and the 50k was four loops. The trails weren't too technical, but all dirt and grass. The hardest part was of course the hills, which were heavy in the first part of each loop. The second part of each loop was a bit more downhill, during which I felt like a million bucks (apparently "a million bucks" at a 25k trail race in Colorado equates to 8:30 min/mile, which was my fastest mile during this race!)
Weather: The weather was pretty hot, with loads of sunshine and high temperatures in the mid-70's. Dustin and I both got a bit sunburned, even though we loaded up on sunblock beforehand. I suppose it was the high altitude that added to the sun's strength. I got quite hot during the 25k so I was worried about Dustin having two more loops in that heat!
It had rained the day before in Larkspur as well, so the trails were extra muddy with loads of puddles along the trail.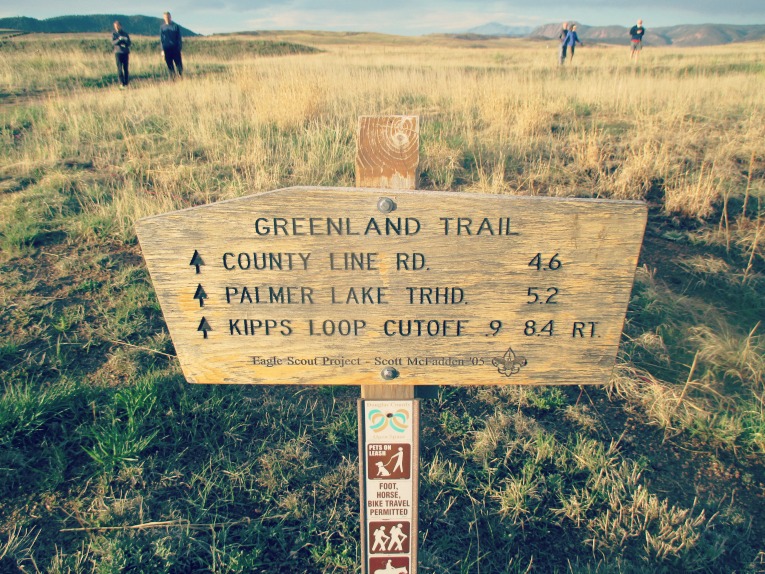 Support: With the looped course, runners would hit the two support stops multiple times. They had Heed, energy gels, water, and Gatorade.
SWAG: All runners received medals and finisher's shirts. The medal for the 50k was enormous! The finisher's shirt was the same old "women's" cut v-neck technical tee. I did end up wearing it for an easy recovery run later on the trip on a rainy run in Boulder.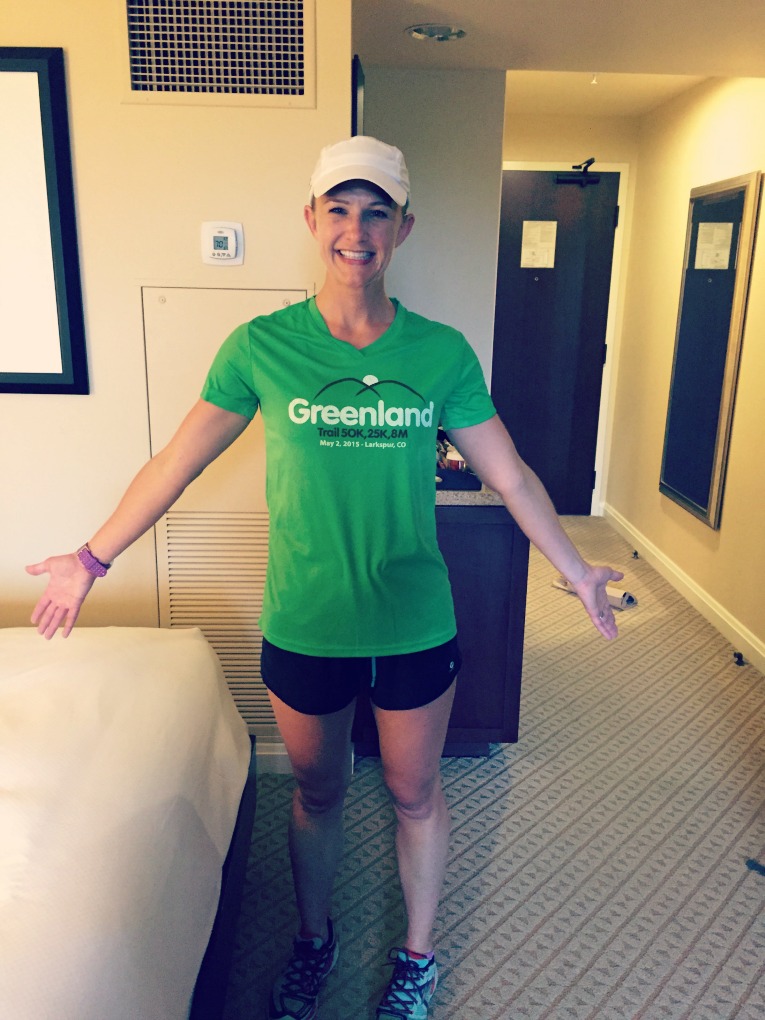 Finish Line: In true "trail run" fashion, the finish line was pretty great. There was beer (Coors Light of course- taste the Rockies!) pizza, muffins, oranges, water, and Gatorade.
There was also a DJ playing music and keeping the party-like feel going…and swimming pools full of beer!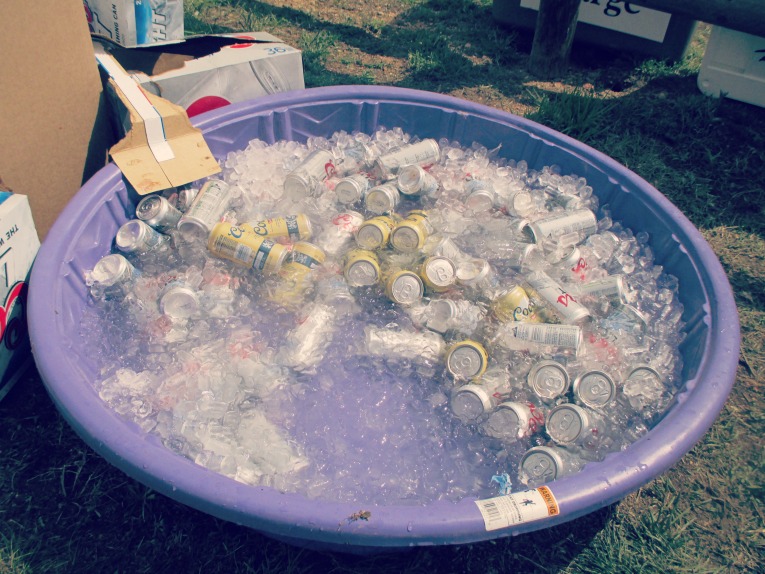 My Performance: Running at altitude was a challenge (this race started around 7200 feet). I could tell my breathing was off; I just couldn't get into a groove and slower paces felt tougher than they should. I also experienced some strange numbness/tingling in my fingertips when we first started running. I wasn't sure if it was altitude related, but it was a little weird. Anyone ever had that happen?
I think that my muscles cramped/tired out faster, because my body wasn't able to deliver oxygen to them as efficiently as it does at sea level. I know that altitude affects everyone differently, but definitely added to the challenge for both Dustin and me.
With that said, I finished in 2:26, which is a 9:23 min/mile average. Considering how much I walked during my second loop when I really started to struggle on the hills, I was happy with that time. My coach also was happy, stating that it was a strong performance for me on a trail race at altitude. It was, however, 14 minutes slower than the 25k I ran four weeks ago at the Ron Daws. What a difference the trails can make…and the altitude!
As for Dustin, he had a good experience and was glad he did it, but he says that he didn't race "smart." He started out much too fast for the hills and the heat. He also did a lot of walking on the final two loops on the uphill climbs, but he still finished his first 50k in good spirits. I was really excited for him and very proud that he toughed it out on a hot sunny day. It was fun to be a spectator, but I don't think I'm interested in anything longer than 26.2 for awhile though….He can  handle the ultras in our relationship for now!
At the race, I ran into an old running friend from the Calhoun Beach Running Club who moved to Colorado last year. What a small world it is!
She said it took her about two months to adjust to altitude after moving here. There's a reason why so many elite runners train in Colorado!
The winning woman at the 50k set an 11-minute course record with a time of 3:41 (7:08 min/mile). Incredible! She's clearly a bit of a runner..
Fitness Fashion: I wore my Brooks Cascadia (the trail version of my regular running shoe)

…with a pair of Patagonia Strider Pro shorts (so many pockets!) and a Patagonia Fore Runner Tank.
No, Dustin and I did not plan our "twinning" outfits! #cheesy 
Overall, I had an awesome time at this race. The Greenland 50k and 25k were both great races. Colorado has a ton of great trails and I was happy to have the opportunity to experience a few of them.
**I'll be back later this week with more on our long weekend in CO. Thank you all for the helpful recommendations!
(Visited 990 time, 1 visit today)