Today's Fitness Fashion Friday is a FAILED fit!
Now, this blog is called the Right Fits, but I'm going to be completely honest with you guys. My second month of Fabletics was the WRONG fit.
You can check out my first month of Fabletics here. The first month wasn't so bad- a decent pair of capri tights and an average tank top; nothing too exciting, but decent enough that I decided to continue for another month.
But this month? I don't know what happened. I mean, I did have a say in what I received, so it is partially my fault for ordering poorly. But I tell you, everything I ordered looked cute on the models.
On me? A whole different story.
I received my second shipment a few weeks ago. It included three items for $49.95. My selection was called the "Chatra," and it included the following:
Health Chatra Back Track Tee II
Miramar Short
Ayni Sports Bra
This is what it looked like on the model: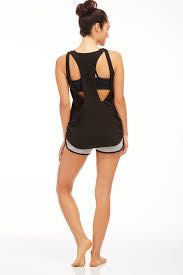 And this is what it looked like on…well, not a model.
Health Chatra Back Track Tee II:
This tee is cotton. Maybe I'll wear it to lounge around this summer at the cabin. It looked pretty cute on the model, but on me, it looks cheap and strange. It's not a running top, nor do I even think it will work for a yoga class. It looks like a cut-off tee for a body builder at a strange 80's gym. Not something I would order again. It looks best from the back…so that should tell you something!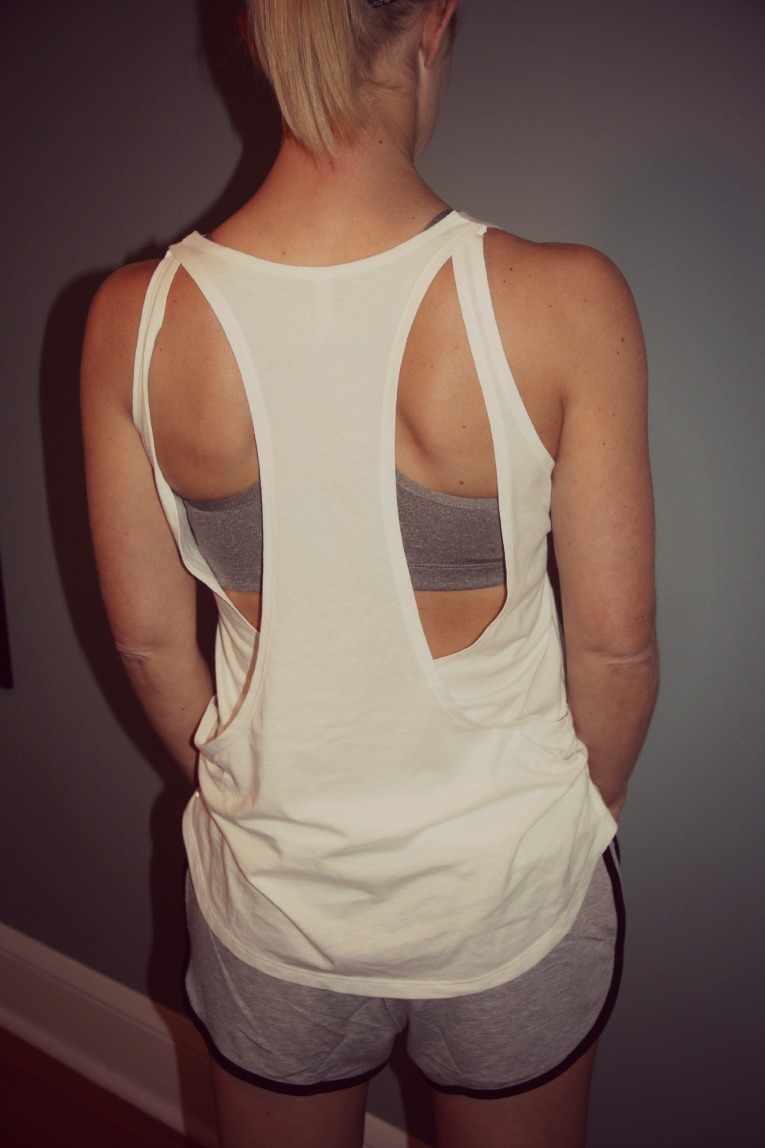 Miramar Short:
The Miramar shorts are too big. They could almost fall off of me and I ordered a size small! There isn't much for elastic and honestly they kind of look like a big ol' diaper! They are not a pair of shorts I would wear to work out, but I suppose they're fine for lounging. Or sleeping 🙂 My "second opinion" in my house said he had to be honest and they are ugly.
So there's that…
Ayni Sports Bra:
The Ayni Sports bra is cute, but not supportive. It comes with removable pads and it does have an interesting back with the unique strap design (below).
But there will definitely be no running in this sports bra. It's definitely about fashion over function, but it's fine for an easy yoga class. I actually would prefer to have a few non-running sports bras so I can save my really supportive ones for running, rather than put them through extra wash and wear for lower impact workouts.
So I guess this Ayni Sports bra wasn't actually that big of a failed fit.
This month of Fabletics was a failed fit, but I'm sharing it with you so you have the whole truth about Fabletics. I can't only share the stuff that I love on the blog, right? Of course, I do share with you lots of items that I love, but so far, Fabletics apparel does not fit that category. I don't want to make anyone mad, because I know a lot of you have tried it and LOVED your stuff. I also know that its partially my fault because I picked the wrong items for my body, but it seems so far that Fabletics just might not be the right fit for me.
Have you tried Fabletics? Were you happy with your goods? Is there something different I should order if I decide to give it one last shot?
(Visited 875 time, 1 visit today)