We spent last weekend in beautiful Colorado! We were there primarily for Dustin's 50k race in Larkspur, but we made it into a nice long weekend getaway.
We arrived on Friday, and as I wrote in this post, stopped for lunch at True Food Kitchen in Denver before making our way to the packet pickup. After packet pickup, we wandered around a bit at the shops nearby before finding our way back to our hotel in Castle Rock. We only stayed at that hotel for one night before the race before moving to the St. Julien Hotel in Boulder. The St. Julien was very nice. I definitely recommend this hotel! They have a lovely spa onsite too. Dustin got a massage there the day after the race, which he enjoyed. We also had to use the showers in the spa when we first arrived…we were coming straight from the trail race and our room wasn't ready yet. I'm SO glad they let us shower there, as I was pretty muddy from the race. I'm guessing they didn't want us scrubs to mess up their lobby while we waited for our room, so they were quick to offer up the spa showers!
After a shower, we headed out for a late lunch at Mountain Sun Brewery on Pearl Street. Pearl Street reminded me of State Street in Madison mixed with the laidback vibe (and plethore of craft breweries) in Bend, Oregon. I loved it!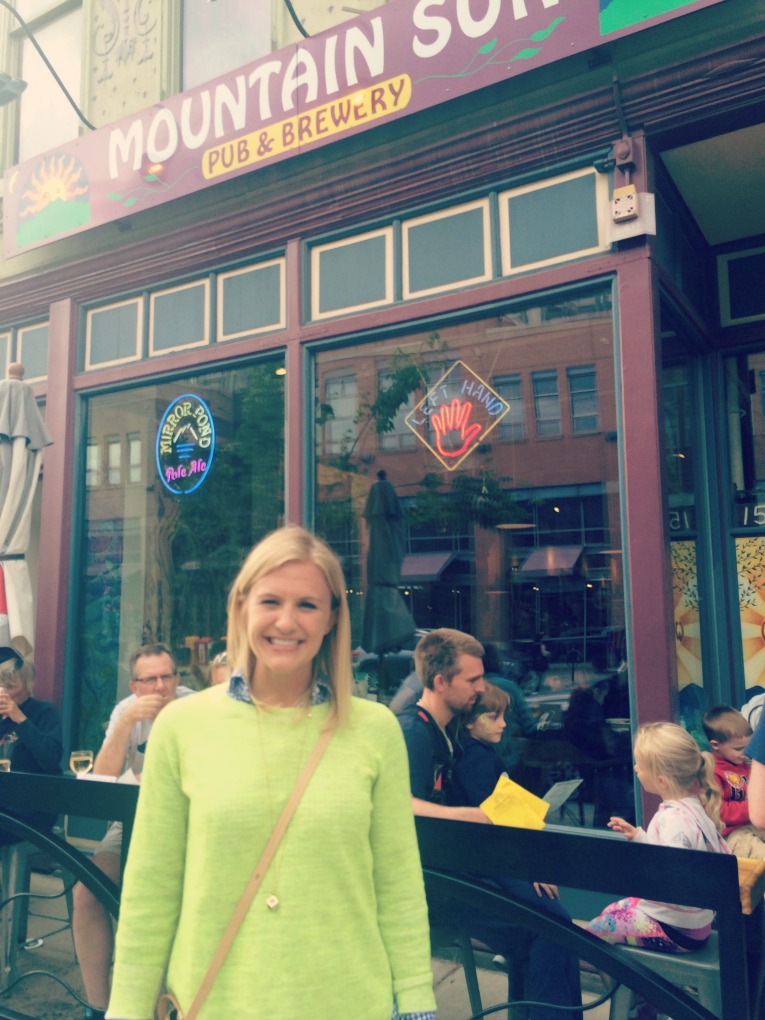 After our late lunch, Dustin was pretty tired from his 31 (!!) mile run, so we headed back to our hotel for a bit to relax. Eventually we made our way out again for dinner at a tasty Mediterranean restaurant called the Med, where we shared several tapas and some wine.
Sunday morning I was up early for a quick 5 mile recovery run..the altitude was still tough and my legs were sore from the trail race the day before. The St. Julien was right by the Boulder Creek path, so it was easy for me to find a place to put in a few easy miles. The concierge at the hotel told me I could run in either direction, as the path went for several miles both ways.
The Boulder Creek Path reminded me a bit of the Minnehaha path in Minneapolis. There were water fountains along the way. I didn't see any bathrooms, but I imagine there probably were some at the different parks just off the path.
Dustin was just returning from his massage when I got back from my run, so we quickly showered and headed out to Estes Park. Several of you had recommended hiking in Estes Park and I'm glad we checked it out! The town was really beautiful. We started out with a quick stop at the Stanley Hotel (where Stephen King's "The Shining" was filmed) before making our way into the Rockies National park for some hiking.
I read The Shining years ago, but picked up a new copy to read on the flight home as I had forgotten most of the story!
The park ranger warned us that a lot of the trails would still have snow. He recommended Yak-Traks, but we hadn't packed any. We decided to go for it in our trail running shoes instead.
The trails were definitely slick; Yak-Traks would have really helped, but we were able to complete about 3 miles of trails before it started to snowstorm on us! It was so strange because it was still pretty warm, but it was snowing like crazy!
We saw a few bighorn sheep and plenty of elk in the park. The sheep were pretty cute!
By the time we finished hiking, it was about 2 pm, so we were ready for lunch. We wandered around Estes Park for awhile before deciding on a restaurant called "Nepal" for some Himalayan food. Pretty tasty!
After filling our bellies, it was time to take a break from the active touring and check out some of Longmont's breweries!
First, we stopped at Oskar Blues' taproom, called the Tasty Weasel. This space was really cool and I definitely enjoyed the folksy duo that was performing while we drank our beers.
Next we made our way to Left Hand Brewing for a tasting of their brews.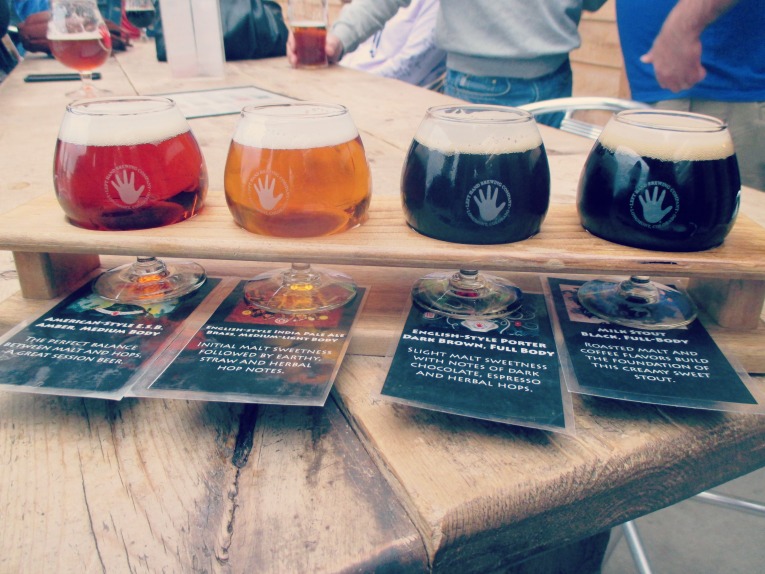 There are so many other breweries in the area, but we were ready for a break. We headed back to the hotel to relax for awhile. Eventually we made it to the Riffs for a casual dinner. The food at the Riffs was great (I had the gnocchi) but the service was a little spotty.
Monday morning, we woke to some serious rain. I decided to tough it out and did another 5 mile run around Boulder. I was pretty drenched by the time I made it back to the hotel!
By then, it was time to back our bags and head to the airport. Our short weekend in Boulder was lovely, but much too short! It seems like a great place to live…so close to the mountains for skiing yet a bit set back from all the tourism. I hope to make it back there again soon!
**Have you been to Boulder? What did you think of it? Let me know!
(Visited 262 time, 1 visit today)