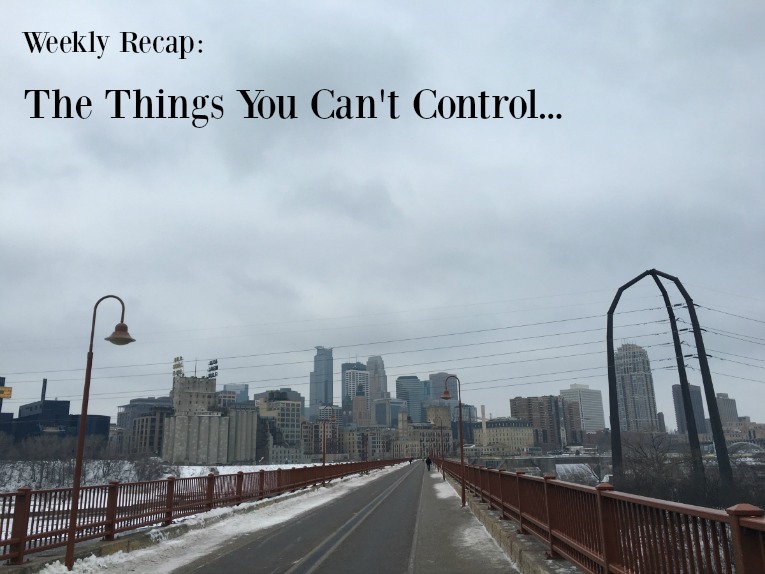 Here I am, one week out for the Phoenix Marathon. My goal race.
So, one week before the marathon, you're supposed to relax, enjoy the taper, try not to stress, stick to your normal routine…
This week was basically the opposite of that. No routine. Lots of stress. Not a lot of relaxing.
We had to be out of our house to have our floors refinished. (They look fantastic, btw!). We spent two nights in a hotel downtown and two nights at a friend's place. Not the normal routine.
On Wednesday, I started to get really stressed out about the forecast for Phoenix…especially after the race organization started posting things like this!
I started exchanging emails with my coach, who was also concerned about the forecast. He sees all the data from my runs and he knows how much I struggle in the heat. He suggested looking into another race instead. The New Orleans marathon is the same weekend. Napa Valley and Myrtle Beach are both the following weekend. Dustin and I started looking into the logistics of this- changing our flight, registering for a different race, booking a new flight with short notice, finding a hotel, etc. There was going to be a significant cost to do this. But a forecast near 90 degrees? That's just not possible for me….
But then I stopped and realized what I was doing. This was crazy. I know that I have a goal that I am trying to achieve, but like I've said many times, running is a lifestyle for me. It's not just one race. I couldn't spend a ton of money or effort or emotion chasing the weather across the country just to attempt a BQ.
Phoenix was the plan, so I was sticking to it.
After that decision was made, my coach came up with the following plan:
Go into the race with the mindset that you are going to go after your BQ time
If the weather is too hot we should back down from the BQ pace and just plan on finishing the marathon. This way we save your legs for London (6 weeks later) and we can get back to training for that race.
If you hit 16 miles and you are not on pace for Boston, shut it down
Most likely it will be too hot and most likely I will have to shut it down. It's disappointing, yes, because this is probably one of the few times that Dustin will be willing to pace me. (In fact, maybe having a pacer is bad luck? I had a friend try to pace me at the Flying Pig Marathon and that was a disaster. Wait- Am I already talking myself out of even trying? )
Of course I am disappointed about the forecast, but in running (and in life) there are things that are outside of your control. I can control my training, my diet, my rest, etc. but I can't control the weather. I can, however, control my reaction. I will try to keep a positive outlook and remember that I GET to run the Phoenix Marathon this Saturday. I am healthy and I will make the most of it.
With that said here's how this week worked out…taper time!
Monday: I had the day off for President's Day. Dustin and I ran together around 9 am. 2 mile warm-up, 4 miles at an "easy" tempo pace of 7:40, and 2 miles to cool down. Those 4 miles at tempo were really hard for me (a lot harder than they should be). I think my legs were still tired from Saturday's 12 miles at marathon pace.
Tuesday: Easy 5 mile recovery run. I worked from "home" i.e. the hotel where we stayed for a few days, and I took the opportunity to run a loop by the Stone Arch bridge over my lunch. What a fantastic way to break up the day!

Wednesday: 7 morning miles with my friend Christie- downtown again! She lives downtown, so I ran to her place and we did a 6 miles loop by the river. Wednesday evening, we made the switch from our hotel to our friend's place, picking up Matilda from Pampered Pooch Playground on the way.
Tilda wasted no time making herself right at home! Fortunately, these awesome friends have two dogs and didn't mind Matilda's company. (Thanks so much Mike and Julie!)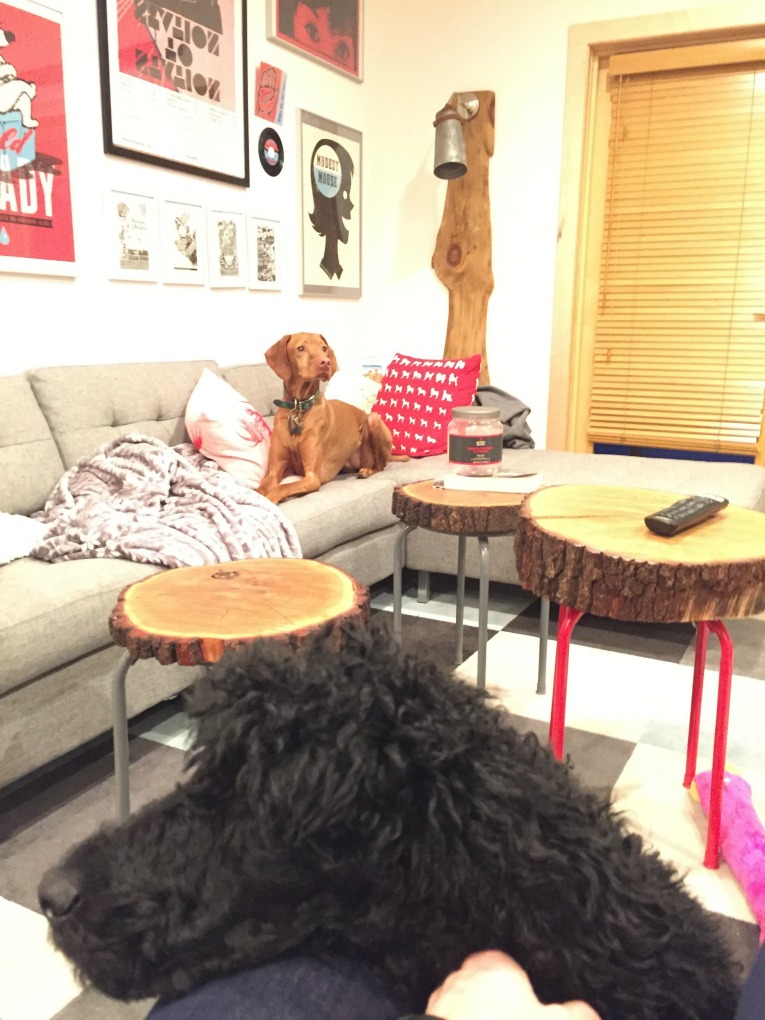 That evening, we all ("we all," including all the dogs!) went to another friend's place for a beer, while our host/hostess waxed their skis to prepare for the birkie on Saturday. The host of that evening is starting a brewery with his fellow chemist friend, aptly named "Two Chemists Brewing." It was very good beer!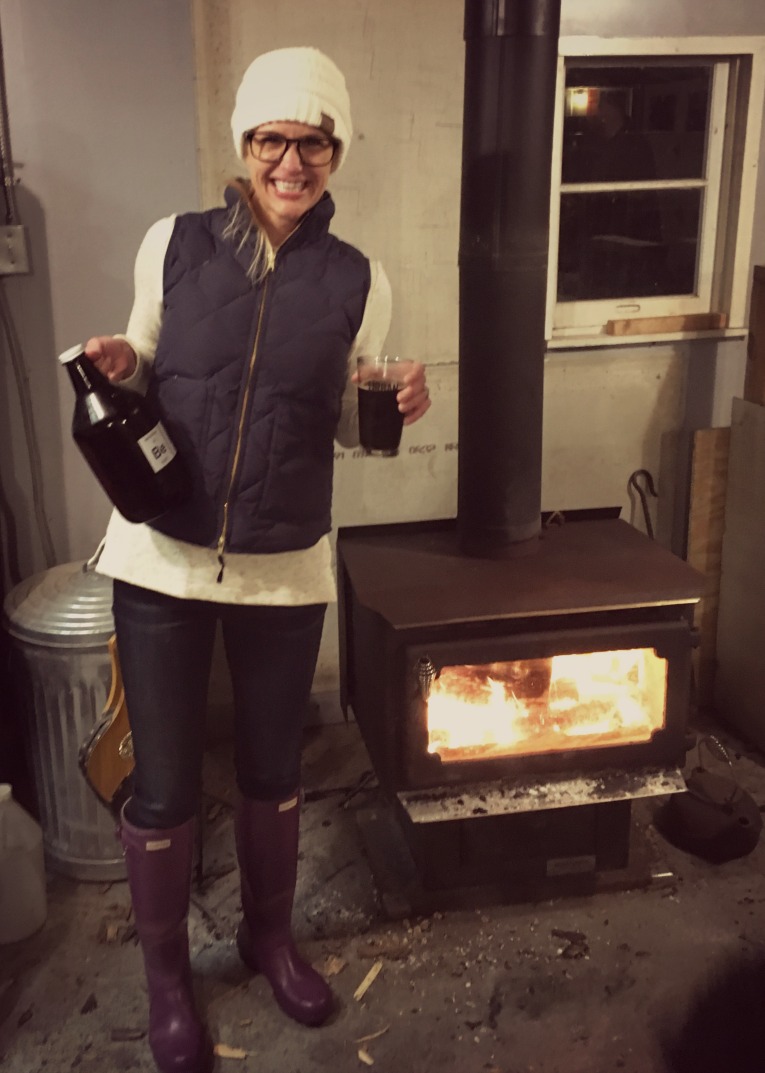 Thursday: Tilda and I ran from our friend's place, which is close to Lake Harriet. It was funny how just a small change in starting point felt like a totally different route! I had 2 miles to warm-up, 8x300m sprints, 2 miles to cool down. 6.75 miles.
Friday: REST!
Saturday: Easy 13 mile long run. It was very, very slippery out there. It had been really warm the day before (I think we hit 50 degrees) and all the melt froze overnight. What a mess! The girls that I ran with from the Calhoun Beach Running Club all took it really easy to avoid any falls.
Sunday: 5.5 miles with Dustin and Matilda.
Summary: 45 miles.
Later Sunday afternoon, we stopped by a friend's to meet their adorable new puppy Piper! So cute.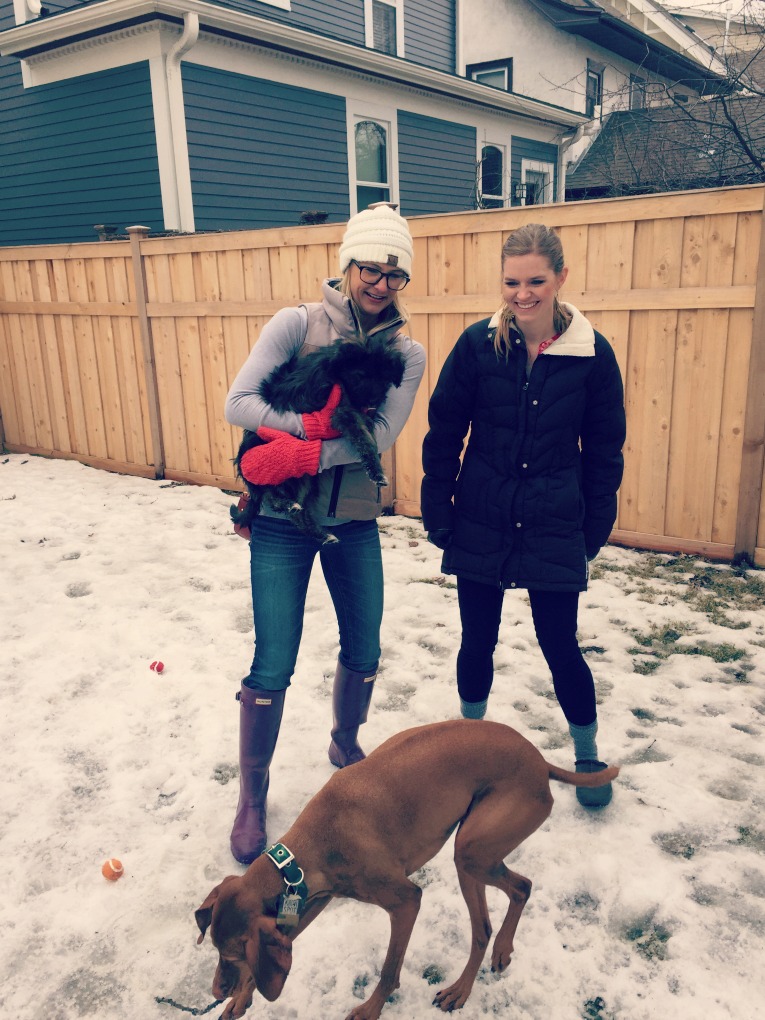 Tilda did not want to be held- there were too many new smells and toys to play with!
Well, keep your fingers crossed for cooler temps in Phoenix. Considering I got frostbite on my long run last week, I would not say that I have been training for a hot weather marathon. It will be an adventure.
(Visited 491 time, 1 visit today)