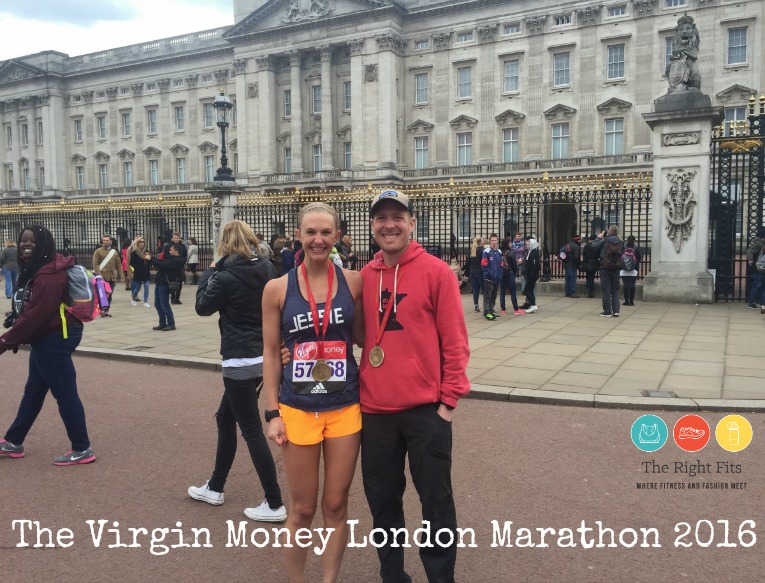 Marathon #22 complete, the Virgin Money London Marathon 2016!
On Sunday, April 24, I ran the London Marathon. It was brilliant. Smashing. Grand. Loads of fun!
If you missed it, I shared some pictures and data from the expo in this post. Today, I'll recap the actual race.
Marathon Fueling:
Our hotel provided breakfast for all the runners starting at 5:30 am. Since we didn't need to leave for the start until 8 am, we got up around 5:45, threw on some sweats and shuffled down to the breakfast. We knew from the previous day that there was toast, but you had to order it a la carte, separate from the rest of the breakfast buffet. We brought our own peanut butter- just can't find it here! So I had a little bit of fruit, some coffee, plenty of water, and a piece of toast with PB/honey. About 1 hour before the race started, I had a serving of Gen-U-Can. However, due to the late start, I was actually pretty hungry at that point, so I had a GU as well before the race. Counting that GU, I actually had five GU's total throughout the race, in addition to the Gen-U-Can. It didn't hurt my stomach though, so I figured it was okay to over-fuel a little bit.
On the course, there were water stops seriously almost every mile. Instead of Gatorade, they served Lucozade which wasn't too bad. Pretty sweet.

A unique thing about the water stops at the London Marathon is that they handed out actual water bottles, rather than cups of fluids. The lucozade was also served in bottles, as big as the one pictured above. The volunteers were very quick to clean up all the discarded bottles, but it still seemed so incredibly wasteful. For example, I would only take a few sips each time and then had to toss the whole thing. This would be one of my only complaints about this marathon.
Getting to the Start Line:
The London Marathon does not start until 10 am, which is pretty late. For comparison, the last marathon I did, Phoenix, started at 6:30 am!
Since we were participating in the marathon via Marathon Tours, we had a lovely coach bus to take us to the start line. I think it would have been a lot more stressful and time-consuming to take the train, as the start line was pretty far away from our hotel. We heard others talking about the time it took to get to the start, so I felt grateful to have the shuttle bus.
(Dustin gives me a hard time because I don't like to make small talk on the bus. I guess it's just nerves, but my introversion is on high level and I would rather quietly sit there. The bus was full of other Marathon Tour runners looking to connect and share their stories and I closed up…I can't help it!)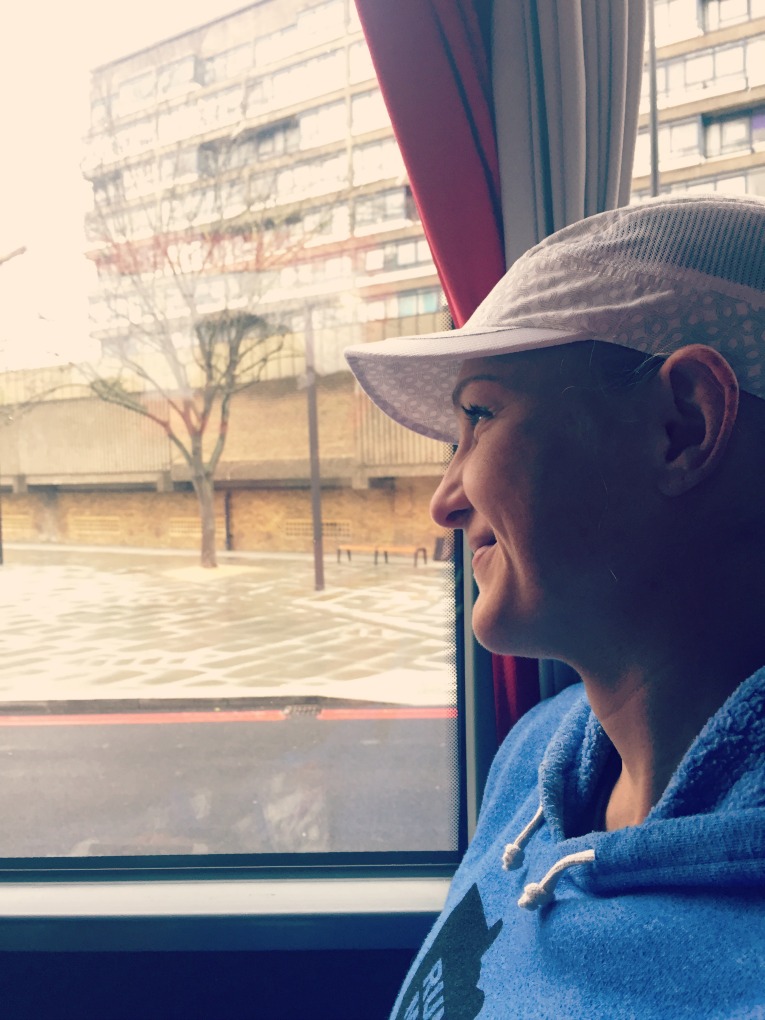 The start line for the marathon was in Greenwich Park, next to the Greenwich Observatory. The staging area was huge, with plenty of port-a-potties. In fact, there were urinals for men AND women. I really wished I would have checked out the women's urinals, just to see what they were all about. Any one know how they work?

The Weather:
The forecast had called for chilly temperatures and the possibility of snow (which everyone in London was freaking out about!) However, it ended up being quite nice. The temperature at the start was in the upper 40's and by the finish, it was close to 60 degrees. We did get hailed on briefly in the middle of the race, but otherwise, there was sunshine (yes, in London!) and I actually got pretty warm during the race and even started going through some of the shower sprays that were set up on the course.
Fitness Fashion for the London Marathon:
This Athleta Chi tank, Oiselle roga shorts, Louva arm sleeves, this Lole hat, fitsox, Brooks Ravennas (second marathon in this pair- time for a new pair!), this Moving Comfort bra, a SPI-BELT with my camera and more GU's, and my Garmin 225 (with the broken/duct taped band.)
These Oiselle rogas are the ones I purchased on Zulily for super cheap. They are a size 6 and they are VERY short- shorter than all my others. But I love the color so I decided the Queen would have to be okay with me showing a little extra leg for the marathon in the name of the Right Fit.

I started the race with a throw-away long-sleeve and some Louva arm-sleeves, but I tossed them both a few miles in. I also wore a poncho while we waited at the start line (after I checked my "kit" bag <– as the Londoners call it). The poncho helped keep me warm as it blocked the wind.
Our friend Craig didn't have his cell phone with him, but we still randomly ran into him right before we headed to our corrals. Perfect! As I mentioned in this post, we were all in the Blue starting area, but different corrals, so we had to split up around 9:45 as we headed to our respective corrals.

We were in the blue starting area. There was a red starting line and a green one. I believe the red is for UK residents and green is for "celebrities." The Londoners take their celebrities very seriously! I read a list of all the different celebrities who were running, but I only recognized Natalie Dormer, who plays Margaery Tyrell in Game of Thrones: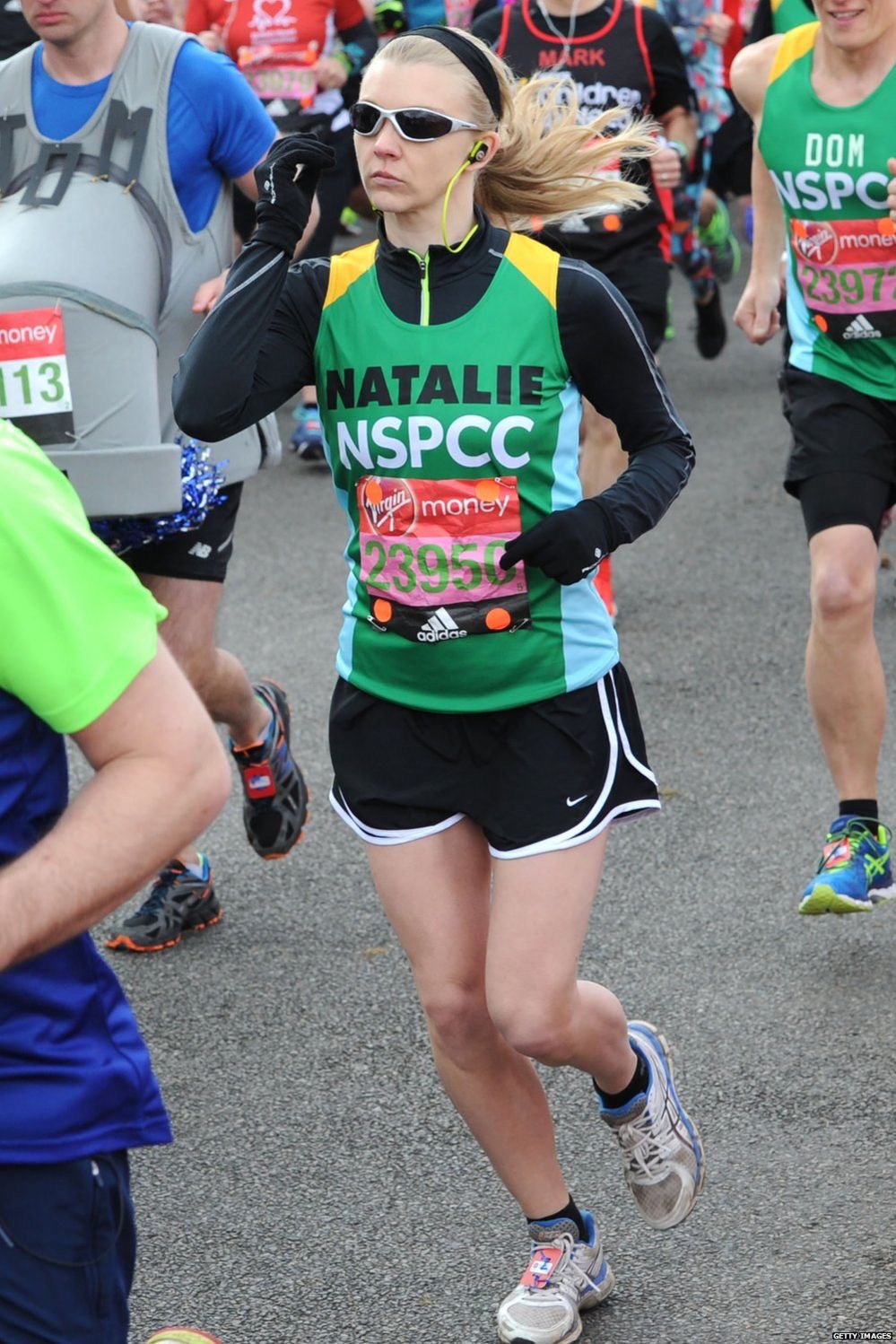 The Course:
The marathon took us from Blackheath to Woolwich to Greenwich. The first few miles were actually a slight downhill. The elevation chart below makes it look pretty drastic, but if you look at the scale, it actually was pretty gradual.  There were some slight rolling hills, but the course is generally flat and fast.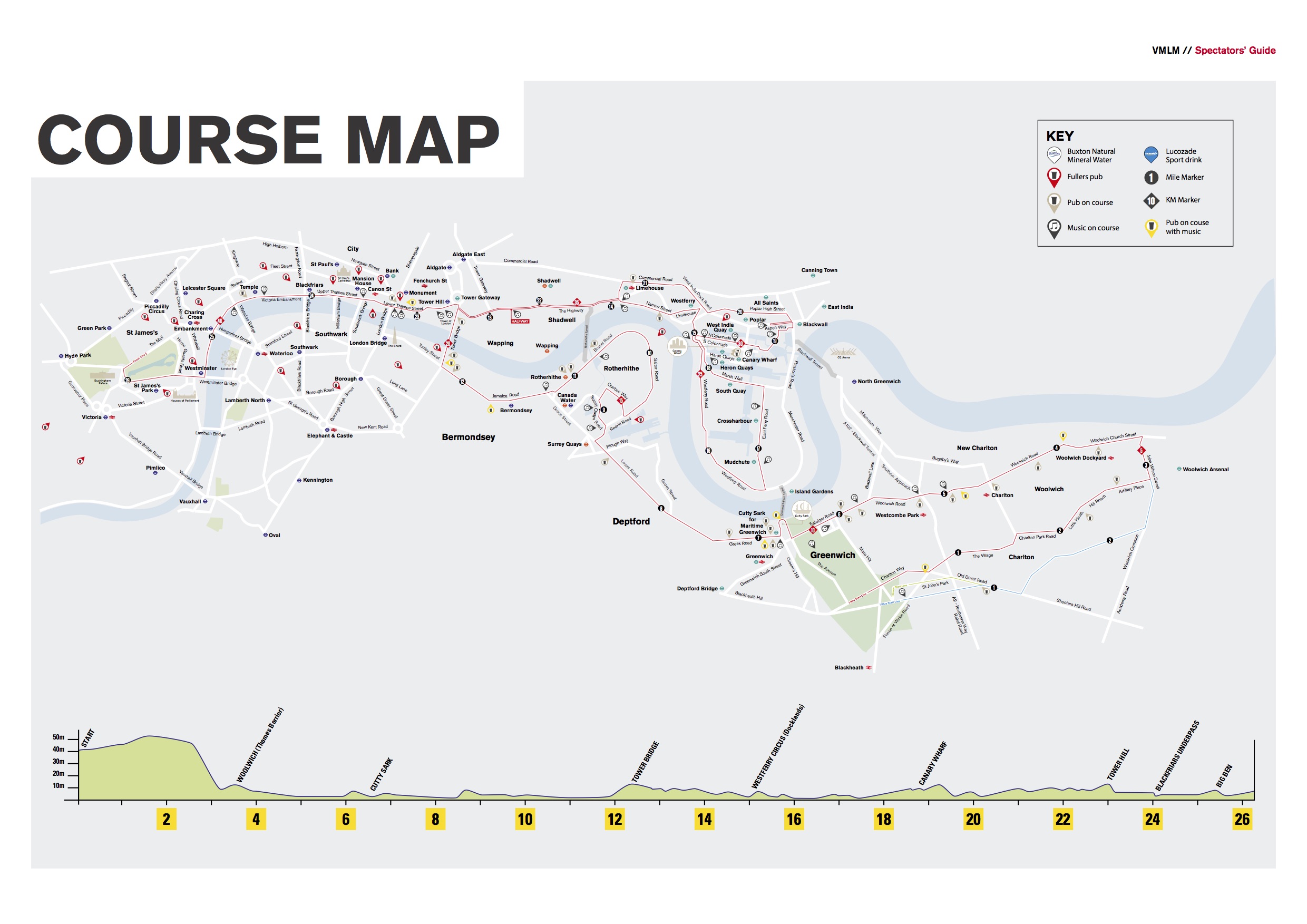 Around the halfway point, we crossed the Tower Bridge to the Isle of Dogs. This was my favorite part of the course. I actually got a little choked up here- the crowds were so thick and the cheering was deafening, and it was just such a cool experience to be running over the Tower Bridge in the London Marathon.
The crowds throughout the entire race were pretty fantastic. The only downside is that the course never really opened up- it was always pretty crowded for me. It didn't stress me out that much, since I wasn't shooting for a PR. However, I do think it would have been tough if you were. Some parts of the course are incredibly congested. It wasn't quite as bad as the Berlin Marathon, but still crowded.
There were so many people dressed in costume, it was entertaining to watch. Even though I had my small camera with me, I never actually pulled it out of my SPI-BELT. In hindsight, I wish I would have on Tower Bridge but it was just too much of a hassle, so I didn't. Here are just a few that I saw online afterwards:

The home stretch was over the London Bridge to the Mall by Buckingham Palace. It was a pretty magnificent finish line, probably one of the best I have experienced (though the marathon finish line is always magnificent to see!) Since I had been taking it pretty easy, it felt amazing to finish strong, smiling and passing runners left and right.
My Performance:
Eight weeks after the Phoenix Marathon, I ran 10 minutes slower at this marathon, but I was quite pleased with the time. Considering 3 of those 8 weeks, I couldn't run due to injury, I'm happy with how easy this pace felt. I held back throughout the entire race. I didn't pay much attention to my Garmin, but just focused on enjoying the experience. To run a 3:49:26 and feel fantastic at the end is a significant improvement for me. It shows me that I am in better shape than I was a year and a half ago when I first started working with Antonio, my coach. Back then, my PR was 3:55, and I was stuck there. Now, I am able to run a 3:49 without much effort.
And running the London Marathon for fun was AWESOME. I seriously smiled the whole way. No "Go Yessie's" like at the Berlin Marathon, but still lots of cheers. I wore my name on my shirt and got SO many cheers, I just loved it. It really gave me energy and there was never a crappy feeling, not even at the end! I remember thinking as I passed mile 21, "Wow…I never feel this fantastic at mile 21!"
Of course, this positive personal performance definitely played into my general positive experience at the London Marathon, but I thought it was very well done and a grand time.
Dustin also had a very positive experience; he set a PR with 3:03:26. That's 25 seconds faster than his previous PR and well under his Boston Qualifier time of 3:15. He will definitely be at Boston in 2017! He said he felt strong the whole way and ran even splits the entire race (about a 6:57/average)
There was a blue line on the course that marked the shortest route/tangents. Based on my extremely long Garmin distance at the Tokyo Marathon, I really focused on trying to stay near that blue line. Even so, I ended up a little long, with 26.58 miles. That shows you that the course was crowded, as I did have to swerve around other runners.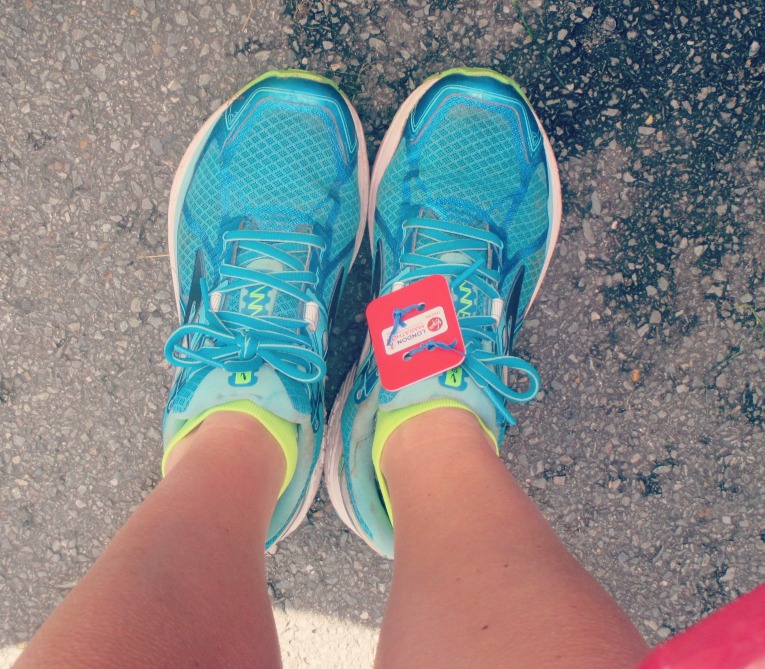 London Marathon 2016 splits:
Mile 1: 9:04 <– super crowded at the start but this was my only mile over 9.
Mile 2: 8:39
Mile 3: 8:19
Mile 4: 8:31
Mile 5: 8:45
Mile 6: 8:48
Mile 7:  8:47
Mile 8: 8:41
Mile 9: 8:49
Mile 10: 8:53
Mile 11: 8:37
Mile 12: 8:57
Mile 13: 8:43
Mile 14: 8:33
Mile 15: 8:45
Mile 16: 8:36
Mile 17: 8:30
Mile 18: 8:36
Mile 19: 8:26
Mile 20: 8:11
Mile 21: 8:45
Mile 22: 8:46
Mile 23: 8:47
Mile 24: 8:49
Mile 25: 8:43
Mile 26: 8:14
Final 0.58: 7:33
Total: 26.58
Pace: 8:38 min/mile average
Total Time: 3:49:26

The Finish Line:
The finish line area was very organized. I received my medal right away, was shuffled through to the official photo area, which you could easy pass if you wanted to. Then I received a goodie bag full of all the regular food and snacks, as well as my finisher's shirt right in the bag. It was very efficient this way. I quickly found my checked bag, turned on my phone, and was able to connect with Dustin, who was waiting for me by the "international expatriation meet-up" area. We took a few pictures by Buckingham Palace, and then made the short walk back to our hotel (conveniently close to the finish.)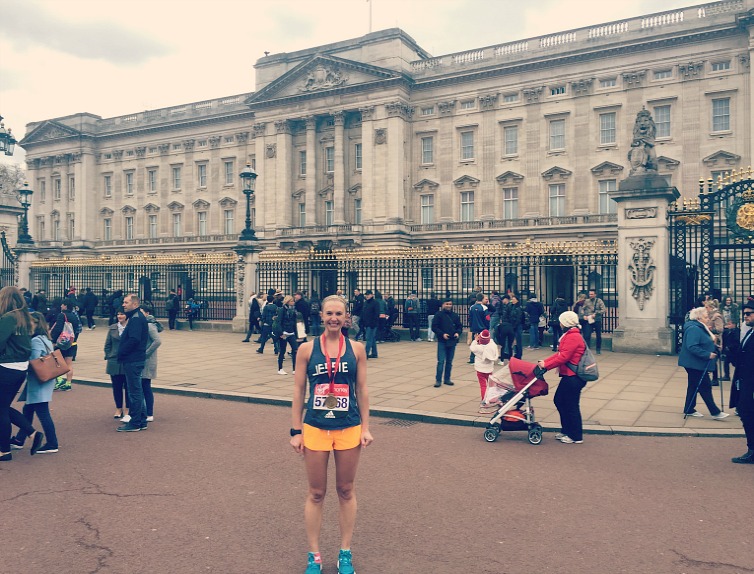 After a quick shower, we met our friends for some food at a cute little Italian restaurant called Colosseo on Victoria Street. We had a few glasses of wine and some food before joining the official Marathon Tours celebration across the street at a pub called "The Albert."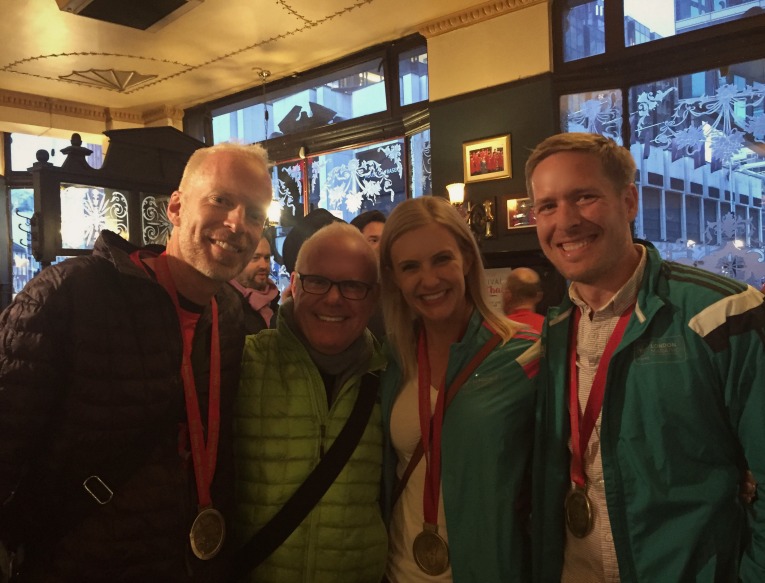 There were a handful of runners at the celebration who ran both Boston and London; similar to the Boston-to-Big-Sur challenge, I guess its popular to run both of these races, less than a week apart. Impressive.
Post-London Marathon. In a pub. With a pint.

The London Marathon was a brilliant race. I really enjoyed it and am so glad that I was healthy enough to experience it and I definitely recommend this race to others.

(Visited 1,673 time, 1 visit today)