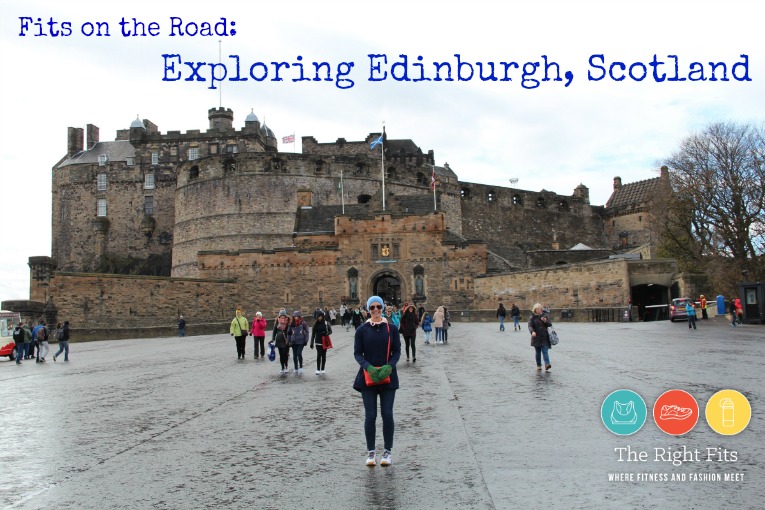 I am back in the US after a wonderful trip to the UK. Though the primary purpose of our trip was the London Marathon, we spent the majority of our time in Scotland. This blog is usually about fitness and fitness fashion, but I do like to recap any traveling that I do- for my own records and with the hope that my experience is helpful to someone planning a similar trip. Just a warning- this post is chock full of pictures and a lot of information, so my apologies in advance.
So, the marathon was Sunday (catch up on that recap here). Monday morning, we took a Virgin East Coast train straight to Edinburgh. We decided to pay up for First Class tickets on the train, which included food and drink, as well as comfortable seats with plenty of space. The train ride took about 4 hours.
Upon arrival in Edinburgh, we lugged our bags to the Inn on the Mile, which is a hip little inn right on the Royal Mile. They greeted us with complimentary beers- can't complain about that!

There were only nine rooms at this place, but our room was spacious and in a spectacular location. Forewarning- no elevator! Lots of stairs post-marathon 🙂

After checking in, we had a little bit of time to explore before heading to a 6:30 pm Sandeman's walking tour of "The Dark Side of Edinburgh." If you go to Edinburgh, there are tons of 'haunted' tours available, but since we had a good time at our Sandeman's tour in London, we decided to stick with that company in Edinburgh as well. Sandeman's also has a handy iPhone app for booking tours (thanks for that tip, Lindsey!) Many of their walking tours are free, but this particular one was 12 euro/person.
The tour was led by a very Scottish lad, who captivated us with tales of folklore and plenty of history mixed in. The tour took about 2 hours. The guide was really fantastic; he definitely made the tour. The tour also helped us get our bearings on the city.

Edinburgh is a very pretty city.
After the tour, we had dinner at the Devil's Advocate, which was very good. Check out the menu here.
The next morning, we had a tasty (locally-sourced) breakfast at the Edinburgh Larder before heading down the Royal Mile to hike up Arthur's Seat.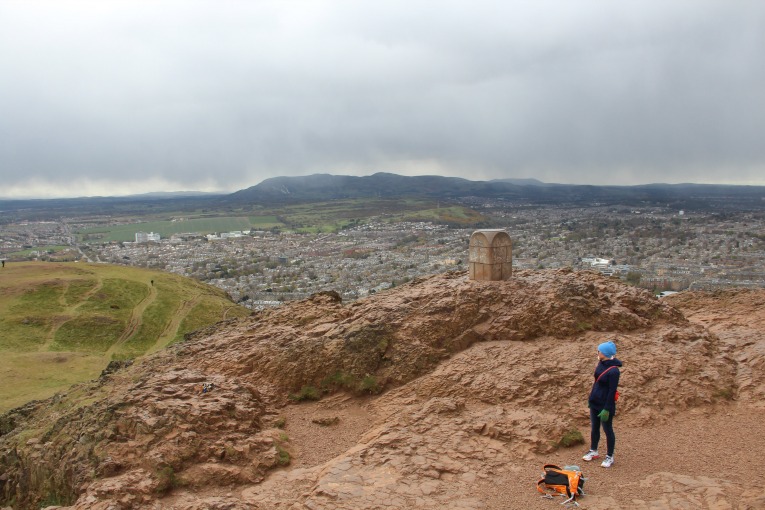 I believe the hike is about 3 miles and it was mostly easy, with only a little scrambling at the end. What made it challenging, however, was the gale-force winds! I seriously thought that I was going to blow over.

We expected it to be rainy in the UK, but apparently the weather we had was unseasonably cold and windy. I had to buy gloves and a hat, as I hadn't packed any. Allison, from the Running Princess (she lives in Perth, Scotland), told me that this was exceptionally cold, even for Scotland. It made exploring a little more challenging, but we didn't let it hold us back. There were some bouts of sunshine!
The views from the top of Arthur's Seat were worth toughing it out in the wind.

After the hike, we were close to Holyrood Palace, so we stopped by there for a tour.
Holyrood is the official residence of the monarchy in Scotland. Queen Elizabeth spends one week in residence at Holyrood Palace at the beginning of each summer, where she carries out a range of official engagements and ceremonies.
A highlight of this castle was the royal apartments in the north-west tower of the palace of Mary, Queen of Scots. She "lived here from her return to Scotland in 1561 to her forced abdication in 1567. The Queen had archery butts erected in her private gardens to allow her to practice, and hunted deer in Holyrood Park. In these apartments,  the Queen witnessed the murder of David Rizzio, her private secretary, on 9 March 1566. Darnley and several nobles entered the apartment via the private stair from Darnley's own apartments below. Bursting in on the Queen, Rizzio and four other courtiers, who were at supper, they dragged the Italian through the bedchamber into the outer chamber, where he was stabbed 56 times."
The palace also has the remains of a very old abbey.
After walking around Holyrood for awhile, we stopped at "Oink" on the mile for lunch. There, we had some very tasty sandwiches (Dustin had his sandwich with haggis mixed in), with a side of  "Irn-Bru". Irn-Bru is a Scottish soft drink, often referred to as Scotland's other national beverage, (other than whisky.) I expected it to taste like Slice, but it had more of a cream soda taste.
After lunch, it was on to more touring!
Next we toured Edinburgh Castle, which is located on the Royal Mile right in the heart of the city. This castle was very cool, with awesome views of the city and a lot of history.

I am more of a wine/beer girl, but while in Scotland, I tasted several whiskies and learned quite a bit about them! I'm by no means a connoisseur now, but I'd say a week in Scotland was like "Whisky 101" and it was fun to learn more.

Our first tasting was at a place called the "Whiski Room", where we shared a flight featuring whiskies from different areas of the country.
We then stopped by a well-known store called "Cadenhead's" where we were given loads of insight into the different whiskies of the different regions. There, we purchased a few bottles to bring home.
Eventually we made it out for dinner at the World's End Pub for traditional fish and chips for dinner, with a post-dinner stop at "Bow Bar." More whisky!

That marked the end of our first "leg" in Edinburgh. The next morning, we left the city to head to the Highlands, but we only spent one night away. I'll share more about our time in the Highlands in a separate post.
We came back to Edinburgh on Thursday evening, just in time for dinner at the Gurka Cafe. Many friends recommended the Indian food in the UK, and they were right! So good. We switched hotels for our second two nights in Edinburgh and stayed at the G&V Hotel, which was grand; much more modern than the Inn on the Mile.
Friday was our last day in Edinburgh. We began the day with coffee and scones at Wellington Coffee House…

…before taking a bus out to the Ocean Terminal area to tour the Royal Yacht Britannia.
The yacht was more interesting than I expected. She retired in the late 90's, but you can host wedding or corporate parties there. It was cool to learn more about the Royal Family's travels and use of this beautiful yacht.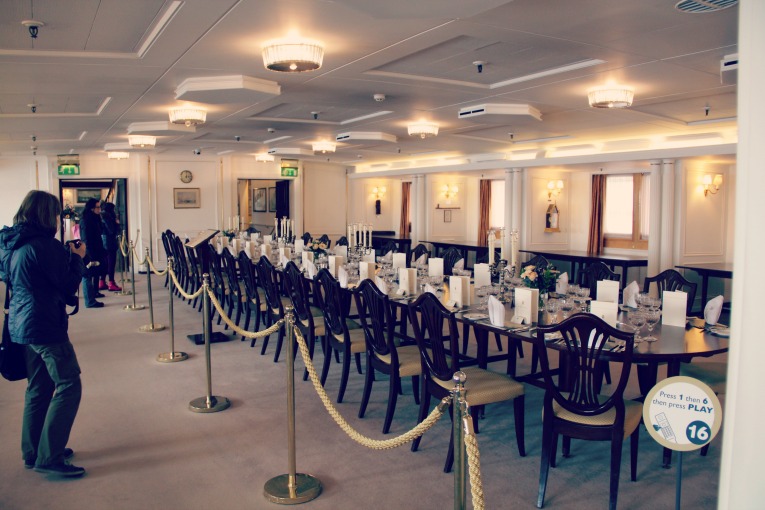 They kept the tour interesting for kids (and for me, apparently) by placing stuffed corgis throughout the ship. At the end of the end of the tour, you'd report how many you found and win a 'prize.'
After that tour, we wandered around Princes Street and did a little shopping. I had to buy a warm sweatshirt from lululemon (so cold in Edinburgh!). Right after we were stopped there, I came across the Sweaty Betty store. I could have gone crazy there, but honestly, with the exchange rate as it is, it is cheaper for me to buy it online (I know, the same is true for lululemon, but I was desperate and cold!) I was able to try on a few things while at Sweaty Betty for sizing. At least I know what I'd like to order in the future.
I also found out that you can buy Beyonce's Ivy Park fitness line at TopShop. I thought it was only available at Nordstrom's.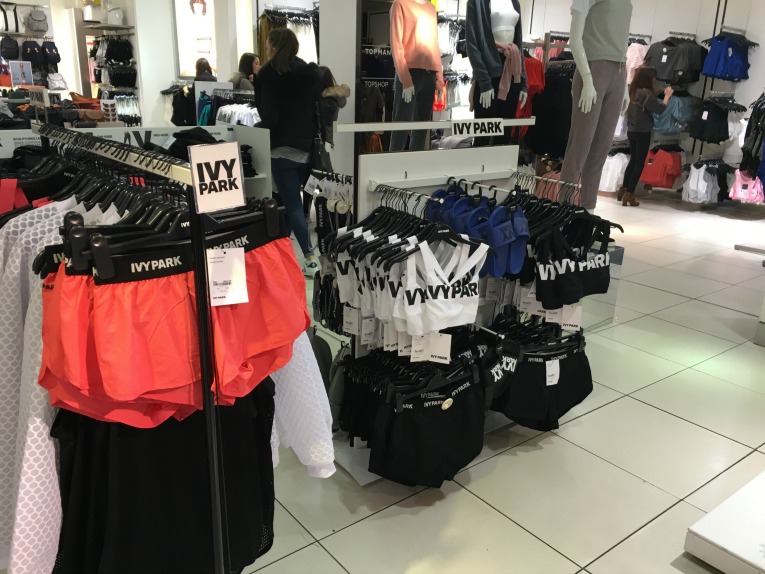 After shopping, we had a late lunch at The Dogs, and then went to the Surgeons' Hall Museums near the University of Edinburgh.
This museum was fascinating! Well, it was actually three museums: the History of Surgery Museum, the Dental Collection, and the Wohl Pathology Museum. No pictures were allowed in the exhibits due to the laws surrounding donated bodies, but man, oh, man, was it interesting. And I don't even work in the medical profession! I think if you did, it would be even more interesting to see these collections.
We spent a few hours here and could have spent even more, but we closed the place down!

After the museum, we had our last meal in Edinburgh at "The Outsiders" which was wonderful (try their CHL, chunky healthy lines- filling and delicious!)
Friday was an early night, as our flight on Saturday was at 6 am. That 3 am alarm came much too quickly!
It was a lovely trip to Scotland. True, the weather didn't quite cooperate, but I feel like we still got to know Edinburgh pretty well, at least as well as you can in less than a week.
One more 'travel' post to come to recap our time in the Highlands, but here's a quick list of the places we stayed and restaurants we enjoyed in Edinburgh:
Lodging in Edinburgh:
The Inn on the Mile
G&V Hotel
Eating in Edinburgh (happy to share more about each place!)
The Devil's Advocate
Edinburgh Larder
Oink
The World's End Pub
Gurka Cafe
The Outsider
Drinking:
The Bow Bar
Whiski Room
Cadenhead's
(Visited 378 time, 1 visit today)