The Virgin Money London Marathon was my third international marathon. (Catch up on the race recap here!) I have now run Berlin, Tokyo, and London and while running three international marathons definitely does not make me an expert, it's still a bit of experience. Based on that bit of experience, I have come up with a list of things you can expect to see at an international marathon.
Now, to clarify, when I say "international marathon," I am writing from an American's point of view. Most of you are reading from the US, though I do have some readers abroad too, so this doesn't really apply to you. Though please tell me if I am way off base!
So here are 10 Things You Can Expect to See at an International Marathon:
1. People Smoking.
Not just the spectators but the runners too! This was most prevalent in Berlin, but it definitely was common at Tokyo and London as well. I was shocked to see people would be smoking before taking off for their 42km race, and afterwards! I think I live in a non-smoking bubble, I just don't know many smokers.  I am always surprised about how many people still smoke cigarettes around the world, and its especially surprising to see runners smoking.
2. Crazy Costumes.
This is something that you'll see at most big-city marathons, but it just so happens that the big city marathons I have done recently have been international ones, so there were lots more costumes! I mean, in Tokyo, there was as a guy who ran in this tomato dispensing device.


And London had some of the most elaborate costumes I had ever seen! A lot of these runners are running for charity, which is awesome and the costumes were impressive.

3. "Weird-To-Americans" Fuel at Support Stops. At Berlin, it was the hot tea. At Tokyo, it was the rice balls and tomatoes. At London, it was Lucozade.


We also had a laugh because our goodie bags at the London Marathon contained beef jerky from a Minot, Wisconsin company (close to Dustin's family cabin).
We traveled all the way to London for some Wisconsin beef jerky!

4. Bottles vs. Cups for Fluids.
This was unique to me, but Scotland native blogger Allison told me that its very common at international races. Our friend Craig said it was the same at the Paris marathon. No paper/plastic cups of liquids, but rather full bottles are handed to the runners.
5. Overdressed Runners.
I'm not sure if its because I am a Minnesotan, but I ran Berlin/Tokyo/London in a singlet and shorts. But at all of these races (with temperatures starting in the upper 40's and ending in the 60's) other runners were wearing pants, hats, gloves- many more layers! I can't imagine- I would get way overheated!
6. Kilometer Markers.
This one is expected, of course. I actually enjoyed running a race with kilometer markers instead of mile markers. Even though there are twice as many (42 vs. 26)  they seem to fly by so quickly. During an international marathon, I still know my mile pace and distance from my Garmin. But my brain isn't fast enough to do the math towards the end of a marathon. So for whatever reason,  12k sounds shorter to me than ~8 miles. At your international marathon, expect kilometer markers!
7. Nudity.
It's true. Especially at Berlin- for whatever reason, at that race, runners were very open about stripping down after the race to change into fresh clothes. No shame about flashing their tits and lady bits…or manly bits for that matter.
8. Female Urinals.
This one was new at London. Apparently you use a "She-Wee" and pee into a trough-like toilet. Genius!
9. World Famous Monuments.
The Senso-ji temple in Tokyo, the Brandenburg Gate in Berlin, Big Ben in London…running an international marathon gives you a chance to see them all!

Part of the magic of running an international marathon is the opportunity to see a city from a very unique perspective, one that you probably would never have the opportunity to experience otherwise.


Most tourists will book a tour bus to see Buckingham Palace. Me? I just run 26.2 miles to find my way there.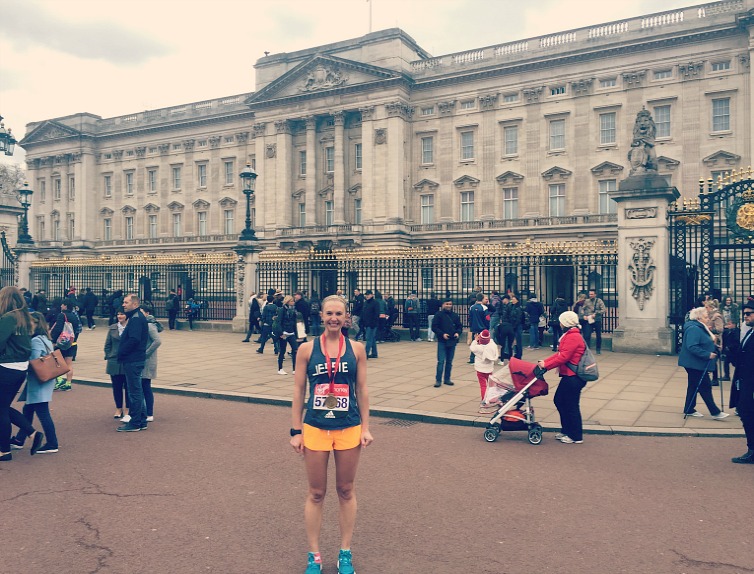 10. Universal Language of Running
At an international marathon, there will be representation from all around the world. Different languages, different dress, different cultures. But on the marathon course, we're all the same. We're all experiencing the same struggles and the same triumphs. The international language of running connects us all.  It's no different at the London marathon than it is at the Twin Cities Marathon. Running is the same around the world.
I love that running allows you to  have an instant connection with a complete stranger in a country very different from your own. It's truly remarkable that no matter where you go, running is there and it's the same. Running is an universal language. In a world where we often focus so much on our differences, running gives us a common ground.
Let me know if I missed any others!
(Visited 424 time, 1 visit today)