I'm back from Germany, recovering from the jet lag, and ready to share my Berlin Marathon experience with you all!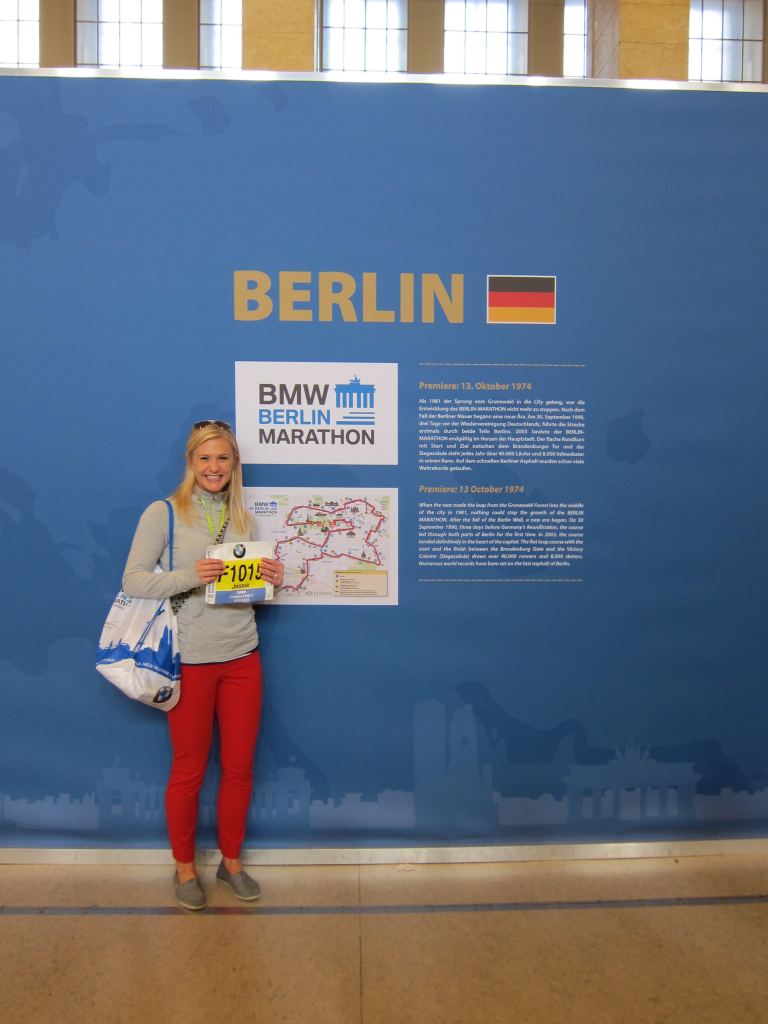 When I was preparing for this race, I did a lot of googling for "Berlin Marathon tips" or "Berlin Marathon reviews." I ended up reading a lot of other bloggers recaps from previous year's races. And I ate those recaps up! Seriously, I found them very valuable in my preparation, and I appreciated that they were out there for me to peruse.  So I want to keep the cycle of information going. I want to provide other future Berlin Marathoners with any and all information that could possibly help them (maybe you?) prepare! With that said, this is a long post. It's very factual with a lot of detail, and it's probably the most useful if you are actually considering checking the Berlin Marathon (one of the World Majors) off your marathon-to-do list.
I also recognize that there is some negative feedback in my recap, but I want you to know that I still really enjoyed my overall Berlin marathon experience.
Traveling for an International Marathon/Dealing with Jet Lag:
We left Minneapolis on Thursday night around 9 pm. I did the best that I could to sleep as much as I possibly could on the eight hour flight to Amsterdam. I tuned out the world with my Bose headphones and used a cozy sweatshirt as a pillow. We weren't able to upgrade to first-class with frequent flier miles as we had hoped, but we did pay up for economy-plus seats, which gave us that valuable extra leg space. If you can afford it, I definitely suggest first-class on the way to your international marathon. I also suggest Bose noise-cancelling headphones. My Bose headphones are my travel must-have. (I think this is the pair I have
HERE
). They'll set you back about $300, but they are totally worth it. These headphones are the key to sleeping for me on a flight.
On the Minneapolis to Amsterdam flight, I drank a glass of wine, and settled in for the "night". Note that it was just one glass of wine, as I suggest you avoid too much alcohol and try to stay hydrated. Flying can be dehydrating already, so no need to exacerbate it with drinking. You'll have plenty of time to drink after the marathon.  I actually slept quite a bit on the Minneapolis to Amsterdam leg, which probably helped a lot. Then, the Amsterdam to Berlin leg was quite short, and we arrived in Berlin around 5 pm Friday local time. We were able to stay awake for dinner when we arrived, before crashing around 9:30 pm. We both slept really well the first night in Berlin. In fact, we slept until about 9 am the next morning- that's nearly ten hours of rest! I thought that seemed pretty solid for two nights before the race, right?
However, for whatever reason, the second night – i.e. the night before the marathon- was terrible for both of us, and I don't think it was nerves. We went to bed on Saturday again around 10 pm, but we were both awake until nearly 3 am….just lying there stressing about how we couldn't get to sleep! Insomnia has never been an issue for me, even the night before a marathon, so it had to have been the jet lag. Fortunately, Berlin had a 8:45 am start, and our alarm wasn't set to go off until 6 am, so we did manage 3-4 hours of sleep this night, but it was definitely the worst night in terms of jet lag messing with our bodies. I'm no expert on this, but I would suggest perhaps giving yourself one extra day on the front side of your international marathon trip in order to adjust a bit more to the time difference.
Accommodations:
We stayed at an amazing boutique hotel called the
Mandala Hotel
in Potzdamer Platz.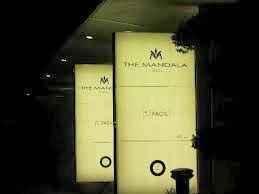 Potzdamer Platz is a modern little square that is extremely convenient for the marathon. It wasn't the most charming area, nor was it centrally located for other tourist attractions. Yet in terms of the marathon, it couldn't have been better. The Berlin marathon course is a large loop, starting and finishing around the Tiergarten (i.e. the Central Park of Berlin) and the Brandenburg Gate, and Potzdamer Platz (and the Mandala Hotel) is very close to the start line.
Though the Berlin public transportation is really easy, we were still happy to not have to even bother with it for the marathon. We were able to walk the 1/2 mile from our hotel to the start line very easily, and then back home again after the finish. I would highly recommend the 
Mandala Hotel
 if you are running the Berlin marathon. The rooms were extremely spacious, especially by European standards. We also took advantage of the
ONO Spa
within the hotel, both getting lovely massages after the race. Our room had a separate little living room area, a large bathroom, a TV that flipped between facing the living room and the bedroom, a little kitchen area, and even a huge separate closet room for our luggage. It wasn't super cheap, but for a marathon trip, you end up spending a little more time in your room in the days leading up to the race, so you might as well spend up and make it a nicer room.
There was a very popular Italian chain right by the Hotel Mandala called
Vapiano
. It was counter service, but each customer would have to stay in their spot in line until the dish was cooked, which turned out to be extremely confusing for the customers as well as extremely inefficient. We had planned to eat here the night before the race, but the line seriously must have been over two hours long! It was insanely packed. We ended up grabbing lunch at Vapiano later in the trip, and it was tasty. However, I can't really recommend this place for a pre-marathon meal, unless somehow you beat the crowds, and go really early in the day. The food was good, but its location close to the marathon start/finish meant it was just too busy in that area. We tried to eat there the night before the marathon, waiting for about 45 minutes before calling it quits, and heading to
Weilands Wellfood
 instead.  
Weilands Wellfood
 was also conveniently located by our hotel, serving up healthy whole-wheat pasta dishes, but without the long lines and crazy crowds. The pasta dishes were light but filling- just what we needed.
The Expo:
The expo was pretty cool. It was held at an old (albeit Nazi-built) airport, the Flughafen Tempelhof.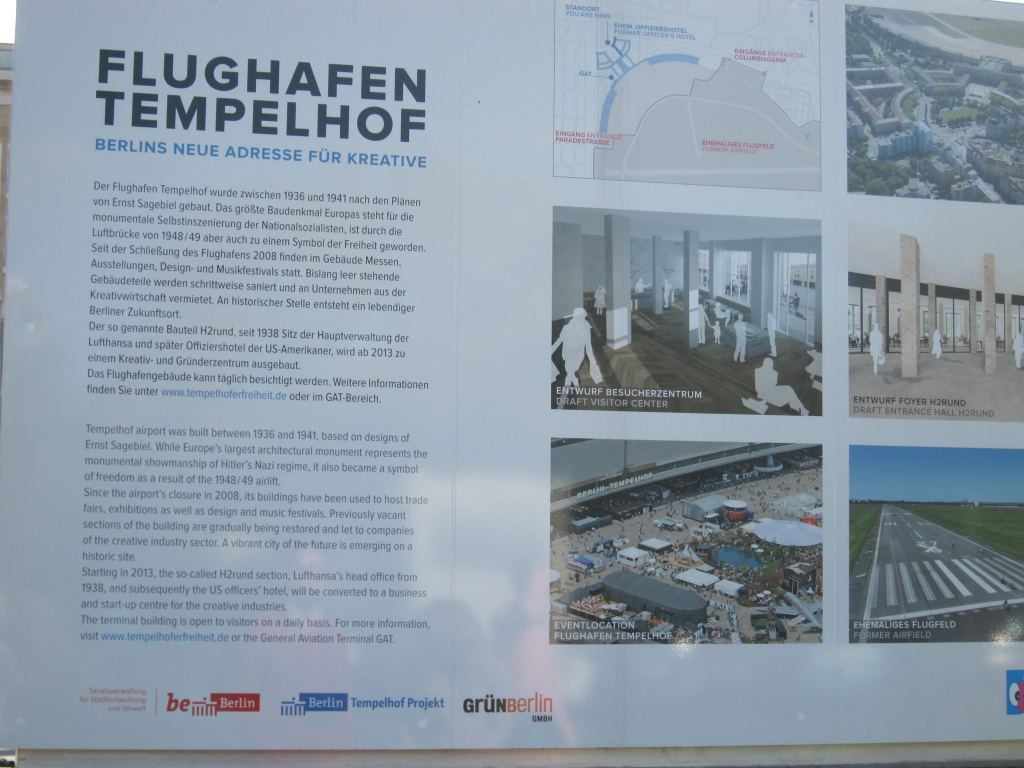 This now-closed airport made for an interesting setting for an expo. It was partially outdoors, partially indoors, and BIG.
The expo was easy enough for us to get to on the U-bahn. FYI, Berlin has an
S-Bahn
and a
U-Bahn
. The S-bahn is primarly above ground, and the U-bahn is primarily underground, although those aren't the only differences. The S-bahn doesn't run quite as frequently (at least in our experience) and services more of the outer limits of the city vs. the U-bahn. The two systems are managed by different companies, though we were able to buy one "Berlin Welcome Card" which was good for both trains. (Definitely buy this card if you are in town for the marathon! So easy, and it only cost about 35 Euro.) We took the U-bahn most of the time within the city, and the S-bahn to get to the suburb of Oranienburg to tour Sachsenhausen, the concentration camp (more on that later, in a Fits on the Road post).
A huge downside of the expo were the crowds. I had to wait in line for over an hour to just use the bathrooms. The day before a marathon, everyone is drinking a ton of water; therefore everyone needs the bathrooms, and there just weren't enough I guess.There was also a huge line just to get into a little area where you picked up your packet. We had to wait in this line for over an hour, and it was not an organized line, but rather, a very pushy crowd of people, all speaking different languages, and all confused about the organization of the so-called "line."
Even with all my complaints, there were still definitely some good parts to the expo.
Who doesn't love a little street performance/living statues, courtesy of Brooks?
…and this is Germany so there was a beer house at the expo (though we passed on beers the day before the race)
There was some unique gear for sale at the expo as well. Dustin and I both purchased some of these custom Berlin Marathon race bib "snaps." These little items replaced safety pins for our bibs, and they worked really well without poking holes in our running tops.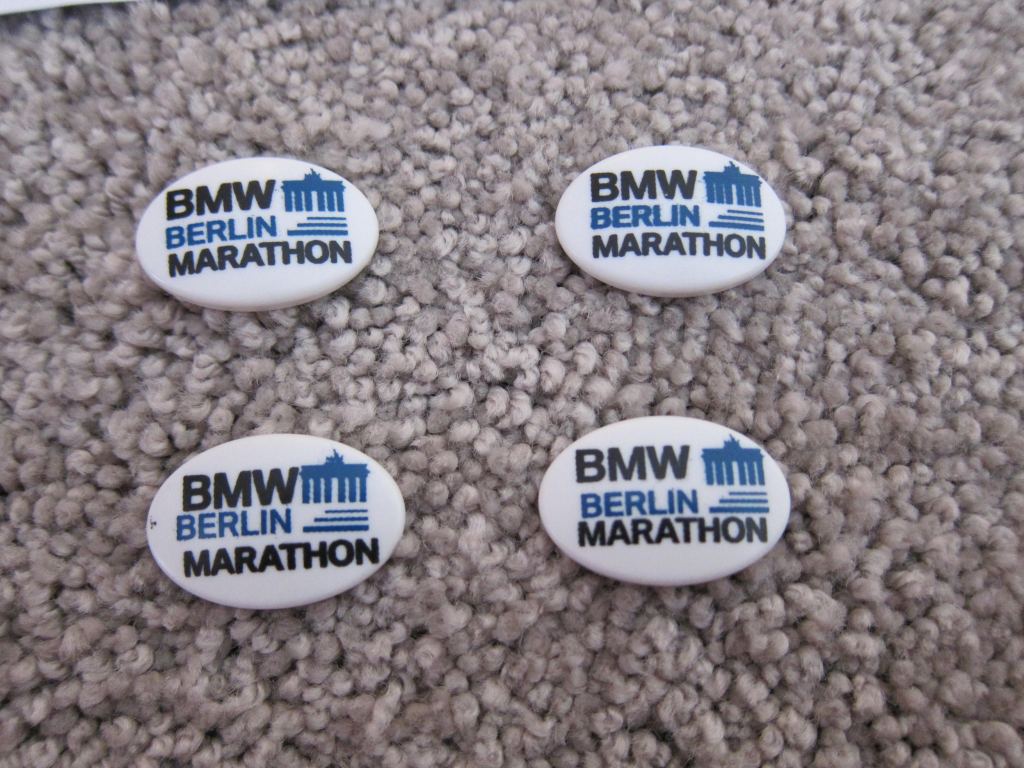 All in, the whole expo process- getting there on the U-bahn, waiting in the lines, and finally getting back to our hotel- probably took us nearly six hours. That's six hours on our feet, which probably wasn't ideal for the day before the race.
My tip? Be prepared for a long day at the expo. If you happen to arrive in Berlin on Friday, try to go on that day, as the crowds might not have been quite as bad.
Now on to the race….
Race Morning:
As I mentioned earlier, the Mandala Hotel was perfectly located for the marathon. We were able to walk over to the Tiergarten around 7:30 am. There was tight security at the race start. We all had received bracelets at the expo that would allow us into the staging area, and we also could only use the Berlin bags for gear check.
Waiting for the start near the Reichstag building (the Berlin equivalent of the White House) was pretty cool!
It was a little challenging to find the right place for my gear check. Apparently this race was 80% men, which is very different than marathons in the US. Therefore, the female gear check was small and tucked away in a corner of the staging area. It took us quite a while to find it, so by the time we were done dropping off my bag, we only had time for a quick stop in the porta-potty line, and then off to our respective corrals.
Dustin was in Zone A, and I was in Zone B (3:45-4:15 predicted finish time). Each zone was made up of multiple corrals. Dustin was in corral D, and I was in G. We had to split up on our way to the start, as I was routed through the Tiergarten to my corral. There, in the middle of essentially the equivalent of Central Park, I came upon nearly 30 people peeing in the "woods"….No one seemed to care. No one seemed modest or cared to cover themselves at all. That theme carried over to the finish area as well, where all the European women comfortably changed right in front of Dustin, cooling off completely topless! There were also the men who had no problem stripping down to "shower" in a little sink-with-a-hose area post-race.
So….there I was in Zone 2, awaiting the start, and I was privvy to what the Berliners called the "Energy Dance!" Yup. The Energy Dance (well, that the English translation- I think it was basically a warmup) was a ten minute dance-off! It consisted of 8-10 German girls leading the runners in some jumping jacks, high knees, lunges, etc. to warm up to Avicii, Robin Thicke, and all the good ol' US of A pop hits.
It's time for the ENERGY DANCE! It was really entertaining, though I didn't participate. I figured I should save my energy for the 42 kilometers ahead of me.
The announcer for the start line actually introduced all of the elite runners, giving a short bio for each, in both German and English. It was cool to hear about all the really amazing runners who were present this day. I got chills hearing about their accomplishments.
THE MARATHON
Zone 1 started right at 8:45. Five minutes later, Zone 2- me!- was on the go. I started nice and slow, and tried to take it all in. If you want the full details of my splits, they are posted below. I felt that I started conservatively. By the time I got to the 22k mark (i.e. about half way) I felt awesome and ready to kick it in.
Unfortunately, even though I was feeling great, and thought I had a PR in the bank, it turns out those crowds just weren't on my side. I'm not sure what happened. I felt that I ran a smart race, but unfortunately, it was not a PR day for this middle-of-the-pack runner.
Support Stops:
The support stops were unique. At first, I panicked a little because there was no Gatorade or Powerade! There was just water, apples, and get this- HOT TEA! Yup. I thought it must actually be Gatorade, so I grabbed a cup, right as a Danish man knocked it on my chest. Ouch!
Fortunately after about 10k, the support stops started to carry some sort of Powerade (Power Bar brand)- Cytomax, maybe? Thank god! I have never run a marathon on just water, and I needed those electrolytes.
Crowd Support:
This race had a ton of crowd support. There were spectactors all along the course. There were a lot of bands and music. It was such a cool way to see a lot of the neighborhoods in Berlin, with all different kinds of people from each neighborhood.
Though there was great crowd support, the cheering wasn't quite the same as an American marathon because most of the spectators did not cheer as much for anyone other than those runners who were clearly from their home country. i.e. the Danish spectators cheered loudly for other Danish runners, but not for me. (Actually, there were 10,000 Danish runners! I have to admit, I wished I was from Denmark during this marathon, their support was so strong!)
I did have my name on my top, so occasionally I would get a "Go Yessie!"  I suppose it was because everyone was speaking different languages, but it wasn't the same as a big marathon in the US. But, the music and bands made up for the lack of actual cheering. There really were a ton of bands and drums and music. I loved it!
My Garmin ended up with almost 27 miles. I am sure that the course wasn't long, but I guarantee I was swerving around other runners, and trying to avoid a traffic jam. Several of our friends, who are sub-3 hour marathoners, also ended up with over 26.5 miles, so I think this was an issue for all runners except perhaps the elite.
THE FINISH
The finish under the Branderburg Gate (picture of the gate below, though not at the race) was pretty cool.
However, the finish line was confusing. It took me forever to figure out where to drop off my chip from my shoe (which was not at the finish line, but quite a bit away).  Dustin and I had planned a particular meeting spot by the female gear check so I did find him pretty easily after dropping off my timing chip.
Oddly enough, they were serving "alkoholfrei" (Non-Alcoholic) beer at the finish. Dustin had two large ones! I grabbed one, but it just wasn't for me at that time.
 Usually, immediately after the marathon, I feel super nauseous and beat up, and all I want to do is take a shower and lie down. However, I do get my appetite back a lot quicker than Dustin. He can't eat until much much later in the day. We made the walk back to our hotel around 2 pm, and after showers, we ordered room service and lounged around in our fancy Mandala Hotel robes for the rest of the afternoon, until joining some friends for dinner.
Did I mention that there was an inline skating marathon the day before the running marathon? Apparently, inline skating is a much bigger deal in Berlin, as this race seemed ultra competitive.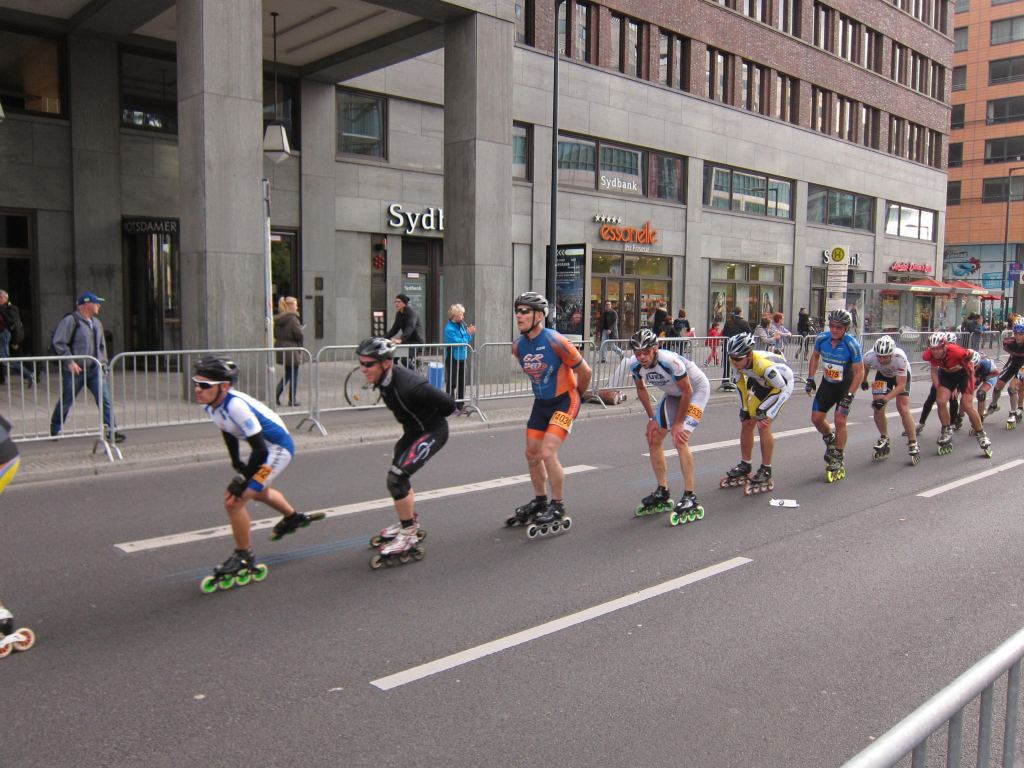 It might seem that I had a lot of complaints about the crowds, and I suppose I did. I think it's only because I'm not sure the really big marathons like this are for me. I think I prefer a mid-size race like the Twin Cities Marathon (10,000 participants) or Steamtown in Scranton, PA (7,000 participants). I am still really glad that I did this race. It was a very unique and memorable experience. It was really cool to be on the same course that the world record was set. I also just love to travel, and we had a lot of fun exploring Berlin. In that respect, it was fun to have this marathon as the reason to travel abroad. I'll give this marathon an 9/10.
Summary of Pros and Cons:
Pros:
Very exciting to be running a WORLD MAJOR!!!
Very flat course
A chance to see 26.2 miles of Berlin, a city I had never visited
Lots of spectators
Kilometers pass by a lot faster than miles!
Lots of bands and music along the course
Very cool finish under the Brandenburg Gate
Easy to get to the start and home after the finish
Cons:
Not as "fast" of a course for middle-of-the-pack runners (like me, a four hour marathoner)
Super crowded course the whole way
Traffic jams at the water stops.
Hot tea at support stops
My Performance:
Mile 1: 9:11
Mile 2: 8:59
Mile 3: 9:00
Mile 4: 9:05
Mile 5: 8:49
Mile 6: 9:17
Mile 7: 9:06
Mile 8: 9:11
Mile 9: 8:54
Mile 10: 9:18
Mile 11: 9:10
Mile 12: 9:09
Mile 13: 8:43
Mile 14: 8:39
Mile 15: 8:37
Mile 16: 9:35
Mile 17: 8:38
Mile 18: 9:23
Mile 19: 9:06
Mile 20: 8:50
Mile 21: 8:37
Mile 22: 8:34
Mile 23: 9:03
Mile 24: 9:11
Mile 25: 8:45
Mile 26: 8:42
As you can see, I never blew up, or had any terribly slow miles. There was no walking. I suppose it was a consistent marathon, but I really thought I had that PR in the bank. Unfortunately, my time didn't agree.
That's it! My long-winded recap of my first international marathon experience. Please don't hesitate to reach out with any questions!
(Visited 1,842 time, 1 visit today)