Today's Tuesday Topic is "Best Running Views from Around the World!"
I'm linking up with Zenaida and Kim; be sure to check out their blogs for more posts on this topic!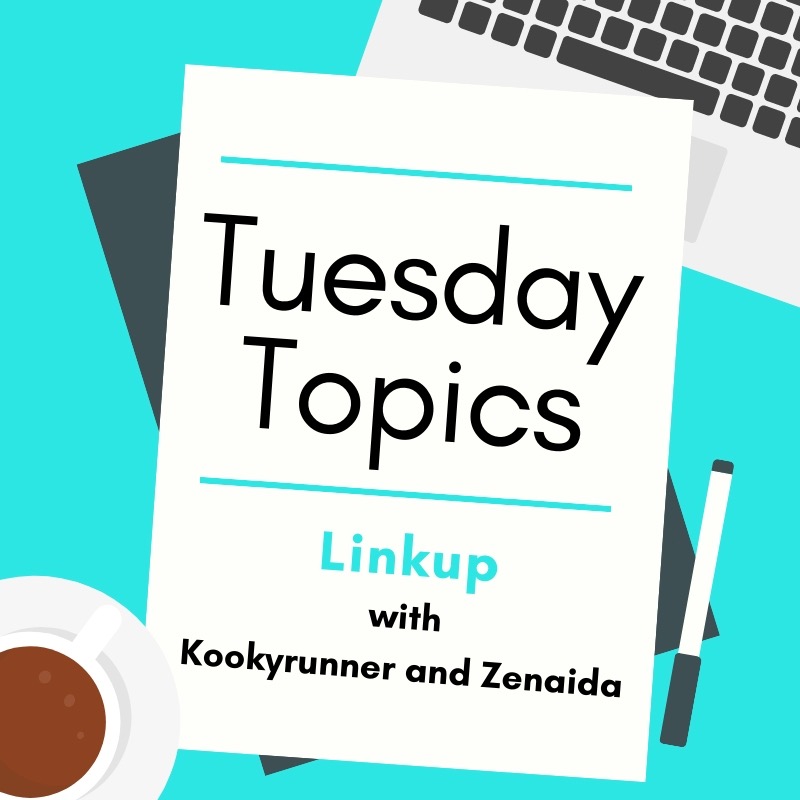 This post was fun to put together, as it gave me an opportunity to reflect on my life's travel so far, as a lot of my travel involved running!
I structured this chronologically; disregard the increase in wrinkles as the post goes along, haha!
Most of my memorable running views from around the world were in the form of marathons.
In 2013, Dustin and I ran our first international marathon, the Berlin Marathon. Read all about it HERE. The finish line is right by the Brandenburg Gate, which was a very cool view. I don't have a lot of pictures from the actual marathon to share; here's one from the finish line and one of me by the gate before the marathon.
In 2014, I spent about a month in Singapore for work. I would run along the Singapore River nearly every morning, with a view of Marina Bay Sands hotel and more!
In 2015, Dustin and I ran the Tokyo Marathon. Read all about that race HERE.
That experience included lots of memorable running views. It was my first time in Japan, and it was such a cool way to see the city- 26.2 miles of it!
In September of 2015, I ran the Imogene Pass Run, which was an incredibly challenging trail race that went from Ouray, Colorado to Telluride, Colorado, up and over the Imogene Pass at 1300 feet. The hard work was rewarded with incredible views from the top!
Read more about that race HERE.
Later in 2015, Dustin and I went to visit his mom, who winters in Arizona. As part of that trip, we did a lot of trail running in Sedona.
Gorgeous running views! I loved Sedona.
In 2016, I completed the London Marathon, one of my absolutely favorite marathon experiences ever. And what better view than a finish line in front of Buckingham Palace?
Read more about that experience HERE.
In the late summer of 2016, we headed to California for my sister Erin's 40th birthday celebration in Napa.
As part of that trip, Dustin and I ran a 20 mile training run in San Francisco, which included running across the Golden Gate Bridge. As someone with a fear of heights, this was memorable but scary! I think I ran my fastest mile of the 20 miler while on the bridge!
As mentioned, we spent some time in Napa for my sister's 40th birthday, which joyfully included a run with ALL of my sisters! This was memorable in itself- five of us together- but the run route also was memorable as it included lovely views of wine country.
In 2017, I completed the Boston Marathon. The views from this run were quite memorable; so much historical significance along the way!
Read more about my Boston Marathon experience HERE.
In the summer of 2017, I spent almost two months in Mumbai, India for work. I connected with a running club there, and had some very memorable runs on the other side of the world, in a very different place from Minneapolis!
While in India, Dustin came to visit and we went to the Taj Mahal in Agra, India.
Unfortunately, we were advised not to run outside in Agra, but we could see the Taj Mahal from our hotel.
We ran some miles on the hotel treadmill with a view of the Taj, hah! Not quite the same, but memorable nonetheless.
In November 2017, I ran my 6th and final World Major, the New York City Marathon. So many incredible views, running on streets that would never be closed for runners on any other day.
And the view of the finish line in Central Park was so cool. Read my recap HERE.
2018 started out rough, with a broken leg and a cancelled trip to Antarctica. No good running views at this time!
However, it redeemed itself in the fall, when Dustin and I took a trip to Norway; we had so many gorgeous runs there, including a tough 12 miler from Myrdal to Flam!
The next amazing running views from around the world for me were found in Buenos Aires, Argentina in 2019.
We spent a few days there before heading to Antarctica (a redo of the cancelled 2018 trip!) Read more about that trip HERE, HERE, HERE, and HERE.
The views during the Antarctica Marathon included glaciers and penguins- but also a lot of mud and hail!
It was a tough marathon, but incredibly memorable.
I hope that when the pandemic is behind us, I will be able to add new running memories!
Be sure to check out Zenaida and Kim's blogs for the link-up to other memorable views from around the word!
(Visited 288 time, 1 visit today)