I'm back with one last post about our trip to Antarctica!
I have written all about the Antarctica Marathon and the non-Antarctica parts of our trip to Antarctica. And then I shared the first post full of pictures from Antarctica, be sure to check those three posts out if you missed them.
I left off on that last post on March 19th.
March 19, 2019:
The morning excursion was whale watching in Charlotte Bay.
We saw so many humpback whales. They are enormous and we were pretty close to them in the little zodiacs.
We also saw the most beautiful icebergs.
The afternoon was all about the marathon BBQ with the other boat (the Ioffe) for awards of the marathon and half-marathon as well as to award those who had completed Antarctica as their last continent on the 7-continent quest.
To be honest, it was a bit of a hassle to take the zodiacs to the other boat; if I were in charge, I would have kept the post-race BBQ separate to eliminate the hassle. It feels like we missed out on a half day of excursions in order for the BBQ to happen. Just my opinion! With that said, it was still pretty cool to have a BBQ in the snow in Antarctica. Just an average Tuesday, right?
After the BBQ, we took the zodiacs to land on the continent of Antarctica; like one of our guides said, have you been to Asia if you only went to Japan?
Of course you have! All of the islands we visited were part of Antarctica.
But still, some people really wanted to hike on the continent, so we did. It was actually a bit of a hike to the viewpoint at the top; I felt really overdressed and was sweating a lot by the time we got to the top. Nothing like being overdressed in Antarctica!
But it was worth it. Beautiful views.
March 20, 2019:

The morning excursion was to Danco Island to visit more penguins!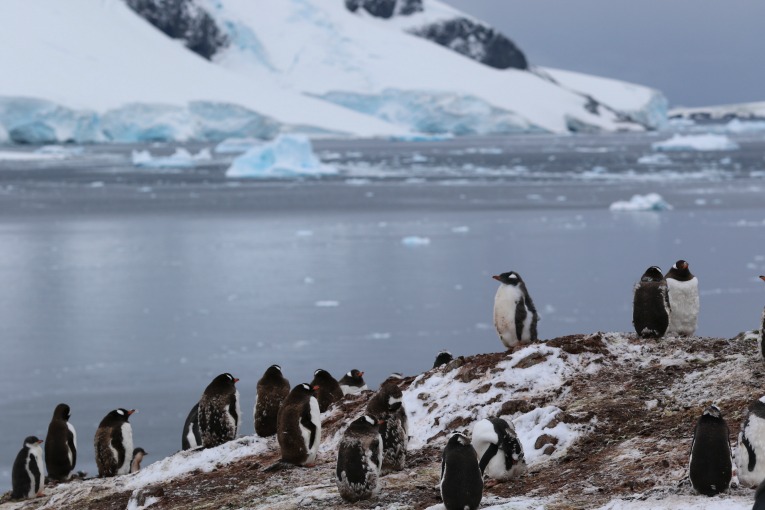 Danco Island was also the site of our Polar Plunge- by far the coldest I have ever been. In order to be official, you had to dunk your head.
I thought my heart had stopped when I came back up! It was MUCH colder than jumping into the fjord in Norway.
Here's a video another shipmate took, in fast motion. I'm the one in the white/navy one-piece suit. The rocks really hurt my feet!
I had worn my swimsuit under all my other clothes. It was tough to strip down and get into the coldest water ever! Fortunately, the tour guides were waiting when we emerged with towels. But dang, it was still VERY cold!
I was so cold after the Polar Plunge I considered just staying on the boat after I had finally warmed up, but that afternoon would be our final excursion in Antarctica.
And I'm so glad I didn't skip it, because it ended up being one of my favorites. We took a zodiac tour through Fournier Bay, where the ice shelve was starting to freeze, so we could watch both fur seals and crab eater seals hanging out on ice blocks. It was really snowing and pretty and just surreal to be there.
This was one of those moments where I really was in awe with what I was experiencing. This was truly an incredible once-in-a-lifetime trip.
That evening, we started the journey back across the Drake Passage back to Argentina. It was a two-day journey; we arrived in Ushuaia on the morning of March 23 (Saturday), flew from there to Buenos Aires, and finished out the trip with one last night in Buenos Aires (read all about our time in Argentina in this post.)
Here are a few pictures of the vessel in which we spent TEN days total throughout this journey. Definitely an experience!
The bedroom:
The bar:
The hot tub on the deck. It was only open for a limited time, since it could only be used when we were anchored in one spot:
That my friends, is the end of my Antarctica posts. I have hundreds of pictures I didn't share here, but I feel like I've shared enough to give you a good idea of what this trip was really like.
An incredible trip; one I will never forget.
And I'm so glad I have this blog to document it all and share it with you!
(Visited 236 time, 1 visit today)