Happy Sunday! I'm here as normal with my weekly recap of marathon training. If you missed it, be sure to check out my last post about our recent trip to Antarctica HERE.
Here's how training went this past week:
Monday: Marathon Monday in Boston! I got up at the same time as Dustin (who was running the Boston marathon) and worked from the hotel for a bit before heading out for my own run.
It was pouring rain at the time- there was even a little thunder and lightning, and I was worried about the runners, but also a little glad I wasn't running a marathon in that crap! I was also not feeling very motivated to keep going in the rain, but then I randomly ran into my coach, Esther, who was out for her own run before cheering for the athletes she had out on the course that day. It was great to finally meet her in person!
I ended up with 6.2 miles in the rain. After a bit more work from the hotel room, I joined my friend Lindsey on Hereford for a quick breakfast and then cheering. We were right around mile 25-ish and were in a great spot for all the action! It was so cool to be there when the elites came though. So inspiring.
After the rain stopped, it actually got quite warm. I was cheering in a tank top and even got a little sun-burned. If its that hot for a spectator, it's way to hot for a marathoner, right??
Dustin had one of his slowest marathons ever, with a 3:51 finish time. His PR is 3:01, so it was a bummer for him. His hamstring really started acting up in the second half; I guess doing 3 marathons (Houston, Antarctica, Boston) in 4 months might not have been the best idea. He's taking some time off (hopefully- he's on the fence about running Brookings just to check South Dakota off the 50-state list.) He made an appointment at Mayo right away for some PT on the injury and hopefully will be okay. He still finished, just walked a lot.
Even though it was a tough day for him, he was still in relatively good spirits by the time I found him at the finish line. We had a quick ice cream cone in Boston Commons and then made the slow trek back to our hotel. We were staying at the Mandarin Oriental right on Bolyston, but with all the crowds and security, it actually took us over an hour to get back from Boston Commons to our hotel. I totally respect and understand all the security, but we made a much better hotel choice when we ran Boston in 2017 with the Four Seasons, which is also on Bolyston, but located after the finish line, which was so easy to get to after the race.
After a bit of relaxing for Dustin, we made our way to the Saltie Girl on Dartmouth Street for dinner. Really cool spot, great food!
After dinner, we met up with the rest of our friends who were also out there for the race for a beer or two. Good times.
Tuesday: I had planned to run in Boston again before the flight home (I hate running after a flight), but it was much colder than I expected in the morning (upper 30's and very windy) so I decided to just go with Dustin for breakfast at the Friendly Toast before our flight home. Instead, I ran after our flight in the sunny 60 degree weather in Minneapolis. Great to run in the sun! Seems like spring has finally sprung in the Twin Cities.
I had 3 miles easy, then 5×4 minutes at a 7:30 pace, 90 second recovery, then a 2 mile cool-down. 8.2 miles total.
Wednesday: I met my friends Christie and Bri for an easy 7 miler before work.
Thursday: Another speed workout, this time 3 miles easy, then 4x (4x100m sprints with 100m recovery) with 400m between sets, i.e. 1600m of sprints, 2 mile cool down for 8 miles total.
After work, I joined my friend Monica for appointments at an M.M.Lafleur popup in NE Minneapolis. I love their clothes for workwear, as they are of high-quality, great fit, and classic style.
We had a good time catching up while trying on new items for our 'workwear' wardrobe.
(picture above is not M.M.LaFleur clothes, but rather some Boden pants I wore to work for 'casual' Thursday-before-a-holiday!)
Friday: I had off of work for Good Friday and it was a beautiful day, so I decided to join my friend Vicki for her long run to get it out of the way. She was only doing 12-ish miles, so I did 4 first with Matilda (my dog), then 12.5 with her, then another 1.5 on my own for 18.3 miles total.
This will be my longest run before I pace my sister at the Brookings, South Dakota marathon on May 11. I normally run a few 20-22 milers before a marathon, but with Antarctica (and Houston, for that matter) not that far behind me, I figured 18 was enough time on my feet and miles for Brookings. Hopefully I'm right!
That evening, we walked to our neighborhood wine store for a tasting, where we met up with a few friends. It was a beautiful evening in Minneapolis!
Saturday: It was weird to sleep in on a Saturday! Eventually, Dustin, Matilda, and I went out for a 4 mile run.
I tested out the new "Closer" bra from Handful, which has a front zipper. The idea is that you don't have to struggle to get your sweaty bra off after a run! I was worried that the zipper might chafe, but it has fabric covering the zipper and didn't bother me. The Closer is made to be super supportive for high-impact activities. I liked it for a 4 mile run, but will need to test it on something longer before I declare it a winner!
It was nearly 80 degrees in Minneapolis that afternoon, so after taking Matilda to the dog park, we stopped by a Wild Mind Ales for a beer on the patio.
That evening, we went over to my sister Cresta's house in Eden Prairie for dinner for the holiday. Always a good time over there.
Sunday: I ran about 5.5 miles alone; the trails were surprising quiet, but I suppose most people were celebrating Easter. Another gorgeous 80 degree day in Minneapolis. I'm loving it!
I realized I hadn't fit in any strength training though the whole week (traveling really makes it tough!) so I pulled up the MindBody app on my phone and found a special offer for a 30 minute-arms only intensive class at my local Pure Barre studio, so I signed up for that. It was great! It reminded me how much I used to love going to Pure Barre; I think I'll purchase a class package there again.
Summary: About 57 miles of running, 1 arm/strength class. This will be my "biggest" week mileage wise before running the Brookings Marathon with my sister in three weeks. Her training has gone pretty well so I'm excited to hopefully pace her to a PR!
I'm linking up with Running on the Fly and Confessions of a Mother Runner as part of their Weekly Rundown. Check it out!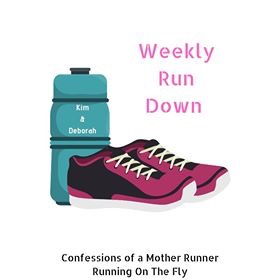 (Visited 333 time, 1 visit today)