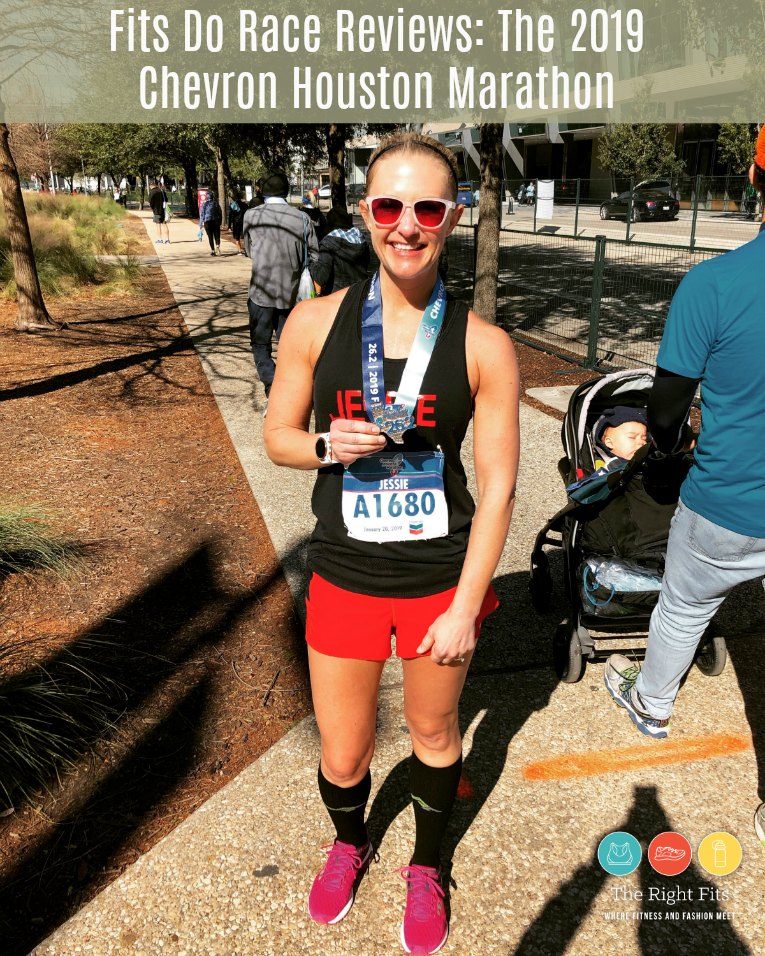 On Sunday, January 20, 2019, I ran my 30th marathon (and checked off my 20th state in my 50-state quest!) , which was the Chevron Houston Marathon in Houston, Texas. It was my first marathon after taking a year off of marathoning due to a broken tibia/fibula. After a long year of recovery, it was so great to be back at it.
Here's my review and recap!
Dustin and I arrived in Houston late on Friday evening to very humid 70 degree weather- yikes! Not ideal temps for a marathon, but I wasn't going to worry. Weather changes quickly!
 We checked in at our hotel around 10 pm and crashed pretty quickly.
Nice touch by the Four Seasons Houston– they gave all runners staying there a welcome bag at check-in!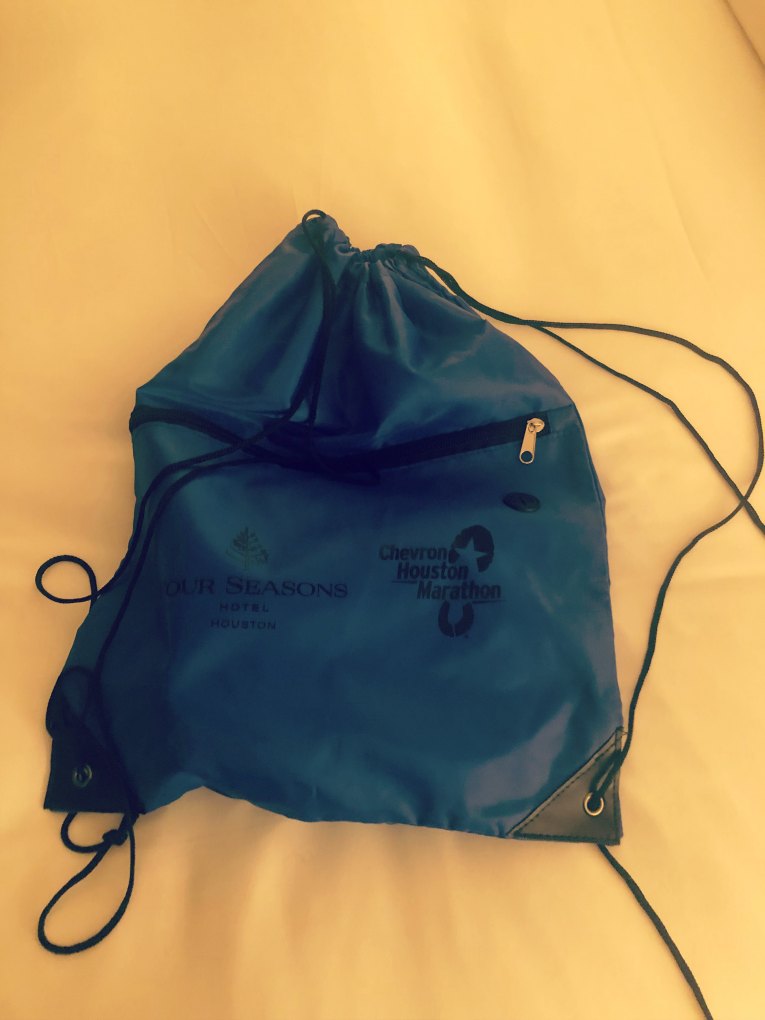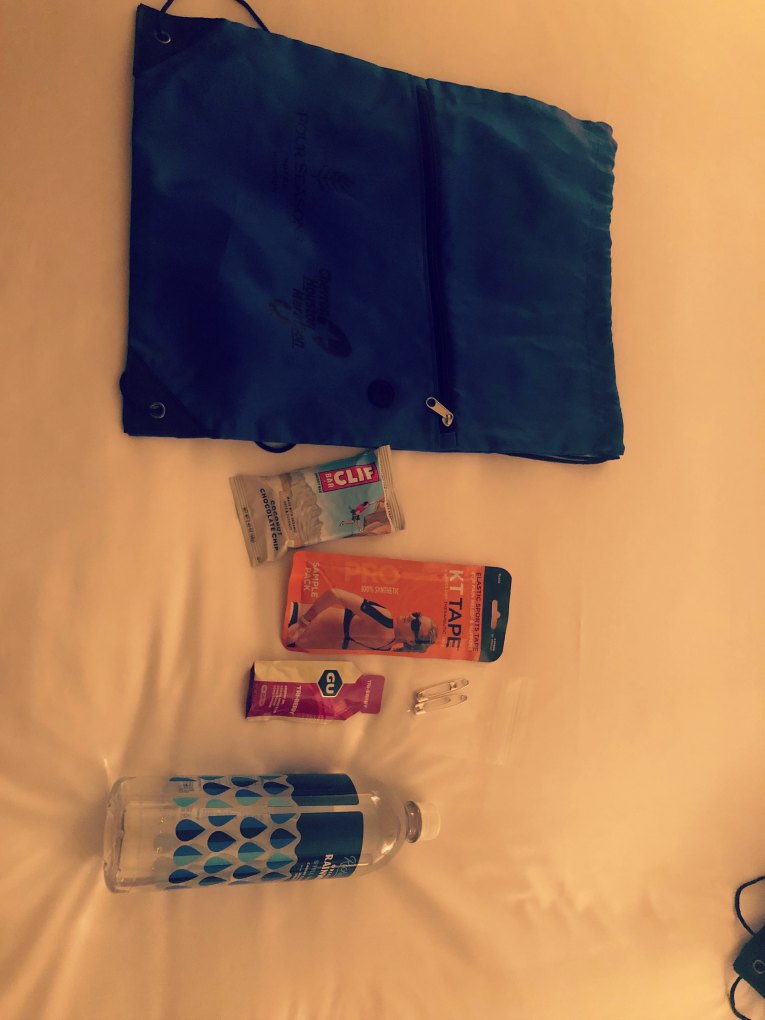 The Four Seasons was a good choice location-wise, as it was less than 1/2 mile from the start, finish and expo.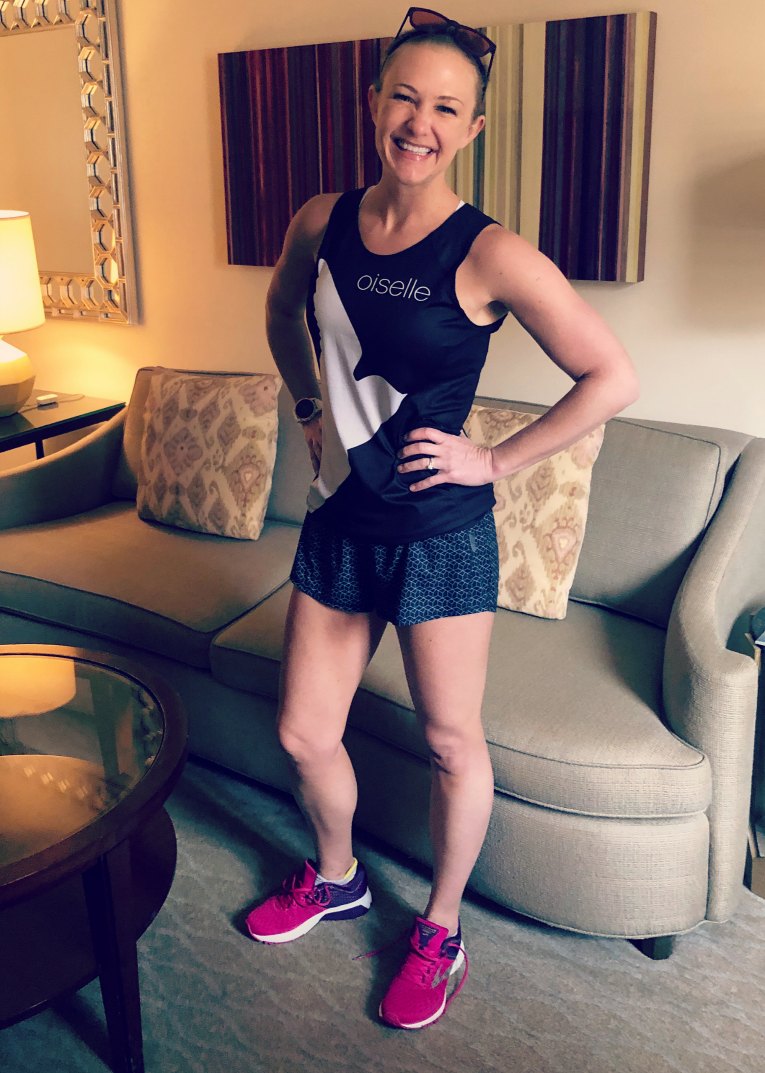 Saturday morning we were able to sleep in a little bit, (two nights before the marathon is an important night to sleep well!) We met up with our friends for a 4-mile shake-out run through Sam Houston park. It wasn't quite as warm or humid as the day before, but whoah, was it windy! It was 20 mph sustained winds and over 30 mph gusts. Nearly knocked us over on the run! It was a cold front moving in, just in time for the race.
We saw quite a few of these unique ducks on the run- "river chickens", I think is the official name. 🙂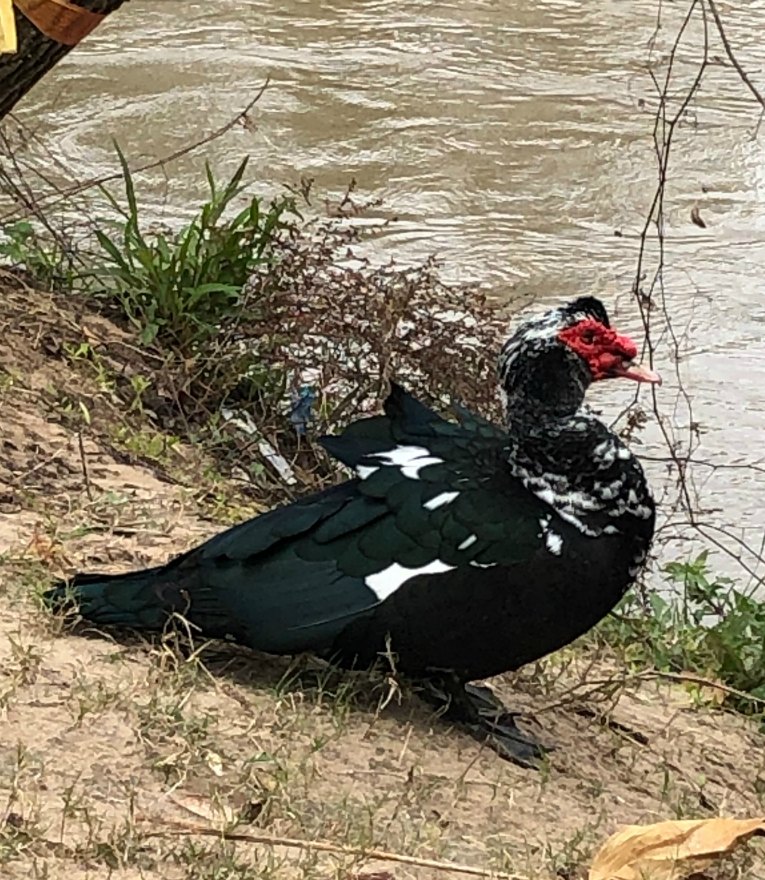 After the run and a shower, we walked the short 1/4 mile or so to the expo, held at the George R. Brown Convention Center.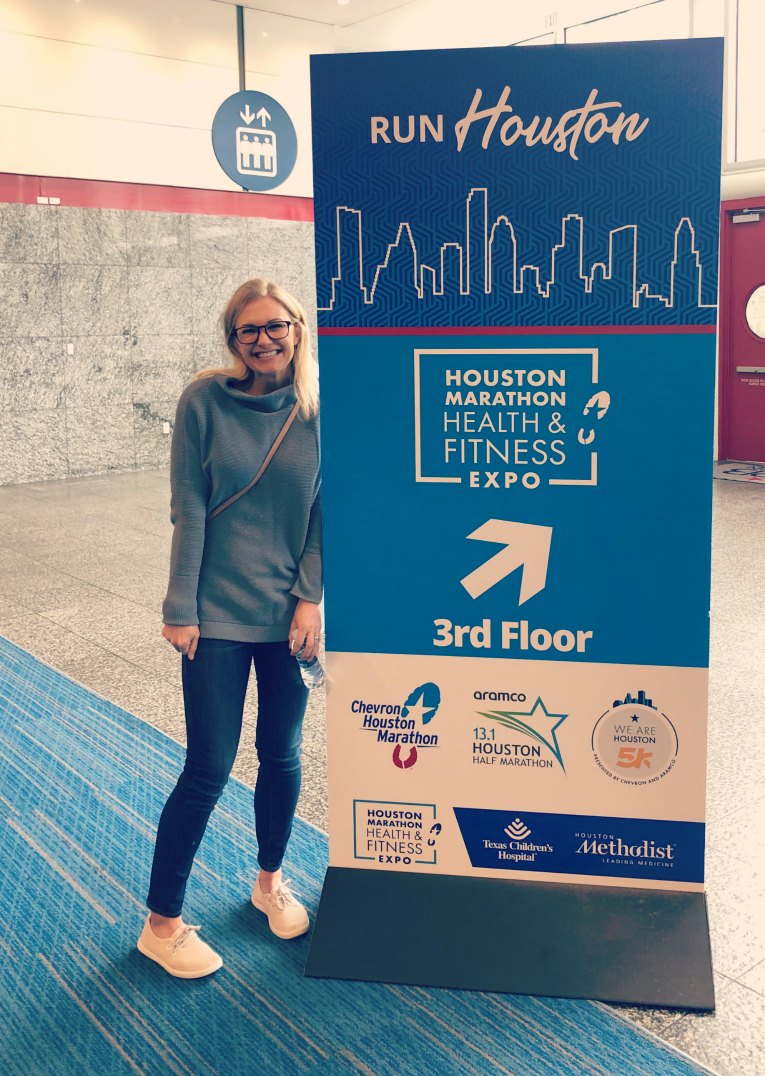 At the expo, each runner would scan the QR code from their confirmation email at the first volunteer stop, and then were called up to another volunteer to get their race bib. It was really efficient!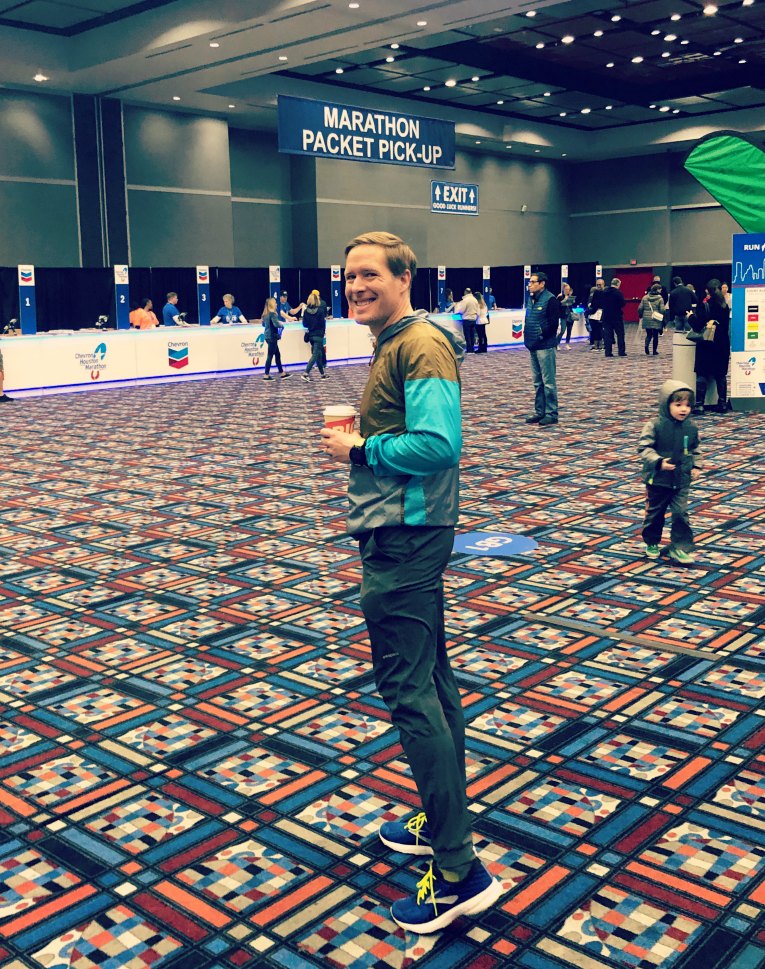 We spent a bit of time wandering through the rest of the expo, as I needed arm sleeves for the race; the forecast for the start line was for 34 degrees!
Perfect racing conditions in my mind, but man, the Texans were freaking out that it was going to be so cold!
After getting our fill at the expo, we picked up the necessities for race morning at the nearby Phoenicia Specialty Foods market– peanut butter, bagels, gatorade, some snacks, and more bottled water.
The rest of the afternoon was pretty low-key, staying off our feet as one does before the marathon. I had work to do (for my 'real' job) but one shouldn't do too much walking the day before, so it worked out fine to be stuck in the hotel.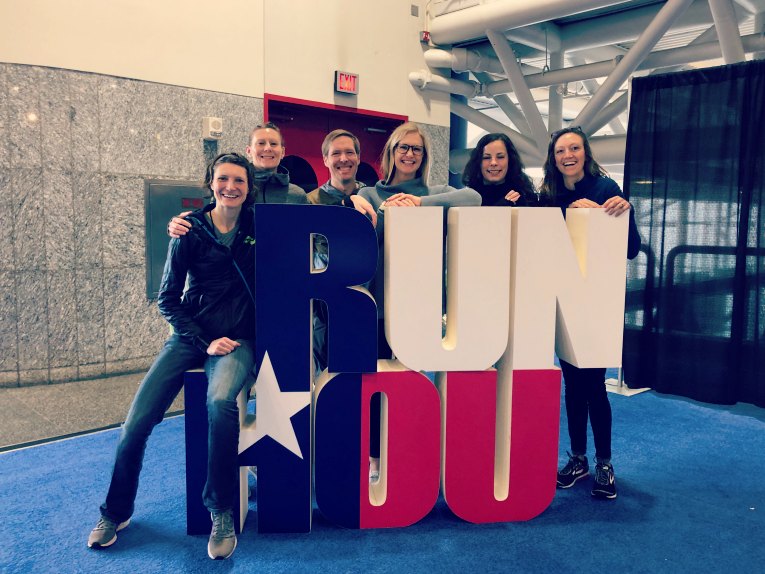 Eventually we met our friends Casey, Angie, Nordica, and Brittany for dinner at an Italian restaurant called the Grotto, which was conveniently really close to our hotel. These four friends were all racing the half marathon. We were glad they liked to eat early pre-race like we do!
I had a simple margarita pizza at Grotto, which was perfect for some pre-race carbs. Then it was off to our hotel to get everything prepped for race day.
*Dustin- not a fan of jumping pictures 🙂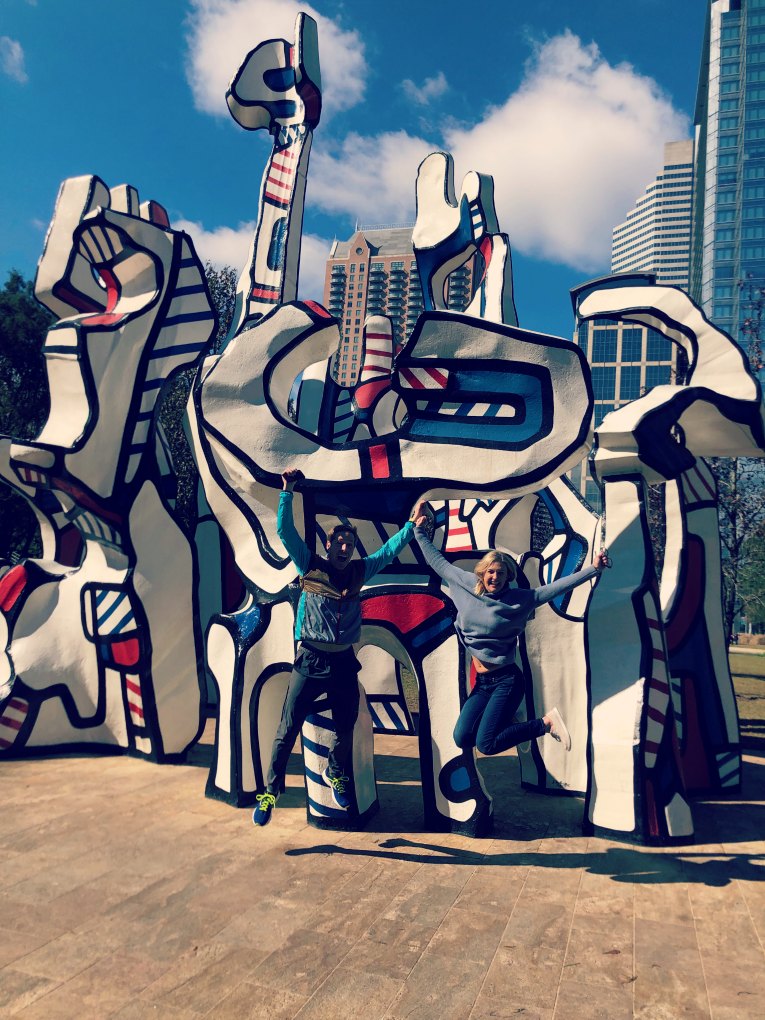 The marathon started at 7:01, (not 7:00, mind you.) Our corral closed at 6:45; therefore, our alarm went off at 4:45. I ate a bagel with peanut butter, water, some Gatorade, and a cup of coffee. I also mixed up a water bottle full of Gen-U-Can, which I had good luck with at the London Marathon, but hadn't used much in training. I don't recommend trying 'new' things on race day, but I only ended up drinking about half it while we waited in the corral. 
Around 6 am, we left the hotel and headed to the start line area. The gear check and "port-a-cans" (as the Texans apparently call them), were all inside the George R. Brown convention center (same place as the expo), which was great because it was warm. However, I found the organization inside to be a bit of a cluster, as the bathrooms were very far away from the marathon gear check. The lines were incredibly long as well, so I didn't have time to make a stop. Not ideal.  
At 6:30 a.m., we left the warmth of the convention center and headed to corral A. Both Dustin and I were in the same corral, which was surprising, but corral A was open to anyone with a verified marathon time under 4 hours. The full and the half started together, so we ran into Nordica and Brittany as well, which was great. 
It was cold waiting in the starting corral, but I felt I had chosen the "right fit" for me in the following:
The mountain climber shorts had enough room in the pockets for with 3 Maurten gels and 3 Spring gels
the $14 arm sleeves I bought at the expo and a pair of throwaway mittens
I didn't feel that nervous, just excited to be there.
Around 7 am, someone sang the national anthem, then there were a few words from the mayor of Houston, and then we were off
The Race!
I knew that the skyscrapers would mess with my Garmin; I had debated switching my Garmin to manual lap, but that seemed like too much to think about during the race. Instead, I decided to switch the screen to cumulative time and do the math when I passed mile markers. That worked well,  as it was pretty early on that my miles on my Garmin got a bit off from the course markers; the following splits are from my Garmin and I ended with 26.6 miles on it.
Mile 1:  9:07
Mile 2: 8:58
It was a bit crowded in the beginning with the half and full marathoners together, so I just told myself to relax and ease into it.
Every time I start a marathon, it feels so surreal. After all these weeks of training, planning, thinking, running…all that work culminates in that moment. Here you are- running the race. It's awesome!
Mile 3: 8:36
Mile 4: 8:48
Mile 5: 9:04 – I saw a sign here that read, "To me, you are perfect." Just like the sign in Love Actually.
I loved it. I even got a little choked up. Great sign!
Another great sign that I hadn't seen before, "PAIN is just French for bread."
There were a fair number of Trump or government related signs, which was a bit surprising since I thought Texas was Trump country…even one about how "Marathoners, don't worry about hitting the wall there's no funding for it."
Mile 6: 8:26
Mile 7: 8:28
Mile 8: 9:23 <—- this is when I stopped to use the 'Texan port-a-can.' 🙂 There were no lines and I think I wasted no more than a minute there. It was also around this time that the full split off from the half.
Mile 9: 8:55 – After the full split off from the half, the spectators did thin out a bit, but there was still decent support.  I had my name on my shirt with electric tape, (though our names were on our bibs too) and I got a ton of cheers, and I'd smile and fist-pump every time. I do think smiling makes a huge difference, at least for me!

Mile 10: 8:48
Mile 11: 8:49
Mile 12: 8:46- The course was really mostly flat with a few rolling hills. There were several parts that went into some gorgeous residential neighborhoods. Houston is quite pretty!  There was also a part through a park with less spectators cheering, but through that whole section, there were these huge speakers placed on trees and posts every 200 meters or so, keeping the party going.
Mile 13: 8:49
Mile 14: 8:37
Mile 15: 8:44 – I loved all the Texas cheers for "y'all doin' great!"
In Minnesota, it's pronounced, "you guys." 🙂
Mile 16: 8:44
Mile 17: 8:43
Mile 18: 8:48
Mile 19: 9:04 – I started to feel the mileage a bit here, but was still smiling. I was running near the 4:00 hour pacer, and he said that if I fell behind him, I'd owe him 20 pushups at the end and if he dropped behind, he'd owe me 100.
Mile 20: 9:06
Mile 21: 9:00
Mile 22: 8:37 – feeling great even at mile 22!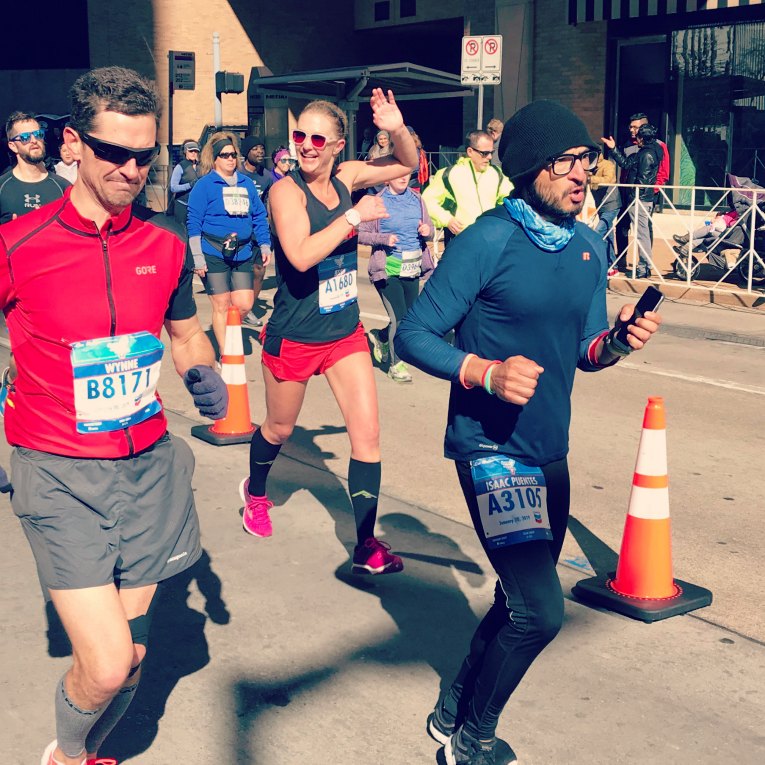 Mile 23: 8:56
Mile 24: 9:35…maybe just a little tired 🙂 But no walking!
There was another great sign here that said, "You're only two miles away from that Instagram post you've been writing in your head." <- Ha!
(Speaking of Instagram, you can follow me here!)
Mile 25: 9:11 So..I passed that 4 hour pacer. Didn't hold him to those pushups though.
Mile 26: 9:06
Final 0.2 (0.6 on my Garmin) 8:12 I knew I was close to 4 hours, but I wasn't sure how close. I knew the time on my Garmin, but that last stretch always feel so much longer than it should!  I tried to pick it up to ensure I came in under 4.
Finish time: 3:56:16
YAY! I was so happy to cross that finish line.
There is nothing like the finish line of a marathon. It never gets old. Even the 30th time.
After crossing the finish line, runners were guided quickly into the convention center (again) for their medals and gear check bags. To be honest, I felt a bit claustrophobic coming through that finisher's chute- I could not wait to get out of the crowd. The full marathon was finishing with the half, so it was a traffic jam like no other.
I was excited to quickly find Dustin inside.
Unfortunately, he'll still be chasing that sub-3 hour goal, as his race didn't go as planned. To be fair, he went on a back-country ski trip for 4 days in Retallack, Canada last week, which was not the smartest move to do right before a marathon. He now has an irritated hamstring, which flared up (just like Kara Goucher's did during Houston!) He finished with a 3:24 and was in a lot of pain. Time for a little PT for him.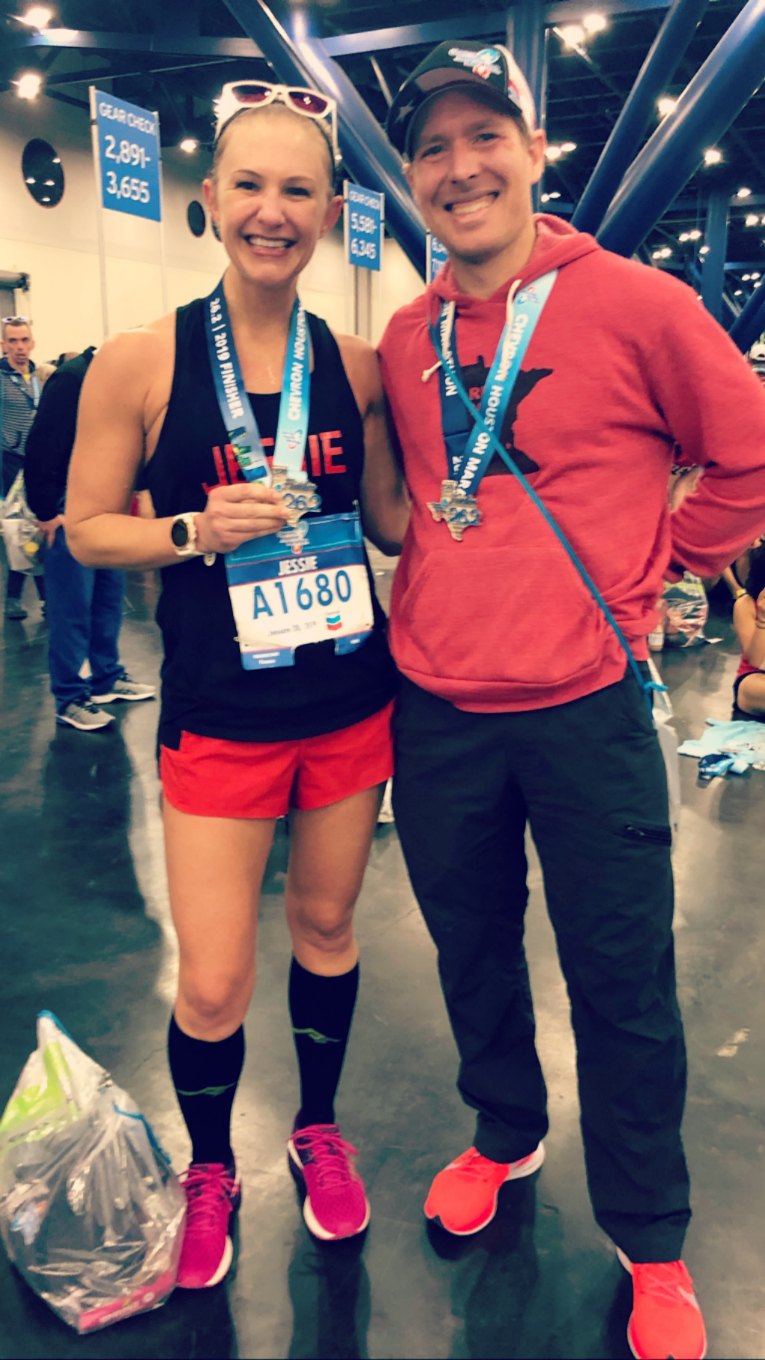 I got my gear bag, then received my finisher's shirt and mug. Then, we started the trek back to our hotel. Even though the Four Seasons was less than 1/2 mile from the finish, the road to get there was blocked so we had to wait in a long line to go up the one walking bridge that took us over the road. That was a bit frustrating, when I was freezing at that point! All I wanted was a hot shower.
(Don't worry. I survived. 🙂 )
Post-race:
The nice thing about starting at 7 am though is that we were done and ready for lunch by 12. We met our friends at a Mexican restaurant in their hotel for a celebratory margarita and tacos. Then it was back to our hotel for a bit- I really needed a nap, but I had to do some work for a few hours. Dustin checked out the Four Seasons pool while I worked, and eventually around 6 pm, I was ready to meet our friends again to celebrate!
We uber'd to Platypus Brewing for a pint, then headed to Flying Saucer for some food and to watch the Patriots game (one of our friends is a big fan.)  Those celebratory beers and the lack of a post-marathon nap meant I was pretty beat by the end of the night. I think we were home and in bed by 10 pm.
The next morning, we had a delicious breakfast at Dish Society in Finn Hall before heading to the airport to fly back to Minneapolis.
The Houston Marathon:
Overall I thought the Houston Marathon was a great choice for our Texas marathon. It's a fun, flat course with great crowd support. The weather was absolutely perfect for a race. The loop course was great, since you could stay close to both the start and finish and the expo.
The few annoyances I encountered were definitely the long lines for bathrooms at the start and the crowds getting back into the expo at the finish. Starting with the half and then having them split off halfway through can be tough mentally, but at least the spectators stayed out there for the full. The half marathon is actually a huge draw for a very competitive field and our friends really loved the half, so if you're looking for a Texas half, they would definitely recommend this one.
My performance:
I was very proud of myself for completing marathon 30, state 20, first marathon of 2019, first marathon since breaking my tibia/fibula! All in all, a successful comeback in my eyes.
Looking back on my training, my coach thought anything in the 3:55-4:00 range was an obtainable goal. When she first told me that, I was a little disappointed, as I thought maybe something in the 3:45-3:50 range was possible, but she wanted to set me up for success; after all, there were 5 months of the year that I wasn't running at all (due to the broken leg and all!)
Turns out her prediction was right; something in the 3:55-4:00 range was completely obtainable, something like a 3:56!
I felt totally controlled and comfortable and most importantly, happy the entire marathon, even up the final hill in the last few miles (I think it was around mile 24), I was smiling at everyone who cheered for me by name and felt so grateful to be there, doing what I love.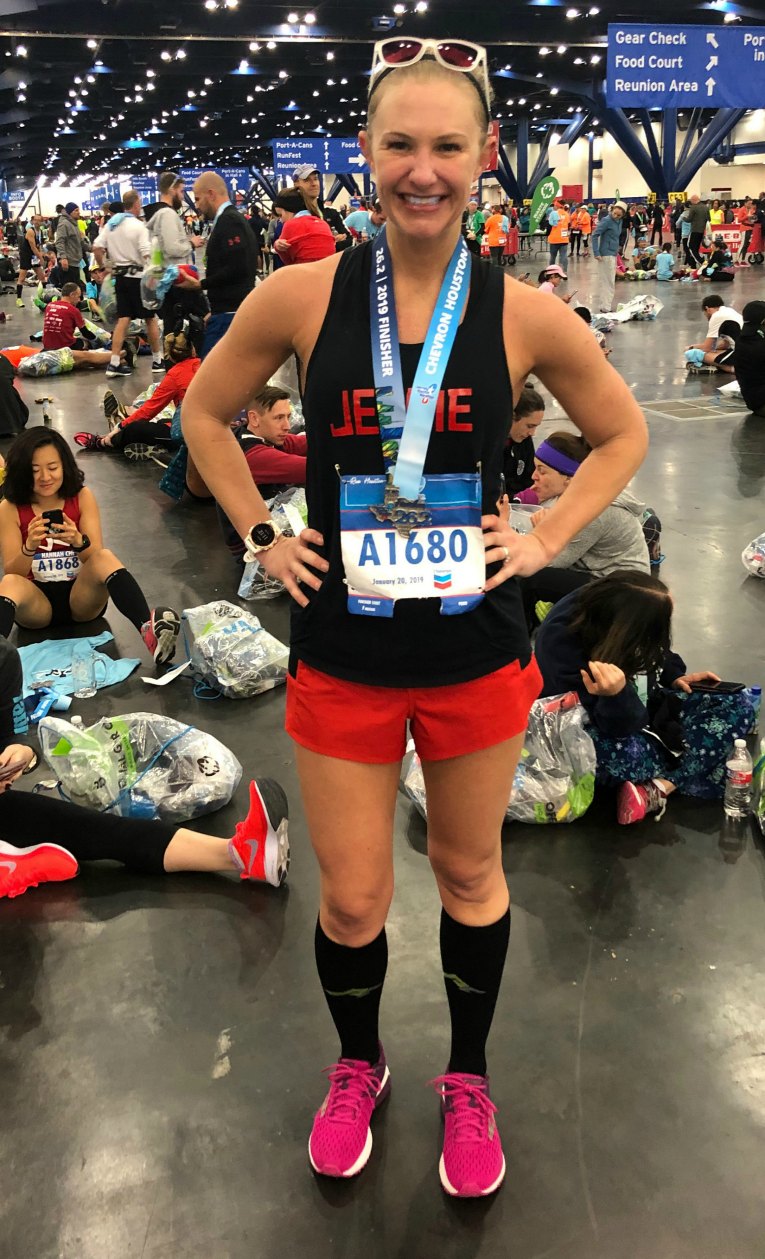 And my ankle?   It didn't bother me at all during the race! The next morning, it was sore, but nothing a week off of running didn't fix. I think 26.2 miles was a lot on that old hardware in the leg but it held up just fine.
Prior to the race, I was going through old posts and pictures from around the time I broke my leg and was embarrassed about just how depressed and grumpy I was. I feel so lucky to have a husband who stuck by my side, who let me cry after work every day because I was so frustrated by my situation. And thank goodness for my sisters for being there for me. And thanks to my friends (especially Christie, Nordica, Vicki) who slowed their paces to run with me when I was just coming back to it and ran many miles with me during this training cycle. You guys are amazing. 
I'm also proud of myself for persevering the past 11 months, for being patient, for doing the physical therapy, for putting in the work, and for being dedicated to my goal to get back to the marathon.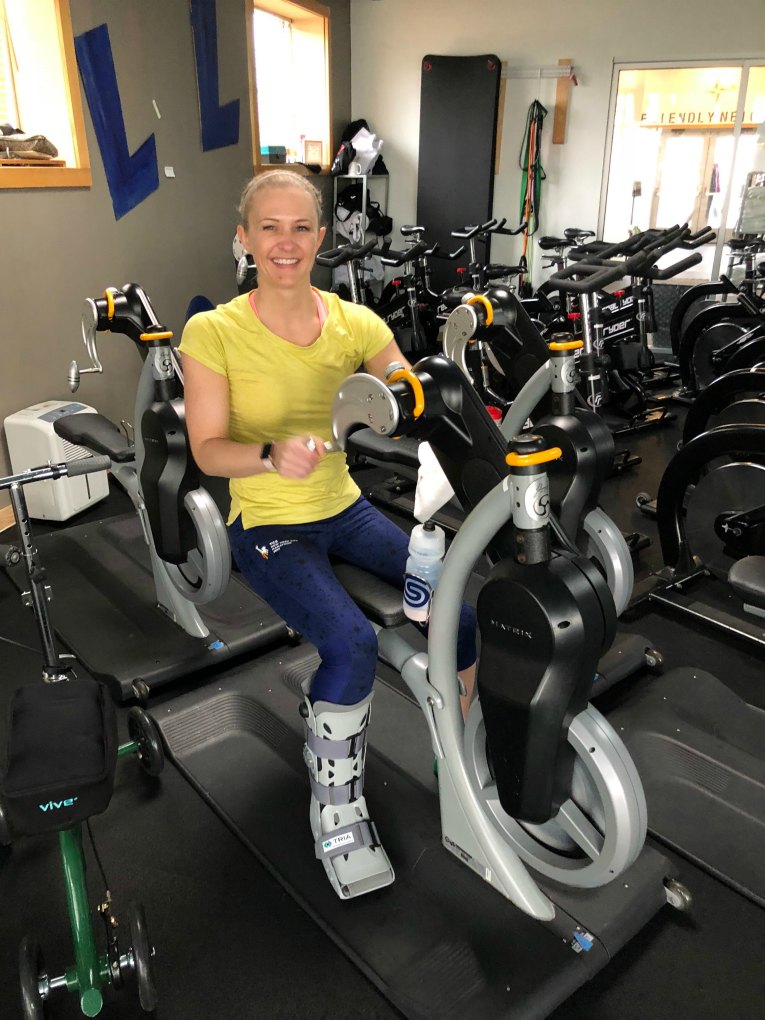 It was a long journey, but I did it!  Going to ride that high for awhile.
I'm excited for what's to come in 2019!
We are now 6 weeks out from our 2nd "go" at the Antarctica marathon on March 16. I really hope that trip actually happens.
Dustin is running Boston in April, but I'll just be tagging along to cheer, (let me know if you'll be out there running or cheering!). In May, I hope to run the Brookings, South Dakota marathon with my sister Erin, pacing her to her goal. I haven't decided what marathon we'll do in the fall. For a full list of the marathons I have done, check out this page, and let me know if you have any recommendations for the fall!
Thanks for reading, and be sure to check out all the other great weekly recaps that are a part of  HoHo Runs and Taking the Long Way Home 's weekly recap link-up!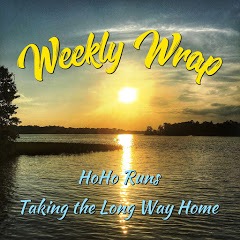 (Visited 1,500 time, 1 visit today)