Yes, that title is correct! I ran the Louisiana Marathon today in Baton Rouge!
After the Charleston marathon was cancelled, I was getting comfortable with having Boston in April be my next marathon. But then an instagram friend who was in the same situation mentioned that she was looking at the Louisiana Marathon- same weekend (Sunday, instead of Saturday like Charleston). It was easy enough to change our flights from Charleston to Baton Rouge and find a hotel- and of course, register for the marathon!
I'll share a full marathon recap this week, but here's my normal weekly recap of training!
Monday: 6 easy treadmill miles before work with strides, 9 min/mile average, 10 min core on Peloton
Tuesday: Workout- outside! Yay! The temperature was still pretty cold in the morning; looking at the forecast, I really should have waited for the lovely afternoon warm-up, but my friends were meeting and Christie was up for doing my workout with me, so 6 degrees instead of 30 was what had to happen!
The trails were so-so, but good enough to at least try a workout. 3 miles easy, 3×1 mile at marathon effort, 1 mile easy cool-down. 7.7 miles total, 8:40 min/mile average. 20 min of core + 10 min upper body on Peloton
Wednesday: 6 easy miles, 9:20 min/mile average with Christie before work. I wore my Houston Marathon jacket in honor of the upcoming Houston marathon this weekend. I ran Houston in 2019, my first marathon back after breaking my tibia/fibula in 2018. I was so happy to be running a marathon again- it was a great comeback race! Read that recap HERE.
20 min core on Peloton.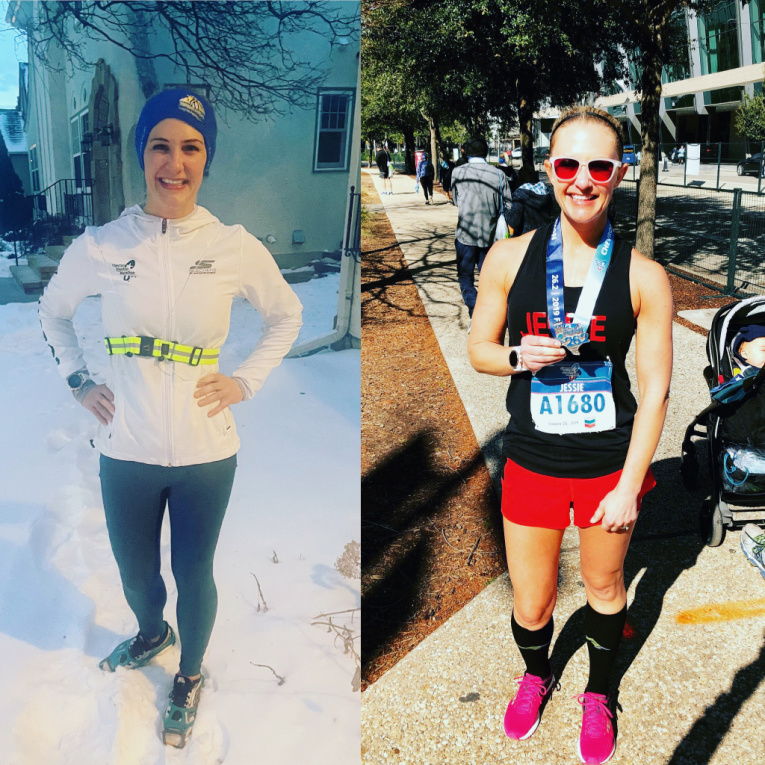 Thursday: Solo 5 miles, outside (yay for a brief warm-up in Minneapolis!), 9 min/mile average, 10 min core on Peloton
Friday: Rest day from running! We had a bit of a long day of travel to get from Minneapolis to Baton Rouge, i.e. MSP to ATL with a longish layover, then ATL to Baton Rouge. Lots of walking through airports and a bit of walking when we arrived in Baton Rouge, but otherwise rest, though I did do 15 min of core to keep up with the Emma Lovewell "Crush Your Core" challenge on Peloton. I don't know if I totally love the classes, but I do like the consistency and the motivation to ensure I do at least 10 min of core EVERY day. I hope it makes a difference!
We walked around a little bit near the hotel to find a market for some Gatorades and water. There was a cool sculpture by the Mississippi River that changed colors every few seconds: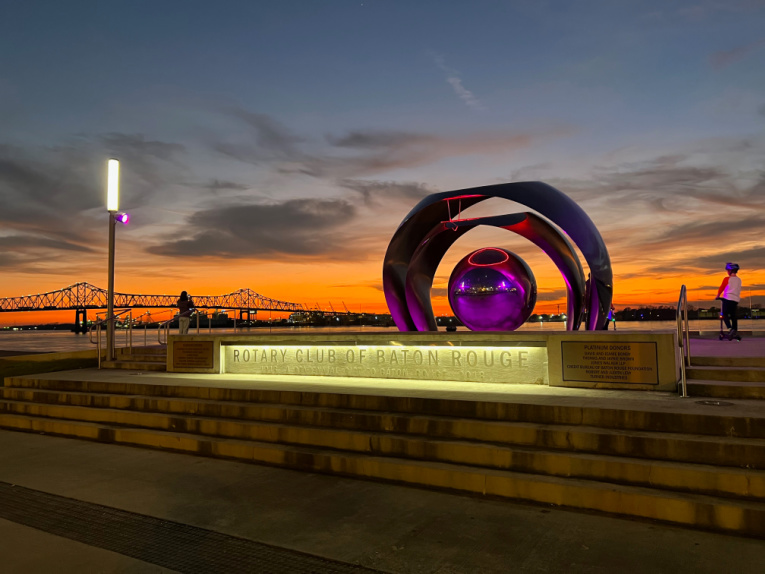 I'm also a sucker for a local mural of course.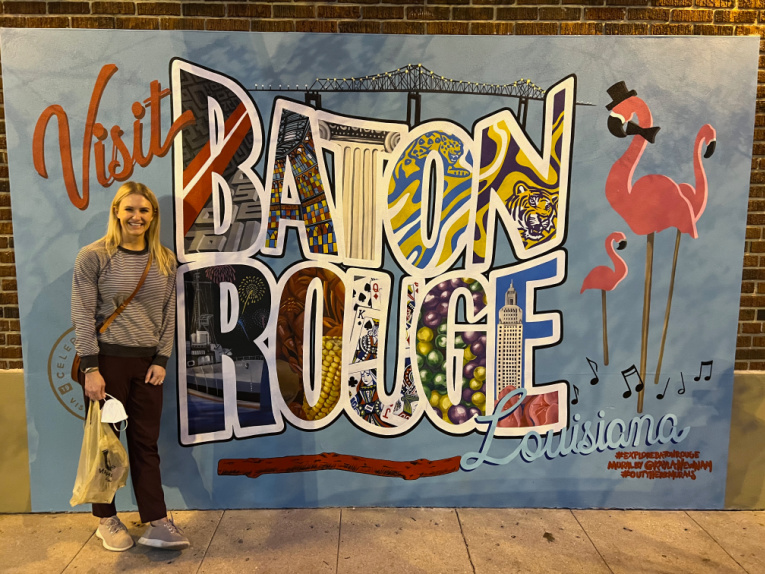 Saturday: 4 mile shake out run along the Mississippi River with some strides, 8:30 min/mile average. 10 min core on Peloton.
It was 60 degrees and quite humid for the shakeout, but it started to rain shortly thereafter and the temperatures dropped too (whew!)
Post-shakeout & shower, we grabbed breakfast at the Starbucks in our hotel and walked over to the Raising Cane's River Center where the expo was held to pick up our race bibs.
The expo was small but actually decent; they had a good mix of Louisiana Marathon gear and several other vendors. Bigger than Route 66 or Fargo's expos (my two most recent marathons.)
We walked to the starting line from the hotel to see how much time we'd need the next day; less than 10 minutes!
The finish line and "party" were on the capitol grounds, which were very lush and pretty!
Sunday: Race day! The marathon started at 7 am; the temperature was 32 degrees with a "feels like" of 20 degrees due to the high winds. (Constant wind at 15 mph with gusts up to 40 mph!)
I mean, that's shorts and a tank top for a Minnesotan. Ha!
Dustin actually ran it with me, which usually helps me to a PR, but unfortunately not today. I did alright for the first 20 miles, but then the wind wore me down in the final 10k, so no PR today. But it was marathon 38, state 27! (Marathon #40 for Dustin!)
Summary: 55 miles of running including a 26.2 mile tour of Baton Rouge, Louisiana!
Minimal strength training, but consistent core on the Peloton app.
I'm linking up as always with Running on the Fly and Confessions of a Mother Runner as part of their Weekly Rundown. Check it out!
(Visited 399 time, 1 visit today)