After last week's injury scare and mileage cutback, it was back to regular programming this week!
Dustin (my husband) was on a ski trip in Canada with some buddies, which meant I was a solo dog mom. Except I only had Matilda, as Ruth was at an overnight "bootcamp." This bootcamp was through a company called "K9 SF".  As part of the training, she stayed at Downtown Dogs all week. Though I missed her greatly, I'll be honest that it was a bit easier not having a puppy to rush home to after work. (But I am excited to pick her up this weekend!)
Anyways here's how this week went in training for the Atlanta marathon:
Monday: I had to drop Ruth off at Downtown Dogs before work, so I resigned myself to post-work running. The temps looked warm enough (upper 20's) but I didn't realize I would be running in the middle of a snowstorm! The snow was pelting my face and eyes. It really stung! It was not my favorite run, but at least it was a run. 8 miles at a challenging-feeling 9:30 min/mile pace. Even with my Kahtoola nano-spikes, it was hard running on all the fresh snow!
I had also snuck out over lunch for a 1:1 Discover Strength session to get in some weights.
Tuesday: After the tough run on Monday night, I opted for the warmth of the treadmill. 7 miles on the treadmill after work. I watched the documentary "Cheer" on Netflix which was pretty good! Those athletes put themselves through A LOT to compete.
Wednesday: Another treadmill run; this time with some speed. 30 minutes easy, then 6x(2 minutes at 7:45, 5 minutes at 8:20), which was essentially a 10k of work in the middle of a 10 mile run. It was challenging! I have a tougher time doing workouts on the treadmill; the paces feel harder to me than outside. 10 miles total with a 9 min/mile average.
Does shoveling count as a workout? I also had to shovel snow multiple times this week! We live in the city of Minneapolis, so we have to keep our sidewalk out front clear or they won't delivery the mail. I only have a small path to shovel between our house and the garage in the back, but I also shoveled a path for the dogs too. It was a lot of work!
Thursday: After an evening treadmill run on Wednesday, it was REALLY hard to motivate myself to get up before work to run. The turnover between an evening run and a morning run is challenging for me; I need to get back on the morning running schedule instead. Anyways, I did convince myself to get up because it was only 4 easy recovery miles. 9:20 min/mile. Discover Strength session after work. Dustin returned from his ski trip too this day; I'm always happy to have him home again!
Friday: Minneapolis (and a lot of the Midwest, to be fair) was forecasted to receive a big blizzard over the weekend, so Christie and I decided to get our long run out of the way before work. Yep, my alarm went off at 4 am and I was at her condo downtown by 5 am. So early and SOO cold! The actual temperature was 0, but the 'feels like' temperature was -13!
But we did it…as crazy as it was. And I'm so glad we did!
We covered 14 miles with 6x(10 minutes at marathon pace, 5 minutes), basically 14 miles with 60 minutes of work in the middle. I got ready at her place after the run and was at my desk by 8 am. Such a great feeling!
What did I wear for such a cold long run?
A lot of gear for a long run in January in Minneapolis! The only thing that was cold was my face when I pulled the face mask down when it got frozen (with saliva, eew, but true.)
Fuel: Christie brought along a bottle of Gatorade that we stashed in the snow at the midway spot; it was semi-frozen by the time we came back to it, but still drinkable and really helped us power through the run.
After I got to the office, I ate this recovery gel; it wasn't my favorite. I also had oatmeal and coffee and more Gatorade.
Saturday: I was so so glad we made the decision to do our long run early as we received about 5-6 inches of heavy snow with intense wind gusts. The running paths were definitely not cleared in the morning.
Dustin did his long run on the treadmill, so I had a leisurely morning reading before doing an easy 4 miles myself on the treadmill when he was done.
Sunday: After the blizzard, the temperature dropped again. Another treadmill run. 7 miles.
We picked up Ruth from bootcamp and she was so excited to see us! And then she crashed…all that learning is hard! We have a two hour session tomorrow with the trainers to go over everything she learned to ensure we continue to enforce it.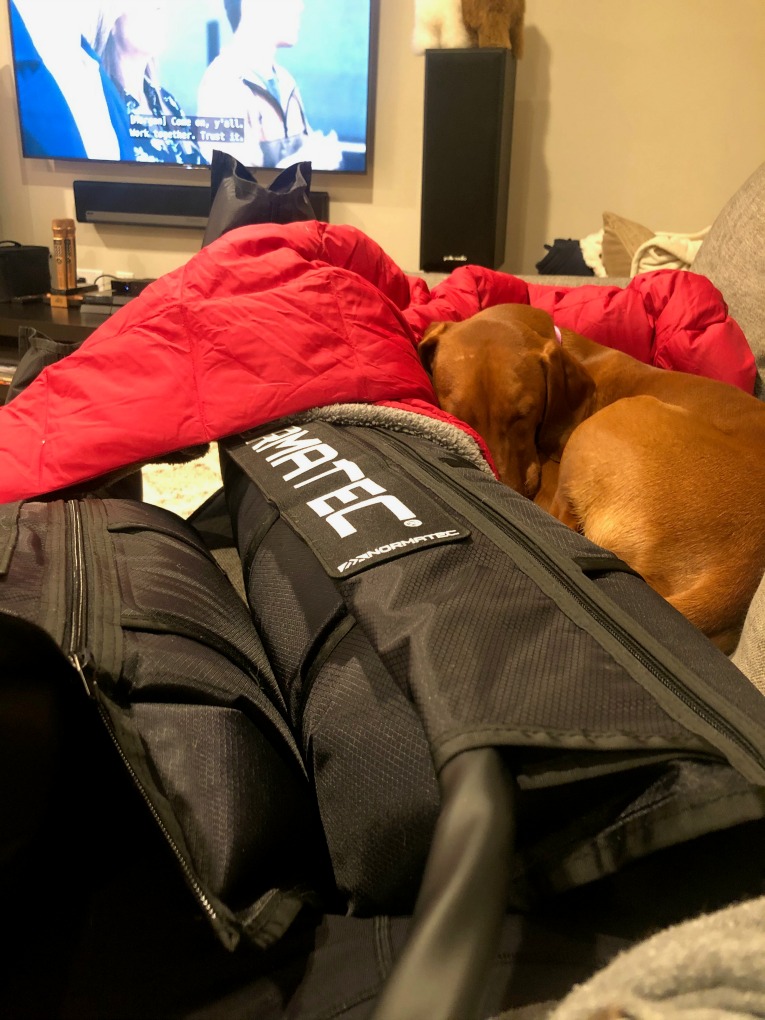 Summary: 54.5 miles of running, 2 strength sessions. 33 miles of that total were on the treadmill, 22 miles were outside. That's all I can hope for in January in Minneapolis!
I was reminiscing a little bit about finishing the Abbott World Majors in 2017. Chicago was definitely the outlier; 2007 was the incredibly hot year where the race was officially cancelled. They ran out of water and Powerade pretty early on in the race, but you could finish at your own risk, which I did…slowly! Part of me wants to go back to Chicago to have all my majors under 4, but probably not this year…maybe 2021!
Occasionally, I like to share a plug here for my coaching services. I had an athlete run the Houston Marathon today, and though she didn't quite get the BQ she was hoping for, she's getting closer! I'm confident she'll get it soon. Congratulations lady! (I ran the Houston marathon last year and it's a flat, fast course if you're looking for a winter race.)
I'm linking up as usual with Running on the Fly and Confessions of a Mother Runner as part of their Weekly Rundown. Check it out!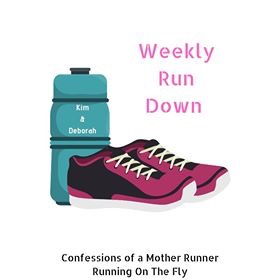 (Visited 302 time, 1 visit today)