5 weeks until March 1 (so…almost spring??) That means 5 weeks until the Atlanta marathon (and cheering for the Olympic trials the day before!)
Here's how training went this past week:
Monday: I had the day off from work, so I met up with my friends Christie and Julie for a run at 8 am. They only wanted to run six miles, so I ran to the Calhoun Beach Club to meet up with them, ran 6 together, and then ran home for my 10 miles. 9:18 min/mile pace. There were a few inches of fresh snow on the paths, but the plow did come through a few times while we ran. We pretty much stuck to the Greenway, which was in better condition than the lakes. The temperature was around 0 degrees; winter running in Minneapolis is tough!
But at least the sun was shining! I had a little 'frozen face hair' going on…eeks. Time for some derma-planing, haha! 🙂
I was happy to be done with 10 miles before a 10:00 appointment at K9SF , where Ruth took her 1-week bootcamp. We met with them for a few hours to essentially train us on everything she had learned. Hopefully we can reinforce it!
I had scheduled a 4 pm Discover Strength session on MLK day; I figured I should take advantage of the day off and get my strength training in too. But it was hard to motivate myself to leave the house after being cozy for the afternoon, cuddling with the pups and using my NormaTec Recovery boots!
Even though it was hard to get motivated, I was really glad I went to Discover Strength. When I'm not already downtown for work, I find it easier to go to their NE Mpls location. They have different trainers and different equipment, so it was a welcome change and a tough workout! They have a machine called the "glutinator" that left my butt very sore for a few days!
Tuesday: Tuesday morning I really struggled to get up, so I ran after work on the treadmill. 7 easy miles.
Wednesday: Workout Wednesday! My friend Christie and I met at 5 am to do our workouts together; hers was slightly different than mine for the final set, but the beginning was the same: 2 mile warm-up, 4×12 minutes at 8:15 min/mile, 2 minute recovery, and then cool-down to 10 miles.
10 miles, 8:45 min/mile- done before work! This time I got ready at the office gym. Worked out just fine.
Thursday: 5 miles on the treadmill before work. There had a been a lot of melt during the day on Wednesday, but the temperatures got below freezing again overnight, so I knew it would be a lot of slippery black ice. The treadmill was a much safer option!
Discover Strength after work. I went to the NE Mpls location again and got an awesome workout in, but probably did a bit too much legs for two days before a 20 mile run.. 🙁
Friday: 5.5 miles over lunch with the group of men at my work! It was such a treat to be able to join them and run in daylight on a weekday! My goal is to join them at least once a month. It's a really nice group of people. It's my kind of networking! 5.5 miles at an 8:45 min/mile. The trails we ran had some slippery spots, but overall pretty decent.
Saturday: My first 20 mile run for Atlanta! Unfortunately it was not my best 20 miler.
Dustin and I had planned to run to the Calhoun Beach Running Club, which generally starts around 8:15 am on Saturdays. We must have been running a few minutes late (or running slower than normal), as we missed the group entirely!
They had already left when we got there, so now all of a sudden, both of our runs changed. Neither of us really wanted to do a snowy 20 alone, so Dustin decided he would just run with me. But 20 miles on a snowy, challenging morning made for a slow run for me, which was an incredibly slow run for Dustin. I mean, we were out there for about 3 hours to do 20 miles, and he ran 26.2 miles at Indy in 2:54! So even though he was a good sport about this surprise bonus time with his wife, I could tell going that slow was hard for him. Knowing that he was struggling to go my pace was tough, especially since I was struggling more than normal on the loose snowy trails. It was like running in wet sand! I felt like I was losing so much energy with every step. Not to mention my quads were really sore from Discover Strength on Thursday (some delayed muscled soreness).
A VERY hard 20 miler…
But, I stuck with it.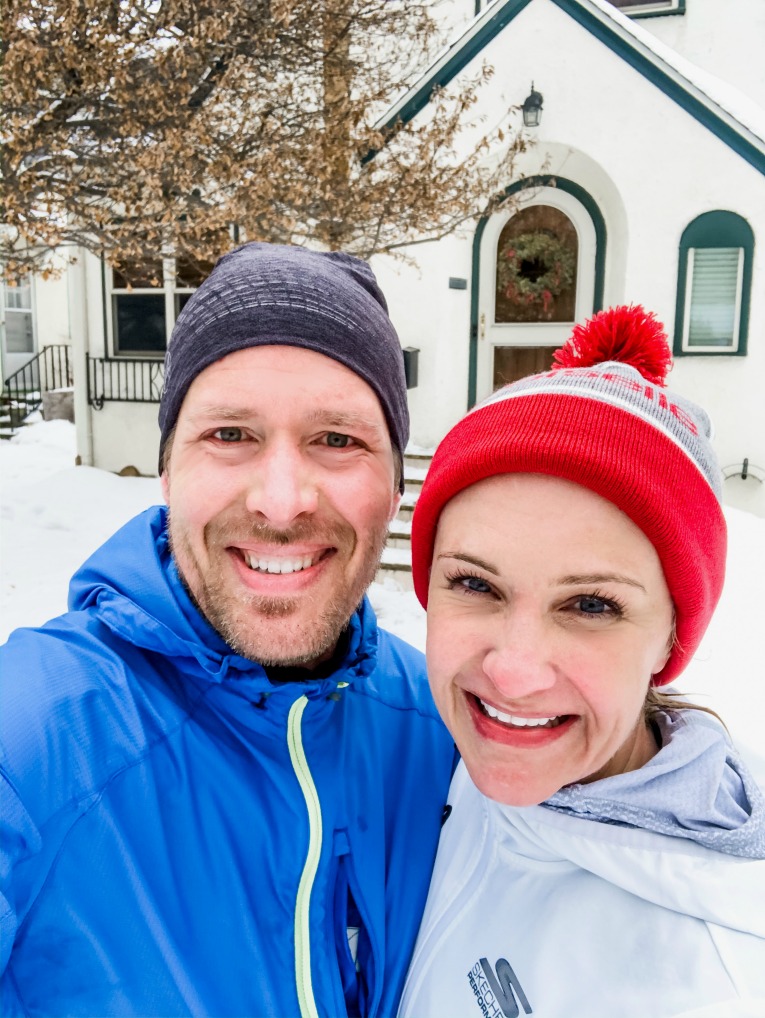 After a long hot shower, a quick trip to the dog park to wear out the dogs, I then got a 90-minute massage at Impact Massage & Bodyworks, which helped a bit. A little self-care felt well-deserved after a big week of running and strength training!
Sunday: Easy 4 miler with Dustin, 9:15 min/mile. (That makes 24 miles we ran together this week!)
Summary: 61 miles of running, 2 strength training sessions. 
Only 12 out of 61 miles were on the treadmill. Not bad for January! Next week will be a bit of a cutback before one last big week and then the taper for Atlanta! If anyone has any tips for what to do and where to eat in Atlanta (or tips for cheering at the Olympic trials!), please share them!
On most of my outdoor runs, I wore my Kahtoola nanospikes. I posted a picture of them to Instagram:
Kahtoola pointed out I had them on backyard. OMG! How embarrassing. I actually ran 20 miles with them on backwards. UGH!
I won't make that mistake again!
I'm linking up as usual with Running on the Fly and Confessions of a Mother Runner as part of their Weekly Rundown. Check it out!
(Visited 256 time, 1 visit today)