It's always fun to reflect on the year in running, and the blog makes it easier to do so, since everything is documented and available at my fingertips!
After no marathons in 2018 due to a broken leg and then a long road to recovery, 2019 was my marathon comeback year!
…and that marathon comeback started with the Houston Marathon in January, where I comfortably ran a 3:56.
I was incredibly happy to be back to running marathons.
It felt so good. I couldn't stop smiling for 26.2 miles!
Back in 2018 when I broke my tibia/fibula, I wasn't sure I would ever run a marathon again, so I was so happy to be doing just that, running a marathon. My favorite!
And Houston was a great one to do as my comeback to 26.2: flat, fast, great weather, and a fun group with whom to travel!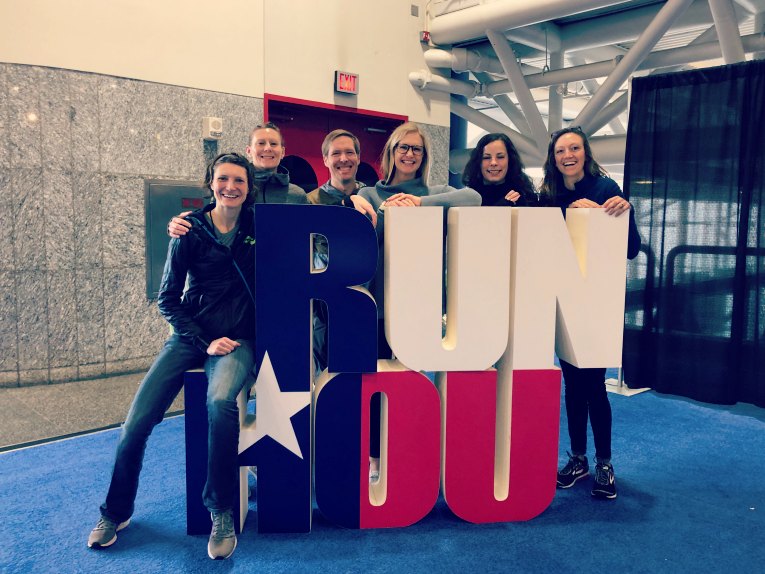 After Houston, I had 6 weeks to prepare for the Antarctica Marathon, "Take Two," i.e the same trip that we had to cancel in 2018 when I broke my leg; ( new here? I slipped on some ice when running a 20-mile training run.)
This time around when training for Antarctica, I was much more conservative, opting for the treadmill in the basement more often than risking the outdoors.
Obviously, the treadmill wasn't the best way to prepare for a marathon in frickin' ANTARCTICA but I just wanted to make it there in one piece this time. I did get outside for a few 20 milers in the snow, which was great prep.
Then, in mid-March of 2019, we departed on the trip of a lifetime!
I wrote a few picture-heavy posts about our trip (HERE, HERE )
Most importantly, I completed 26.2 miles on Antarctica! Read all about the marathon HERE.
The trip was so amazing, including the time we spent in Argentina (and a day trip to Uruguay) along the way. So cool.
After returning from Antarctica, I focused on getting some speed back in the shorter distances, while also maintaining some endurance in order to pace my sister Erin at the Brookings, South Dakota marathon in May.
There was the Get in Gear 10k in April:
Also in April, I tagged along with Dustin to Boston:
He ran the marathon, I just cheered and went for fun runs in the rain in Boston (and randomly ran into my coach!)
*Yes, your math is correct- Dustin did 5 marathons in 2019 to my 4 marathons. And 4 of his were in 5 months!)

The month of May brought marathon #3 of 2019 for me, at a tiny-but-well-executed marathon in Brookings, South Dakota with my sister Erin. She didn't have quite the race she had trained for, but I still had a blast running 26.2 miles with her in a new state.
The weekend after Brookings, 3 out of 4 of my sisters and husbands met up in Florida to celebrate my sister Emily's 40th birthday. It was a great trip, so many laughs!
The month of June brought a trip up north to Duluth, MN to cheer for my friend Vicki at Grandma's Marathon.
We stayed at Dustin's family cabin, where I encountered a bear on my run. Definitely made me run fast!
June also meant the start of training for the Indianapolis Marathon. My training buddy Christie and I would have lots of sweaty summer miles together in the weeks to come!
In July, I spent a week in Montauk, New York for work, which was a nice change of scenery for my morning runs.
July also brought the arrival Ruth Gertrude Benson to our house!
I've lost lots of shoes, socks, underwear, and more to this crazy little vizsla puppy, but I love her regardless!
The first weekend with Ruth also included the Raspberry Run 1 mile race, where I felt like I was getting a bit of my speed back, (finally!)
Then came the month of August, which was full of puppy training and Indianapolis marathon training!
We also had a fun family wedding to attend in August!
And no summer at the Right Fits is complete without a visit to the Minnesota State Fair.
In September, I ran the Labor Day 10k, followed by hot dogs and Capri Suns by 9 am, of course.
During this month, I also paced my younger sister Laurie to break 2 hours in the half for the first time post-baby, at the City of Lakes half marathon!
October was my biggest mileage month for training for Indianapolis, with a few 70-mile weeks in there and TONS of run commuting!
October was definitely the month where the 'magic' happened. I worked hard in October!
Of course, there was still some time for fun in October outside of training…fun like Halloween!
Then, November.
The biggest highlight of running in November was the Indianapolis Marathon. I ran a 3:37:54, my second fastest marathon ever, and definitely my fastest since breaking my leg! It was a great way to end the year.
Of course, I didn't just stop running after Indy! I did a fun Thanksgiving 10k with the family:
…And now I'm heading in 2020 preparing for the Atlanta Marathon.
My plans for 2020 include the Thunder Dragon Marathon in Bhutan (yes- BHUTAN!) in May and (fingers crossed), the Patagonia marathon in September, both with Marathon Tours. (We traveled with Marathon Tours for Tokyo, London, New York, and Antarctica and have been very happy with them!)
Patagonia will be our South America marathon in our 7-continent quest. We've already run one in Asia, so Bhutan won't get us closer to our 7-continent goal, but it is a bucket-list place Dustin and I want to visit and the itinerary looks incredible.
Two big trips in 2020 to look forward to, though neither of those two marathons will be for 'time.'
I do want to add a new state in 2020 that would be a PR attempt. The list of states I have already completed is HERE. I'm looking for suggestions if you have any!
And with that, I wrap up 2019 in running with a preview into 2020 (hopefully!)
I may not write on this blog as frequently as I used to, but I still enjoy sharing my running journey here and connecting with so many inspiring runners via the wonderful world of the internet. 🙂
I hope you continue to stop by this blog in 2020!
Happy New Year!
(Visited 288 time, 1 visit today)