Welcome to 2020! I hope your year is going well so far. I shared a post this week reflecting on running through 2019 and my plans for 2020; catch up HERE. Obviously, first up on the 2020 calendar is the Atlanta marathon which is now 8 weeks away!
Here's how training went this past week:
Monday: 6 miles on the treadmill before work, 9:15 min/mile average. Discover Strength after work.
Tuesday: 7 miles on the treadmill. New Year's Eve! We hosted a small party with some run club friends, low-key, just pizza, drinks, and games. Moniker was one of my favorite games of the night, which is just an official version of a game I've played for years called "celebrity" or "fish bowl." Good times.
Wednesday: To be honest, I drank a bit too much champagne on NYE and stayed up past my bedtime, so it was tough to get going on New Year's Day for a run.
Eventually, Dustin and I made it out around 1 pm. I was still on the fence if I was going to attempt my scheduled workout, but I decided to go for it. 25 minutes easy, 6×5 minutes at 7:45 min/mile with 2 minute recovery, 15 minute cool-down, 80 minute of running for 8.75 miles total. The 5 minutes intervals weren't quite at pace; I could blame a lot of factors, but the slippery snow-covered trails didn't help! I felt like I was losing a of energy into the ground every step I took. I gave it my best for the day.
Thursday: I met up with my friend Isabelle for 6 easy miles on the Greenway; it was mostly slushy but a little slippery. 9:10 min/mile average. Discover Strength  session after work.
Friday: Complete rest.
During Tuesday's treadmill run, my right shin started to get really tight/sore. I've dealt with medial tibial stress syndrome or shin splints before; I believe that's what this is, so I took an unplanned rest day and made a quick appointment for some soft tissue work at Orthology. They have a convenient location right in the skyway (the skyway is a network of indoor connections between buildings in downtown Minneapolis).
The PT I saw (her name is Laken Frericks) worked out the muscles along the shin for about 45 minutes; it was really sore afterwards, but that's part of the process.
I'm hopeful that a few sessions with her will prevent this from becoming a real issue! Shin splints are usually caused by an increase in mileage or a change in training, and I can't really pinpoint what that trigger would have been for me- maybe running on the icy trails or in my Kahtoola nanospikes? Or more treadmill miles? I am unsure…
Saturday: The trails were still not in great condition, with the Greenway path being the best. So I ran to the Calhoun Beach Run Club (about 1.5 miles), met up with my friends there for another 4 easy miles before a few of us did a bit of a workout within the long run: 3x(1/2 mile at 8-8:15, 1/2 mile at 7:30-7:45, so 3 miles of work), 1 mile easy, 2x(1/2 mile at 8-8:15, 1/2 mile at 7:30-7:45, so two miles of work), easy miles to get to 15 total.  We hit all the paces for the workout, though it was definitely a tough one!
Running on the Greenway was great because we could stop at Freewheel Bike for water and bathrooms. 15 miles total at an 8:45 min/mile average.
After the run, I treated my niece Clara to lunch at "Bacon Social House" downtown and then a trip to Athleta for her to pick out an item for her 13th birthday. I can't believe she's a teenager!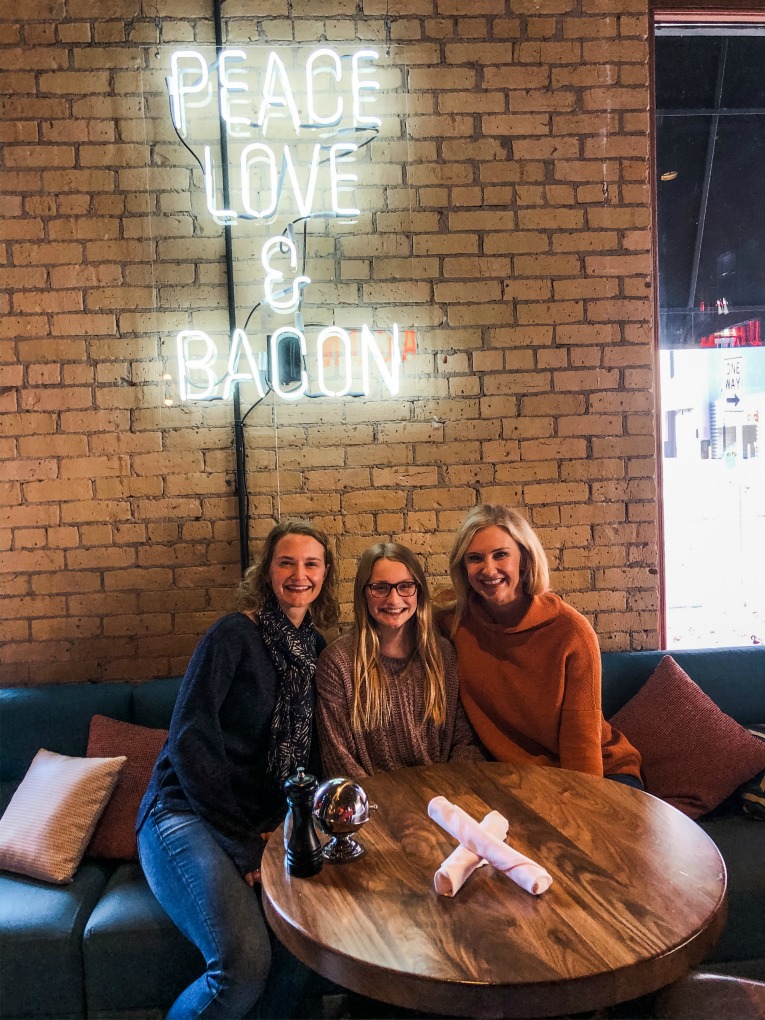 While at Athleta, I couldn't resist picking up a few items for myself.
I purchased the Rainer Tights, which are meant for high impact workouts in cold climates.  I  am  wearing  a  size  medium.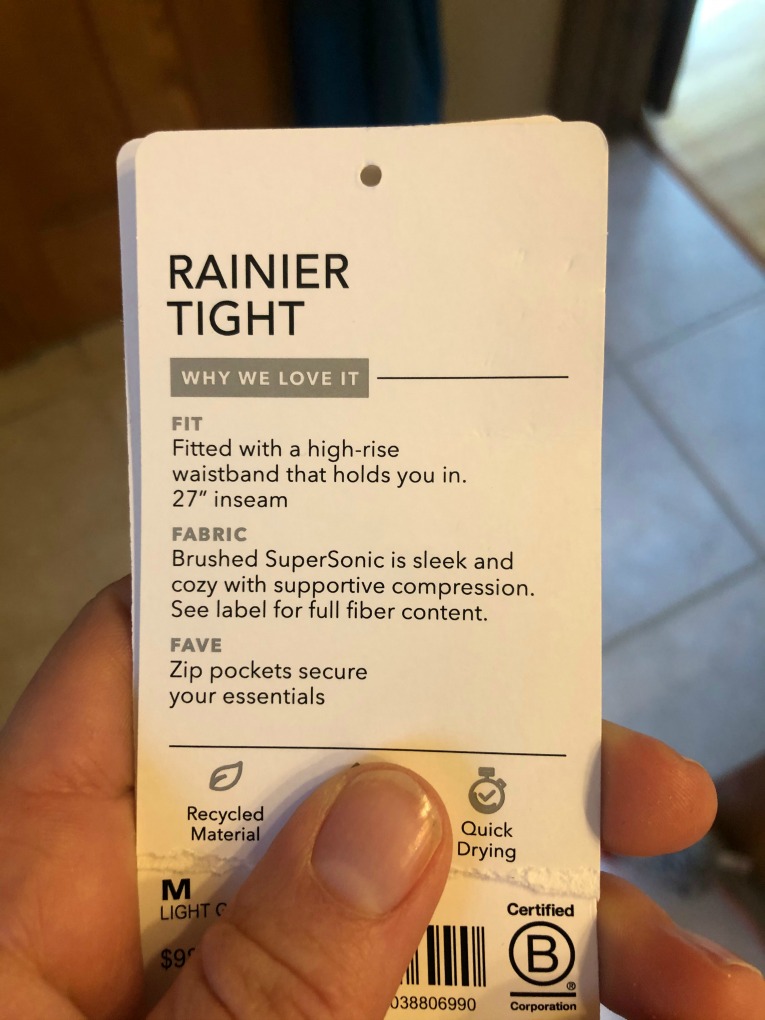 I love the two zippered pockets- they even fit an iPhone!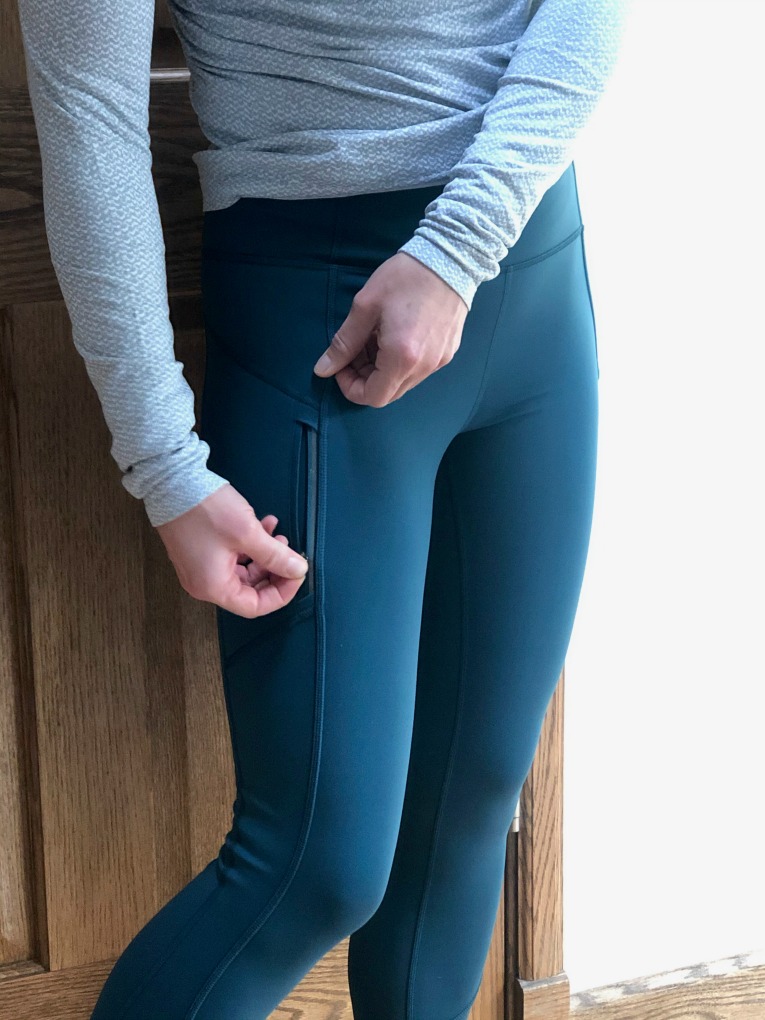 I also purchased this Flurry Balaclava hoodie, which is currently on sale.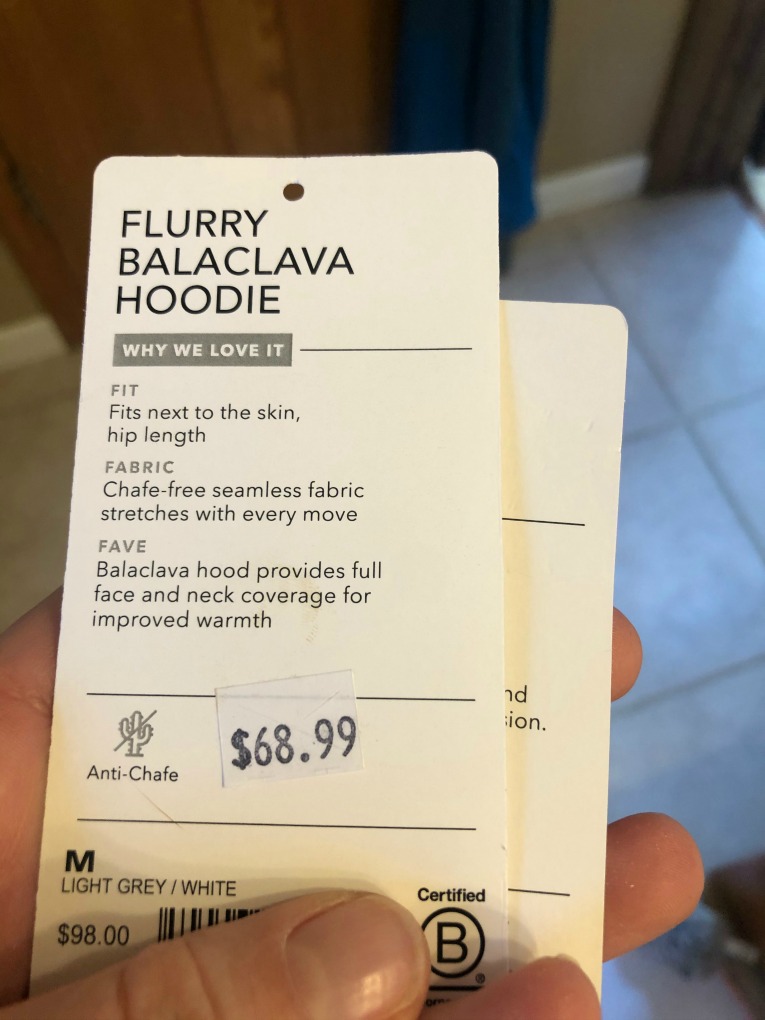 It has a built-in balaclava and hood, though I'm not sure if I would ever use it; maybe just in case of an unexpected weather change!
After an afternoon spent with my niece and sister, I finally had a little time to relax and use my NormaTec Recovery boots. Man, I love them…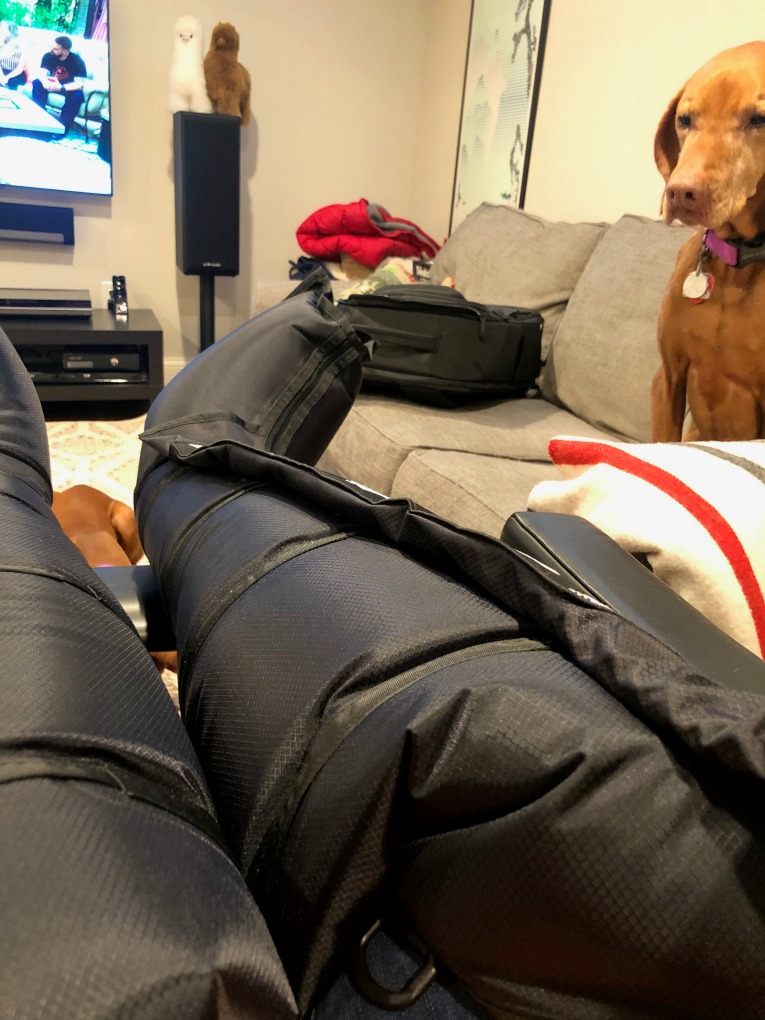 Saturday night, Dustin and I ventured across the river to a new-to-us restaurant, Estelle, following by a beer at Blackstack Brewing. 
Sunday: Dustin and I were all layered up in our running clothes and ready to head out the door, when we noticed how slippery the sidewalks were; he took a few steps outside and said 'no way.' Apparently, we had some freezing rain over night. Winter running is so frustrating sometimes! Back inside we went, where we took turns on the treadmill. I had 7 miles total at a 9:15 min/mile average.
(I had planned to test out my two Athleta items on the run, but since I ran inside, I haven't worn them yet!)
Summary: 50 miles of running, 2 strength sessions, 1 full rest day.
My mileage isn't anywhere near the 70 miles I had at this point for Indianapolis, which makes my shin splint injury even more surprising. Hopefully I can back off a little, but still successfully prepare for 26.2 miles in 8 weeks. My goal for Atlanta is just to have fun and check Georgia off my 50-state list, but of course my number 1 goal is to stay healthy, so I'm hopeful this shin pain goes away quickly. I have another appointment at Orthology on Tuesday.
I'm linking up as usual with Running on the Fly and Confessions of a Mother Runner as part of their Weekly Rundown. Check it out!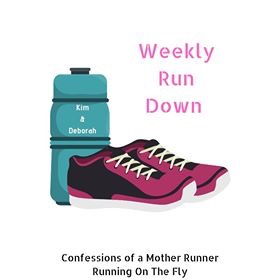 (Visited 357 time, 1 visit today)