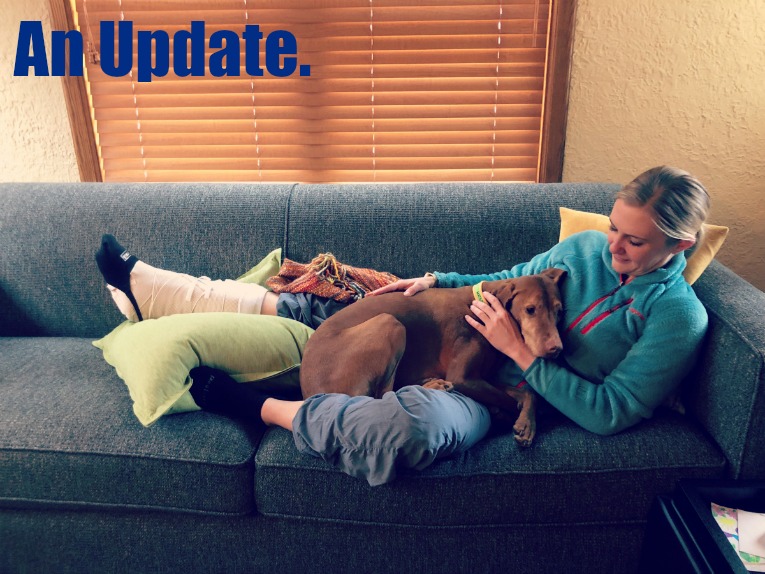 Showering.
It's the only thing that makes me feel normal.
Which is why when Dustin gently (cautiously? lovingly?) suggested that I probably don't need to shower every day this week, I instantly burst into tears.
Not shower?
How could he say that?
Maybe because I have to scoot on my butt up a flight of stairs to our master bathroom with the walk-in shower with the adjustable shower head (as well as the shower stool that Dustin ran out to Target to buy for me during an ice storm on Monday.)
After said stair-butt-scoot, Dustin then has to wrap up my broken leg/ temporary cast in a (lightly scented) kitchen garbage bag duct taped tightly at the top to ensure no water gets in:
…and then he has to help me into the shower where I sit on my stool and try my best to take a makeshift shower, after which I call for him to help me out of the shower and to a seat on the toilet so I can blow dry my hair in attempt to look normal the next day at the office…
Maybe that's why he suggested that I don't need to shower every day.
But it's the thing that makes me feel normal. I am (was) a daily runner. I shower every day.
But now, I'm barely getting off my sedentary ass all day at work, other than to crutch to the bathroom, I have to ask my coworkers to bring me coffee, and/or lunch. I'm carrying a backpack, but I can't carry everything in my backpack (I definitely need a sealed coffee thermos). And did I mention that my office isn't actually all that 'crutch' friendly? It's not their fault but the non-carpeted floors are often wet with snow and my crutches slip and the bathroom door is really hard to hold open with one crutch while I balance on one foot and try to push the door open with the other crutch?
…So that's where I am this week.
After a painful weekend (physically and emotionally), I had Monday off of work for President's Day, but it was spent crutching between the consultation with the trauma surgeon, the imaging center for a CT scan, and another doctor's office for a pre-op physical.
On Tuesday, I was in the office, which has been just a bit uncomfortable; there's no great way to elevate my leg or even put it in a position that is comfortable for more than 5 minutes. And lo and behold, my entire wardrobe is made up of skinny pants and none of them fit over the temporary splint, but it's too cold to wear dresses/skirts without tights and no tights fit over the temporary splint, so I had to buy some culottes from Target and I'm not feeling that great about myself. Failed fit every day.
Last Thursday, back when I was healthy, I had to introduce myself in front of 200+ people at an  office event and share a fun fact about myself.
My fun fact? "I'm going to Antarctica in a few weeks…to run a marathon!"
And now those same people see me crutching around the office and sympathetically ask what happened, and I have to keep admitting it, out loud- "Nope, I'm not going to Antarctica anymore."
I'm still new there, and I don't want to be the girl who cries at the office, so I save it all until the end of the day at home.
It's hard. I'm frustrated. I'm disappointed. I'm sad.
Not only was Antarctica taken away, a "trip-of-a-lifetime" that I had been planning for for years, but running was taken away. Running will be taken away for a long time. It's hard to swallow.
Even worse, my independence was taken away.  I can't do anything around the house, I can't do anything for myself without help. Dustin has to do it all.
Everything is a process. Everything is so much harder.
Deep down, I know that's only temporary, and for that I am very fortunate but that doesn't make it any easier or stop me from going down that rabbit hole of self pity.
I'm sure I will regret pushing publish on this post because it's selfish and whiny and ugly. But it's also the truth of how I'm feeling and what I'm going through.
The purpose of this blog is to document my journey, the highs and the lows.
I think it's safe to say this is a low.
And this is only the beginning. It's hard to feel excited about spring and summer without running being part of the equation.
And I'm so tired. It's not the pain pills- I stopped taking Percocet when I went back to work, so I'm only taking ibuprofen (except at night- I've had a few rough nights where I needed Percocet, the pain was unbearable). I've been told that the incredible fatigue is my body using all its energy to heal itself from the trauma of the break, but it feels so strange when I'm not doing anything physical yet I'm so, so tired.
I'm scheduled to have surgery (plates, screws, the whole nine yards) on Friday. At least at that point, there will be something holding my ankle together and I can start to recover. Brighter days are ahead…right?
Time to scoot up the stairs to take a shower.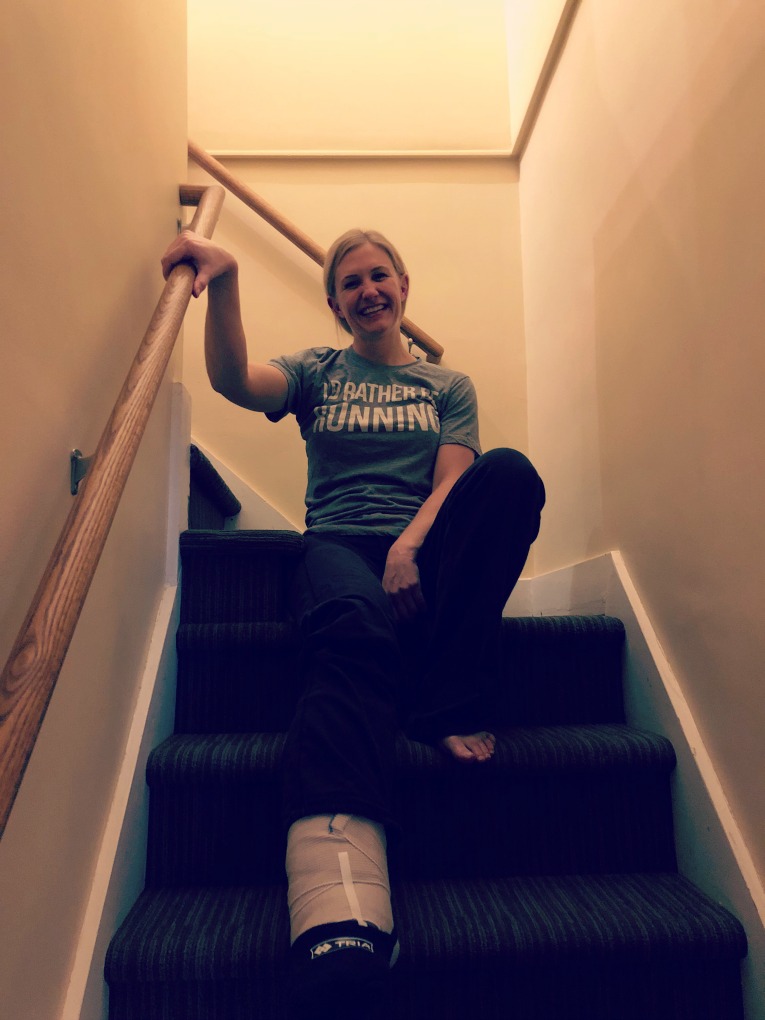 I'm amending this post slightly to use as my weekly recap/linkup with HoHo Runs and Taking the Long Way Home for their Weekly Wrap link-up, check it out: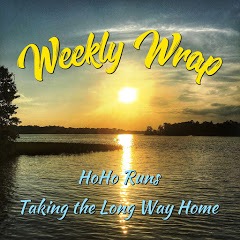 I'll be back later this week to share an update on my surgery on how recovery is going so far.
(Visited 1,688 time, 1 visit today)