Can you tell which leg is broken? It's looking so much better! Still swollen of course, but better.
Before I delve into my regular weekly recap, I want to ask you to check out this post from earlier in the week.
I think you'll really enjoy it and it does a great job of explaining where I am right now. And if you've been injured before, hopefully you can relate to some of the things I've learned.
I'm proud of how far I've come in six weeks but I have a long way to go…
Here's how this week went:
Monday: Another fantastic private training session with my friend Ericka of EDK Training. She came to my house this time (she brings all the equipment that we'll need, unless it's stuff I already have, like dumbbells). We worked a lot of core, which I love, upper body, and even some lower body with the boot on. Loved it!
Tuesday: I was at work pretty late and then walked (hobbled?) through the skyway in downtown Minneapolis to the new YMCA in Gaviidae Common. From my office to Gaviidae was a bit farther than I should be walking at this point; my foot was pretty swollen and sore afterwards.
My PT said the best gauge of whether I am pushing too hard is how swollen or sore my ankle is. It's just hard to know what is "too much" until I've already done it, you know? And he said what's "too much" will often change depending on whether I was able to ice afterwards, etc. Something that really bothers me one day could be perfectly fine the next. 🙁
Anyways, after arriving at the gym, I swam laps for 45 minutes. The pool was deserted! I guess people downtown don't swim after work at 7 pm.
*Unfortunately this pool doesn't have a deep end, so pool running wouldn't even be an option when I go there.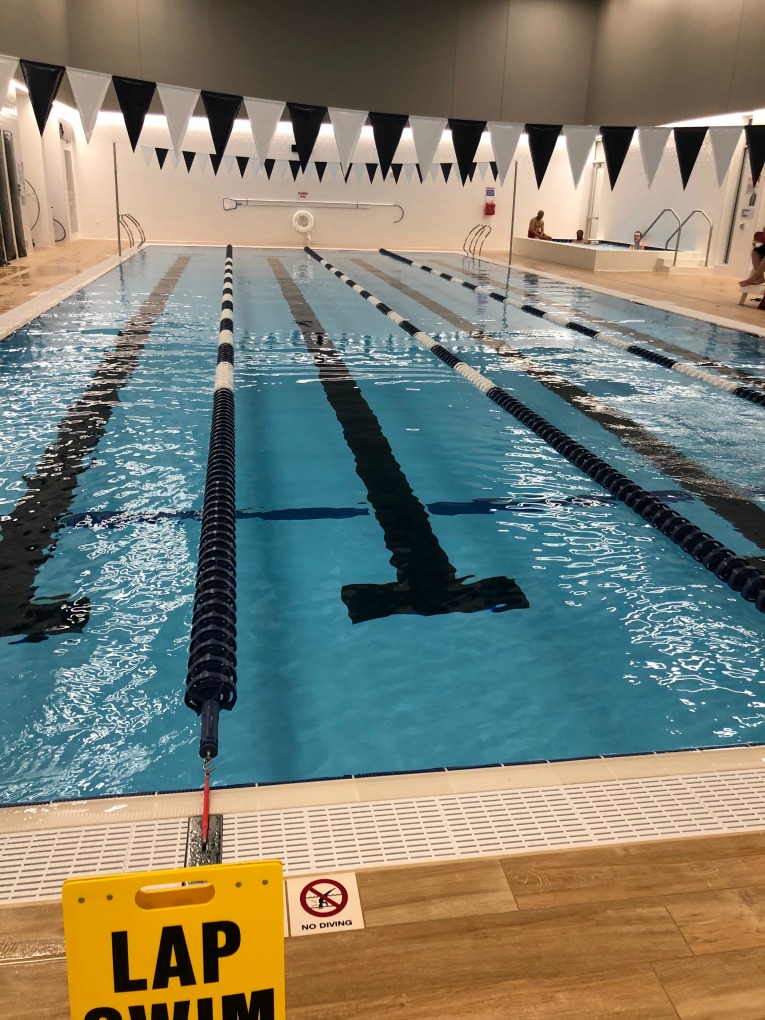 Wednesday: A morning swim at the downtown Y. I still can't drive and shouldn't be walking the distance I'd have to walk to take the bus, so Dustin was kind enough to go to work even earlier than normal so he could drop me off at the pool. (If he can't drive me somewhere, I've been ubering a lot. Looking forward to taking the bus again!)
There were a few more people there before work, but I still had a lane to myself, which was awesome.
Another 45 minutes of swimming. I should probably start tracking distance, shouldn't I?
After work, Dustin and I tried out Halo Cryotherapy. I'm supposed to be icing my leg 3-4 times a day, so I figured this was a good time to try cryotherapy, right? It's not cheap ($50/session, though I "referred" Dustin so his session was free, so technically $25/each between the two of us.) We both went in the nitrogen tank for 2 minutes; people work their way up to 3-4 minutes I think, but the instructor said we should start with less since it was our first time.
He tested our blood pressure before we went in to ensure we were healthy enough. You can wear your underwear or go naked (you wear a robe into the tank and then hand it off to the instructor). It was SOOO cold! But then when it's over, you get almost like an adrenaline rush or endorphin high; it's very strange. But I want to try it again!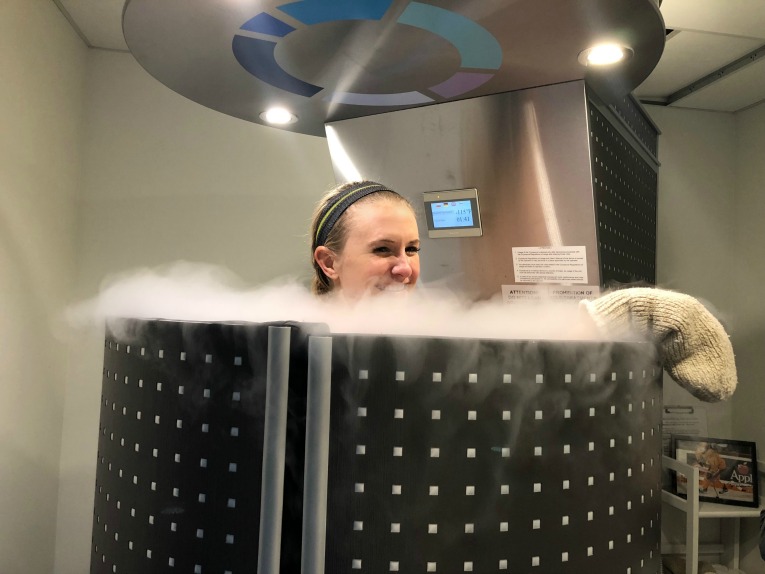 Here is a bit more information from their site:
"Using ice or cold water to relieve soreness and reduce swelling has a long history. More recently, cold shock therapies such as whole body cryotherapy and cold water immersion have emerged as treatments to alleviate chronic pain, combat inflammation, and promote faster muscle recovery. Whole body cryotherapy exposes the body to extremely cold temperatures (-140 to -160 degrees Celsius) by circulating concentrated nitrogen gas within a cryosauna for 1 to 3 minutes. This invigorating and non-toxic treatment has been used for decades throughout Europe and in Japan by people looking to manage pain, reduce inflammation, and recover faster."
Thursday: 60 minutes on the stationary bike, then upper body weights and some core at the Y.
Friday: Another morning swim at the downtown Y; this time for 60 minutes. Then a PT session at Mayo, working on mobility and stability (I'm even standing on the bum leg for a whole minute!)
That evening, we went to my sister's in Eden Prairie for dinner. Fun as always!
(Our hats each represented one of the 10 plagues of Egypt)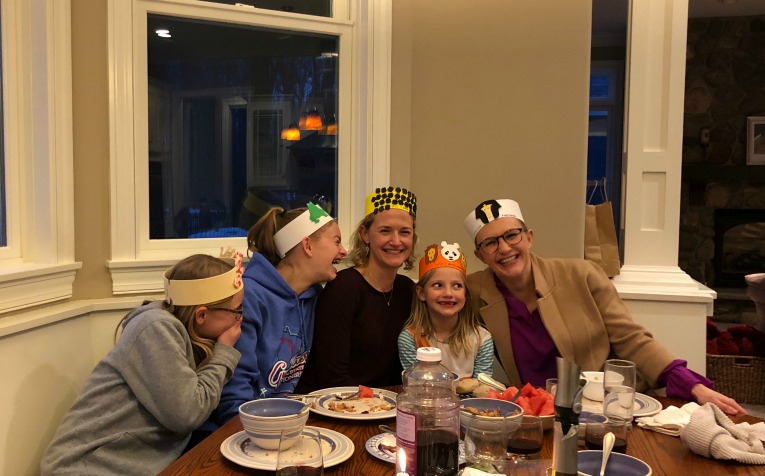 My contribution to the dinner was these delicious cupcakes from Angel Foods Bakery (near my office.) Two of them were "cadbury egg" cupcakes. Delicious!
Saturday: Another long morning at the gym! Dustin dropped me off before his long run and I swam for 80 minutes. I think that was my longest swim so far!
Then I changed and biked for 45 minutes, then did some upper body weights and core. 3 1/2 hours at the gym is a long time- I worked up quite an appetite, which was perfect as our friend Betsy was having a birthday brunch at the Lynhall.
While there, I spotted some of my friend Heather's popcorn for sale: Hip-Pop! I highly recommend that you order some of her delicious Minneapolis made popcorn. Order HERE. It's SOOO good, you will love it, I promise.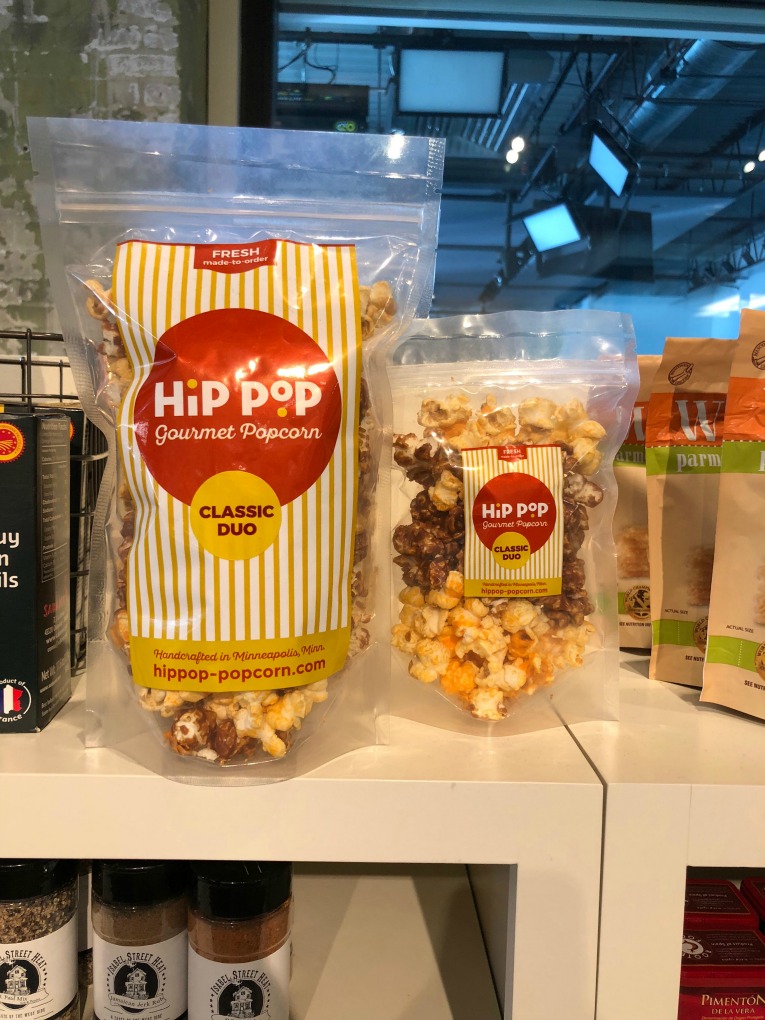 After brunch, I got a MUCH needed haircut. It had been like 6 months since I got a haircut. I feel so much better now.
Left is "before", right is "after."

After the haircut, Dustin and I went see the new Wes Anderson movie Isle of Dogs at the Uptown Theater. OMG, it was SO good! I loved it so much. Probably my favorite of all his movies.
We weren't the only ones excited to see it. Sold out on Saturday!
And I think I know what my Halloween costume will be next October. Pro-dogs!
Sunday:  45 hip-hop spin class at Surge Cycling. My PT said spin would be okay, as long as I didn't do anything out of the saddle (standing) and didn't clip in with the bum leg. Those restrictions definitely hindered the quality of the workout, but I got my heart rate up and broke a sweat and had some fun!
I think spin classes are going to be a lot more common in the near future…
We don't have family nearby to celebrate Easter with (other than my sister, but they are on spring break now), so we are spending the day painting our master bedroom.
We've lived in our house for nearly 10 years.  The room needed a refresh so we decided to change the color.
Let's hope Dustin doesn't fall from the ladder; we can't have two people with broken limbs!
Summary: As you can read in this post "10 Things I've Learned So Far From a Broken Leg", I feel like I've turned a corner in terms of my mindset. I've settled into a bit of a routine in terms of what I can do during this period of recovery and though I'd rather be running, each thing that I can do helps me quite a bit.
If I look back at where I was in THIS post or THIS post, I know I'm in a much better place now but I'd be lying if I said I'm back to normal (mentally; obviously I'm not back to normal physically.)
I'm linking up with HoHo Runs and Taking the Long Way Home for their weekly wrap. Check it out!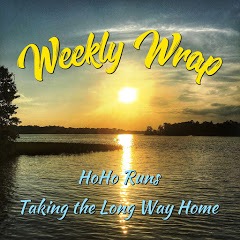 (Visited 956 time, 2 visit today)