On February 17th, I slipped on the ice during a 20 mile long run and broke my tibia and fibula in multiple places. I had surgery a week later, with screws and plates implanted to hold it all together. This all happened three weeks before my husband and I were supposed to embark on a two-week trip to Antarctica, where I would have completed my 30th marathon, the Antarctica Marathon.
So, yeah…it kinda sucked.
I definitely went into a bit of a depression.
But here I am, 6 weeks post-break. At this point, I'm beginning to be able to reflect on the experience with a bit more positivity.
Here are 10 things that I have learned so far from a broken leg:
1. People want to help.
When people offer to help, they actually want to.
At first, it was a bit disarming to have people offering to help all the time, especially at work. When I was on crutches, it was the worst. I couldn't get coffee or lunch and I struggled to hold open doors for myself. But people were so quick to come to my aid (even though I'd try to do it myself.)
Then on the scooter, it was more of the same. People were always holding doors, offering to help, and being very thoughtful.
I've learned that people are genuinely kind. Friends, family, colleagues, and even strangers really do want to help. People can be pretty awesome.
2. People want to talk about their own injuries.
Being on crutches, the scooter, and now the walking boot garner a lot of attention. Having an injury like this is like wearing a sign that says, "Ask me what happened!"
I had a work happy hour the other night, and when I hobbled to the bathroom, no less than four people stopped me to ask what happened. And then proceeded to tell me about their aunt/cousin/best friend's sister who broke a wrist/shoulder/pinkie toe.
So many people ask me what happened and then tell me their story.
But here's the thing: even as an introvert, I actually don't mind this! I am interested to hear other people's stories and hear about their recovery. Not usually a fan of small talk, I honestly don't mind this connection with strangers.
3. Just because I'm not running, doesn't mean I will suddenly become unhealthy/overweight.
I was very active before the injury and I have tried my hardest to stay as active as I can during it. I haven't stepped on a scale and don't plan on doing so, and sure, some of my clothes are tighter than they used to be, but I didn't suddenly balloon up 50 pounds.
I am still making health a priority. It takes a bit more creativity and work to do so, but I'm going to keep at it and try to be as healthy as I can (within reason.)
4. Just because I'm not running, doesn't mean I'm not a runner.
Running is a part of who I am. I still love running. I'm still a runner at heart even though I'm not running.
I've had a few days where I didn't want to see all these happy runners setting PR's on instagram and there was a time where I deleted Strava from my phone.
But I missed it. I missed hearing about running and talking about it.
Of course, I miss participating in it as much as anything. But even though I can't participate, I still want running to be part of my life, through coaching, through talking, through reading, and hopefully through planning for my next marathon (some day…).
5. I'm pretty resilient.
I know that I complained like hell here (and in real life) about how hard this is. But at the same time, I made my way to the gym to crank cycle every day, since it was all I could do.
I found upper-body-only workouts on youtube and I scootered my butt down to the pool the day I was cleared to do so. I will do everything I need to to recover as quickly as possible. I know there will be setbacks, but each day I will focus not what I can't do, but instead focus on what I CAN do.
It won't be "I can't run."
Instead, it will be "I can."
I can swim, I can bike (a little), I can take a barre-ilates class (with modifications), I can get a solid hour-long kettle bell workout with my friend Ericka, the personal trainer.
Look at all the things I CAN do!
6. I like swimming.
I'm not great at it; I am always the slowest in the lane (god forbid the gym is busy enough to have to go three-to-a-lane- that's the WORST; I get really nervous about someone kicking my broken leg).
But I like swimming!
Having the waterproof iPod is key (buy one HERE); I can just zone out to the music and swim for an hour without getting bored.
I don't like the scary goggle eyes or the constant smell of chlorine afterwards, but I do like to swim.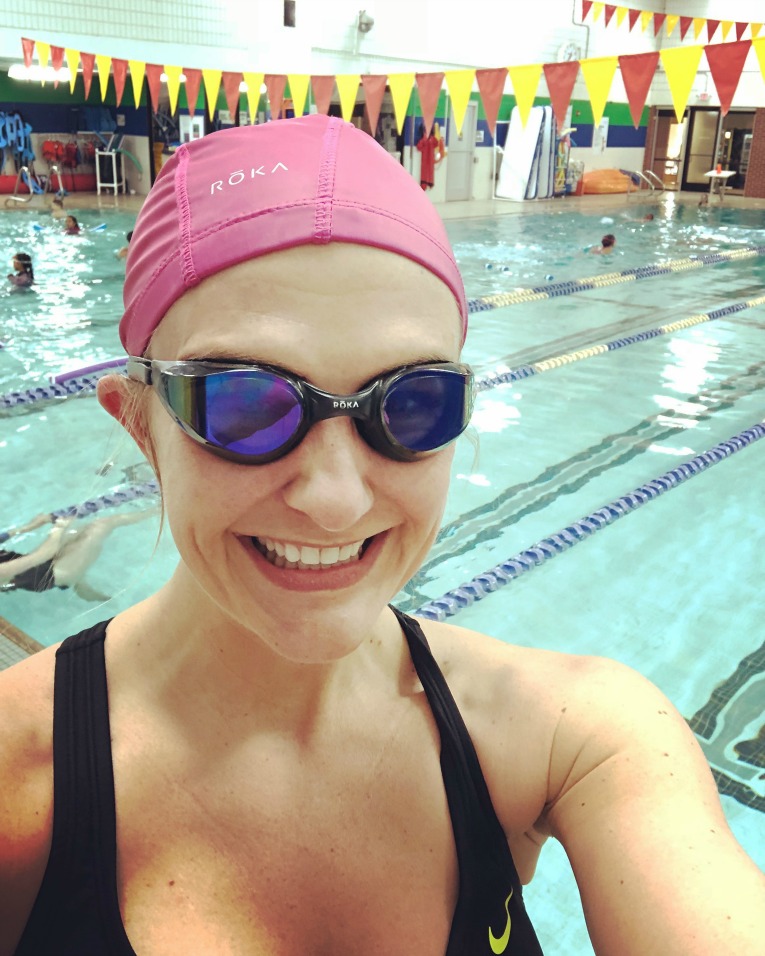 7. My friends are still my friends even if I can't run with them.
I mean, seriously! I have a friend like Christie, who gave up her Sunday morning to come pick me up and drive me to Northeast Fitness for a Crank Cycle class. Pretty amazing, right? And that was when I was totally non-weight bearing, so she had to help me up all the stairs and handle my scooter too.
And then there's all the kind cards, get-well gifts, thoughtful texts, and check-ins.
Last Saturday, a few friends came over just to cheer me up (and drink a little rose, ha!) I'm glad to still have opportunities to stay connected; not quite the same as a three hour long run on a Saturday morning, but still great.
8. I have really awesome sisters.
My sister Emily sent me so many cute care packages- like the one with the streamers for my scooter and the damnit doll. She sent me several hilarious cards and handmade gifts from her daughters.
My sister Laurie also sent cards and she supported me by sharing my "enthusiasm" for online shopping. We text quite a bit with different fashion items we were considering or good deals we found. Thanks Laurie!
My sister Erin is a social worker by trade; she's such a natural at listening to someone in distress. I spent many many hours on the phone with her already and surely will spend many more. She's an amazing friend.
My sister Cresta, the only sister who lives in Minnesota, was the one who came to Urgent Care the day I broke my leg. Then she drove back to Eden Prairie to get a pair of crutches she had (from a past stress fracture in her foot). She came back with food, coffee, company, etc. and she continued to do so over the next several weeks as much as she could, also being a great listener and friend throughout my recovery.
9. I have a really great husband.
I guess this isn't something I just learned; I mean, I married him for a reason! But it was something that was definitely reconfirmed during this time. His "love language" is definitely acts of service and though he wasn't always the one I turned to cry to (he experienced his fair share of my tears of course); he demonstrated his love for me by doing everything he could every day to help me.
He did so much for me and for our 'household' i.e. taking full care of Matilda, cooking, cleaning, laundry, groceries, carting my broken ass around, etc. I don't know how I would have got by without him.
I know missing out on Antarctica was disappointing for him too, but he didn't show it (at least not like I did.) He sacrificed a lot of his time to take me to all kind of appointments, go get me lunch at the office, and so much more.
#soblessed. But seriously.
10. This too will pass.
An important lesson.
This is just another chapter of my running journey. It will eventually be a memory and maybe I'll even look back on this time fondly. Who knows. But it's temporary, it's fleeting, it's not permanent.
I can't let it define me or even define my days. I will work to find joy in each step forward, I will focus on the positive and I will come back stronger and more grateful than ever for this body, for my health, and hopefully, hopefully, one day again, for running.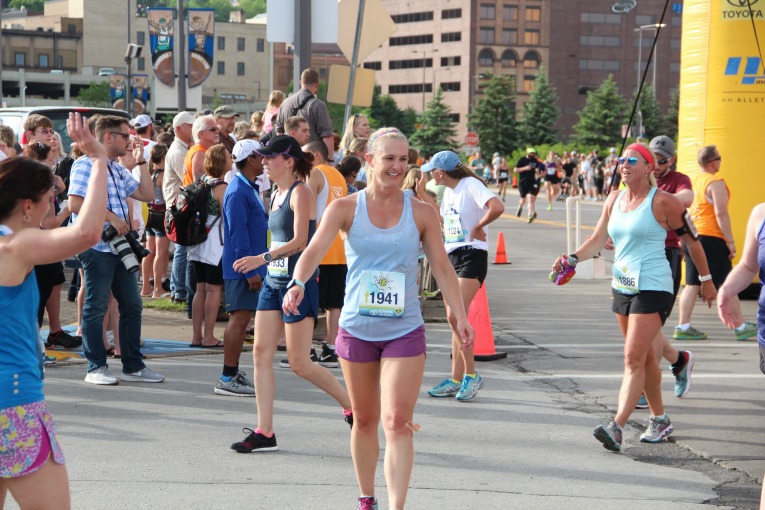 (Visited 1,406 time, 1 visit today)