(If you primarily pop in here for my weekly recap, be sure to check out THIS POST from earlier this week!)
Week 5!
Yup, it's been FIVE weeks since I broke my tibia and fibula (and four weeks since I had surgery to put it all back together.)
I'm still doing my weekly recaps, just as I used to, though let's be honest, they look a whole lot different than they did 6-7 weeks ago, don't they?
But…I'm trying to be as active as I can during this period of recovery. Here's how this week went:
Monday: I had my first day of physical therapy at Mayo Sports Clinic located downtown Minneapolis. If the word Mayo is in the name, that means they're the best, right? Most of you have probably heard of Mayo in Rochester, MN. This is an extension of that.
I can get to Mayo from my office via the skyway on my scooter, though it is pretty far, even if I scoot as fast as I can! I also have to take a short handicap lift to get into the IDS center, (locals, you might know what I'm talking about. Figuring out how to use that lift the first time was pretty comical….)
The therapist at Mayo focused primarily on mobility; for example, we used a stretchy band to move my foot/ankle in each direction. Another one of the drills was as simple as picking up a towel with my toes; really at this point it's about getting normal movement back. Strength will come later.
He worked on my leg/ankle pretty good and then sent me home with more drills to do. He also wants me to 'self-message' the incision areas; they are very sensitive and it's so weird to feel the screws in my leg- eek! He iced my leg at the end of the appointment, but it was still pretty sore from all the movement after being so IMMOBILE for so long.
After work, I tried to bike (as the PT had recommended), with my bad foot not strapped in and my good leg as the 'power.' It was a bit challenging to bike that way; I made it about 45 minutes, then did some upper body weights.
Tuesday: No workout; had a work event.
Wednesday: Another great private training session with my friend Ericka of EDK Training. This time, she came to my house.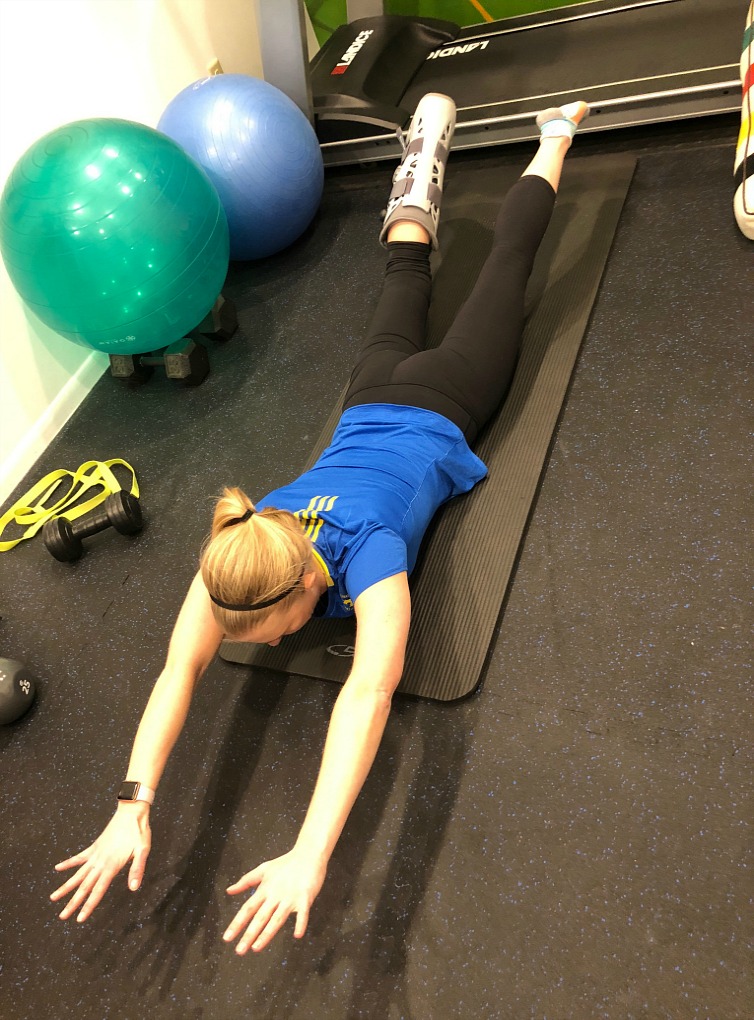 We did a variety of exercises with a kettlebell, dumbbells, resistance bands, and an ab roller. The ab roller left me sore for two days! It felt so good though that I decided to purchase my own (this one).
Tilda wasn't so sure about this whole working out on the floor thing; she wouldn't get out of my way! Eventually I had to put her upstairs as she was pretty distracting.
Sorry Tilda!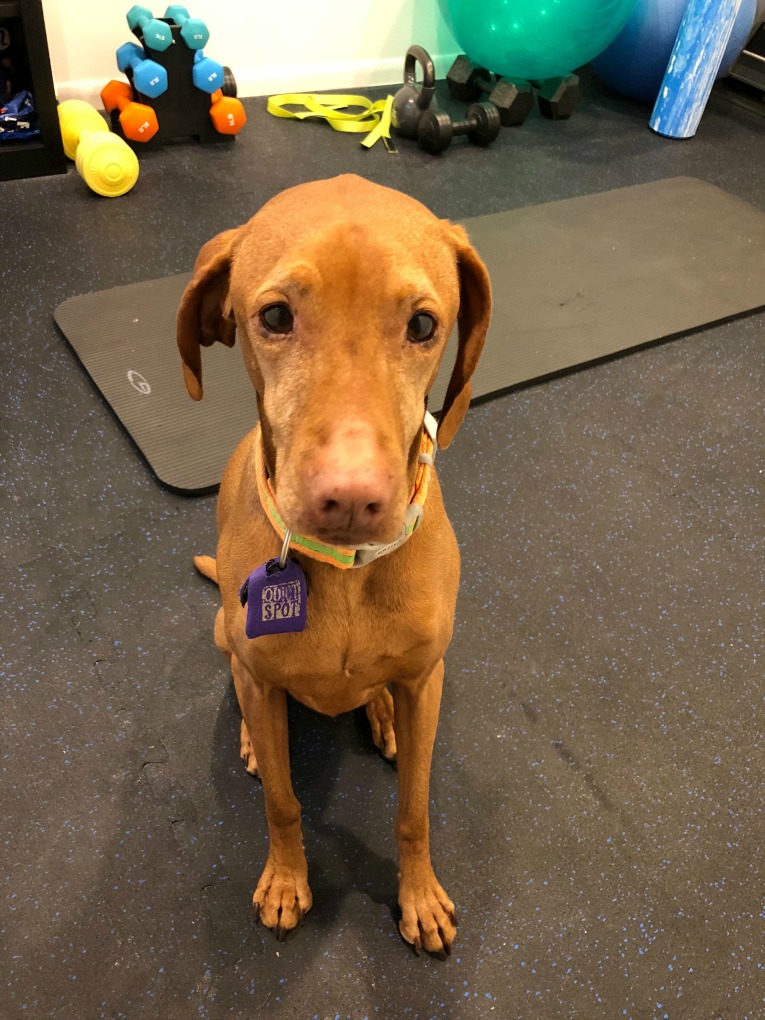 Thursday: Another day of PT; (I'm going twice a week.)
After work, it was 45 minutes of swimming (felt awesome after PT) followed by a NUUN ambassador meetup at Bauhaus Brewery. The event included a fun run, which I obviously couldn't participate in. Dustin (my ride) and I got there when they were all still on the run, so we ended up making friends with this guy- Tom Perri, aka "Pacer Tom." He approached me because I was wearing my NYC marathon jacket, which he paced the past several years. He's set several world records as a pacer and has run more than 100,000 lifetime miles. He's also done all 50 states multiple times, so it was great to chat with him for a bit and hear about his races!
As for the NUUN event, it was kind of small and it seemed that most attendees already knew each other. But there was one highlight- I won some Kona Cola!
Kona Cola was my favorite flavor but it was discontinued. However, I did notice that the tube had an expiration date of 2020 so umm…seems like maybe they are still producing it!?! NUUN, you know we all love Kona Cola, why not just bring it back to all of us? Is it only available to certain VIP's?? Share the wealth!
Friday: 45 minutes on the bike again followed by upper body weights. I think I'm getting more mobile as I was able to push myself a bit more this day on the bike. Dustin had plans with some friends so I had to uber home from the gym afterwards; I'm hoping I'm ready to get back to bus riding soon. Driving will be awhile though- I just don't have the strength or mobility to brake quickly with that foot if needed. I'd be a liability to everyone on the road (even more than I normally am, ha!)
Saturday: Dustin had a 20 miler on his schedule (he's training for the Zumbro 50 miler) He dropped me off at the gym at 7:30 am with plans to pick me up at 11 after his run & shower…I had a lot of time to fill!
I started with an hour of swimming. The whole pool was open to lap swim in the morning; it was glorious! My own lane! So much space!
I usually just swim the front crawl, but since I had room, I did some laps of the breast stroke to kick/move my leg differently, which was probably a good thing.
After the swim, I changed out of my suit into other workout clothes and hopped on the bike for an hour. I followed that up with 30 minutes of upper body lifting and then a shower. The timing worked perfectly- I was done just in time for Dustin's pickup at 11.
3 1/2 hours is a lot of time to spend at the gym- I know- but when marathon training, I would often run for three hours at a time, so not all that different.
I had to laugh that I only need to pack left shoes in my gym bag. One for working out, one for after. Have you tried Allbirds? Honestly, I'm kind of obsessed. I have SIX pairs now. They are so cute and comfortable. They were one of my top choices in this post for the best non-running shoes for runners. Check it out.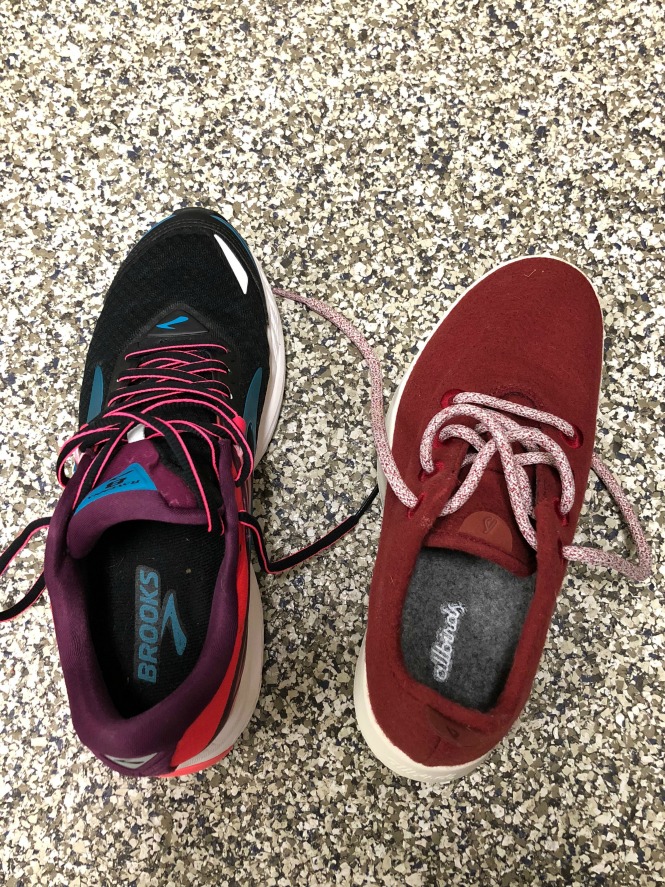 Sunday: 1 hour on the bike; I am feeling a bit more mobile with the right leg and was able to push a bit harder and really work up a sweat. After biking, I did some of the core moves Ericka had shown me.
I followed the workout with a delicious chia & coconut smoothie from Daily Harvest. I initially ordered these back in November and still have some left; they're delicious, I just don't always think about them in my freezer! This one might have been one of my favorites. I added some fresh banana to it too.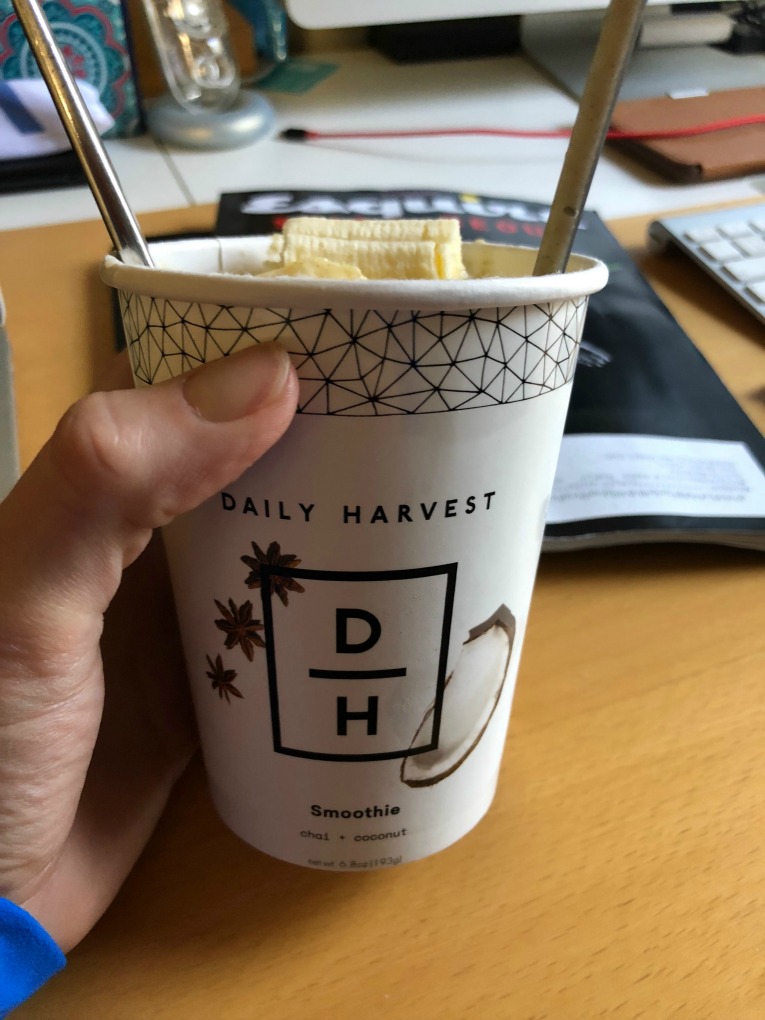 Summary: A little bit of everything, even a good old fashioned rest day. Five weeks down, who knows how many more to go before I'm running. Maybe 10 more? You will all be the first to know.
Ready for a gross photo…?
The picture on the left is from last week; it was one of my first times in the pool after I was cleared to swim.  I call it my zombie foot; I don't think my circulation was very good at that point since it was the first time in the pool, and of course it's all pretty gross from well..surgery!
The picture on the right is from today- I got a pedicure! I didn't have the woman do any work on my bad side except the toenails, as I just wasn't ready for that (even though the PT at Mayo said it would have been fine.)
You can see how much bigger my right ankle is compared to my left, but it definitely looks better than it did a week ago (though still swollen.) Progress…?
Maybe next time I'll show a before/after of the incision where the big plate is on the right side…
I'm linking up with HoHo Runs and Taking the Long Way Home for their weekly wrap. Check it out!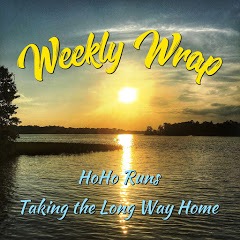 (Visited 613 time, 1 visit today)