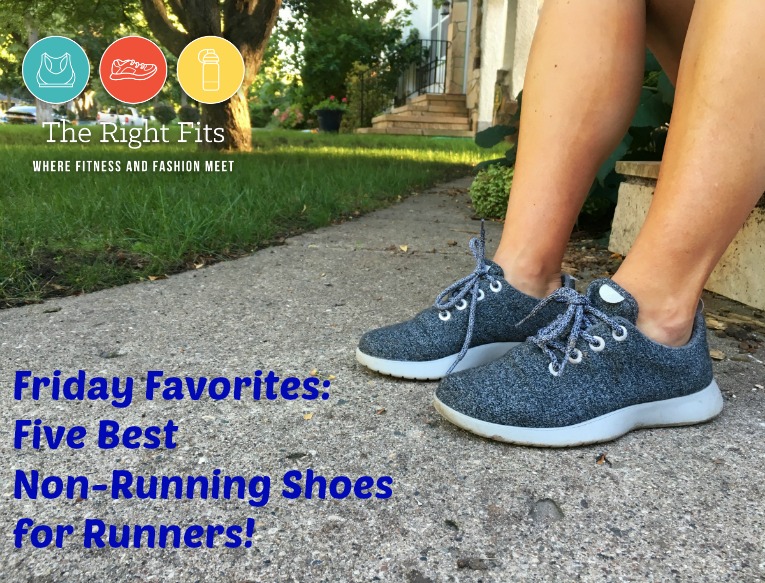 Today's installment of Friday Five Favorites is a list of my favorite NON-running shoes. If I could wear my Brooks Ravenna's all day every day, I would, but unfortunately they aren't always acceptable (i.e. work in an office). Since most of us aren't lucky enough to have lives that allow us to wear workout clothes all day, it's important that we have good, supportive shoes for these times that we aren't wearing our favorite running shoes!
So here is a list of my top five favorite non-running shoes for runners:
Tom's
I love Tom's– I love what they stand for (donating a pair of shoes for every pair purchased). I love their laid-back style.
I love the classic Tom's, like these:

But I have also had great luck with their other styles, like their wedges and ankle boots (obviously not for standing at my stand-up desk all day, but better than alternative options!)
Of my top 5, Tom's are the least supportive, so don't wear these for extended periods, but they are still a good option. I find them to be very comfortable.
Birkenstocks
I know a lot of fashionistas hate that Birkenstocks are back, but not me (maybe that's because I'm not a fashionista.) I love Birks. They are so comfortable. I just have the standard Arizona style, but I love the Mayari and the Gizeh Birko Flor. I think I'm going to add one of those two to my shoe closet.
(Dustin also has the Arizona style. These are his (hairy) legs, not mine, haha!)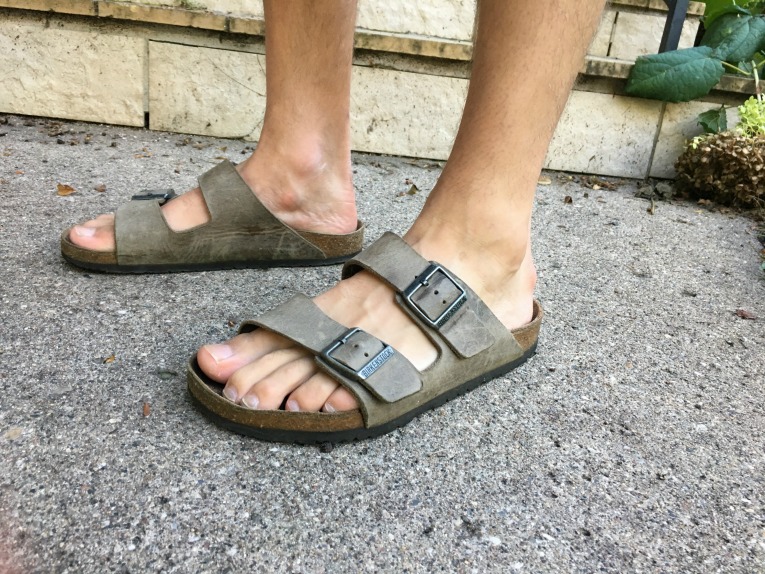 Birks are so much more supportive for runners than a flip flop. They take some time to break in and form to your foot, but once they do, they will be your favorites. I bring mine in my gear-check bag for post-marathon. Love them. Throw on your Birks post-run; your feet will thank you!
Tiek's
I kept seeing Tiek's show up on Facebook ads, magazines, and it seemed like every (non-running) fashion blog that I follow. I thought they were really cute and everyone raved about their comfiness, but I wasn't ready to shell out the $175 price tag. But more and more, I was tempted by these amazing reviews that I was reading. I decided I had to try them.
After all, I love the look of a simple flat like Tieks with a skinny ankle length pant. I wear that look to work all the time.  But most of my flats aren't that comfortable. And I recently got a stand-up desk at work so all-day comfort is more important than ever.
I decided that I'd rather pay up for one great pair than continue to buy painful ones for cheap.
So I sucked it up and I'm glad I did. My chocolate brown Tiek's are my go-to work shoe.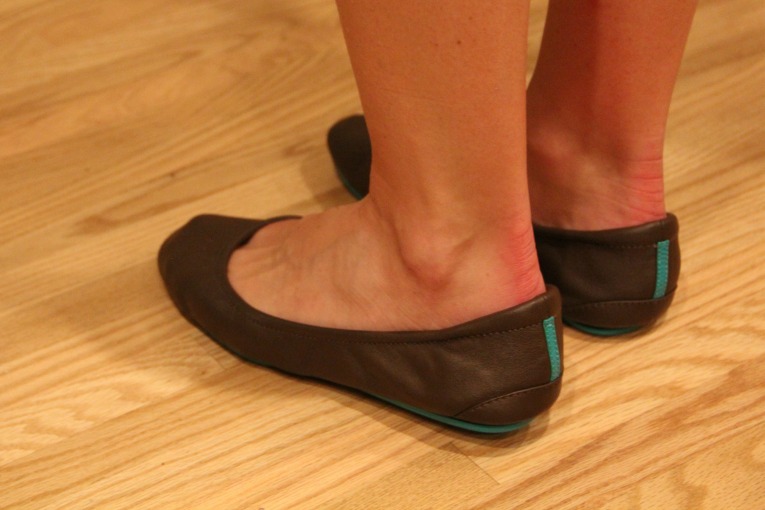 And another great thing about them, other than their extreme comfiness? They fold up in half to take up half the space! This is awesome in Minnesota when you wear snow boots TO work and then change into different shoes when you get there. (Yes, all you warm-weather readers, this is most definitely a thing in Minnesota.) I just put them in a plastic bag inside my purse to put on when I get to the office.
Allbirds
I bought a pair of Allbirds for Dustin and a pair for me about a year ago and they quickly became my favorites. Allbirds are made from merino wool, which is unique but so comfortable.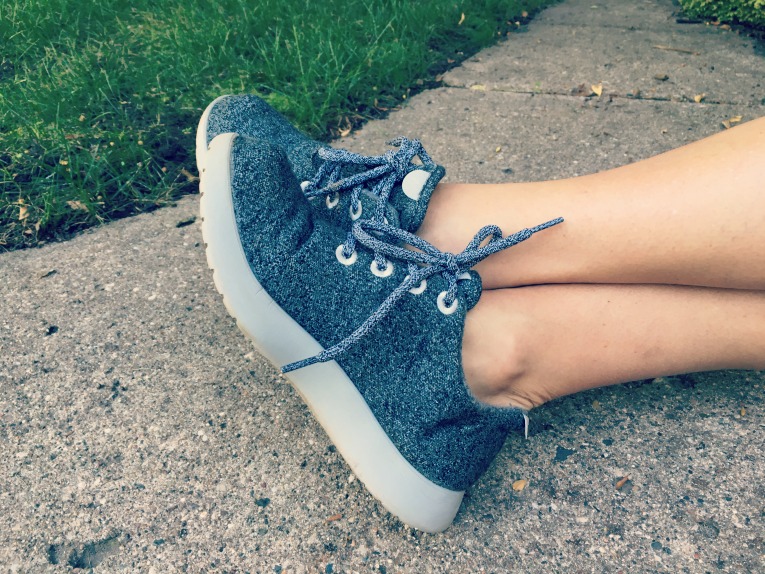 Merino wool regulates temperature, minimizes odor, and wicks moisture! These shoes are incredibly  comfortable. In fact, I wore mine all day at the State Fair– that was a lot of walking. No pain- my feet felt great!
Slippers/A Good Pair of House Shoes!
So, this isn't really a shoe, but its really important for non-runners to wear shoes around the house. Dustin's doctor recommended this when he was experiencing plantar fasciitis.
I wished I would have been wearing them when I jammed my toe against a rogue rolled-up rug in the basement a few weeks before Grandma's marathon 2015. If I had been wearing a house shoe, I wouldn't have ended up with a broken toe for the marathon. Sure, it sounds a little bit like I'm 34 going on 84, but seriously, a supportive house shoe is really important for runners!
Dustin and I both wear Halfinger's around the house now. We need to protect our feet, even inside the house! This pair and this pair are the ones we have.
Do you wear any of these? Do you wear a shoe inside the house?
Please share your favorite non-running shoes. I'm always interested in learning about more ways to keep my feet comfy and well supported!
(Visited 3,663 time, 1 visit today)