It's been 14 weeks since I ran…3 1/2 months!
Forever.
This has been the longest break that I have ever taken from running since I started distance running 18 years ago. I'm getting closer to recovered but still not there.
If you're new to this blog, you can read my story in Runner's World HERE. I was interviewed a few weeks ago for the article. This post, this post, and this post are also a great place to catch up. I was an avid marathoner, running 3-4 marathons a year, and was well into training for the Antarctica Marathon when I broke my tibia and fibula on a wintry Minneapolis run. My trip was cancelled, I had surgery on my leg/ankle, and now have a plate and 10 screws in my leg. I've been documenting my recovery here in my weekly recaps on the road to (hopefully) get back to running marathons again.
(Also- if you just stop in for the link-up, be sure to check out this post, the first in a series, of crowd-sourced BEST RUNNING GEAR! I'm looking for more volunteers if you're interested in sharing your favorites on here! I'm also turning it into a link-up if you want to write yours on your blog and link-up! The link-up will be open all summer.)
On to the weekly recap…
Monday: PT appointment that included more time on the Alter-G, i.e. the zero-gravity treadmill. Since my leg was sore/more swollen after the two Alter-G sessions last week, my PT didn't increase duration or percentage of body weight, but kept things the same for this session.
After work, I swam 2,000 yards
Tuesday: Elliptical for 45 minutes, PT exercises/strength at the gym.
That evening, we met up with my brother-in-law for dinner at Hola Arepa; he was in town for work. We played a little skee-ball at Pat's Tap afterwards as well.
Wednesday: solidcore class (50 minutes), swam 2,000 yards after work
Thursday: solidcore class (50 minutes), 1 hour class at Barre3 in Edina
Friday: 45 minutes of elliptical, 10 minutes of stair stepper, PT exercises/strength, and then a PT appointment at Mayo later in the day, which included 2.22 miles total on the Alter G!
It felt great to use my pretty Garmin for what I truly bought it for- running.
I made it up to 85% of my weight with 2 minutes on, 1 minute walking. Worked up an actual sweat!
After work, a college friend was in town for a wedding so we met up at LynLake Brewery and then moved over to Moto-I for a drink. It was great to reminisce about fun college stories.
It's been in the 90's here in Minneapolis, so it was pretty hot sitting outside on the rooftop patio, but we Minnesotans don't care. We're just happy to be outside!
Saturday: The JB double! 50 minute solidcore class followed by 45 minute spin class at Surge Cycle.
I spent a little time at the Calhoun Beach Club pool after working out, before it got too crazy crowded; love my summersalt one shoulder suit, though it gives you odd tan lines!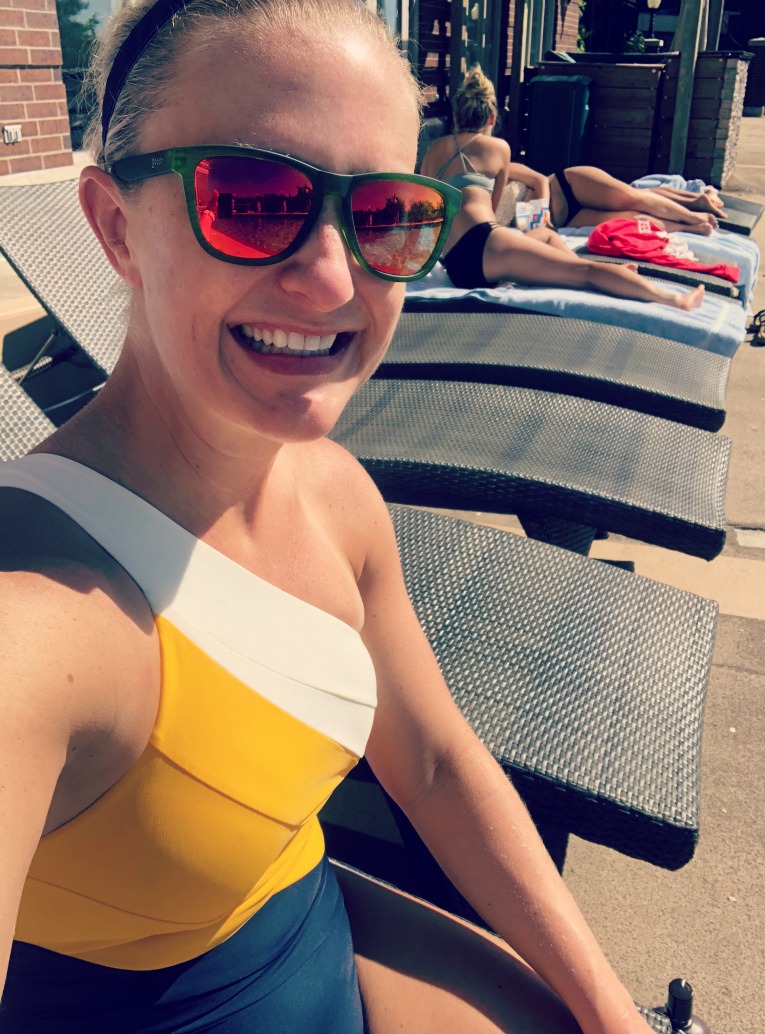 It was a HOT day in Minneapolis; we took Tilda for a long walk and she had to get into Lake Calhoun to cool down and she's not usually a fan of the water.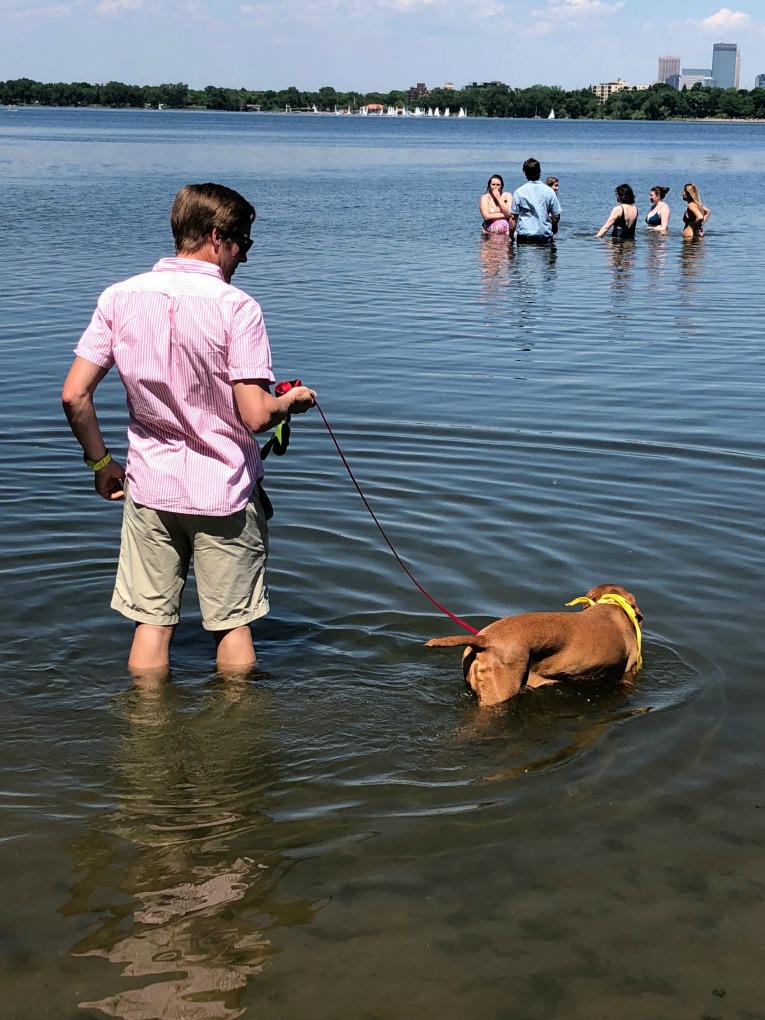 Later in the afternoon, we decided to use our Sidewalk Dog "Pup Pass"- this was a $20/pass for a  beer at about 10 different dog-friendly breweries, good for the whole year! We never have made our way to all the breweries on the list, but it's for a good cause!
Our friends who are the dog-parents to Breck, the golden we often dog-sit, joined us as well at Wild Minds Artisan Ales.
Though she may not look it in this picture, I swear Tilda was excited to hang out with her buddy!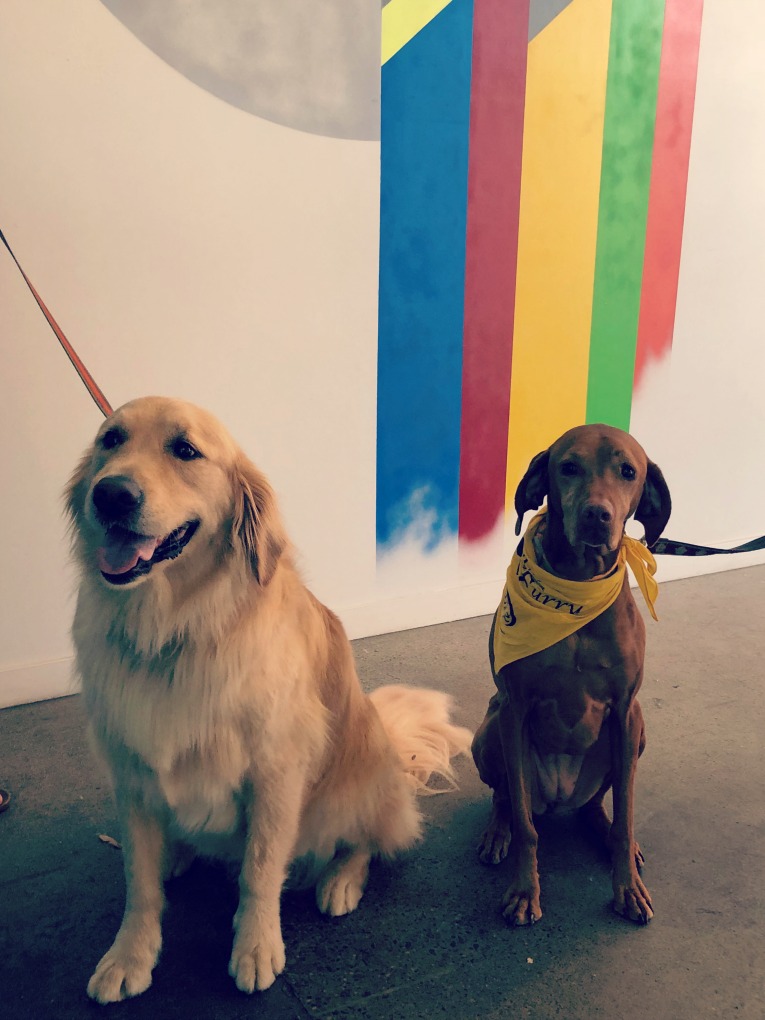 Sunday: solidcore class
Summary: 4 solidcore classes (I think that's a record for me. 4 is a lot in a week!), 2 swimming workouts, 2 elliptical workouts, 2 PT sessions, 1 spin class, 1 barre class.
Just a totally random mix..trying to do what I can to stay in shape during this non-running, (never-ending!) period.
It sounds like I will have about 2 weeks more on the Alter-G before I should be running at 100% of my body weight. At that point, I'll be able to run on the treadmill, but only doing similar 2 min run/1 min walk at first like I do on the Alter-G. I have a follow up appointment June 5 with my surgeon as well for more X-rays to ensure that everything is healing correctly now that we are starting to put impact on the bone with the Alter-G. Hopefully I will be told that all is healed and all clear to build back to running with no worries!
As always, I'm linking up with HoHo Runs and Taking the Long Way Home for their weekly wrap. Check it out!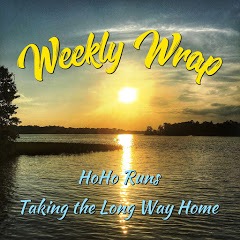 (Visited 434 time, 1 visit today)