Since I'm not personally able to test out any new running gear these days, I thought this was the perfect time to do a series of posts featuring your favorite running gear. A crowd-sourced series of the best running gear from voices other than just mine!
I'm reaching out to all the runners that I know to share their most favorite running gear; it's interesting because I'm already starting to see repeats (hat tip to Oiselle- ladies love their stuff!)
After I've shared all the posts, I hope to do one summary of the most popular items from my most "unscientific" survey.
(Please let me know if you'd like to be featured and share your favorites!)
Part 1 of this series features two of my run club friends, Christie and Michaela.
Christie:
My name is Christie Steffen, I am 35, a Cancer.  I enjoy long walks on the beach, a nice glass of rose, and running around the Minneapolis chain of lakes :-).  I have been running since 2012 when I did my first race, the JP Morgan Chase Corporate Challenge when I was living in NYC.  Right now I am training for Grandma's half in June followed by CIM in December.
What matters the most when purchasing running gear is finding what works for me.  It has to be comfortable.  I've tried many different pieces and if it chafes or if I am constantly pulling my shirt down or adjusting my shorts it isn't worth the effort.  I also look for good quality pieces.  It needs to last!  We work our running gear hard and so it needs to last.  Plus, who doesn't like to have cute running clothes?  If you look good you feel good!
Christie's favorite top:
Christie's favorite top is a white Nike Miler singlet.
"I like it because first, it is white so it doesn't hold in the heat.  It is light-weight.   It features sweat-wicking fabric and has mesh panels that help you stay cool and comfortable.  I haven't experienced any chafing with this top yet and I wore it during the Chicago marathon in 2017 when it was a little toasty."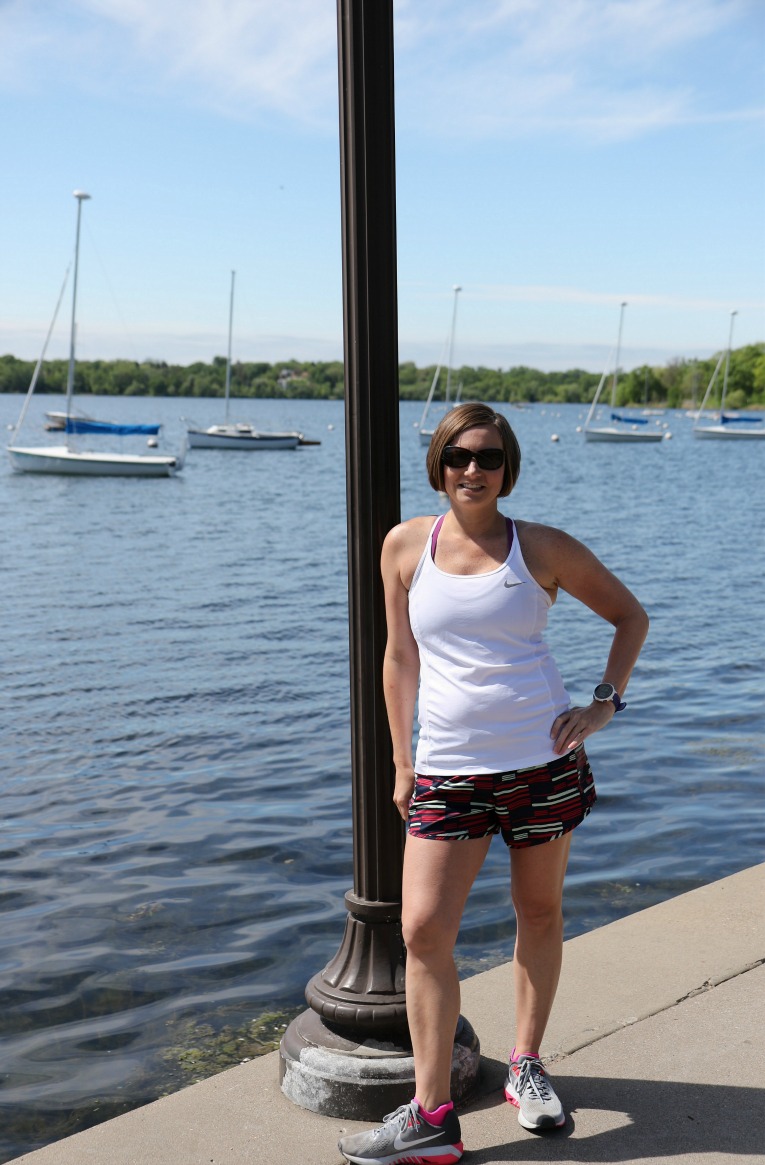 Christie's favorite running shorts?
"I love the Oiselle Distance shorts. They are lightweight as well. They have a deep rear zip pocket as well as a front side zip pocket which is perfect for holding all our GU's, keys, or whatever else you need on a long run. The only thing I learned the hard way was that I had to use body glide around the waist band. The stretchy waist chafed a time or two. After I corrected my wrongs, I haven't had any issues with chafing since."
Best sports bra?
[Jessie] We all know how hard it is to find a great sports bra, so I personally was excited to get a recommendation here!
"My favorite sports bra is Lululemon's Stash N' Run bra.  I have a few different ones; it helps keep the girls supported while also not chafing."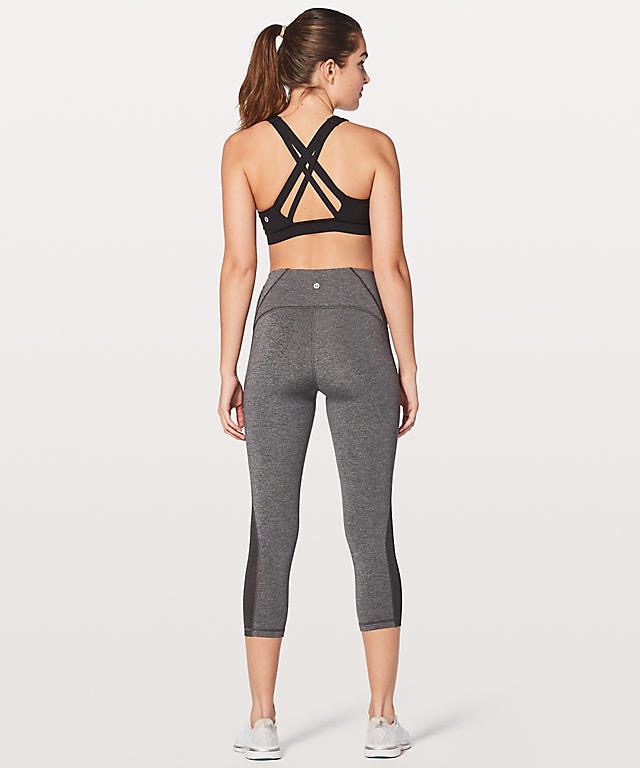 "They have fun colors which is nice for those really hot runs when you join the sports bra squad!"
*According to lululemon, this bra is designed for medium support for a B to C cup.

Other favorites?
"I love my
Nike hat or visor
.  It is helpful to keep the sun out of the eyes or rain from dripping in your face.  When it is really warm I lean towards the white Nike hat as it helps keep the heat out."

Michaela R:

My name is Michaela; I'm 29 and just signed up for my 7th marathon in October (
Twin Cities!
) I've been running since high school and ran my first marathon in 2012. My long-term goal is to become a
WMM six star finisher
– two down four to go! When looking for running gear, I typically want something that's good quality and will last for many years of running!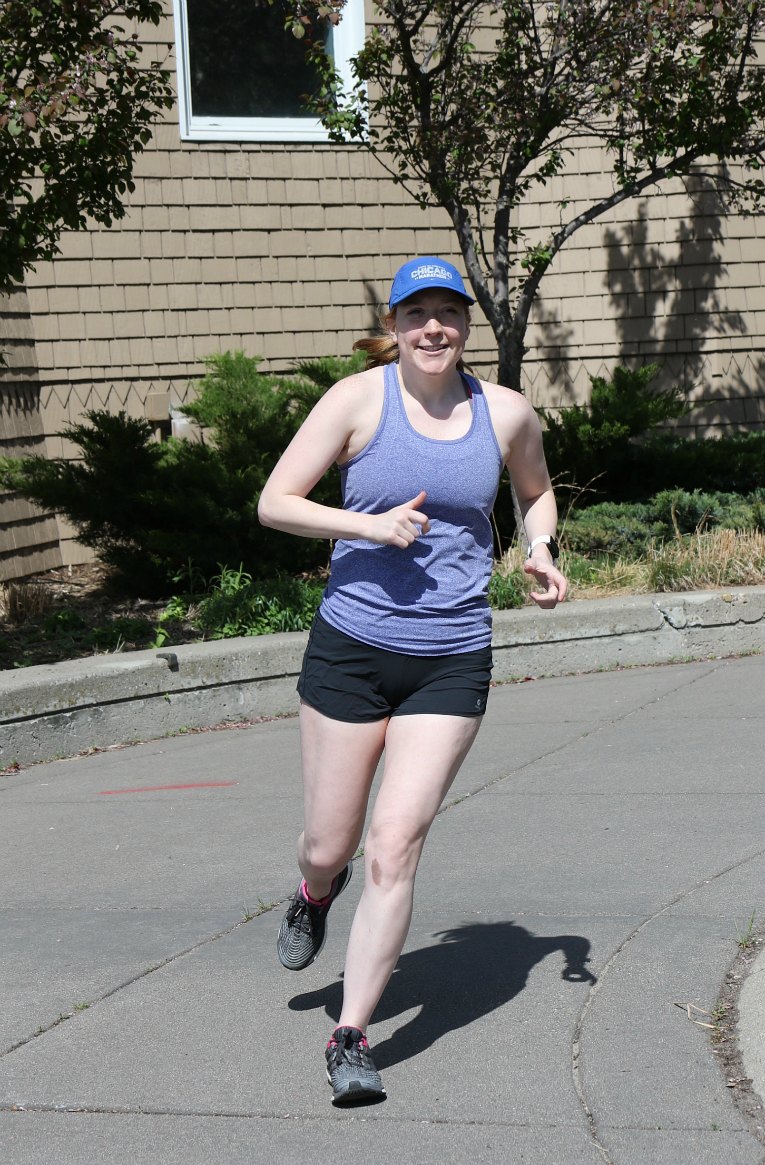 Michaela's favorite running top?
This
Under Armour tech twist top
was a last minute impulse buy and it has become my go-to running top. It is in their Heat Gear collection so the material "wicks sweat and dries really fast" plus it's super comfortable. It's my go to on a hot day as it's a great fit and my body feels like it can breath!
Michaela's favorite running shorts?
I love the fabric and fit of my
Oiselle Roga shorts
! I used to be a die-hard Nike Tempo girl but on hot days those shorts felt like too much fabric. The Roga's make you feel like you're wearing tight compression shorts without actually having to wear tight compression shorts! Also they have pockets!!
Any other favorites?
Another must for me in the summer is a hat! It keeps the sun out of your eyes and helps protect your face! The majority of my hats have come from races (the one here is the Chicago Marathon 2015 Nike hat) so it's fun to build up that collection! Plus it helps keep my hair tame during a sweaty run!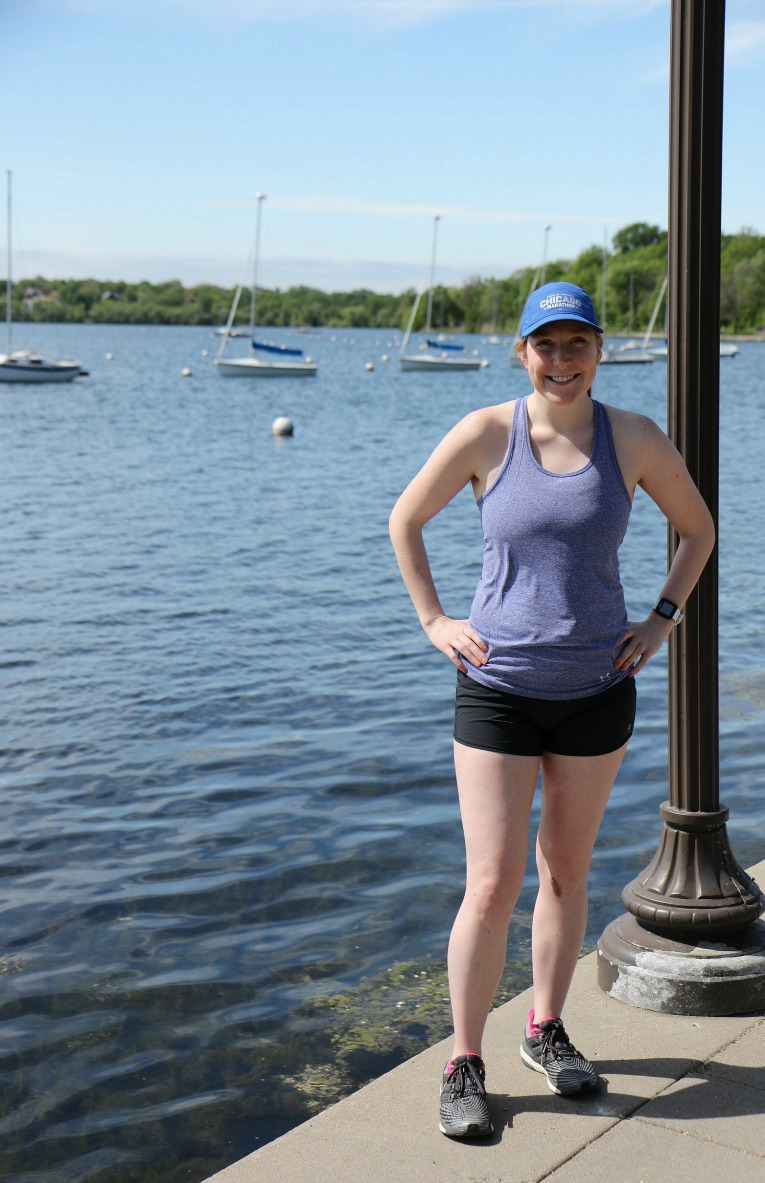 Thank you so much Michaela and Christie for sharing your favorites!
(Visited 942 time, 1 visit today)