Since I'm not personally able to test out any new running gear these days, I thought this was the perfect time to do a series of posts featuring your favorite running gear. A crowd-sourced series of the best running gear from voices other than just mine!
I'm reaching out to all the runners that I know to share their most favorite running gear; it's interesting because I'm already starting to see repeats (hat tip to Oiselle- ladies love their stuff!)
After I've shared all the posts, I hope to do one summary of the most popular items from my most "unscientific" survey. You can read part 1 here and part 2 here. I'm also turning this into a link-up for other bloggers to share their favorites on their blogs, see below to add your post to the link-up!
If you don't have a blog and are interested in being featured to share your favorites, please let me know.
Cresta J:
Cresta says she represents the 'early 40's female runner!' (though I don't think that matters, her favorites are some of my favorites and apply to all ages!)
She just moved to Minnesota last summer and is enjoying all the fun races we have here. She's currently training for Lake Superior Fall Runs Moose Mountain trail marathon. She's been an adult runner since 2011. What matters most to her when purchasing running clothes is stylish comfort in her fitness clothing.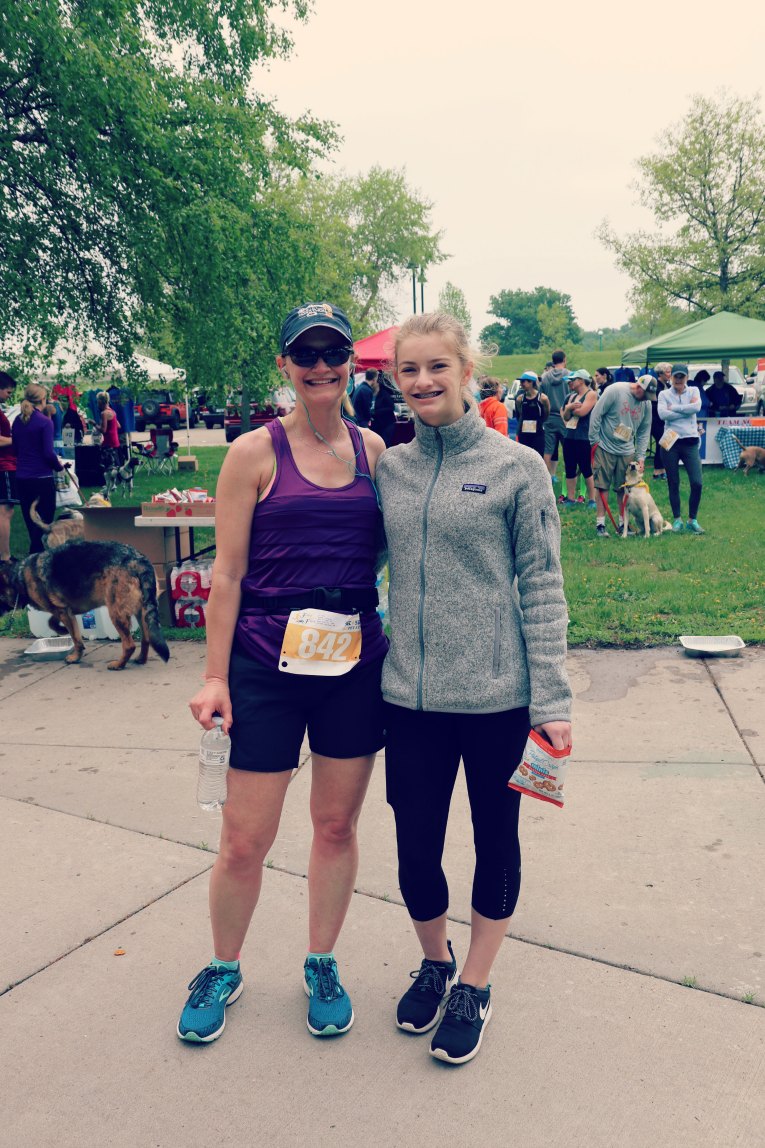 Cresta's favorite shorts?
"My favorite shorts for spring/summer are the long Rogas from Oiselle. They provide enough coverage as longer shorts, have great choices in dark neutral colors (with subtle prints if desired) and a very comfortable wide waistband." 
Cresta's favorite running tank?
"My go-tank is also from Oiselle and is stylish while also being comfortable and flattering. It can definitely be used for non-running activities on a very hot day as well."
Other favorites?
"For a run belt on short runs where I don't need hydration (or races where it is consistently provided or I have a hand held run bottle,) I use the amphipod airflow endurance. It lies flat, holds a ton but doesn't bounce even with a phone and two Gus inside."
On Cresta's feet?
"My socks are Balega – can't top their no show running socks for comfort in the summer. And of course Brooks Adrenaline GTS 18. I have been running in the adrenaline GTS for over two years, without the prescription orthotics I had been recommended to wear for years before a running PT suggested that these would do the trick. The new version are unbelievably comfortable even on long road runs."
Erin C:
My name is Erin. I've been running since 2006, when I jumped head first into running by deciding to run the Chicago Marathon. I took a break in 2007, to have kids, and returned to it in 2011. I've run 38 half marathons, 7 full, and one 50k. I'm not as speedy of a runner as my sister, Jessie, but I'm just as passionate about it.
[Check out Erin's instagram HERE and heads up- she is also a running coach if you're in the market!]
One of my favorite races was definitely the Twin Cities Marathon that I ran with my sister Jessie! In fact, I'm registered to run Twin Cities again this fall, as well as the Marine Corps Marathon. What's important to me when purchasing running apparel is comfort, durability, zip pockets (shorts and tights to hold my car key), and no chafing.
Erin's Favorite Shorts?
Like Cresta, I also love my Oiselle Rogas, seen below. They are super comfortable and never cause chafing. They are a flattering cut and are quick to dry on a hot day (like Grandma's Marathon 2017– that was a hot one!)
Erin's Favorite Running Top?
Summer running is a challenge for me because I'm a major sweater and I overheat quickly. I need to wear lightweight clothing. My favorite running tank is this Brooks Ghost tank top. It is so lightweight, it feels like you're not wearing anything. (I also wore it for the hot Grandma's Marathon last year!)

Erin's Favorite Sports Bra?
If I chose to run sans shirt, I absolutely love my Handful Bras. They are so soft and never cause chafing. I use them for all my runs and also use them as swim suit tops (seen below).


[Jessie- I wrote a review of the Handful Bra here! They are great.]
Jessie B:
Oh, hey, remember Jessie the runner? It's been awhile. But I figured I would still share my all-time favorite running items.
First up is the Sweaty Betty Stamina bra. It's tight, supportive, yet chafe-free for me. It's seamless so it doesn't chafe under my arms or along the chest band. I have it in multiple colors. It's not as cute as some other sports bras, but it gets the job done.
Jessie's favorite running top?
My all time favorite running top is actually the same Oiselle pleated tank that my sister Cresta loves! It's quick to dry, a flattering style, a longer cut, and doesn't chafe my underarms. I have it in multiple colors because it's that great.
Jessie's Favorite Running Shorts?
Though I'm definitely a fan of the Oiselle togas as my sisters are, my newest favorites are the Rabbit Mountain Climber shorts. 
Why? They have SO many pockets!
They also fit really great, are super light weight and quick to dry. Seriously try them- they are the best!
"The mountain climber shorts have a total of seven pockets to bring along everything you might need for a long run. The side holster pockets are perfect for holding gels or stashing wrappers and the rear hook and loop pockets can handle gloves or arm warmers with ease. A 2.5″inseam and split leg means these will never slow you down, no matter how steep the mountain gets."
(I bought mine at Gear Running Store!)

I'm also a fan of the goodr sunglasses  that Sarah mentioned in her favorites. They stay up on my nose, which is rare, as I have a very flat nose. They come in fun colors and are super affordable ($25!)
By the way, I'm trying to convince Dustin to participate in this series for a man's perspective of all-time favorites. But for now, I wanted to mention that I'm not the only one in the Benson household that is a fan of Rabbit gear; he also has a few Rabbit items that he really likes, like the shirt pictured below:
He says its soft and quick to dry. No chafing. Buy it HERE.
I hope you are enjoying this series and finding it helpful! Thanks to Cresta and Erin for sharing their favorites with us!
(Visited 841 time, 1 visit today)