First things first!
 The exciting news of the week is that my story about missing the Antarctica Marathon due to a broken leg was featured in Runner's World this week. Read it HERE. I was interviewed a few weeks ago for the article. The writer is a freelancer who I believe found me through this blog!
Of course, I would have preferred to NOT have broken my leg and not been in Runner's World, but I'm glad I got to share some of my story with a greater audience (and they even linked to my blog in the article, which was cool!)
Monday: Swam 2,000 yards before work; felt great!
I wore a pair of  wear Roka R1 goggles, but they leave TERRIBLE marks on my eyes; my Kona-Running Ironwoman friend told me to switch to the Roka X1 goggles as they may be a step down in technology yet they don't leave as bad of marks. I ordered a pair of X1's right after that morning's swim. It was too hard to go to work after a morning swim because it would look like I had black-eyes! Hopefully the X1's are gentler.
I also had PT this day. In another bit of exciting news of the week- I ran! Sort of. I ran on the Alter-G at 70% of my weight, which isn't the same as actually running, but at least it is a step in the right direction. I did 1 minute on/1 minute off for 14 minutes. I actually worked up a sweat! The PT said my stride looked pretty even, which was a good sign.
Running on the Alter-G was pretty weird; it feels like you're running on a cloud, (err, what you'd think running on a cloud would feel like.)
Tuesday: 45 minutes on the elliptical, about 45 minutes more of PT exercises afterwards at the YMCA.
Wednesday: Solidcore class before work; 50 minutes of pilates type strength on a 'solidcore' machine.
I had my second PT appointment of the week and this time we went up to 80% of my weight on the Alter-G for 20 minutes; exciting!
Downside was that my leg was pretty sore afterwards, so I may have pushed it a bit too much. A good reminder of why it's such a slow build back to running….
Thursday: Total rest. Gave my leg the day off. We attended a launch party for the grand opening of the new skyway location of our neighbor's restaurant "Hot Indian." He started the business as a food truck but it has grown quite a bit already! They have a stand-alone restaurant in the Midtown Global Market, one at the Mall of America, the Twins stadium, and a spot at the Minnesota State Fair!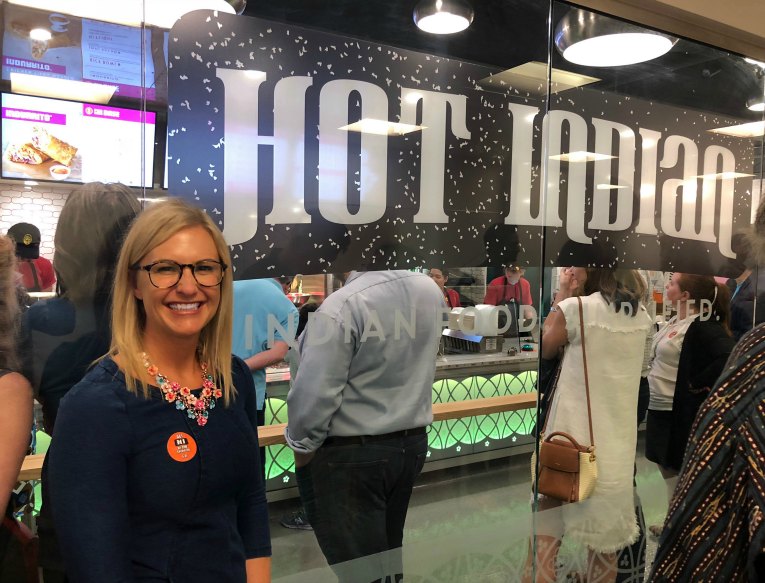 Friday: Barre at a new-to-the-Twin Cities studio called "Barre3″. They offered complementary classes during their opening week, so I took a 5:45 am class.
The style of their class is a bit more yoga than some of the barre classes that I'm used to, but I still liked it and ended up buying a class package to keep going.
I also couldn't resist purchasing these tights from their cute wall of apparel; the brand is new to me, DYI- Define Your Inspiration.  Check out their site, they have tons of cute stuff!
My tights are the Quilted Leggings, which have a pocket big enough for your iPhone. I mostly was drawn to the quilted soft texture and the color.
Even though I did barre before work, I had the time, so I went to the gym after work for 45 minutes of elliptical, 10 minutes of stair stepper, and ALL THE PT EXERCISES. Got to get those in every day!
Saturday: We were up early to head to St. Paul for the Fast & the Furry 8k on Harriet Island which started at 8 am. This a race that you run with your dog (though you can still run it without a dog, you just can't win a prize.)
This was Tilda (our dog's) fifth year running it. She has shared her snarky recaps on this blog in the past which have been pretty popular- check out previous posts HERE, HERE, and HERE Don't you worry, she'll be back this to share her race recap soon!
Spoiler alert, she ran the five miles at a 6:47 min/mile average pace for 4th place overall; no medal this year, but she looked like she had fun! But remember, she's not a spring chicken anymore; she's nine! She's definitely slowing down a little bit with age.
Our friend Ellen and her dog Addie got first place for women. She finished right by Dustin and Matilda!
My niece Maggie cheered with me, as my sister Cresta ran the 8k as well for fun (without a dog). A great morning.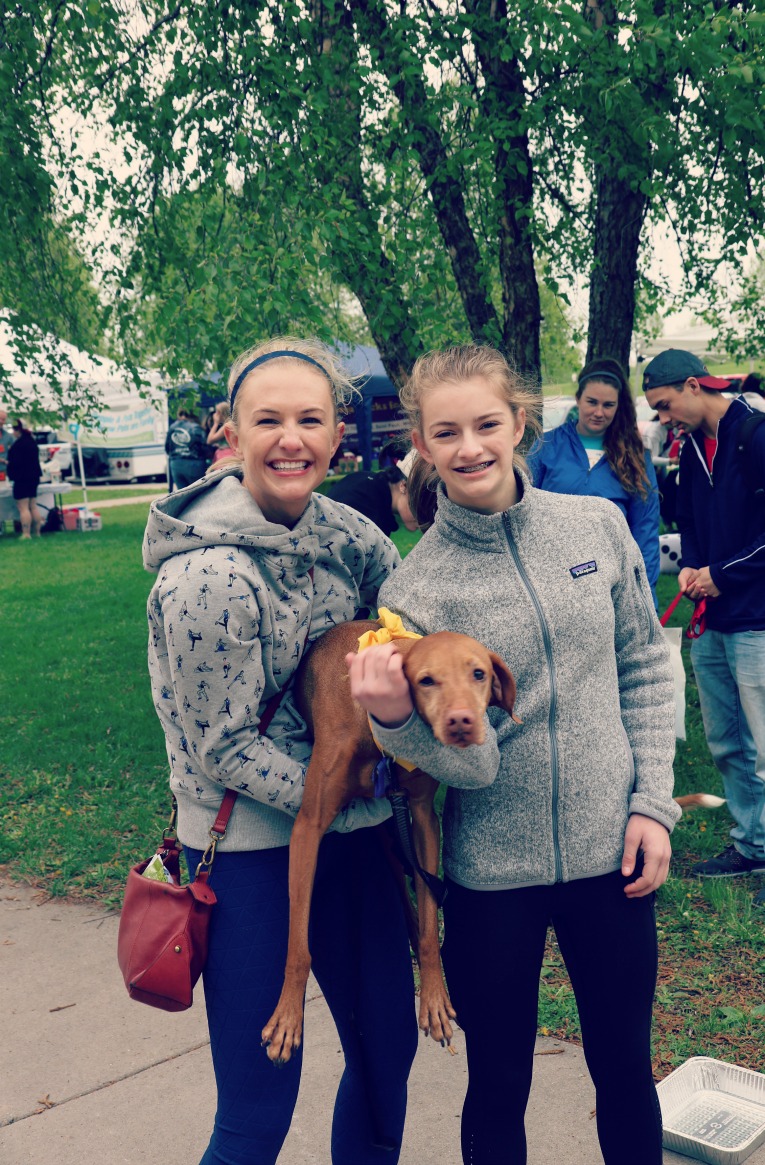 After the race, we stopped by Isles Bun & Coffee for some of their famous puppy dog tails. So good!
Eventually I made my way to a C2 vinyasa class at Corepower Yoga in St. Louis Park to do my own workout. The teacher was Nielle, who is really awesome, one of my favorites. I can do a lot more in yoga now- almost 100% of the poses without having to modify! It's a vast improvement from when I was first cleared to do yoga.
(I did test my DYI quilted tights for the yoga class. Loved them.)

Sunday: The JB double- Solidcore (50 minutes), followed by spin at Surge Cycling (45 minutes).
Then I zipped over to the bandshell to take some pictures for a future series I'm putting together about "My Favorite Running Apparel." Since I'm not personally able to test out new running gear lately, I thought it would be fun to "crowd-source" my running friends for their favorites! Several of them volunteered for an upcoming feature so we did a photo shoot that I'll use for that series. Stay tuned!
Summary:  1 swim, 1 yoga, 2 solidcore classes, 1 barre, 1 spin, 2 elliptical sessions, and 2 PT appointments.
When will I run again? My PT doesn't want to give me an exact date. He said we have to keep progressing with the Alter-G for awhile still. Still not there yet…Patience, patience. It's so hard when the weather is absolutely perfect for running here.
Side note: I'm an ambassador for NUUN and am happy to share the below discount code if you need to stock up. Valid through May 31, 2018. Enjoy!

As always, I'm linking up with HoHo Runs and Taking the Long Way Home for their weekly wrap. Check it out!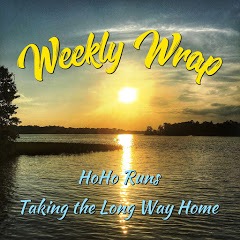 (Visited 434 time, 1 visit today)