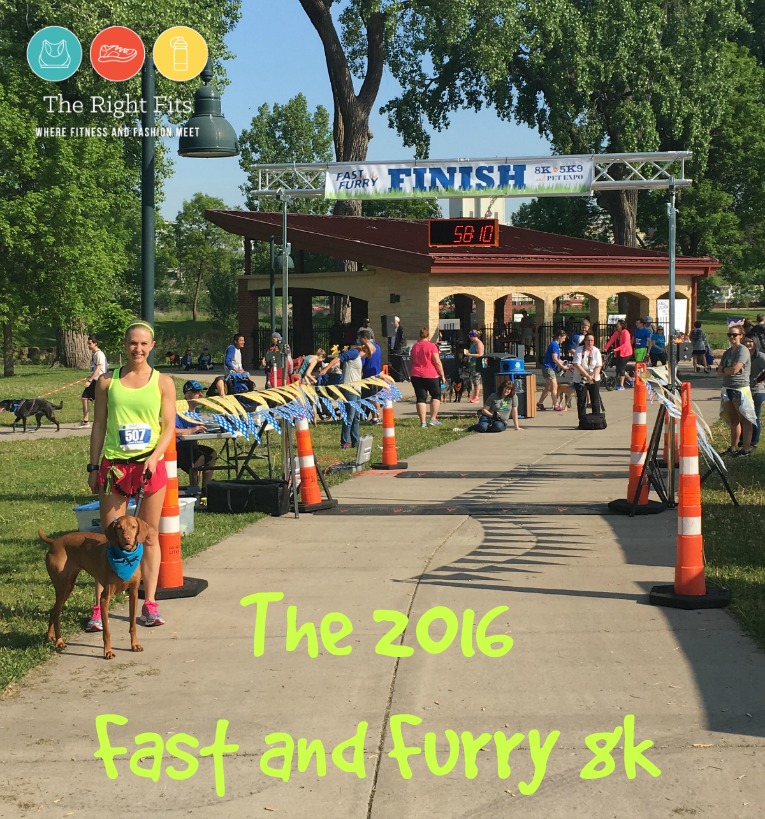 Today's guest post is from my dog, Matilda! She wanted to share her race recap from last Saturday's Fast & Furry 8k.
From Matilda Benson, age 7:
This was my 3rd year racing the Fast & Furry 8k.  It's my favorite (and only) race of the year so I tend to take it pretty seriously.
Once again, almost all of my training going into the race was done on the extreme ends of the spectrum, long slow distance with Jessie and Dustin supplemented regularly by 300 x 10 meter intervals.  Normally you'd think 300 x anything would be pretty boring but I keep it fun by setting myself up in a park where there are bird shadows or sometimes actual birds.  Every time one moves, I explode into a sprint until it disappears.  My parents probably think I'm crazy but then again, these are same people who do fartleks, so who are they to judge.
In 2014, I ran this race with my dad. It was a hot humid day so we held back a bit, seeing as it was my inaugural race. My time was 35:48 (a 7:12 pace) which included a lot of water-bowl drinking breaks.
Last year the weather cooperated and Dustin and I were able to put in a decent race (read that review here). We finished in 31:25, or a 6:20 pace. Everyone was impressed by my racing prowess that year. In fact, I was featured in Runner's World in May because I'm so amazing. (Looks like my pace was wrong in the magazine- whoops!).  There was only one problem, fourth place.  No podium for Tilda.
This year I opted to hitch my wagon to Jessie.  She seems to be training pretty hard this year and maybe we'd have better luck placing in the women's division (where I should have been anyway contrary to this manly green collar they stuck me with).
Packet Pickup:
Packet pickup is held at Mill City Running the Thursday before the race. My mom had the information wrong, so she sent my dad to pick up the packets on Friday. Never fear, there's always race day pickup. The 8k is not very big (less than 100 people) so it was easy to pick up the packets and get my race swag.
Registration: Online. Jessie registered the three of us months in advance for the $25/person fee (no extra fee for me) If you registered early enough, the bibs for the humans listed both my name and theirs.  If you know Jessie at all, you'll know she loves having her name on her person for a race.
Personally, I don't need it, people already know who I am when I step up to the line.
Race Swag:
Apparently I made a rookie mistake, wearing new gear on race day, but I couldn't resist this cool blue bandanna. Don't I look adorbs? Fortunately no chafing or race day issues.

Each human also received one of these poop bag canisters.


…and one of these t-shirts:

The Course:
The course is an out-and-back along a shaded road in Harriet Island park. It's also largely flat, which means I didn't need to worry much about race strategy. Also, as an out-and-back, we could see who was in front of us. We knew that there was one female runner quite a bit in front that we had no chance of catching, so our concern was the woman and her dog Leelau who were very close to us throughout the race.
As a big supporter of the dog running community, it was great to see my fellow athletes after we turned back to the finish. I cheered them on the best I could while keeping my focus on that podium finish.
Support:
There were plenty of water stops along the course, with bowls out at my level for drinking. I stopped at ALL the stops. Hydration is important! I also enjoyed getting pets from the volunteers at the water stops.
I knew that I wouldn't be going all out race-pace like last year, because I was running with my mom. We run together a lot, but her pace is just a fast-walking pace for me.  Just like everyone though, I couldn't help but get totally pumped up as we waited at the starting line. So many dogs! So much excitement! So much barking!
When the starting horn went off, I wanted to RACE and race HARD.
(Look! There were plenty of other vizslas at this race!)
I was surprised that my mom was able to keep up with me. I mean, we weren't running the 6 min/miles we ran last year, but she did okay. Much faster than our usual easy runs!
Mile 1: 7:15
Mile 2: 7:20
Mile 3: 7:20
Mile 4: 7:29
Mile 5: 7:12
Total Time: 36:16 or a 7:18 min/mile average
I have to admit, I got a little warm by the end. In the last mile, we moved from the road to a bike path that went through the woods. I was pretty excited to see the finish line when we emerged from the woods. Dad yelled "Come on girls! Pick up the pace!" so my mom and I pushed it into high-gear for a JV finish (i.e. the 7:12 min/mile.)
Whew! Nailed it.

Pictured below:
Me, crushing it.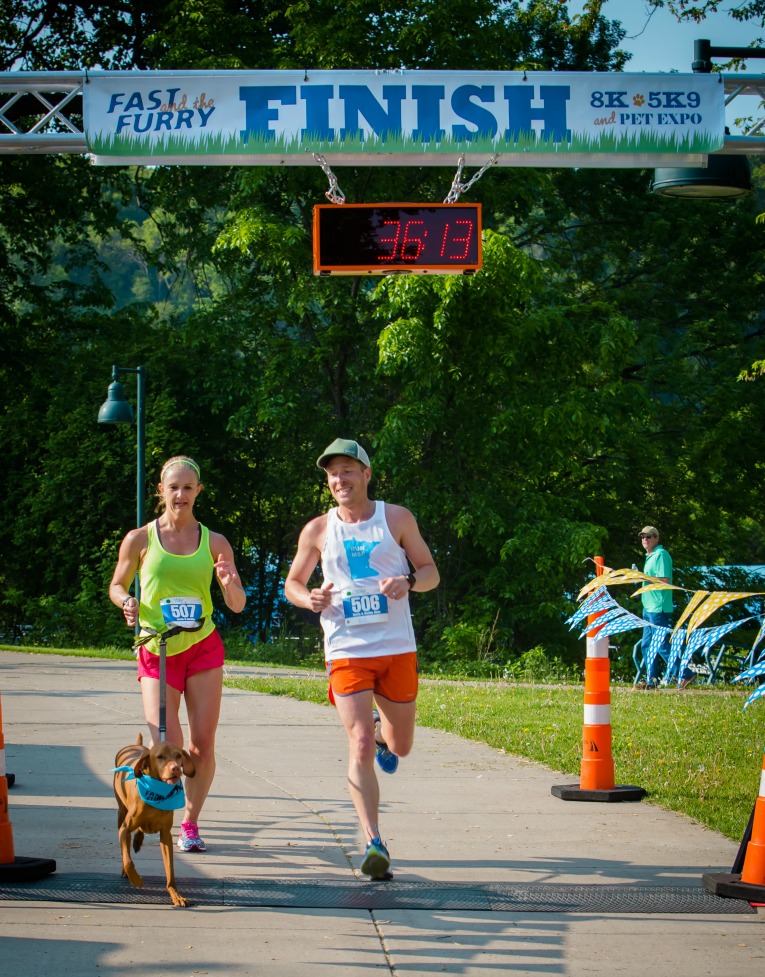 Race awards for both the 8k and 5k:
1st, 2nd, and 3rd place male and female in each race received a medal and a gift card for Mill City Running ($50, $25, $10)
A vizsla named Dash (how fitting) won overall. He was celebrating his 6th birthday, so I'm glad he won.

1st place female:

2nd female- Jessie Benson (with Matilda Benson- me!)


We won a $25 gift card to Mill City Running!
When they called our names at the awards, I was super eager to strut to the front!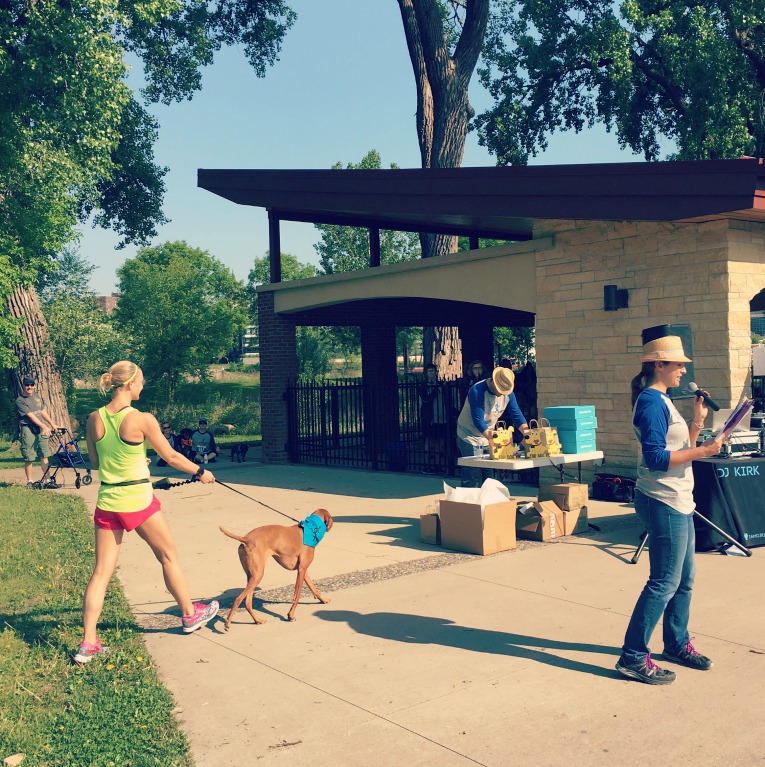 It's a major award!
Sometimes my mom and dad will wear their marathon medals all day after the race, so I did the same and wore my race bandanna all day. All the other dogs needed to know that I ran today.
Will run for cupcakes?  More like "Will run for dog treats!"
I just love running. And I love my little family.
And chasing shadows- I definitely love chasing shadows!
Matilda OUT.

(Visited 497 time, 1 visit today)