Matilda has recapped the Fast & Furry 8k the past two years (read them here: 2015 and 2016). She's back again to share her thoughts on this year's race. Enjoy!
Hi all! My name is Matilda Benson and I'm an 8 year-old Hungarian vizsla who LOVES to run.
This was the fourth year that I've run the Fast and the Furry 8K, my big race of the year. I ran with Dustin the first two and Jessie at the last one. After our 2nd place finish last year, I thought I'd give Jessie another shot to put us atop the podium. All year she made all sorts of promises that this year would be our year, so I was pretty pumped.
Since my computer skills are embarrassingly bad, I let Jessie register us. Even though I'm letting her run with me, she for some reason felt she should get first billing on the bib. What's up with that?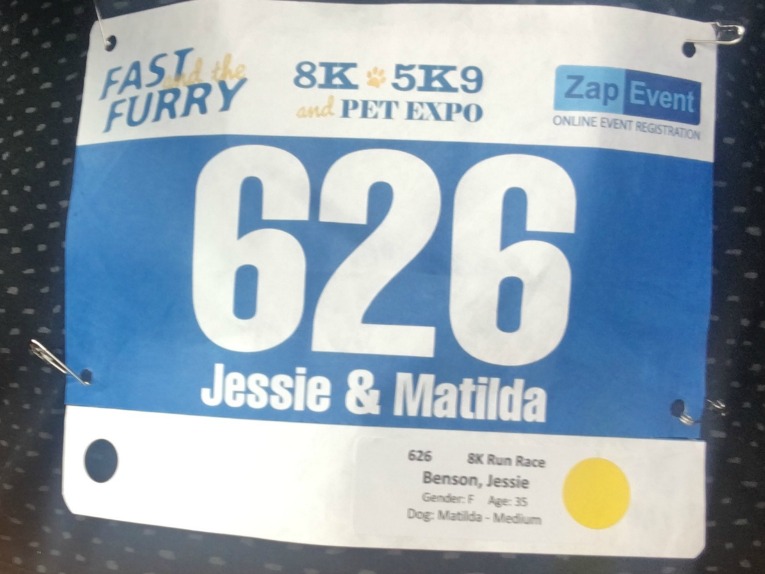 The race started at 8 am which gave us plenty of time to get a little 1.5 mile warm-up in. With temps in the 40's and on and off rain, it felt good to get the blood pumping.
My celebrity status at these events even earned me a shout-out from the organizer as he drove by while setting things up.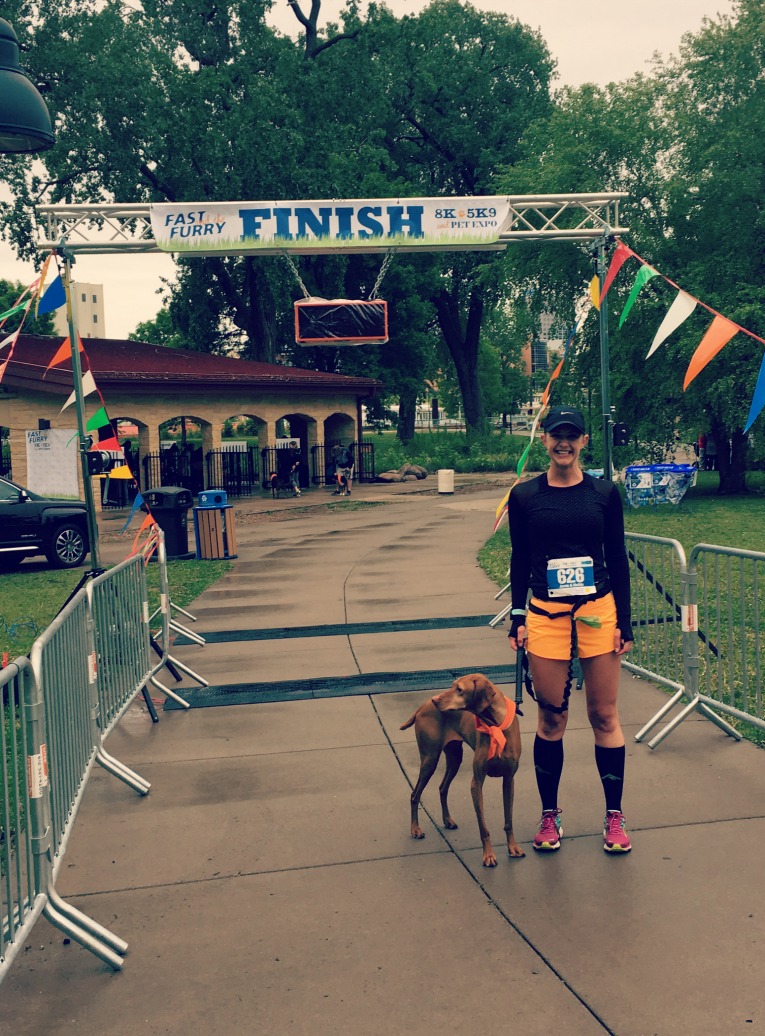 Jessie seemed pretty nervous before the race. She hasn't been doing a lot of speedwork since the Boston Marathon, so she kept waffling about what pace she thought she could do, but I ain't got time for that, we're here to race!
After a few good kisses to calm her and put her head back in the game, it was time to focus.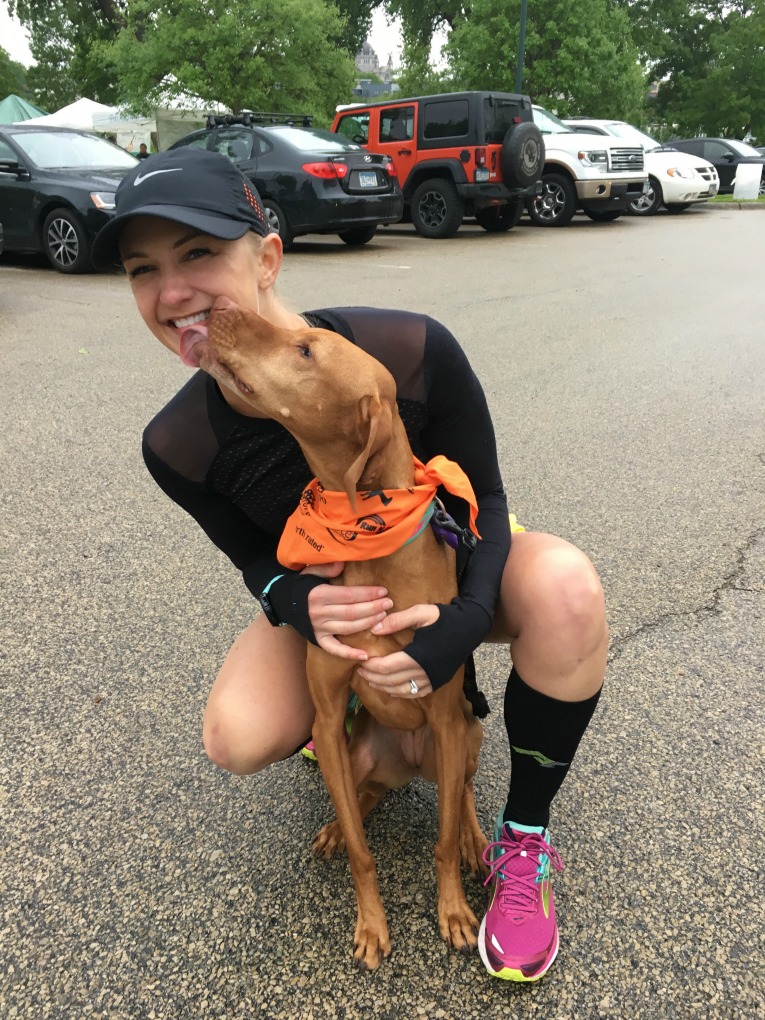 Unfortunately, about 20 minutes before start time it started raining again. As you may have noticed, I run lean. Plus, I have no undercoat and barely much overcoat for that matter. They tried giving me a bandana but, come on, what's that going to do? How's a bandana going to help…Let's get moving!
As we approached the start line, you could see/hear all of my competitors trying to vent their nervous energy. Lots of barking and howling. We all deal with pre-race anxiety differently, I'm a "quiet bus" person just like Dustin and Jessie so I was in sit and shiver mode.
Finally the starting horn, at least I think it was, I was already four steps into the race by that time. I'm not a cheater, I was tightening up the leash, getting ready to spring into action when Jessie took a step forward. Regardless, the race was on. We started out at a nice, easy 6:45 min/mile pace; Jessie seemed a little nervous when she saw that pace on her fancy Garmin, but I knew she had it in her; all she had to do was keep up and I'd be doing all the work.
That only lasted about half a mile, then she started to wheel it back. I looked to Dustin to get her moving; he ran a fifty mile trail race last weekend so was just running with us for fun, and he just shrugged and seemed to agree with her slowing the pace. Et tu brutus? I thought this was our year!?!
As the miles clipped by, we ended up closer to 7:10 pace. At this point, I was just running for fun as well, seeing as the first place girl had dropped us by the second mile. This course is an out-and-back, which means you get to see everyone in front of and behind you, it was great being able to cheer everyone else on. Jessie though, she still seemed nervous about the pace… As we went through two of the water stops she had the gall to stop and offer me water; as if I needed water when I'm going for a brisk walk. Psshh! I think a certain somebody really just wanted a breather. I won't name names…
Still, we managed to hold everything together somehow. Jessie was able to walk away with a PR and yet together another second place finish.
Maybe next year will be our year…
Although we didn't get the first place finish we had hoped for, Jessie seemed so happy with the result and seeing her happy is what makes me happy.
Now there's just the issue of how we're going to split the $40 prize gift certificate to Run n Fun…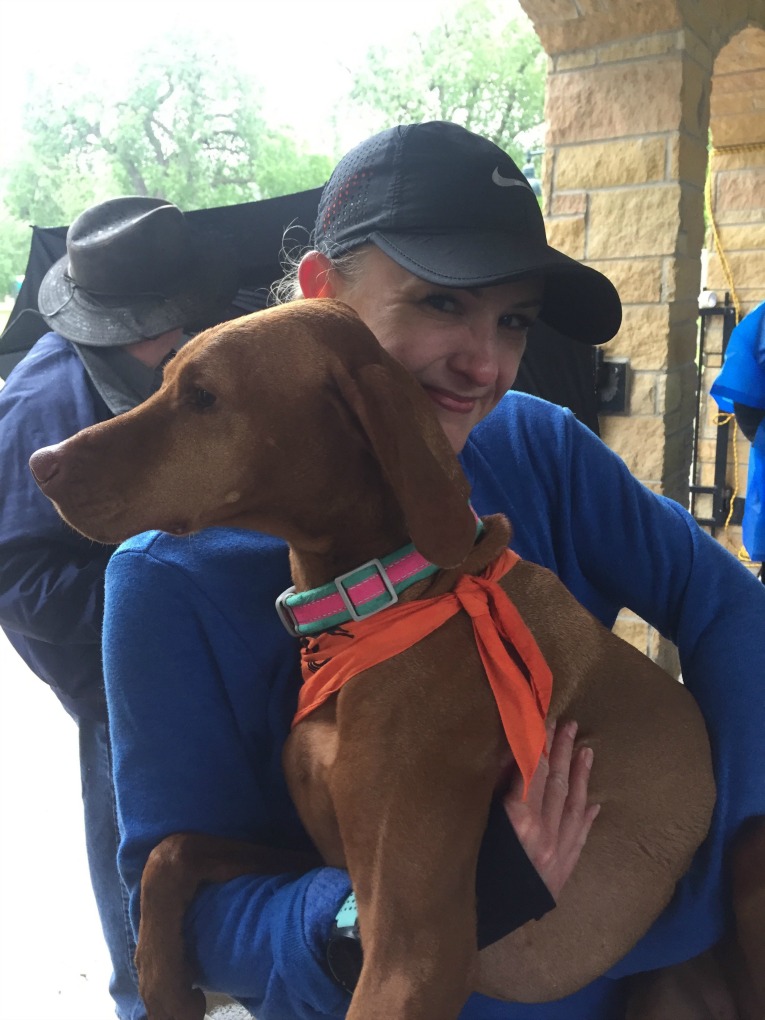 One pleasant surprise I should mention was seeing my good friend Scarlet at the finish line. She was there with her humans Alex and Kristi to run her very first Fast and Furry 5k. Scarlet is only two, she's just starting running races but I can tell she has a successful career ahead of her.
The 5k9 is really the premier race of the Fast and Furry events. The field was much larger for the 5k than for the 8k and I counted three other vizslas in the mix. I, however, was the only Hungarian in the 8k. Maybe I'll take shot at the 5k one of these years, it would be good to get another PR under my belt.
The rain had started up again when the 5k started, so it was time for me to head home, I was getting colder and colder. We were able to catch the start of the 5k but unfortunately not the finish. We learned later that Alex and Scarlet had PR'd, which is amazing. When I saw the finish line photos later on you could tell Scarlet had a lot more in her, she'll be training Alex for the next 12 months to get ready for the 2018 races.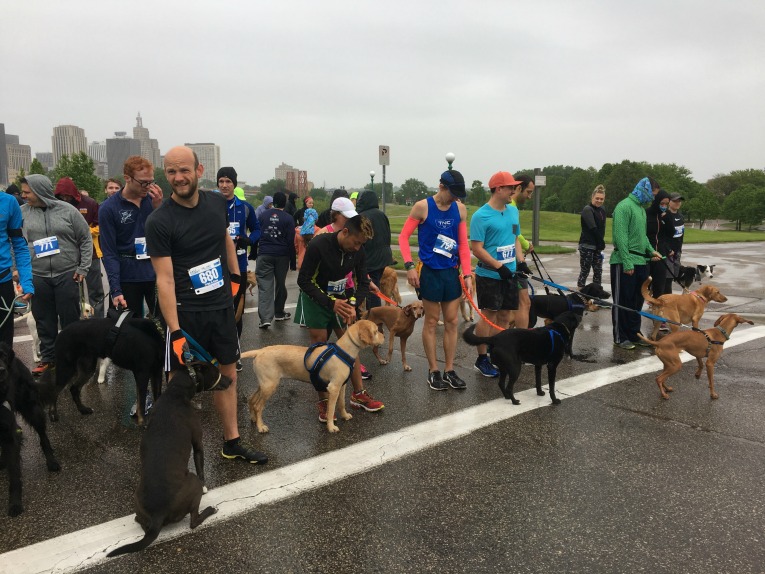 As is tradition, I did wear my medal the rest of the day. I earned it, I deserved to bask in the glory. To further celebrate, I managed to convince Jessie and Dustin I deserved some "stew time" for dinner. I better savor it because when Dustin finds out how much stew time costs, I'm not sure its going to be on the menu anymore.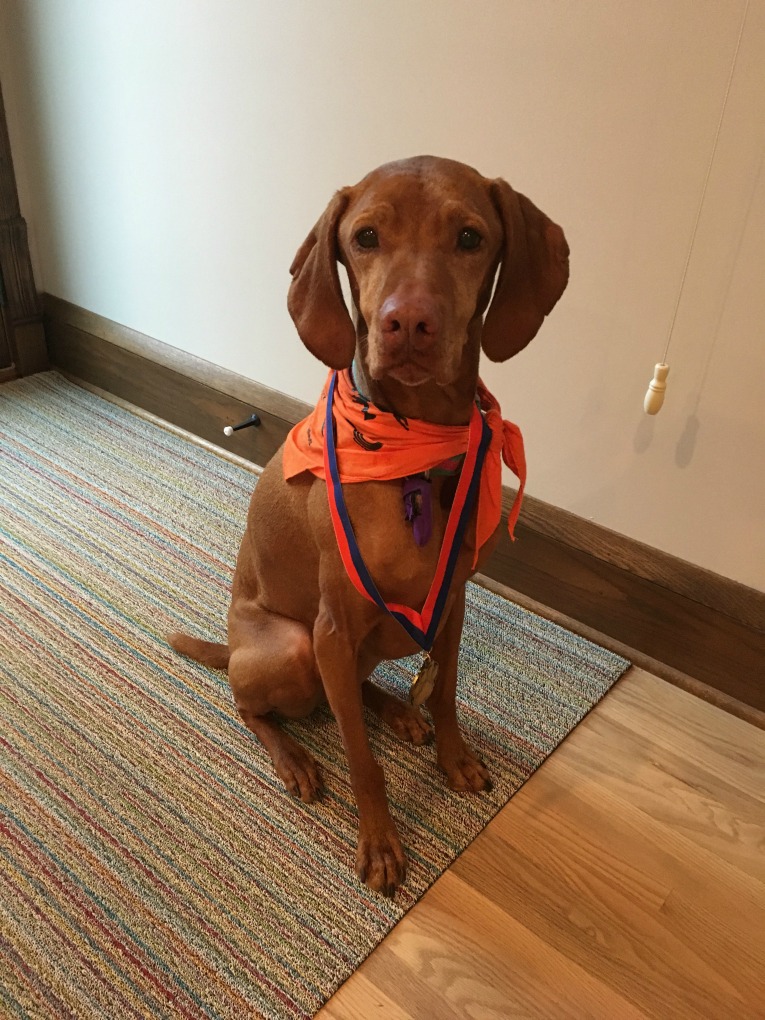 Thanks Tilda for the race recap and for pacing me to a new 8k PR! Maybe next year we'll get the podium…
(Visited 384 time, 1 visit today)