I was recently invited to come check out Complete Nutrition in Minnetonka (right off of Highway 7- very close!) for a full "workup/health assessment."
I arrived last Saturday at 1 pm on a gloomy rainy day, but I was greeted warmly. The store owner, Margaret, started by giving me a tour of the store and a short explanation of each of the different lines of products that they carry. It was a bit overwhelming, as I am not an expert in vitamins and supplements, but from what I could tell, there was something for everyone: weight loss, weight gain, hydration, protein, fiber, muscle building, pre-workout, post workout, and on and on. You name it, they have it.
The Minnetonka store also has a section just for locally made products!
I was most interested in testing the protein coffee mix. Margaret gave me a sample on ice and it was delicious! I had to buy some to try in place of my afternoon coffee (can't give up my morning coffee, but this would be a healthier pick-me-up replacement in the afternoon!) It has the equivalent of two shots of espresso.
I also bought the watermelon post-workout recovery mix that she said was very popular with runners.
The most interesting and educational aspect of my visit was definitely the Body Comp machine. From my quick research online, most sources feel that these Body Comp machines are quite accurate- not quite as accurate as the hydro-static machines (i.e. "The Pod.") but a close alternative for a much more affordable price.
Before getting started, Margaret had to set up my profile in the system, which included my sex, height (she measured me just to be sure, as every quarter inch matters. She measured me right at 5'8″), age and a few more basic items.
Then I stepped onto the Body Comp machine. You have to be barefoot and you can't talk while you're on it. Margaret said that's often the hardest part for people- not talking! The machine instructs you to hold onto these two sensors and keep your arms straight. The reading only takes about 60 seconds. I believe the machine works by sending electrodes through your body.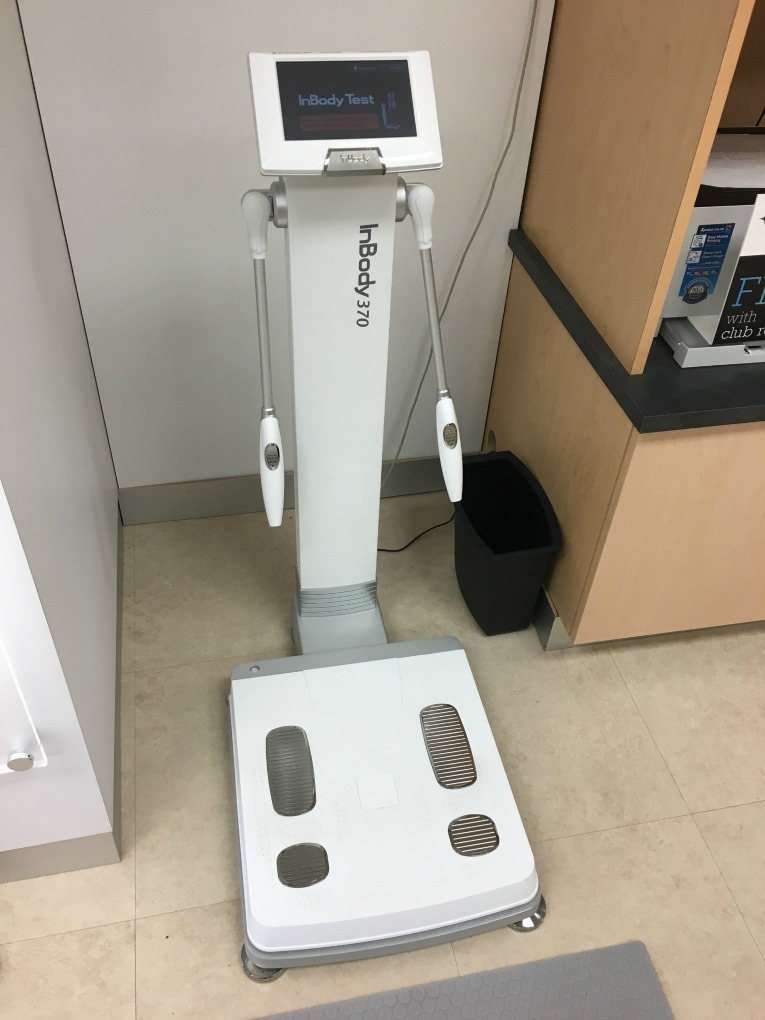 Then, the results!
I received a print-out with 5 sections: Body Composition Analysis, Muscle-Fat Analysis, Obesity Analysis, Segmental Lean Analysis, and a Body Composition History. 
Body Composition Analysis:
This section gave my total body weight in pounds made up of water, dry lean mass, and body fat. These numbers were graphed against "deficit", "normal", and "over" for my age, height, etc. My weight was about 5 pounds higher than what I weigh on my home scale, but I'm guessing it's more accurate than my cheap Target scale.
Muscle-Fat Analysis
This section graphed my weight (based on height, age, sex, etc) into a "deficit", "normal", or "over" range.
It also gave the same chart for Skeletal Muscle Mass and Body Fat Mass.  She said you want these three readings to be in the shape of a "D" with Skeletal Muscle Mass being the farthest out on the graph, i.e. the longer the Skeletal Muscle Mass bar is compared to the Body Fat Mass bar, the stronger the body.
Obesity Analysis:
The section gave my BMI (graphed as "deficit", "normal", or "over") and my PBF or percent body fat, graphed similarly.
BMI is an index used to determine obesity by using height and weight. Margaret pointed out that this index was developed in the 1930's by insurance companies, but it doesn't take into account very many factors, so it's not really that great of an index. She said PBF is a better indicator; PBF is the percentage of body fat compared to body weight.
Segmental Lean Analysis
These section graphed my right arm, left arm, trunk, right leg, and left leg to evaluate whether the muscles are adequately developed in the body. This reading would also very quickly identify an injury or a weakness on one side of the body.
I am happy to report that both of my arms are strong (graphing slightly above average) and my "trunk" is strong (also graphing above normal, which is great to hear as a runner!) and my legs are even more significantly above the norm, which is common for runners.  Again, these are all against an "average" or normal result. I would be really curious to see other runners' data. I'm definitely bringing Dustin in soon to get his info!
Body Composition History: 
The last section on my printout was a chart to graph progress over time. Most people come back at least once a month to get an updated reading on the Body Comp machine. One of the other employees at the store mentioned that she does hers every week to keep better track of what's working and not working in her fitness and nutrition routine.
Other Information Provided:
My print-outs also gave me a recommendation for weight loss or gain based on all the other info, in pounds.
The reading also included my basal metabolic rate, or the minimum number of calories I need to stay alive; i.e. the minimum number of calories needed to sustain life at a resting state. This figure is directly correlated to the Lean Body Mass figure.
Meal Planning:
An additional print-out from Margaret gave me my recommended daily calories based on my goals. I first said "moderate weight loss" as a goal, so I have the caloric data available if that is my goal, but I also received information on how to just maintain where I am now.
Note that for these recommendations, I was categorized as "highly active" so my calorie recommendations did take into account how much I am working out to give me suggested meal plans.
I was also provided with really handy guides for meal planning, with ideas for breakfast, lunch, snacks, and dinner for both the moderate weight loss and the maintenance goals. Really useful information!
Hydration Level:
One final but interesting piece of information was my hydration/water level. I came into the store shortly after running the Fast & Furry 8k with Matilda. Granted, it wasn't a hot day, so I didn't sweat that much, but I had only had one small water bottle at the finish of the race, a cup of coffee, and a glass of Nuun. My number was 59.2 with an ideal range of 45-60. So I'm FULL of water! I did not expect that.
I did reach out to Margaret to better understand that number. Could it be that I eat a very salty diet and therefore have a lot of water retention? That part wasn't clear.
How much does a Body Comp reading cost?
It was advertised as $9.99/session, but Margaret explained that if you come into the store and purchase other products, she'll generally give you a reading for free. This is so affordable compared to a Pod reading (which I have read cost at least $100.)
Where can you go to get a Body Comp reading?
There are 157 Complete Nutrition stores across the nation, with other Minnesota locations in Duluth, Woodbury, Rochester, and Mankato.
I highly recommend going to the Minnetonka location, as Margaret was amazing. And she's a runner! In fact, she has run Grandma's Marathon, so we talked a lot about that. She knows her stuff and will hook you up. Tell her Jessie at the Right Fits sent you.
Now…the giveaway!
Complete Nutrition currently is carrying a new brand of protein bars called Charge-On protein bars.
"The Charge On™ Protein Bar is designed for people who want real nutrition from real food! This naturally sweetened healthy protein snack includes ingredients such as almond butter, coconut oil, cherries, and cashews. With 20g of protein, only 5g of sugar, and real, delicious whole food ingredients, this protein bar is stacked."
These bars are really tasty- Dustin particularly loved the Salted Caramel.  I was given a few to try, as well as two full boxes to give away to one of you (a $40 value!)
I have one box of Salted Caramel and one of Dark Chocolate Cherry for you:
Just comment here if you're interested and I'll do a quick drawing in a few days. US entries only (sorry!)
Here's more nutritional information on these bars:

I think you'll really like them.
Let me know if you make it to Complete Nutrition for a body comp assessment. I think you'll find it as interesting and valuable as I did!
(Visited 787 time, 1 visit today)