Happy Sunday! I'm here with my weekly recap and happy to share that I'm feeling a lot more normal again,  (post-concussion, etc). This week was pretty solid in training, here's how it went;
Monday: [solidcore]
Tuesday: 4 hot (upper 80's!) miles with Matilda after work.
Wednesday: 7.5 miles after work. Around mile 6.5, it started to get really dark and windy. I tried to pick up the pace to make it home before the storm rolled it, but alas, I was totally caught in a downpour! I'm just glad it was only heavy rain, as there were tornado warnings in the area. Quite the stormy week in the Twin Cities.  So. Much. Rain.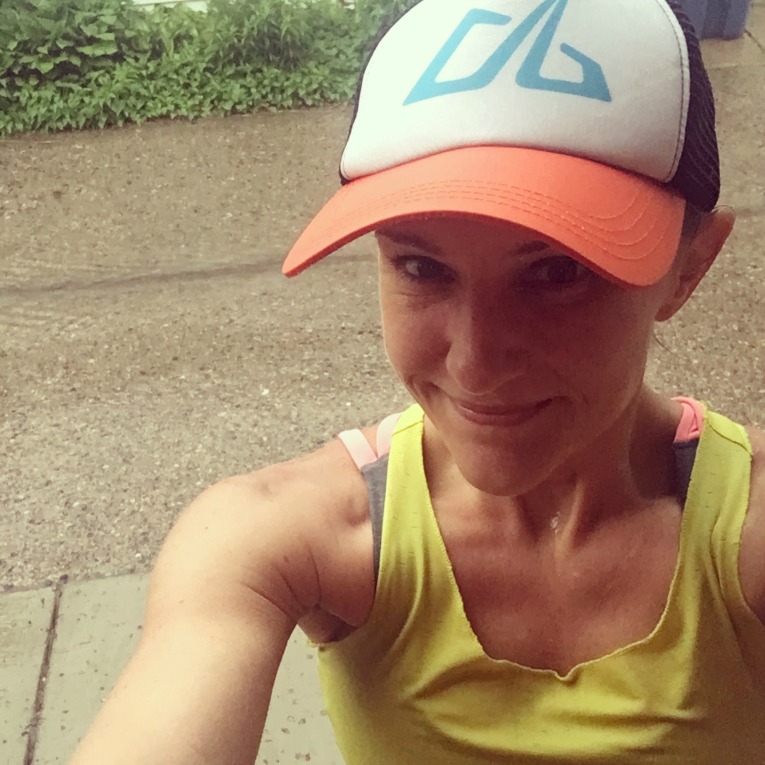 Thursday: 7 morning miles with my friend Christie.
Friday: More morning miles with Christie: 5 miles with some strides in the last mile to loosen my legs for the race the next day.
We were treated to the most beautiful sunrise. I tell you, morning runs are the BEST! No filter on these vibrant colors.
Saturday: Fast & Furry 8k with Matilda. This was her fourth year running this race; the first two years, she ran with Dustin. Last year she hooked her leash up to me instead and we got second place.
This year? Me again and second place again, ha!
I actually set about a 30 second PR- I was pleasantly surprised. The cold (and rainy again) weather helped. And having a dog pulling you along didn't hurt!
The third (and fourth) place females were breathing down our necks, so that definitely helped push me too. There are lots of fast women with fast dogs in the Twin Cities, ha!
About 1.5 miles to warmup and then 5 miles at a 7:09 min/mile pace. That was fast for me! Thanks Tilda for the pacing 🙂
Matilda will be back later this week with her recap of the race. The weather wasn't awesome, but it was still really fun, and all for a good cause!
There is a 5k after the 8k, and our friend Alex and his vizsla ran in that one. Scarlet is such an adorable little bundle of energy, I just love her.
It was Scarlet's first "official" race and they did awesome! Sub-20 minute 5k 🙂 Way to go!
One more picture of Scarlet…do you follow "Boop My Nose" on instagram? This is her "Boop My Nose" pic!
What a cutie.
What better way to follow up a 'puppy' race than with puppy dog tails and coffee from Isles Buns! Tasted great on such a cold, rainy day.
Later that afternoon, I had a health assessment at Complete Nutrition that was really informative. I'll be sharing more this week (along with a giveaway) Stay tuned!
That evening, we had tickets to Prairie Home Companion at the Fitzgerald Theater in St. Paul.
(Guess what? More rain. I feel like we live in Seattle!)

Our seats were fantastic and it was a great show. I think Chris Thile is doing an amazing job.
After the show, we had delicious ramen at Tori Ramen in St. Paul. HIGHLY recommend this place (and per this article, ramen is great for runners!)


Sunday: With the race on Saturday, I moved my long run to Sunday. 17 miles- longest run since Boston. My legs were tired from the race, I ran alone, my music died, it was raining…I was not loving running as much as usual, but I got it done. 27 days until Grandma's Marathon 2017 (I'm pacing my sister- her training is going great!)
Summary: About 47 miles of running and 1 solidcore class.
In other news, I added a tab to the blog with information about "The Right Fit Coaching." Let me know if you're interested and want to talk more.
Have a great week and be sure to join Jess and me on our weekly link-up!

(Visited 455 time, 1 visit today)