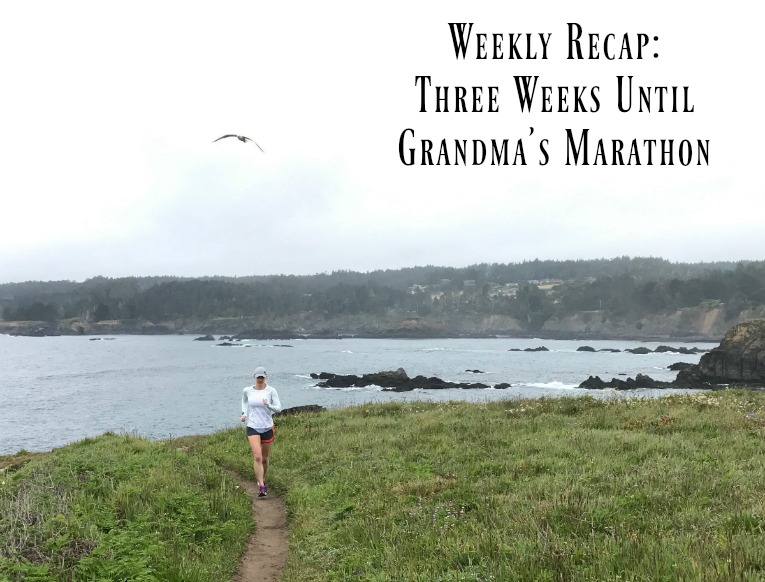 Three weeks until Grandma's Marathon…
If you're catching up, I trained hard for the Boston Marathon 6 weeks ago and am now getting ready to pace my sister Erin in Duluth in a few weeks.  Her goal is a 4:15, or a 9:40-9:45 min/mile.
My recovery since Boston hasn't been awesome– between a concussion that kept me out of running for a week and now being plagued by some annoying aches and pains, I am not feeling my strongest.
It's mostly my IT band, which is surprising, as I haven't had issues with that for quite some time. I also think I might be a little bit burned out. I'm still working with my coach and he's just doing his job and giving me workouts to do, but I was struggling this week. This week included a lot of miles, so maybe that's why I am so tired….
So I wouldn't say this week went all that awesomely. Here's my recap:
Monday: 8 morning miles. A lunch time appointment with Orthology– my IT band has flared up, so I'm seeing Orthology twice a week for now. solidcore class after work.
Tuesday: I had a 7 am meeting so I had to run after work. I was supposed to have a tempo workout, but my legs were totally dead. I let my Garmin's workout keep running and keep beeping at me that I was going too slow in the hopes that I would start to feel better and jump back into the workout, but I didn't. I did the total mileage, but did not feel great. 8.5 miles total.
Wednesday: 7 slow morning miles, barre class at The Barre Edina after work. Dr. Wong at Orthology recommended that I try to go to barre 2-3 times a week as its the same type of exercises she wants me to do to help with my IT band. I wish I could fit in that many times!
Thursday: I told my coach how I'd been feeling so tired so he told me to skip the 200m repeats on my schedule and just run easy. 7 miles total.
Friday: I was supposed to have 9 miles, but I only did 5.5. I felt like I was working hard for a very slow-for-me pace. After I got home, I laid on the ground for awhile feeling sorry for myself and wondering why I was feeling so drained. Fortunately, I worked from home that morning before taking PTO in the afternoon to fly to San Francisco for a non-running related weekend getaway. Dustin and I had a great time in Napa last August with my sisters. After that trip, we started hearing a lot about Anderson Valley and decided to book a long weekend there- wineries, some running, relaxing, etc. It's beautiful here! (I'll share more about our trip in a Fits on the Road post.)
Saturday: I was supposed to do 20 miles with 10 at an 8:15 pace, but that didn't happen. We are in Anderson Valley in California. The roads near our hotel (the Madrones– so cute!) don't have any sort of shoulder, so the best option was to go to Hendy Wood State park 5 miles down the road and run trails in there. Well, it's pretty difficult for me to run fast on trails. We managed 15 miles instead of 20 and no where near the pace my coach wanted me to do.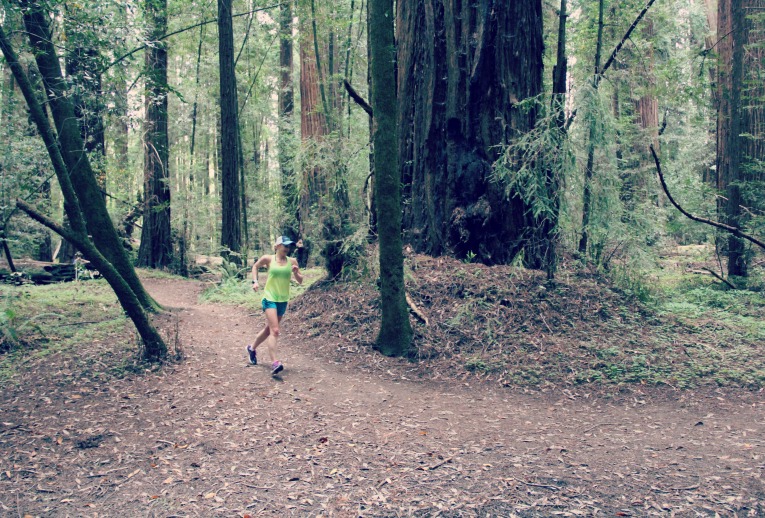 The rest of the day was spent touring wineries. So much fun.
Sunday: We drove about an hour to Mendocino to run at the Mendocino Headlands state park. Dustin had read that this was a nice place to run trail, so even though it was a bit of a drive from where we were staying in Philo, we decided to go for it.
5.5 miles of trail.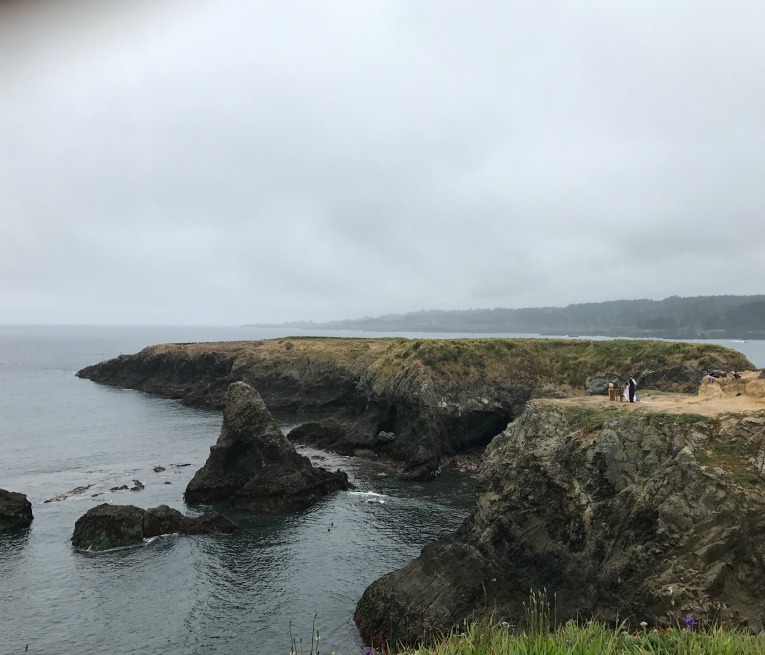 Summary: 58 miles of running, 1 solidcore class, 1 barre class

Join Jess and me for our weekly recap of training.
And thanks to all for participating in my giveaway of the two boxes of Charge On bars! The winner is Kori! Kori, send me an email and we can coordinate your winnings.
(Visited 335 time, 1 visit today)