Like many athletes, I have had my fair share of injuries, but the one that seems to plague me the most is the darn IT band. By really focusing on core and gluteal strength as well as the occasional A.R.T. & Graston treatment, I have usually been able to mitigate this issue. However, when I was offered a complementary tune-up at Orthology, I knew that I wanted them to focus on the ol' IT band to see what could be done.
Orthology is a new(ish) clinic that is growing pretty rapidly in the Twin Cities, with locations in Eden Prairie, West End, Woodbury, and Maple Grove. My "tune-up" was last Friday at the Eden Prairie location. The Eden Prairie clinic is gorgeous and definitely high-tech. The check-in process and "paperwork" was digital on an iPad when you arrive.
My tune-up was with Dr. Melissa Wong as the physical therapist and Dr. Adam Shaddick as the doctor of chiropractic- yep, both doctors met with me. That's what is unique about Orthology's process. They combine "multiple areas of expertise together in one collaborative effort." Rather than multiple appointments at multiple clinics, you're getting it all in one place.
The two of them analyzed my body, having me do some prisoner squats and single-leg squats, touch my toes,  etc. so they could analyze how I'm put together. After determining that my glutes were not firing quickly enough (it all comes back to the glutes, right??), they set to work to correct the issues. First, Melissa worked out my IT band with a "painful-in-a-good-way" technique that was similar to A.R.T., though a bit more intense, targeting really deep into the soft tissue.  Adam adjusted me and the two of them did a combination of exercises in which I was to resist their pushing and stretching of my IT band to work it out while focusing on engaging my glutes more.
Sara Welle, writer for Minneapolis Running and blogger at Sweaty Ponytail, credits Orthology to her fast recovery from a sprained ankle at the Wild Duluth race last fall. She was back up and running in 5 weeks!
She accurately described the treatment as,
"manual, hands-on work done by collaborative care teams of a chiropractor, a physical therapist, and a physical therapist assistant. The methodology is unique in that joint mobilizations performed by the chiropractor is immediately complimentary to the soft tissue work performed by the PT and PTA. It is different from ART & Graston in that it involves targeting deeper soft tissue structures, and also bringing in the nervous system to provoke a reaction."
She went on to explain how the providers will "wail on a tight spot until it hurts like hell, but then eventually it will go numb as part of the neurological reaction they are looking to provoke to bring about healing." 
Yep. That's exactly what they did to my IT band!
After my appointment, I was given a stretching band and a few exercises to do at home. I'll share them here for you as best as I can, though of course I recommend an appointment for you to get them from the source!
First was one that resembled your common IT band stretch, but with a few small differences. With your foot rotated outwards to the left (um..not like what I'm doing in this picture…whoops!)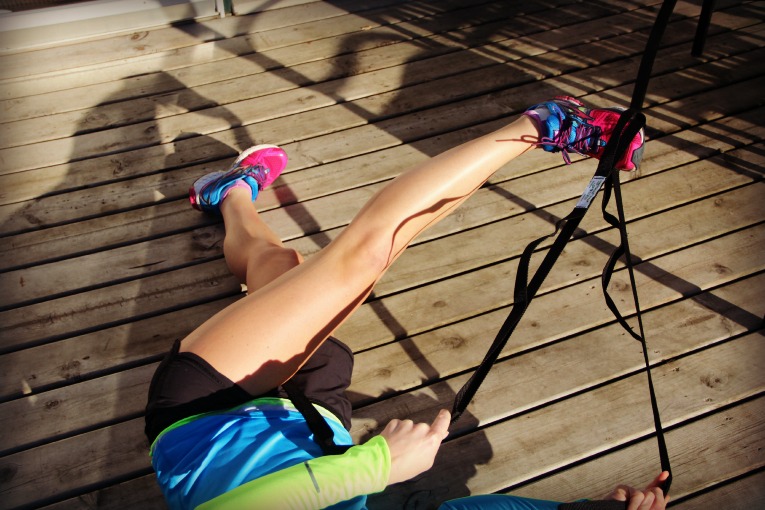 …pull your left leg up/in towards your right shoulder and at the same time resist that motion by pushing left foot down/out toward the floor until you feel a really good stretch. Once you feel the stretch, let go of the rope and try to lift your left leg a little bit higher towards your right shoulder. Then hold the leg up in the air for 7 seconds while trying to push the leg down/out towards the floor with your hands. You're working against the stretch more to activate your glutes.
Another exercise they gave me was meant to stretch out my hip flexors while strengthening my glutes: Assume standing position with your left knee positioned on a solid surface (ex. bed, table, chair) behind you.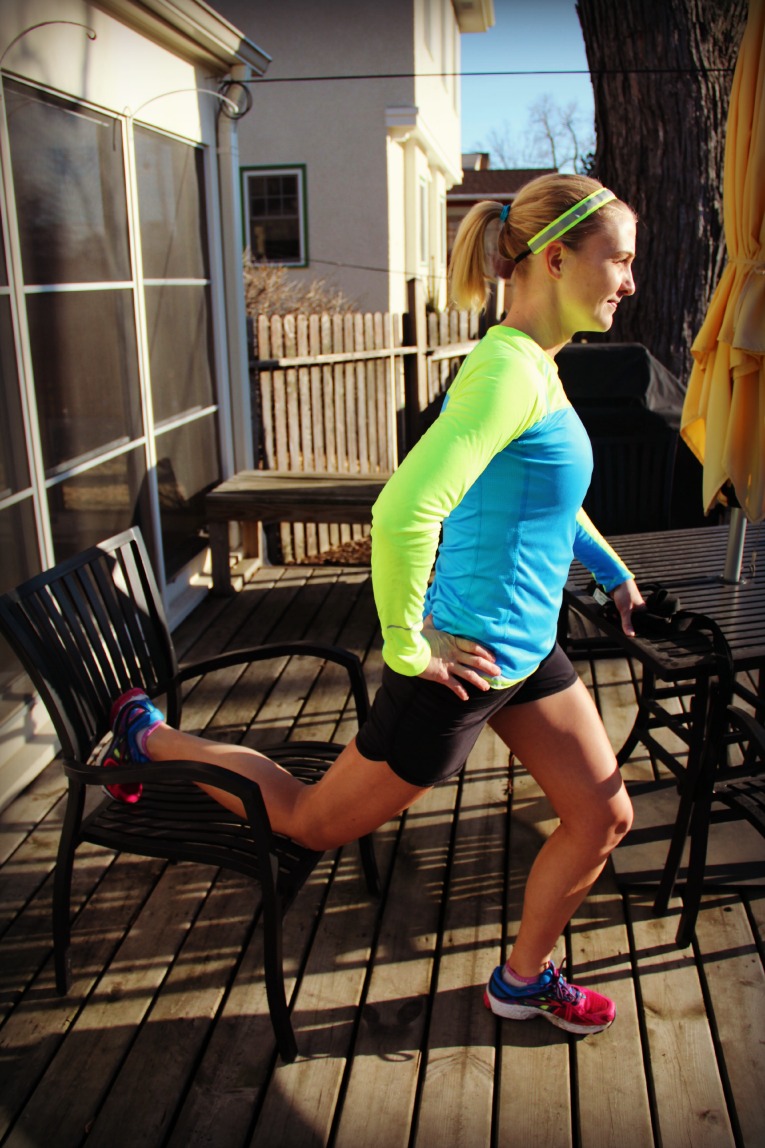 Ensure your right leg is far enough in front of you on the floor to maintain good balance; use something to hold on to if needed. With a relatively straight knee, push the left knee into chair at as you slowly move your hips forward toward your standing leg until you feel a good stretch in hip flexor. Then when at maximum stretch, squeeze your left glute and think about lifting the left leg, hold, and repeat!
For the next few days, I was pretty sore from the tune-up, but I could still safely run. My runs since the appointment have felt pretty good, so I think that the tune-up really helped. Now I just have to be diligent about all the core and all the exercises to make sure I don't need to go back!
Let me know if you have been to Orthology for treatment and what your experience has been. I would love to hear about it.
(Visited 826 time, 1 visit today)