Happy Sunday all! How was your fitness and fitness fashion this week? Let me know in the comments!
After last week's 60 mile week, my coach had me do a bit of a cutback this week. There was still one intense workout, but overall, this was an easier week. Lower mileage, no doubles, more resting.
Here's how it went down:
Monday: Tempo workout! 2 miles to warm-up, 6 miles at a 7:35 pace, 2 miles to cool down. I did this on the treadmill- it was a long time on the treadmill, but overall I felt pretty good. I took a quick water/bathroom break halfway through the 6 miles tempo, which was technically "cheating" but it was necessary.

I've been watching Jane the Virgin on Netflix as its easy to watch- not a lot of focus necessary to follow along; perfect for the treadmill! 🙂 10 miles total at an 8:15 min/mile average.
*I also had another appointment at Orthology over my lunch. I continue to have them work on my foot/toe pain and my tip hip flexor. They are the best!
Tuesday: 7 miles outside with my friend Christie. We got sleet/snowed on and the trails weren't great, but it was nice to be outside. My legs were BEAT from the tough/long workout the night before. My body was definitely not recovered from going from a later evening tempo to a morning run (less than 12 hours to recover!) My coach likes me to run on tired legs though; it's similar to the marathon. 7 miles at a 9:30 min/mile average.
Wednesday: Rest from running. I did a 6 am barre class at The Barre. Love that place!
That evening, I had a work event at Punch Bowl Social at the West End in St. Louis Park.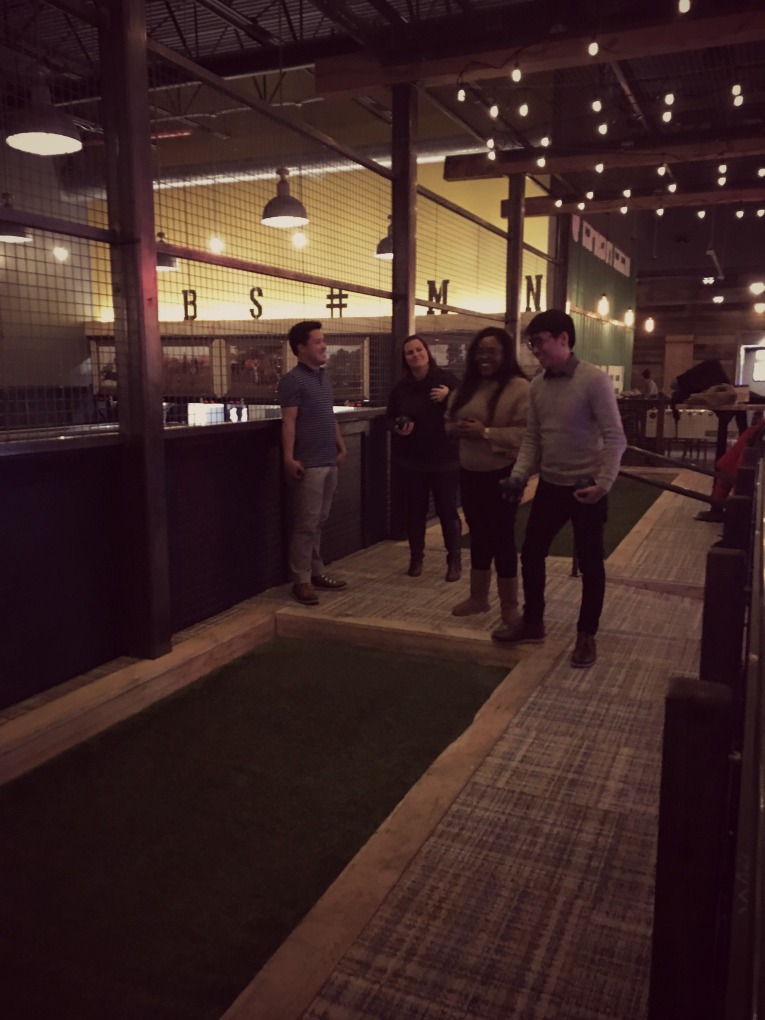 Have you been? It was pretty fun, with wall size scrabble, bocce ball, bowling, vintage arcade games, and private karaoke rooms.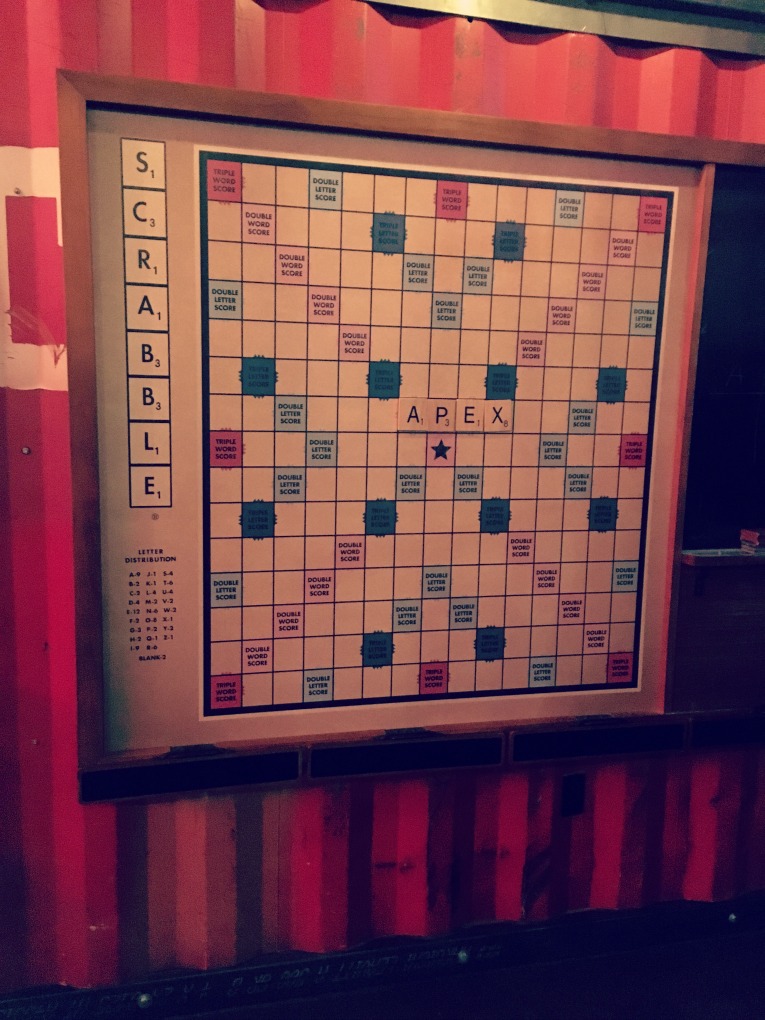 My coworkers and I decided to rent one of the karaoke rooms where we all sang for an hour or two. Really fun!
I'm a terrible singer, but there are two microphones for each room, so I was never singing alone. Also its not as intimidating to sing in a small room versus in front of the whole bar. Good times…Do you like karaoke?
Thursday: Another treadmill run as the temperatures were well below zero. I didn't get out of work until late so I didn't run until 8 pm, which I find harder to do that 5:30 am- anyone else feel the same way? Short speed workout: 2 mile warm-up, 8x200m sprints with 45 second recovery, 1 mile cool down. 5 miles total at 8:41 min/mile. 

Friday: 6 mile recovery run on the treadmill, 9:05 min/mile average.
Saturday: Long run outside- yay! The trails were still not great, and I could feel it in my sore hip flexor, but I managed 15.5 miles around a 9:10 min/mile pace. Great run with a couple of great ladies.
Post run, Dustin and I had brunch at Colossal Cafe. Delicious! It's a tiny little cafe (at least the Minneapolis one is tiny, the St. Paul location is bigger). I had the french toast, Dustin had the pancakes.
This place should definitely have been on my list of best post-long run brunch spots!
Having a dog like Matilda means even after a long run, it's back to the cold outdoors to exercise her. We spent a good hour at the airport dog park. She had a blast!
Afterwards, we made a stop at our favorite local wine store, 44th/France, which is also dog friendly!

Saturday evening, we headed to St. Paul to celebrate a run club friend's 40th birthday at Bad Weather Brewing. Before heading to the brewery, we grabbed dinner at Saint Dinette's. Amped-up comfort food- great place! I definitely want to go back for brunch. 

Sunday: 5.5 mile run with my friend Tricia. Tricia and I used to work together and it is so easy to meet up for a run to catch up every couple of weeks- exercise and friends- the best combo! 5.5 miles at a 9:15 min/mile average.
It was a pink and turquoise kind of morning…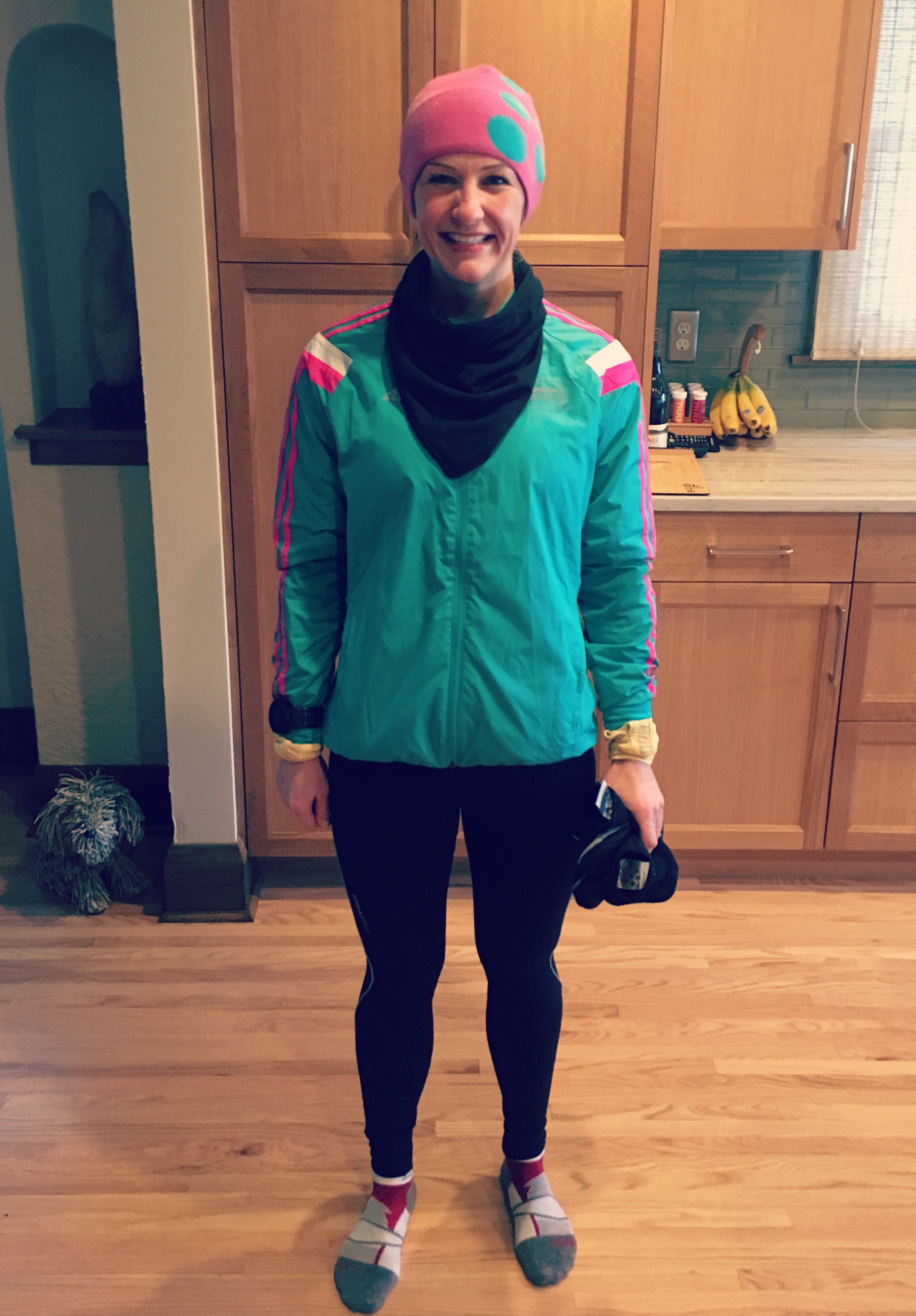 After the run, I met up with a "digital" friend IRL (in real life) at Agra Culture to chat about advice for her first marathon. I love chatting running and it's always fun to connect over good food and coffee. 🙂
I was happy to fit in a second barre class this week on Sunday evening at the Barre. It's easier to fit in barre than other types of strength during marathon training, as it's a gentler type of strength training. Also, it really is a lot of the same exercises that I should be doing for PT- core, glutes, and stretching. Love it.
Summary:  49 miles of running, 2 barre classes.
This week's forecast is showing temps in the 40's. I can't wait; that's almost shorts weather, ha! Hopefully not a lot of overnight freezing that make the trails slippery; it would be really great to run all my miles outside this week.
Are you keeping up with the Plank Challenge? We are almost at 2 minutes! Be sure to RSVP to the "finale" event on Facebook. If you keep up with the challenge, you could win $100 donation to the charity of your choice!

I'm linking up as always with Jess at Jess Run ATL. Join us! Non-bloggers? Feel free to share your highlights from the week in the comments!
(Visited 376 time, 1 visit today)