I first saw this "Would You Rather" post on Allison's blog (The Running Princess- check it out!) and I enjoyed reading her answers. I figured I'd share my answers here as well!
And make sure you read through to the end to get the details on a Handful bra giveaway!
Would You Rather…
1. Run with someone chatty or silent?
I prefer to run with someone chatty. Though I have my moments where I can be overly talkative, I really prefer to let someone else do the talking, especially when running. There's nothing better than a long run with a good storyteller; let him/her do the talking while I huff and puff trying to keep up!
2. Run with no socks or no sports bra?
I guess it depends on if you mean no sports bra or no bra at ALL. I think I could manage a run in a regular bra, though there could be some chafing. But if the alternative is no bra whatsoever, then for sure I'd rather go sockless. Though I can imagine the blisters would be nasty, it still would be more comfortable than no bra.
3. Run a mile naked or in a snow suit?
Running naked would entail running without a sports bra…however, it is definitely something I have never done. I run in a snow suit basically all winter! I think I'll pick naked just for the novelty. According to THIS post, I have a lot of options for a naked run.
4. Run in the freezing cold or sweltering heat?
My performance suffers quite a bit in the heat, but considering how tough this winter has been so far, I'm going to actually pick heat over freezing cold. I am sure I'll be eating my words in July, but I have had enough of this cold!
5. Run with an empty stomach or a full bladder?
Empty stomach! Full bladder sounds like a deal breaker. No one wants to have to pop a squat in the woods. Running hungry (i.e. a lunch run) is much more manageable for me.
6. Run a hilly 5k or a flat marathon?
Well, I do love marathons. I know flat marathons are actually kinda tough on the legs, but I'm going to go with a flat marathon here as assumably whatever flat marathon I do could get me one step closer to my 50 state goal!
7. Run without music or without a GPS watch?
I rarely run with music, unless its on the treadmill or a long run alone, so I'll definitely choose run without music. I love the data on my Garmin and I need it for Final Surge (the app I use with my coach) and Strava! If there's no data, then how do we know it really happened? 🙂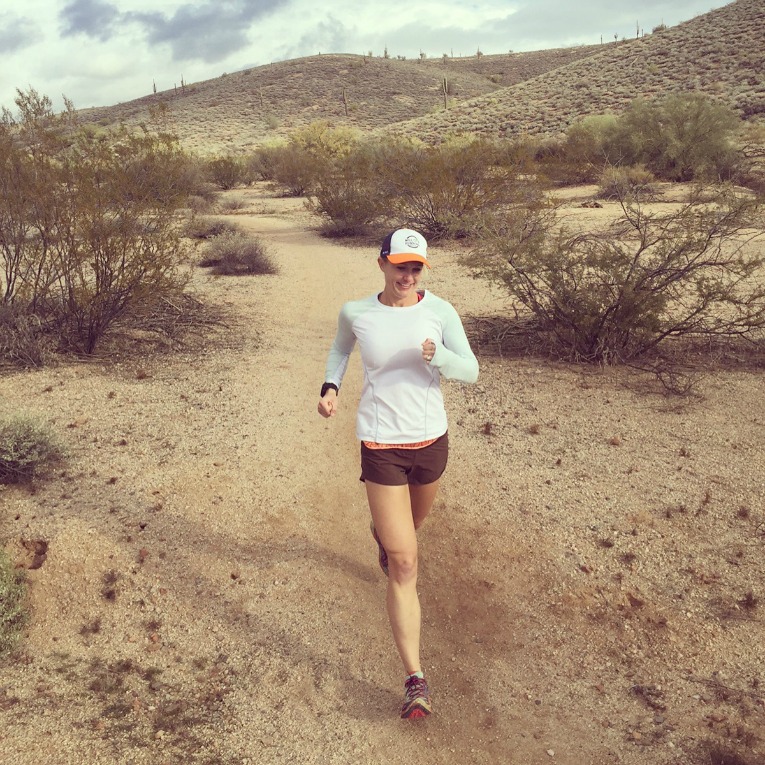 8. Run the New York City or Boston marathon?
Well, if all goes well, I'll be running both this year so I won't have to choose!
9. Run as much as you want on the treadmill or only once a week outside?
Treadmill. I don't love the treadmill, but I can't imagine only running once a week especially when training for a marathon. It just wouldn't work.
10. Run a beer mile or a color run?
Personally I have never been interested in a color run, though I do support any type of event that gets people out there and active!
However, I don't know how well I would do at a beer run. My running club used to host one and I was a spectator one year. Let's just say there was a lot of puking and I was not all that interested in trying it myself…But I feel like most seasoned runners have at least tried a beer mile, so I'll choose beer mile just to say I have.
11. Run on a trail or on the road?
I run better on the roads but I do love the trail. So much beauty out there. (Hoping to run Imogene again this year!) If I'm running trail, it hopefully means I'm in a cool location with gorgeous scenery!
However, I'll still go with road if I can only have ONE since I'm much stronger on the road.
12. Run in shoes that are too big or too small?
Hmm…hard to say. I think too small would be more manageable than too big, but both would be uncomfortable. I'll choose too small.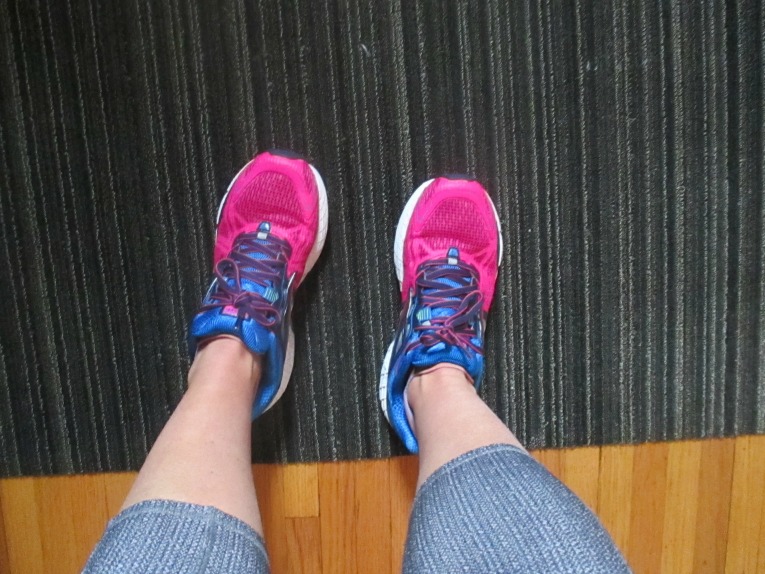 13. Eat a slice of pizza mid-race or drink a milkshake?
Pizza. I can never say no to pizza! A milkshake would be too filling, I would definitely throw up. (Gosh, there's a lot of talk about throwing up in this post!)

14. Run in the snow or rain?
Rain would mean that it's warm, which would be great. A warm, rainy run can be a blast. But running in the snow (as long as its not slippery) can be so beautiful. Give me a 30 degree day in a winter wonderland over gloomy rain any day!
15. Run alone or with a big group for the rest of your life?
Though I love running with my run club or my running friends, I think I would choose solo over a BIG group if I could only have ONE for the rest of my life. I want to be able to run when I want for however long I want, without having to coordinate with a BIG group.

That being said, I do still love running with a group, for the reasons mentioned in #1. Plus, some of my best friendships were developed while running.Non-runners don't understand the bond that builds between runners. Over the course of a three hour long run, you learn a lot about each other. A lot of sharing occurs on a run, i.e. what you discuss on the long run stays on the long run.
But…Solo runs can be quite meditative.

Love that "me" time.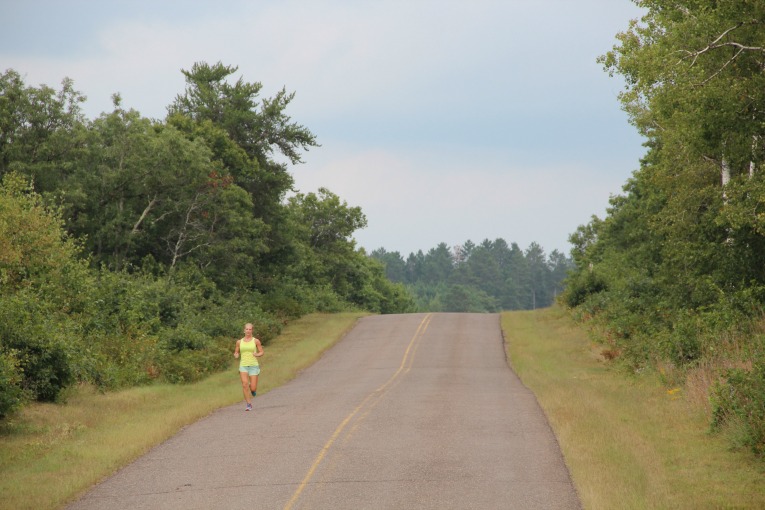 16. Run the same outdoor route every single day or run on a treadmill every single day?
Same outdoor route!
17. Have a personal chef or a running coach?
Though I have a running coach that I love, I honestly think I would be okay without one. I mean, I have a good deal of experience to draw from- 25 marathons, to be exact!
I would rather have a chef. A personal chef would be so awesome. I would have such great nutritional meals all the time, breakfast, lunch, dinner, and snacks! My chef would know exactly how to fuel me to be the best runner I could be. Sounds pretty fantastic!
Now to find a personal chef…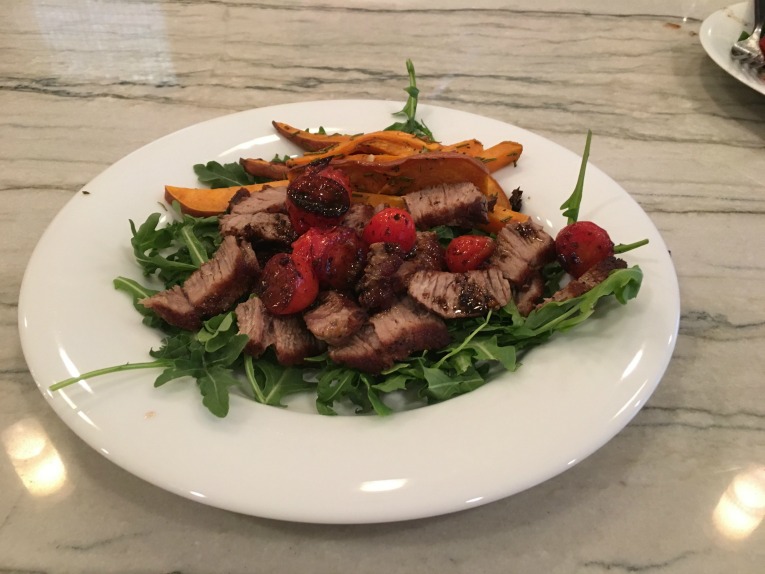 18. Get free running shoes or free race registrations for life?
Another hard question! I think I'll choose shoes though, because there may come a time that I'm not racing as frequently but I always plan to be running and I'll always need more shoes.
19. Do only gentle yoga or intense boot camp classes for cross training?
I know that I should choose yoga, but really I love strength training. I'll choose the boot camp. I can still stretch, right?
20. Run in your favourite outfit every day but only wash it once a week or run in clean clothes that you hate every day?
Clean clothes that I hate! I couldn't stand running in stinky clothes. I think I'm pretty sensitive to smell and this would be too much for me, not to mention anyone else who runs with me.
Now, this post mentions running without a sports bra, which is outrageous, right? I definitely wouldn't want YOU to run without a sports bra, so I have a giveaway for you- a Handful bra in the size and color of your choice (a $50 value!)
Here are the rules- you need to do THREE simple things to enter the give away:
1. Follow Handful on Instagram, Twitter, or Facebook.
2. Comment on THIS post (my review of Handful!) letting me know which way you started following Handful.
3. And finally, answer just one of these "Would You Rather" questions on this post!
The giveaway will be open for a week, so enter now 🙂
(Visited 566 time, 1 visit today)