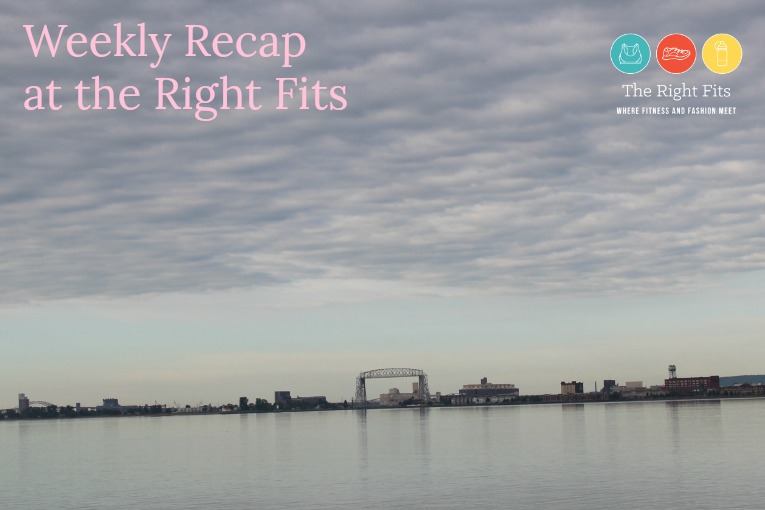 Hi all! I'm here as usual with my weekly recap. This week? Race week!
I'll be honest, I was forecast stalking all week. I have three different weather apps on my phone:  Dark Sky, Weather Channel, and AccuWeather. I knew it was going to be a warm day, but I was hoping that it might rain on us to keep us cool…Spoiler alert: it was a hot and humid one in Duluth!
Since I wasn't racing the marathon, but was pacing the marathon, I didn't really change too much this week leading up to the race other than only doing one strength day (a barre class in the beginning of the week.)
Here's how it all worked out:
Monday: 7.75 miles in the morning with Christie and Lindsey, then barre in the evening at the Barre
Tuesday: 5 morning miles with my friends Christie and Sarah, Orthology appointment over lunch.
Wednesday: Morning run with Matilda, 6 miles
Thursday: Rest. Picked up my sister Erin from the airport after work.
Then we did some carbo-loading at Pizzeria Lola (so good!). One of my favorites.
Friday:  I took a vacation day to make the drive up to Duluth.
Well, first I had one last appointment at Orthology early in the morning.  They taped me up really well and said I was ready to go.
Normally, I would do a shake-out run in the morning before travel, but this year, I was signed up for the "Great Grandma's Challenge." Great Grandma's Challenge included the 5k on Friday night and the marathon on Saturday.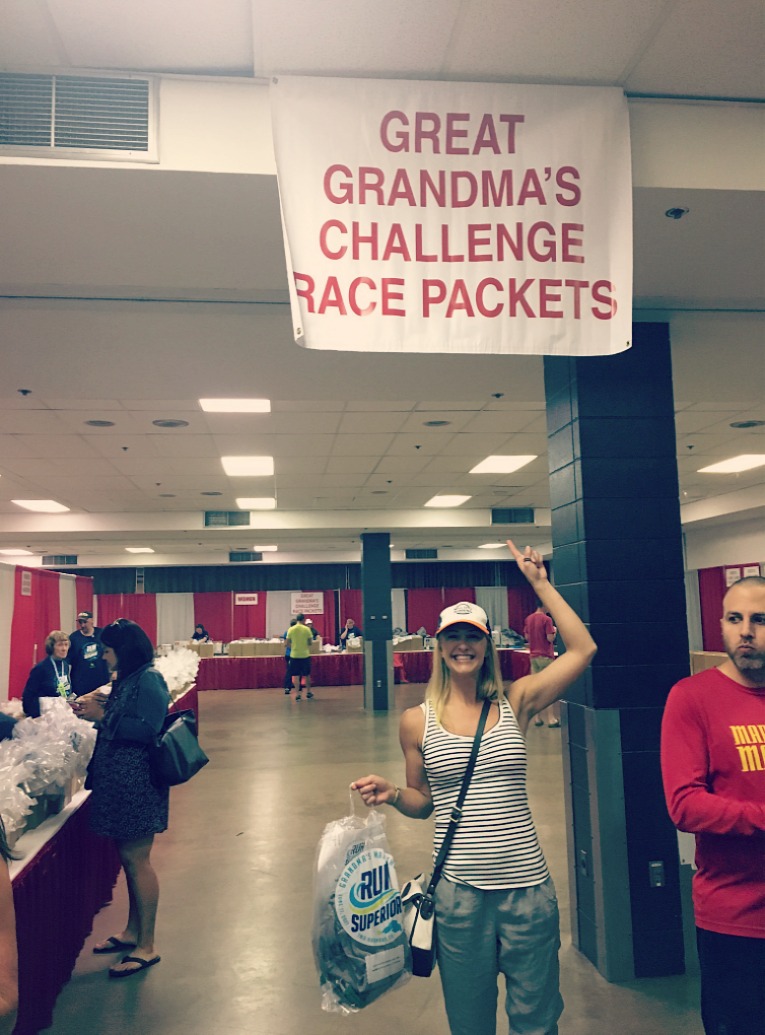 I figured this was the only time that I would be comfortable doing such an event, since I wasn't racing the marathon. I'd use the 5k as my 'shake-out' run.
William A. Irvin 5k. 1.6 miles to warm-up. 3.1 miles at an 7:50 min/mile. A little faster than a normal shake-out run, but it was hard not to get caught up in it!
The 5k was a fun event; a wonderful way to get more people out to participate in a running event over the weekend.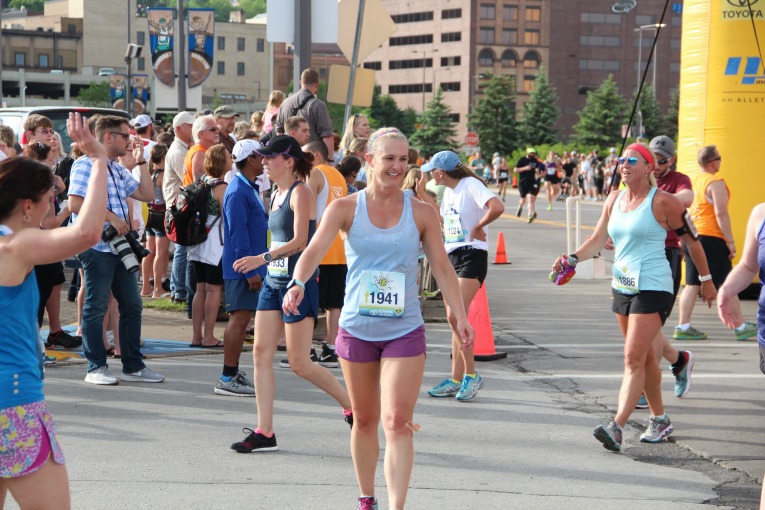 Saturday: Grandma's Marathon, 26.2 miles, 4:29:55. Full race recap to come, but I LOVED running with my sister again. I really truly enjoy running with someone to help them achieve their goals. It's such a unique way to experience a marathon. It takes away the personal pressure to perform, yet there is a different kind of pressure to help someone else. I love it. I want to do more of it!
I had so much fun, even though Erin did have a tough day out there with the heat.
I might be done with Grandma's for awhile because the weather just doesn't cooperate, but it is still such a family-friendly, small-town charming, great event. I still recommend it, if only one could guarantee better weather.
We enjoyed the rest of our time in Duluth!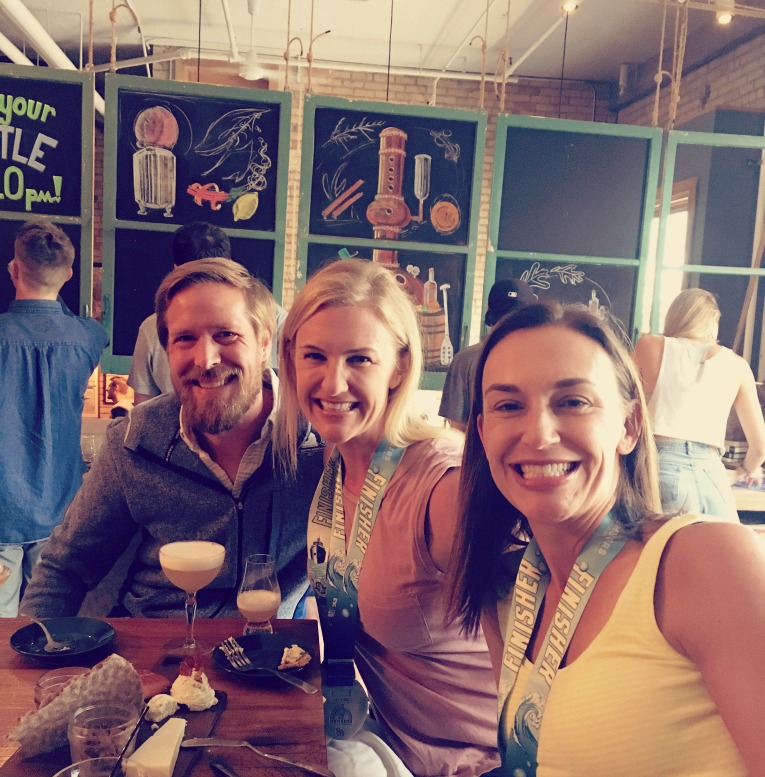 Sunday: Rest. Drive back to Minneapolis from Duluth.
Summary: About 50 miles of running, 1 barre class
So on Saturday, I finished my 27th marathon, the 41st running of Grandma's Marathon in Duluth, MN, with my sister Erin, who completed her sixth marathon.
It was a hot, humid day, but my sister still set a 6 minute PR. I'll share a race recap later this week with all the gory details. I am quite proud of myself for helping to pull Erin through as she wanted to quit at the half…but she went on to set a 6 minute PR!
All these hot marathons recently; I hope all fall races are freezing! 🙂 No more hot races please.
Stay tuned for the full story on Grandma's Marathon 2017.
One more thing for any local readers! This Saturday June 24th from 10-1:30 pm, Minneapolis Movement is hosting "Pull for Pride," a deadlift-only competition to raise money for homeless youth in the Twin Cities. The competition will specifically benefit Avenues for Homeless Youth, a nonprofit that provides housing, basic needs and supportive services and is one of the few Home Host programs that serves LGBTQ homeless teens.
Definitely check it out. I hope to see you there!
Jess is off on an amazing European vacation this week so she won't be joining in our normal link-up, but it's still on as usual! Details below:

(Visited 418 time, 1 visit today)