Hello and Happy Sunday! I'm checking in with my weekly recap and at the end of this post, I'll announce the winner of the Handful bra.
Monday: I was in New York City for work Sunday night to Tuesday night. Though the days were packed full of meetings, I did have time in the morning to run in Central Park. My hotel was only 3 blocks away, which was perfect. I was so impressed at how well-lit the park was in the morning and how many other runners were there!
On Monday morning, I had a short speed workout: 2 miles to warm up, 15x200m sprints with 45 seconds recovery, 2 mile cool down. 7.2 miles at an 8:43 min/mile.
Tuesday: Another run in Central Park! It was raining and cold, but at least it wasn't slippery, right?
I met my friend Jehan and we did a nice full loop of the park, plus a bit extra. 8.3 miles at a 8:33 min/mile average.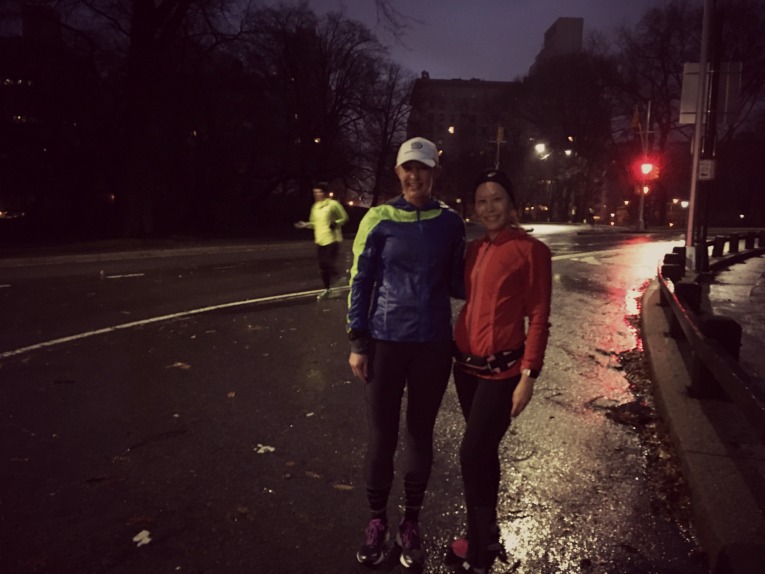 She runs with the Dashing Whippets run club in NYC; one of her running friends joined us for the run as well.

Wednesday: I didn't return from NYC until about 11 pm on Tuesday so I slept in on Wednesday morning, rather than run. A late night at work meant I wasn't running until 8 pm, so I did it on the treadmill. 8 miles at an 8:41 min/mile average.

Thursday: The "re-do" of the 15-10-10-5 workout from last week. 15 min at 10k pace, 5 min recover, 10 min at 5k pace, 5 min recover, 10 min at 5k pace, 5 min recover, and 5 min as "fast as you can." With 1 mile to warm-up and about 2 miles to cool-down, I ended up with 10 miles which is a lot for a weekday! 10 miles at an 8:31 min/mile average.
Friday: Rest day from running. I took a [solidcore] class in the morning.
Saturday: My first 20 miler of the Boston training season! I was supposed to do 15 miles easy, 4 'harder' with 1 more easy. I ended up with 20 miles at a 8:55 min/mile average. The Urban Eatery restaurant that is located within the Calhoun Beach Club (which is where my run club is) was hosting a free brunch for members, so we headed there right after for some post-run brunch.
The afternoon was spent at the dog park with these two:

We are dog-sitting Darla, who is a darling!  We love having her.
For dinner, we tried out "Young Joni" in NE Mpls, which was so awesome! Same owner as Pizzeria Lola in South Minneapolis. I loved the vibe and the food.
We had time to check out the back bar that is attached, which was also very cool. After dinner, we met up with some friends at Fulton Brewery for a bit for a birthday celebration, but I headed home by 10 pm as I had to be up early on Sunday.
Sunday: I had to be up early to run another 10 miles before heading to work at 10 for a few hours. My friend Christie was kind enough to get up early and run some of my miles with me. 10 miles at a 8:55 min/mile average.
My legs actually felt pretty well recovered even after 20 miles the day before. That is a good thing! I may not be hitting all of my paces for workouts, but it doesn't seem that the high mileage is too hard on me in terms of recovery. I just have to keep working to get the speed.
Summary: 64 miles of running, 1 solidcore class, 1 appointment at Orthology– they gave me several new stretches and exercises to keep strengthening my glutes. I'm still dealing with the toe issue and the sore hip flexor, but Orthology is definitely helping me stay on top of it.
Next week will be quite a cut-back week as we are heading out West for a ski trip; it will be hard to fit in runs while we're there, but I am sure am going to try!
11 weeks until Boston! Time is flying by.
Thank you all for joining in on the "Would You Rather" post for a chance to win a Handful bra. Watch the following video to find out who won:
Congrats Michelle! Email me at therightfits@gmail.com and I'll connect you with Handful to coordinate your free bra.
I'm linking up as always with Jess at Jess Runs ATL. Details below if you want to join us!
(Visited 413 time, 1 visit today)