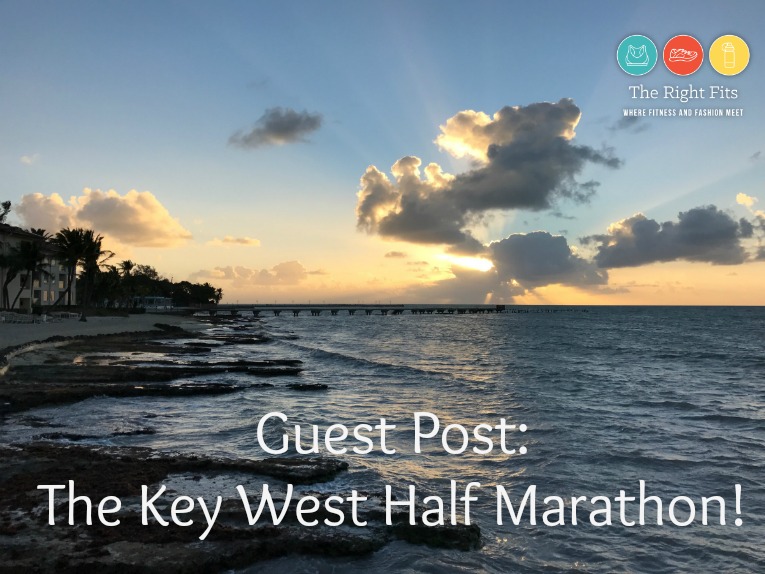 As some of you may know, I have four sisters, most of whom love to run just as much as me. My sister Erin, who I paced for the Twin Cities Marathon in 2016 (this post) also recently turned 40. We celebrated with all the sisters (and husbands) in Napa this past August (this post & this post) but 40 is a monumental birthday so Erin kept the celebration going! She went to Key West to run a half marathon with her running club friends as another celebration; it sounded like an awesome race, so I asked her to share a recap of it. Here it is:
This past weekend, some of my friends and I ran the Key West Half Marathon. We planned it as a birthday runcation. I had recently turned 40 and four of the other five ladies going had birthdays in the next two months. It was an amazing way to run and celebrate!
The race fell on MLK Jr weekend. This was a great way for those in the group who worked to be able to go without taking too many days off of work. We stayed Saturday-Tuesday; with people only having to take one day off of work.
We travelled to Key West Saturday. We arrived with enough time to check into our hotel (the beautiful Waldorf Astoria Casa Marina)

…before we did a great walking tour of the island on our way to packet pick up. 
Packet pick up was at the Waterfront Brewery. It was a smaller expo, but they handed out a lot of free stuff.
We got our super cool race shirts: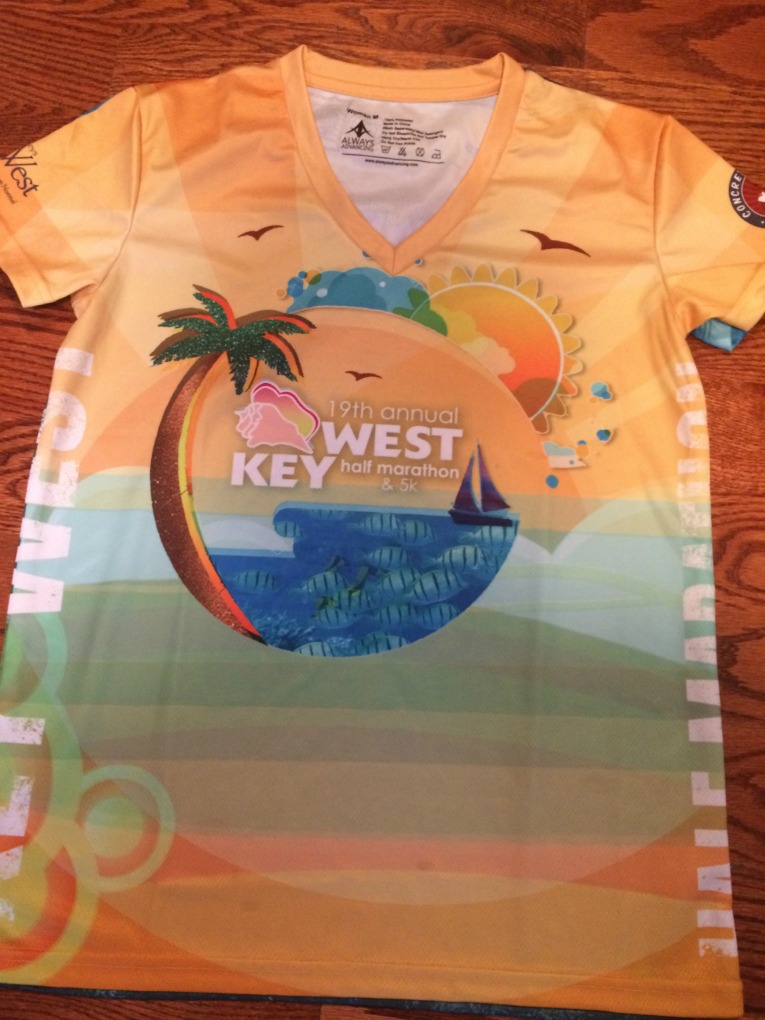 We also received race bags with free protein bars, coupons to local restaurants, and these awesome bumper stickers:

We made sure there was time to eat at the brewery and try some of the local brews (proper race hydration, haha!)
The half started at 7:00 AM and the 5k at 7:30. We left the hotel at 6:00 to make sure we had time to gear check, etc. The start area never felt crowded, there were no lines for gear check, and there bathrooms inside the Raw Bar open for the runners (a bit of a line there, but lots of funny license plates hanging on the wall to read while we waited).
The 7:00AM start was perfect. It happened just as the sun started to rise.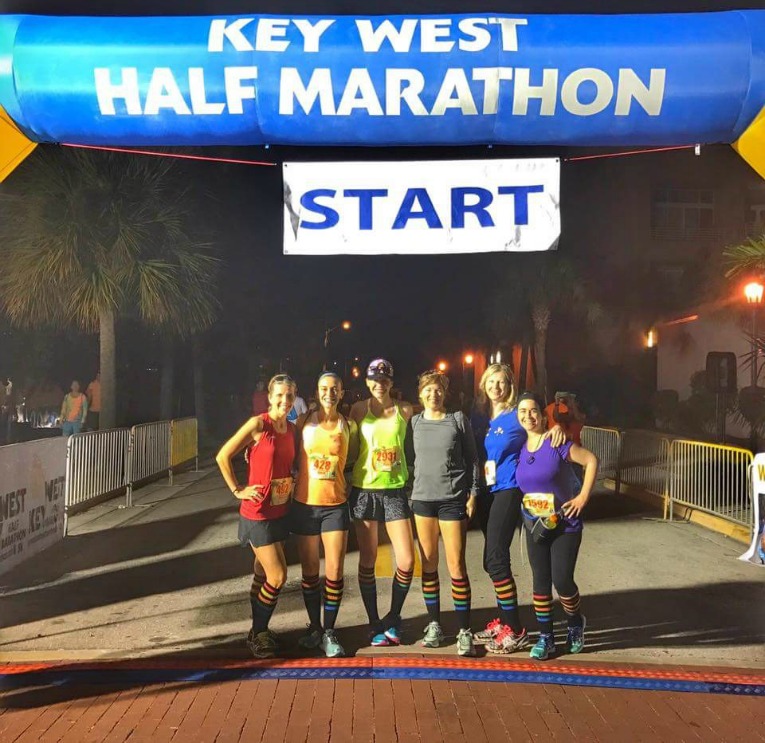 We dressed up like the rainbow!
Rather than the national anthem, they had monks sing a blessing. Then we were off.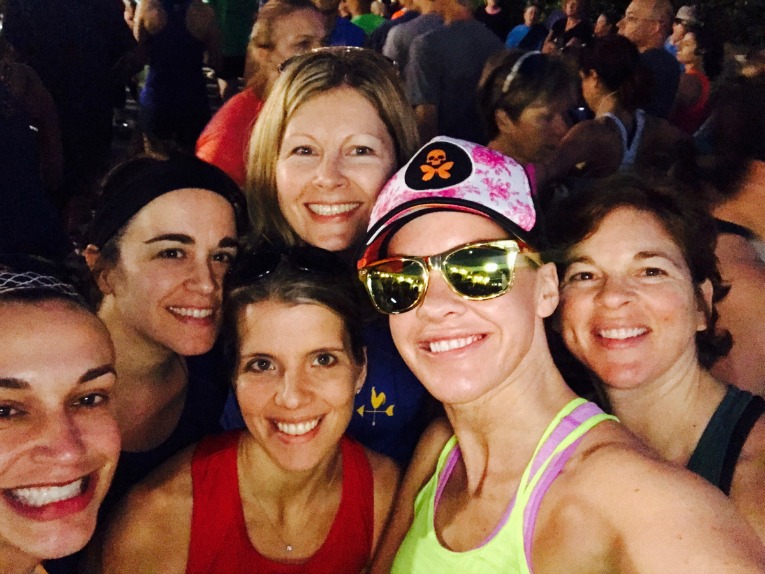 We knew it would be a humid, hot race so we all took it easy. I had plenty of time to take pictures and enjoy myself with the sun rising on the course. So pretty!
The southern most point of the continental US!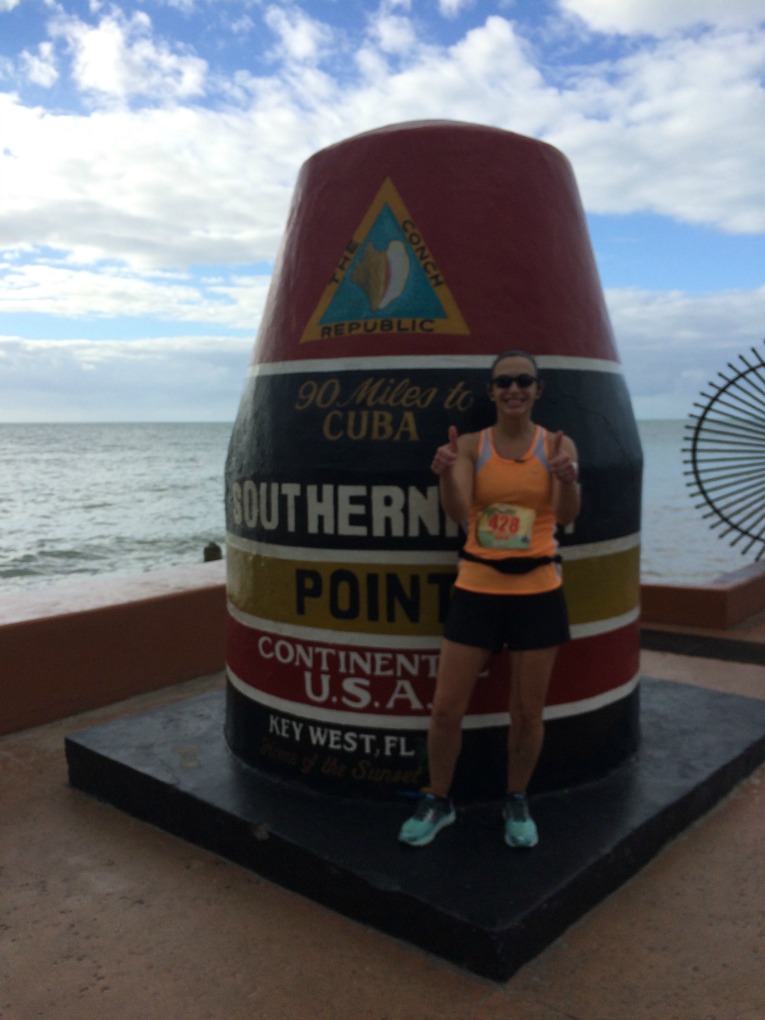 Mile 0, i.e. the end of US Highway 1: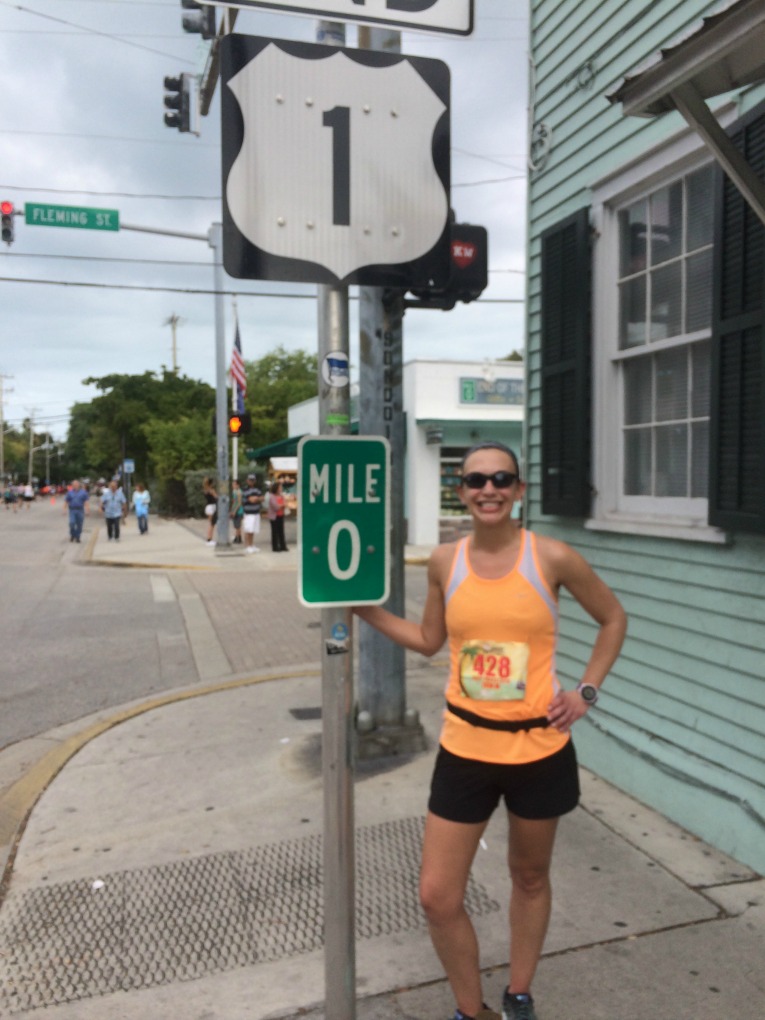 The course was filled with sculptures like this one, which was done by artist Seward Johnson; his work is found all over the island.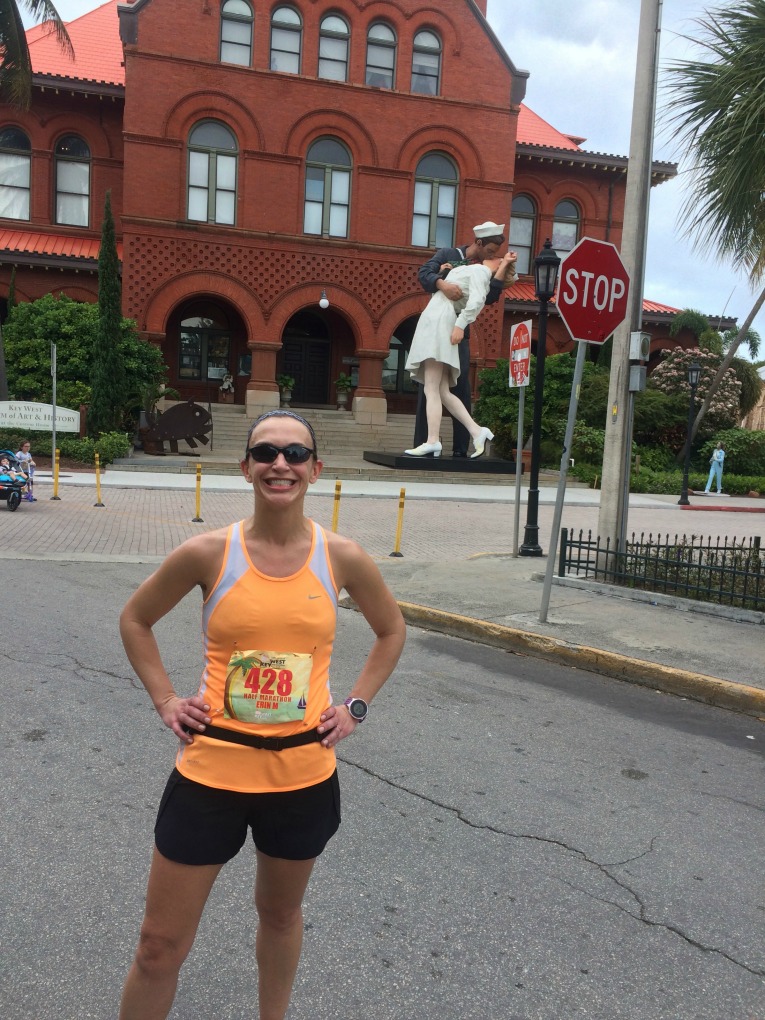 The half marathon course is an out and back.
There was plenty of water and gatorade available throughout the course and the volunteers were so friendly! The only minor complaints my group had were there weren't Honey Stingers on the course as promised and the Gatorade used tasted like a low-calorie version, which isn't great on a humid day.     
The finish line was very near the start. It had plenty of bagels, bananas, muffins, and water. Across the street from the finish, near the ocean, there was a fun band playing and all the free craft beer a runner could want.
Not only were they handing out free beer to everyone, they were also announcing raffle prizes to all the runners with prizes like vacations! It was the coolest after-party we had ever seen.We also got these amazing finisher medals.
 I highly recommend the Key West half as a "bucket list" race. The course was beautiful. The destination, especially for a group of Chicagoland ladies, was ideal, especially in January. I just wouldn't recommend it as a PR race; the humidity was really tough on all of us, but a great race for a winter getaway.
Check out the souvenir shirts I made for our group–Run Key West!
Thank you Erin for sharing your review. If anyone has any questions about this race, feel free to ask away in the comments!
(Visited 755 time, 1 visit today)