I spent last weekend in Napa with my four sisters (and three of the husbands who could make it- a few stayed back to take care of their kids!)
Dustin and I flew direct from Minneapolis to San Francisco on Thursday evening. We arrived around 9 pm and quickly grabbed our rental car. We coordinated flights with two of my sisters so that we could give them a ride with us. It's close to an hour and a half drive to Napa, where we had rented a VRBO– I have had great luck with VRBO; the trick is to read all the reviews before selecting a place! We found a great house with 4 bedrooms and 3 bathrooms; it was plenty of space for the 8 of us.
The VRBO was right across the street from Alston park, which was a great location for a group of active people! I thought it was so cool that on the first morning there, EVERYONE got up and did something active- running, hiking, hill repeats! Dustin and I ran 8 miles together- some on the road and some in the park, where we ran into my sisters doing hill repeats!
After morning runs and showers, our tour of Napa began at 9:30 am. My sister Emily arranged for a limo big enough for all of us to take us around to different wineries for the day.
We started at Robert Mondavi. This was a great winery to start with, as we did the full 'educational' tour.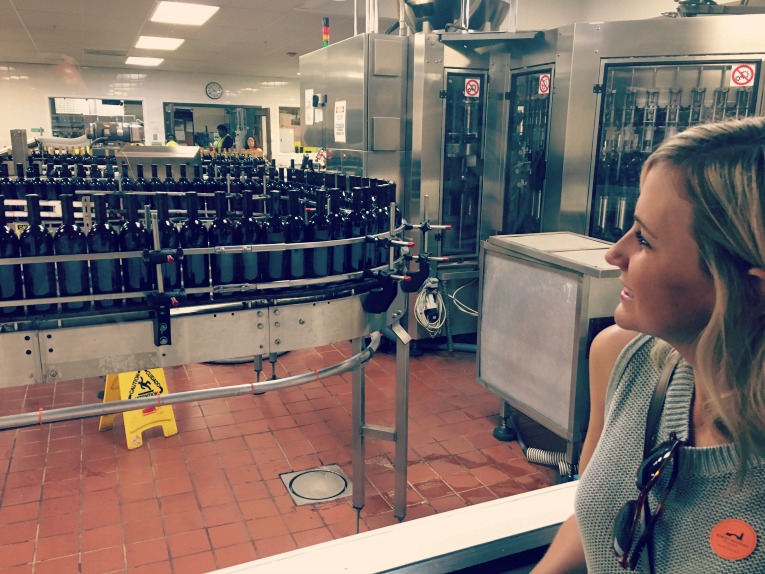 It was also one of the biggest and more 'corporate' wineries we visited, but very beautiful grounds.
Next, we ate lunch at V. Sattui Winery. I had a tasty mozzarella/prosciutto sandwich. We didn't do a formal tasting here, but most parties bought a bottle or two to take back to the VRBO.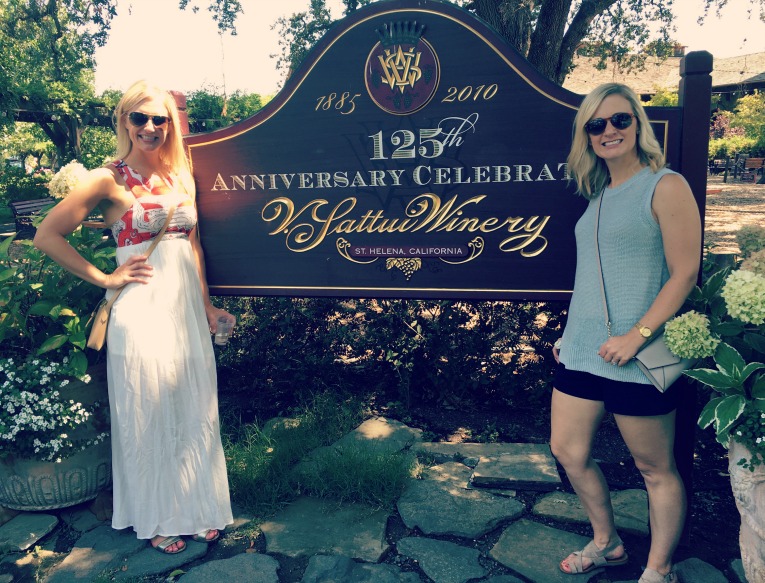 After filling our bellies at V. Sattui, we stopped at Grgich Wine Estates: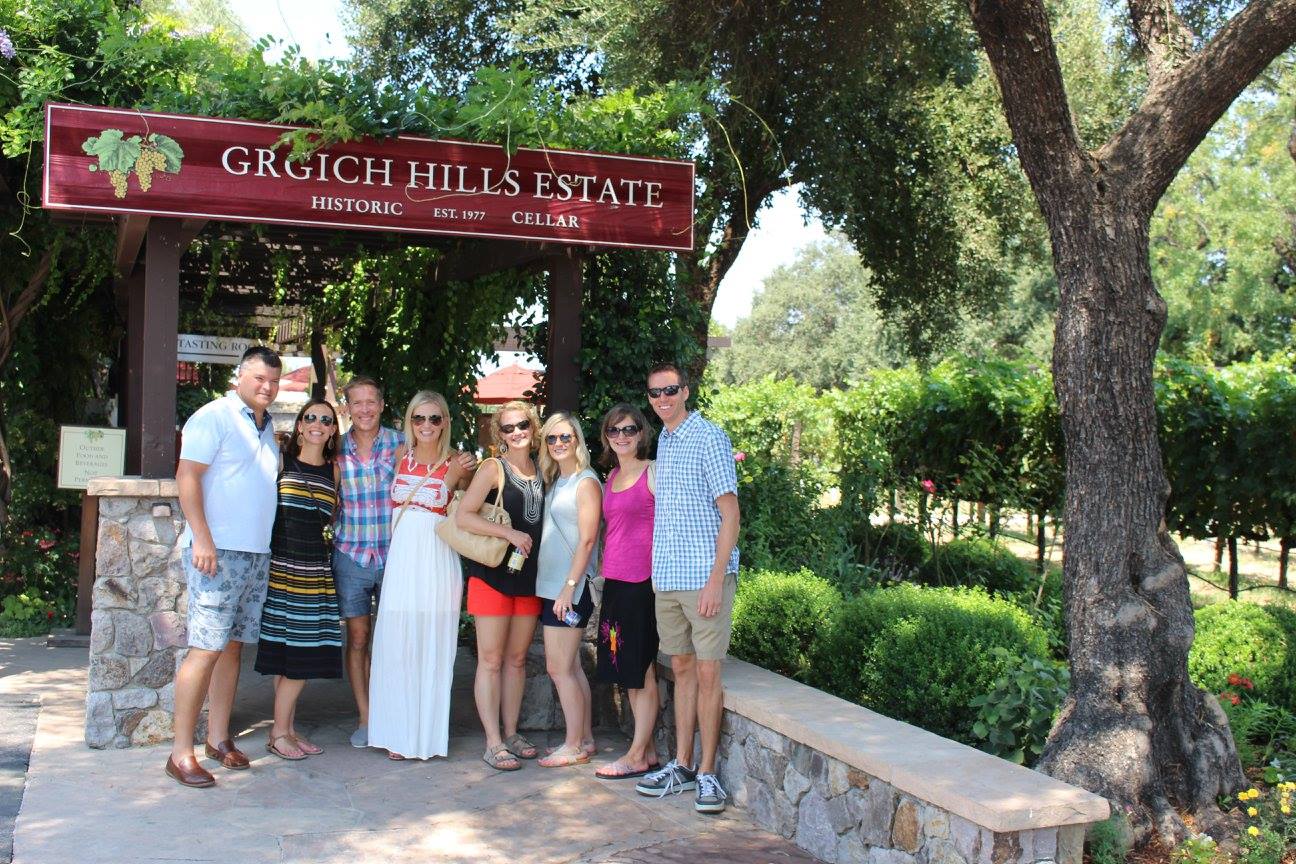 Then Peju Provice Winery:
Then Beaulieu Vineyard, or "BV:"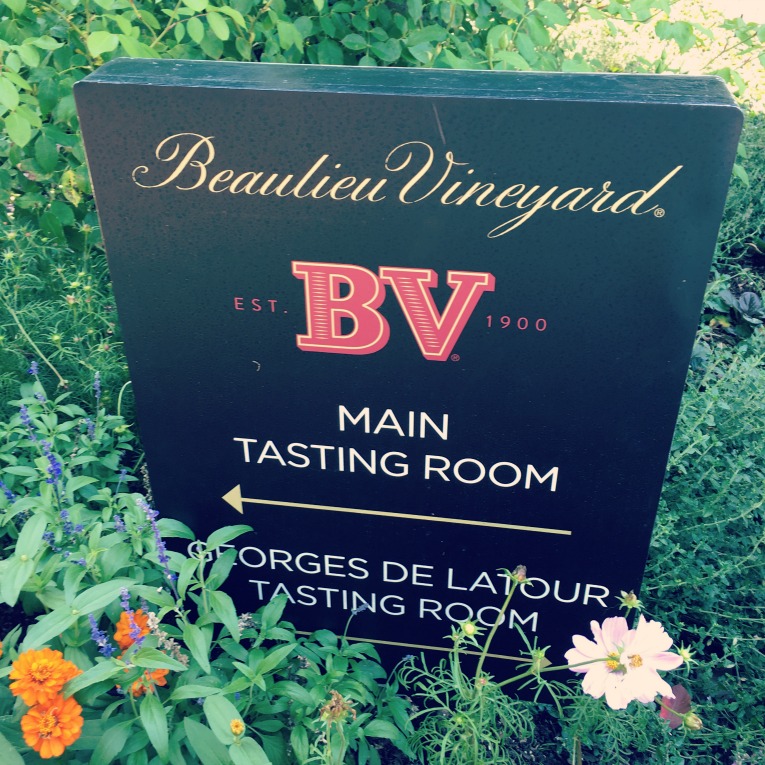 We had a fun time at this tour with our guide, "the Real Kenny G." Good times. Lots of laughs.
The whole tour went until about 3 pm. The driver brought us back to the house, where we rested for a bit before UBER'ing it back to downtown Napa to shop and explore.
You can bet I was drawn right to the Napa Running Company! I bought a pair of Oiselle shorts (the Lori shorts in denim– I LOVE THEM!) and a Patagonia running hat (this one). This was a very cute and well stocked running store. TONS of great apparel.
Eventually we grabbed dinner at Velo Pizzeria. The birthday girl and her husband had dinner at French Laundry (where they ran into Sean Penn!), but the rest of us weren't lucky enough to score a reservation there (basically one of the best restaurants in the country I've read!)
Instead, we headed back to the house after dinner for games- some Cards Against Humanity, Truth Be Told, and some time in the hot tab. The house we rented had an amazing background with a garden that had lime and lemon trees, as well as a secluded little hot tub.
Saturday morning, I ran with 7 miles with my sister Erin. She's training for the Twin Cities Marathon October 9th. I can't wait for her to experience one of my favorite marathons!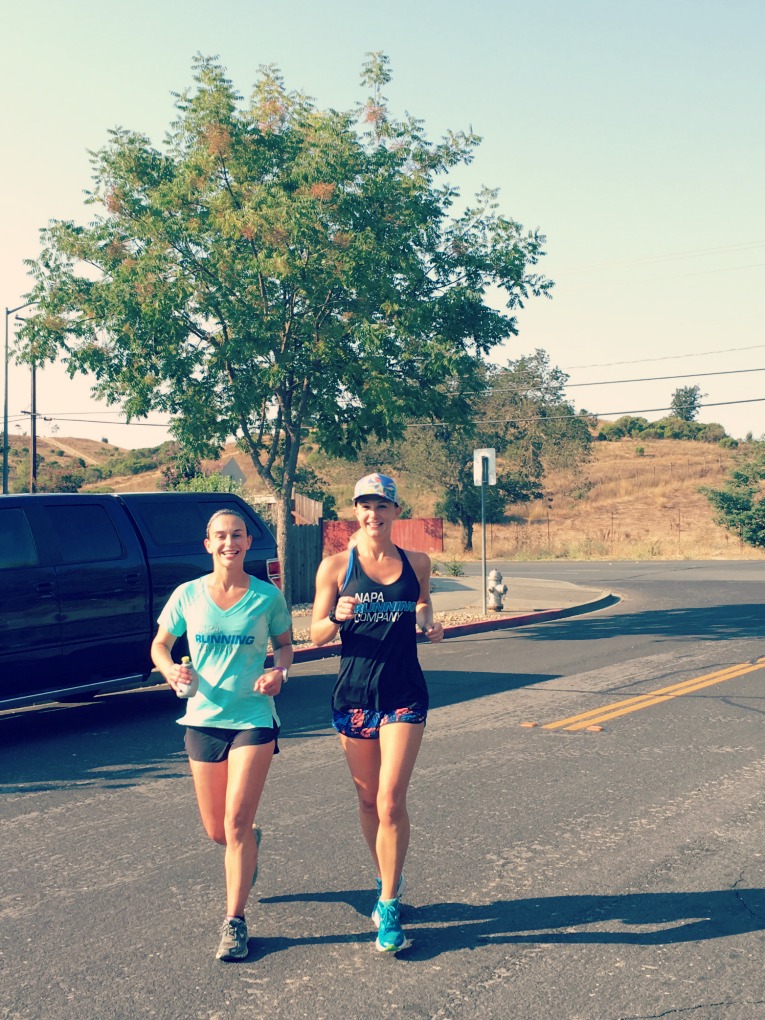 We saw all kinds of wildlife on our run.
Turkeys…
Dinosaurs!
After the run, we all went to a very cool private tasting a a winery called Covert Estates. My brother-in-law works with the brother of the owner of this amazing place. Probably the best wine I've had and a very cool venue.
This winery was definitely a highlight of the trip.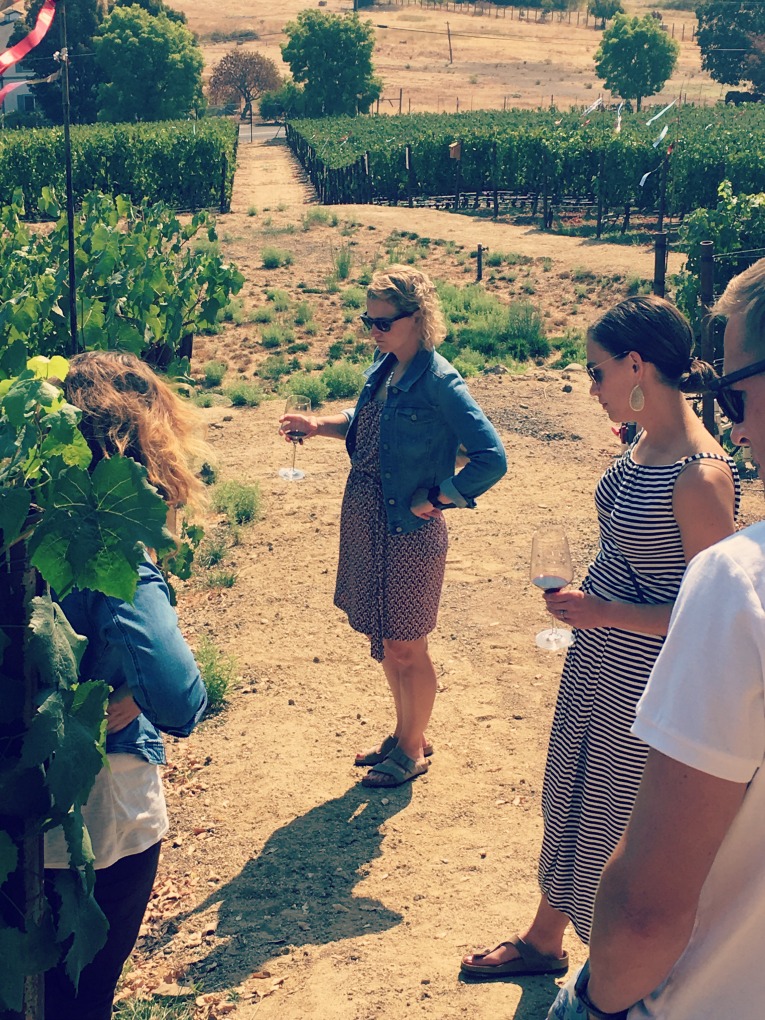 After the tasting, half of the group rented bikes to explore Yountville, but Dustin and I had reservations in Calistoga at Indian Springs Spa for a MUD BATH.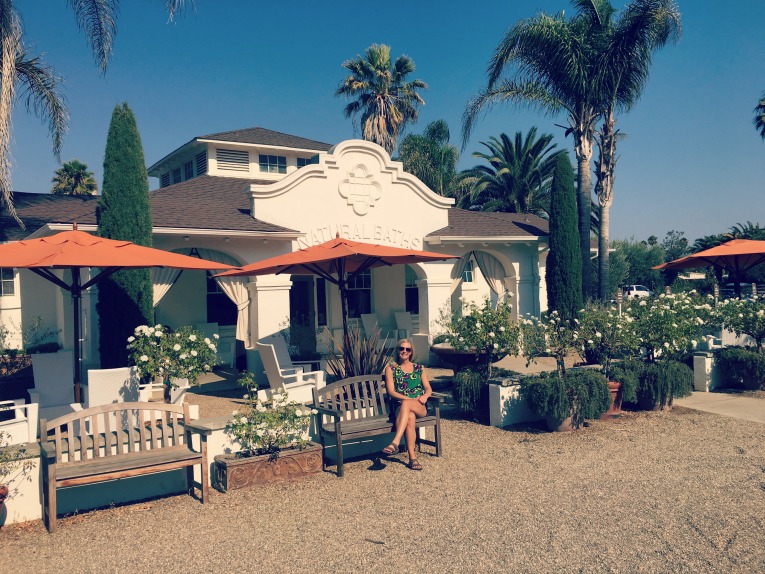 Yes, a mud bath. Volcanic MUD.
It was actually a very cool experience that I would recommend doing- very unique to the location. You can read all about how it works here. It was very cool and relaxing and supposedly sucked all those toxins from the wine away! We also had lunch at Sam's Social Club at the spa and then paid the extra money to hang out at the thermally heated pools, which have been around since 1910! I loved the retro vibe of the place.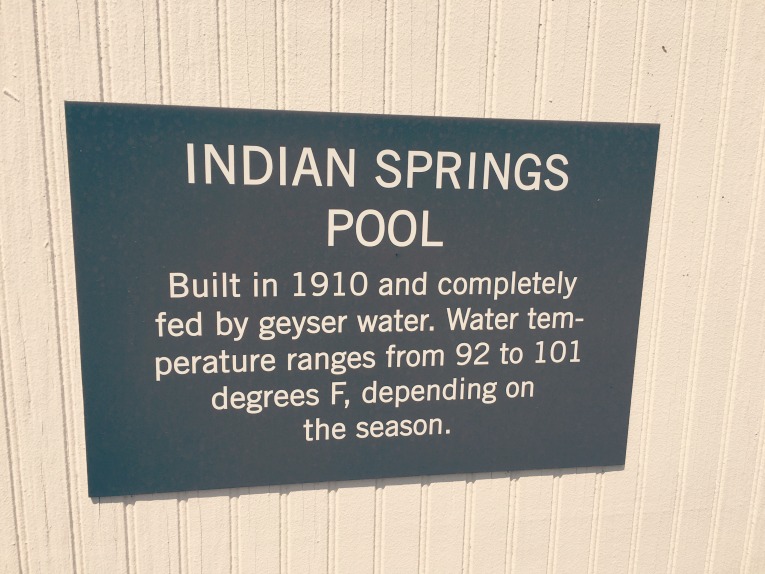 Eventually we had our fill of the sun and drove back to Napa.
We all hung out more at the house playing more games, enjoying some of the wine we had purchased the day before, and then eventually Uber'ing it to a group dinner at Bistro Don Giovanni. It was a great restaurant for a big group.
It was a short trip, but such a blast. I'd love to come back in the fall to see the harvest. Even though we tasted a lot of wines, there are SO many more wineries- so many! It's kind of overwhelming.
I would have also have enjoyed a hot air balloon ride and I have heard that the wine train is a unique experience. There are probably even more beautiful places to run as well; we only had time to see a small fraction of the area. But between running, wine tasting, the mud baths, and dining, I do feel like we got a solid experience of Napa. I would definitely feel much more informed going there again in the future. Next time, I might stay in Yountville or St. Helena, as they both had cute downtown areas for shops and restaurants. But our VRBO in Napa worked out very well for a big group.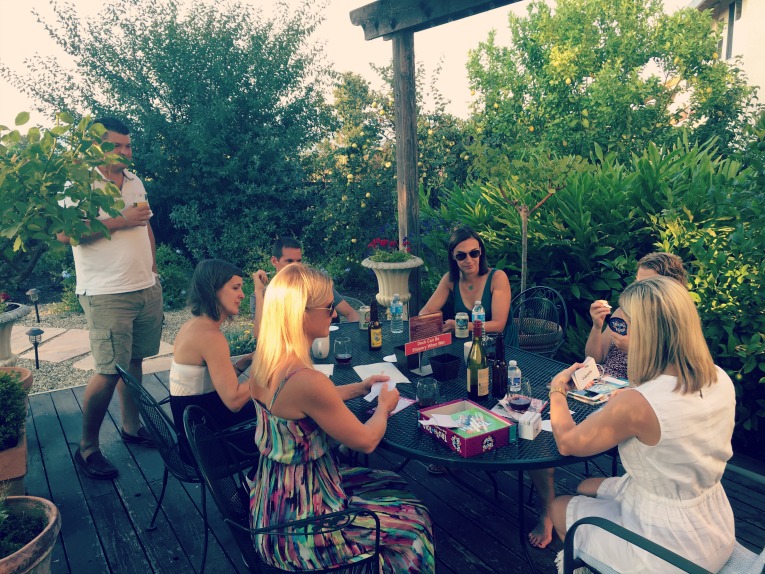 I could never be a wine expert, but between Friday's more traditional tour and Saturday's private tour at Covert, I feel like I received a crash course in "Napa Wine 101!" I think my palate got an education 🙂
All in all, a very fun place to explore with my sisters and a wonderful celebration of a 40th birthday.
I can't wait until the next 40th birthday trip!
Where should we go?
MORE DETAILS OF TRIP:
Napa:
Accommodations: THIS VRBO– 4 bedrooms, 3 bathrooms, very big, great hot tub and patio with a view of the hot air balloons!
Restaurants in Napa:
Velo Pizzeria
V. Sattui Winery (lunch)
Bistro Don Giovanni– great for big groups
French Laundry (not me, but my lucky sister!)
Southside Bakery (for breakfast)
Indian Springs Calistoga (for a swim and a mud bath)
Sam's Social Club at Indian Springs Spa (lunch before your mud bath)
San Francisco:
Accommodations:
Grand Hyatt in Union Square
Food/Drinks:
Mateo's Taqueria in Mission – great tacos for lunch
A.B.V. for a cocktail
Vesuvio – famous with all the cool Beat generation celebrities
Il Casari Mozzarella Bar for some pre-20 mile carbs!
Street Taco in Haight/Ashbury
BOWLD Acai
Blue Bottle coffee
Other:
Golden Gate Bridge- obvi 🙂
City Lights Bookstore
Paxton Gates store -ethically sourced taxidermy and curiosities. Very neat!
…the rest of our time in SF, we just wandered around and explored the different neighborhoods. It's a very walkable city (though very chilly in August!)
I don't mean to sound too corny, but I will treasure the time I had on this trip with my sisters. I didn't always love having four sisters, but I do now!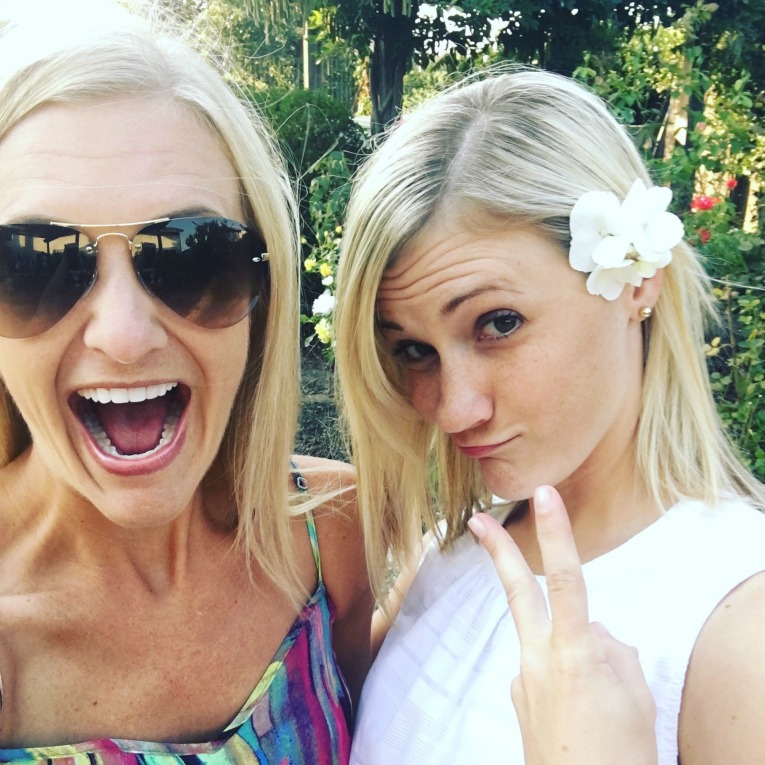 (Visited 1,152 time, 1 visit today)