In addition to my normal weekly recap of training, I'm sharing a recap of our trip last week to the Boundary Waters Canoe Area (BWCA).

Backpacking, paddling, and adventure- those are fitness related, right?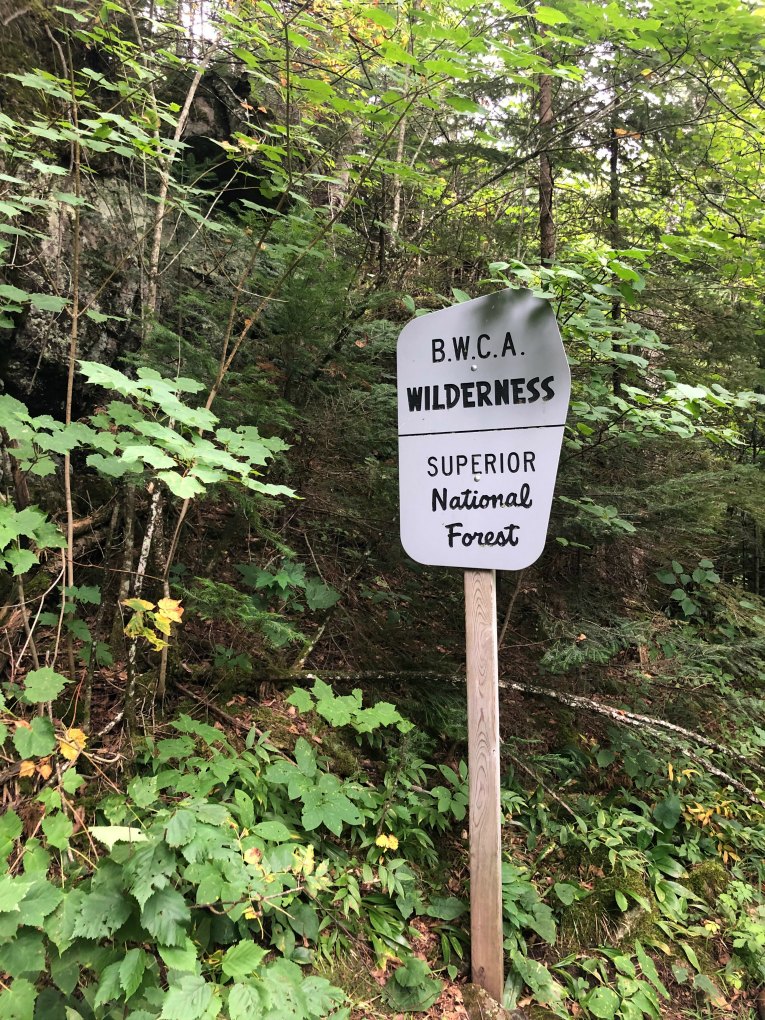 If you have been reading for a little while, you'll remember that Dustin and I went to the Boundary Waters last August 2020 with our two vizslas (Read about that trip HERE.)
This time, the trip was with 3 of my 4 sisters and their husbands, so 8 of us. The maximum number of people allowed at a campsite is 9, so it's probably for the best that one sister/husband were unable to attend, though they were missed!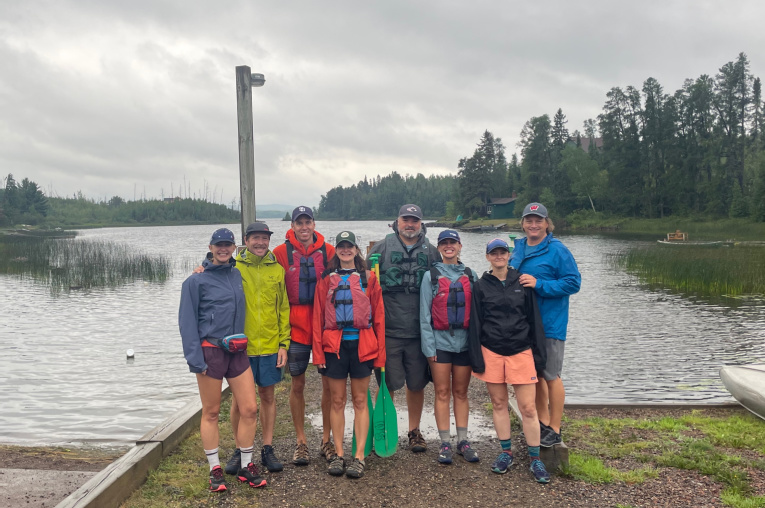 With such a big group, we decided it was best to leave the pups behind this time, though I really hope to bring them there again in the future!
(Picture from the 2020 trip with the pups!)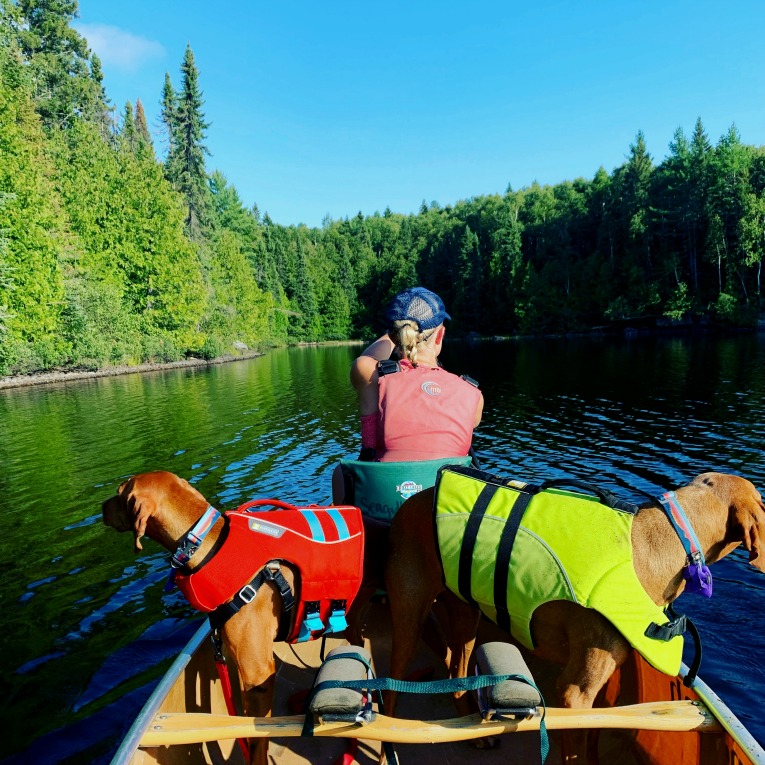 The purpose of this trip was to celebrate my upcoming 40th birthday. My sisters have a tradition of taking a trip together for each 40th birthday. For the oldest, we went to NYC, then Napa for the next, then Florida for the middle sister, and now me! I don't actually turn 40 until October, but it's too cold to go to the Boundary Waters then, so we planned this celebration trip a little earlier.
This kind of trip was a bit outside of the norm for most of my siblings and their spouses, but I think it's safe to say it was a fun adventure that we will all remember for years to come!
Though its a little late to plan a trip this year, I highly recommend anyone reading this to look into visiting next year. Hopefully this post is helpful in planning a trip if you do decide to go!
The BWCA is a Minnesota gem; it really is an incredible place that anyone with an interest in camping and the outdoors should visit at some point in their lives. It's beautiful, peaceful, but also quite an adventure!
Tuesday, August 10:
We left Minneapolis around 10 am. It is about a 5-hour drive from Minneapolis to Grand Marais, Minnesota, where the Gunflint Trail starts. You can also enter the Boundary Waters through Ely, Minnesota, which is a shorter trip from Minneapolis, though I have only ever gone in through the Gunflint Trail.
If you're flying to Minnesota for your trip, you could fly into Duluth to cut the drive in half and rent a car there. Two of my sisters and their husbands did exactly that, and flew into Duluth for this trip, so my local sister and her husband drove their van up and we drove our Volvo up; for 8 people, two cars were needed for all the gear!
Unfortunately, my sister Emily and her husband's luggage didn't make it from Ohio for the 2 pm flight. Instead, they were told that it would be on a later flight arriving after 10 pm.
The BWCA isn't the sort of trip where you can live without your luggage, so they decided to hang out in Duluth with our car and Dustin and I squeezed into my other sister's mini-van and headed up to the Gunflint Trail!
(Emily and her husband didn't arrive to the outfitter until about 2 am- yikes!)
We headed down the Gunflint Trail to our outfitter, Seagull Outfitters, which was about another hour drive from Grand Marais. They closed at 7; we arrived at 6:30, but unfortunately they told us that it was too late to go through our gear and discuss a route as we had hoped to do that evening.
So instead we drove back down the Gunflint to the Trail Center Lodge for dinner. There are limited options on the Gunflint Trail, just the Trail Center Lodge and the Gunflint Lodge. The Gunflint Lodge requires reservations, which we didn't have, so Trail Center Lodge was our only option for food!
You are really UP there in the middle of nowhere for this trip.
Our BWCA Outfitter:
This was our fourth time working with Seagull Outfitters. We rented two 4-person tents through Seagull, as well as our Kevlar canoes. We brought a 3-person tent; keep in mind that "4-person" is generous, so we put 3 in a 4 person, 3 in a 4 person, and 2 in our 3-person.
We had Seagull supply/organize all of our food, though going forward, I would probably do that part myself and save quite a bit of money. We have our own bear barrel now, but since Seagull planned our meals, they asked us to use theirs.
A "bear barrel," is essentially a hard-sided lightweight barrel with a locking cover, backpack type straps for carrying it, and anther strap to secure it to a tree, far from the tent of course, to prevent bears from getting to the food.
Most meals were dehydrated packages where you just add boiling water (made on the little camp stove we brought along.) There were some more perishable type food items that were in a cooler bag that we were to eat on the first day, but generally everything else was non-perishable.
(This chicken pad Thai rehydrated meal was actually quite good!)
Another benefit of working with an outfitter is that we could stay in their bunk house Tuesday night, so that we could get an early start on Wednesday morning. I think a key to a successful BWCA trip is an early start each morning!
Each bunk house room had eight beds, (four bunk beds), and there was a shared bathroom/shower for all guests staying in other rooms. They provided us with a simple breakfast (yogurt, cereal, juice, coffee, an apple) for the morning of our departure as well.
After getting everything sorted out for our Wednesday departure, we drove back down the Gunflint trail to grab dinner from the Trail Center.
Wednesday, August 19:
Departure day! Since we weren't able to meet with the outfitter Tuesday, we met with them at 6:45 am instead. It was raining at the time; I was definitely a little worried that it was going to be a tough start in the rain!
I remember being nervous the first time I headed off for this type of trip- would I be 'tough' enough? What if something terrible happened, like an injury or severe weather? Was it going to be a terrible time?
This time, I wasn't as nervous about myself, but worried about my sisters; what if they hated it?

Remind you, there is no cell phone service and we did not have any sort of satellite phone!
The Outfitter provided us with a ride to our entry point, which was the Missing Link Lake entry, #51.
Along with the canoe, paddles, and lifejackets, we had the bear barrel with our food, plus a pack with all our gear (tent, etc) and another Duluth pack of other necessities. And the packs were heavy!
Upon entry, we paddled a bit before our first portage from Round Lake to Missing Link Lake and then paddled across that lake to portage over to Cross Bay Lake, then another tough portage into Snipe Lake.
Those two portages were both quite challenging, and our gear was at its heaviest (i.e. food, wine, all at its max for the trip!) There was one point on a portage where I was carrying the heaviest bag ever, which caused my balance to be off, and I fell on a steep rock. I seriously couldn't get back up! My sisters had to help me. We were all struggling a bit and I'm sure the newbies were a bit shocked at how hard things were.
But we kept pushing through…
When you portage your canoe, you carry it over your head, like so:
There were a few times that the water was so shallow that we had to get out and walk through mud and carry the canoes like this:
We got lucky after the full morning of paddling and portaging and found a campsite on Snipe Lake as we had hoped to- and it was an island campsite! The campsite are all pretty far apart- it would be rare to see someone else from your site, they are generally pretty distanced. But having a whole island to ourself was even better; perhaps that also meant less of a chance of bears!
All sites are first-come, first-serve, no reservations for the sites, so if you don't find a site, you have to keep moving on to the next lake. The number of permits is limited per day, which is supposed to help keep the numbers down. We were lucky the whole trip in that we never struggled to find an open site, but that also could have been because we always started paddling between 8-9 am, and then were at our (hopeful) destination by lunch time.
By 1:30, we had our tent set up and were stuffing our faces with turkey sandwiches from our food barrel. (Eat the perishable food first!)
It was warm this day, so we took a dip in the lake before relaxing at the campsite.
Can't beat those Boundary Water sunsets, with only the sound of an occasional loon!
Thursday, August 12:
After a some pancakes and bacon (pre-cooked), we packed up our campsite and headed out for more paddling and portaging!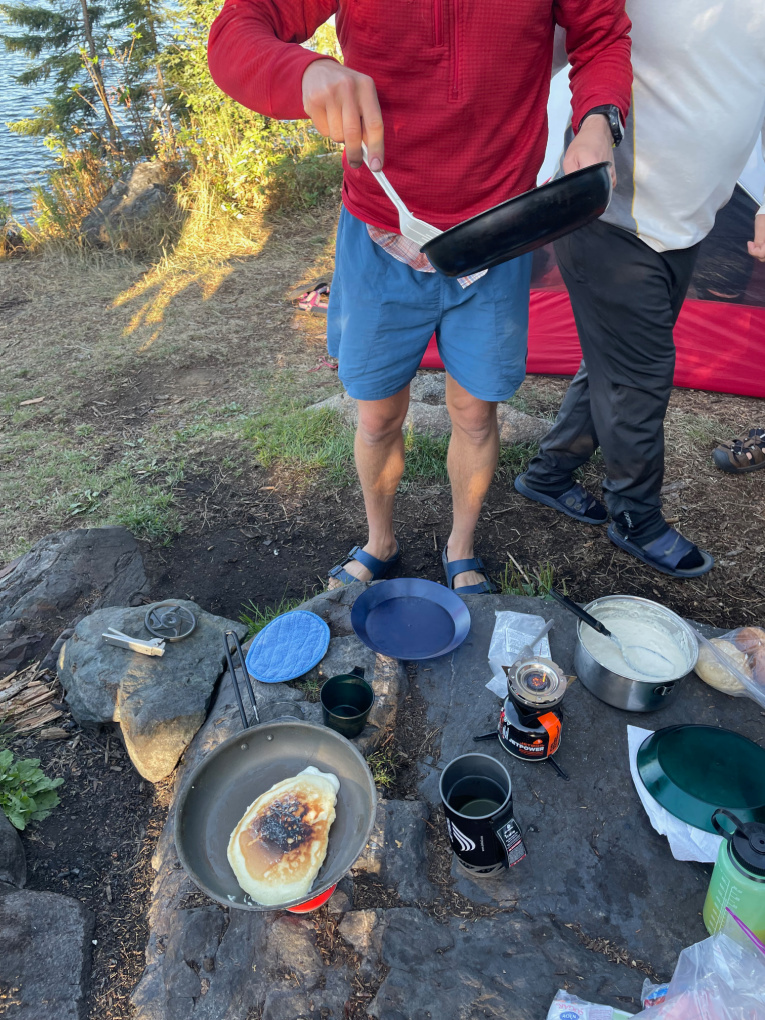 We made our way to Long Island Lake, where again we totally lucked out with yet another island campsite! This site was HUGE and really awesome.
The only downside was that it was especially windy this evening- and chilly! But we had a good time and enjoyed Long Island Lake.
Friday, August 13:
An early morning breakfast of a rehydrated breakfast scramble before a full morning of paddling/portaging from Long Island Lake back through Karl Lake to Lower George to Rib Lake (so so windy- a few meltdowns on this lake led to a re-arrangement of the pairings in the canoes)- and finally we ended at Ham Lake, where again we had multiple sites to choose from!
We set up camp while it rained on us, but thankfully it stopped and we could enjoy some peanut butter and jelly sandwiches.
Gourmet chef Jessie!
This was our coldest night yet- I could see my breath at night and we all wore ALL the layers we had brought and zipped up snug in our sleeping bags. What a difference from the record setting heat in the rest of the state!
We were treated to quite the meteor show that evening. Everyone managed to stay up relatively late to watch the stars on our last night in this gorgeous location.
Fishing is a popular activity of course in the BWCA!
I was really hoping to see a moose on this trip, but unfortunately we did not. Plenty of bald eagles though!
Saturday, August 14:
Another early morning breakfast, this time just oatmeal, before packing up camp for the final time.
We had a much calmer morning wind-wise.
We enjoyed some easier paddling on our way from Ham Lake to an unnamed lake to Cross Bay Lake where we were picked up by the outfitter.
We made it! Even though there were some challenges and stresses, I think everyone was really proud of themselves for toughing it out for a full four days in the wilderness. Everyone learned a lot about filtering their own water, setting up camps, paddling, and more.
So many laughs (seriously have never laughed so hard!) and memories, I am so grateful to have had this experience with 3 of my 4 sisters and their husbands. What a wonderful birthday celebration!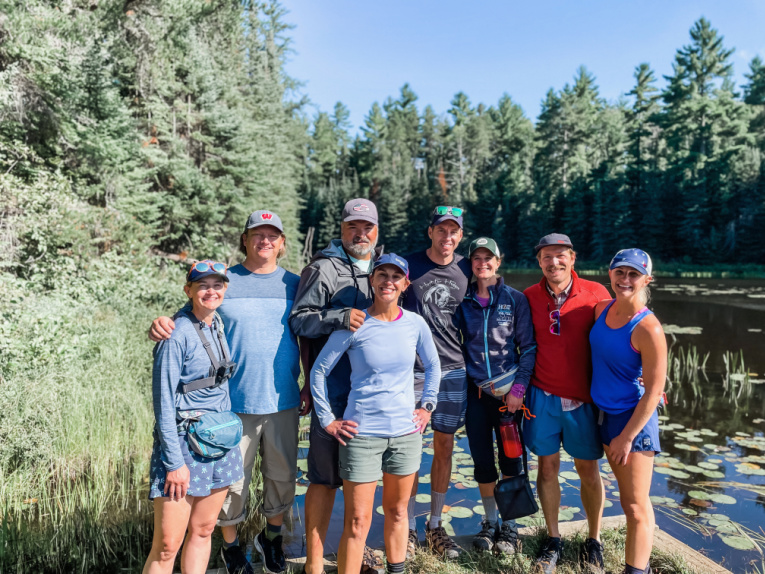 Other things to do know about a trip to the Boundary Waters:
The rules for bathing or cleaning dishes in the Boundary Waters are as follows:

"To wash yourself or your dishes, carry water 200 feet away from streams or lakes and use biodegradable soap. Scatter or spew soapy water far back in the woods from your campsite and away from water sources. Biodegradable soap is not considered biodegradable when dumped into the lake or river. It takes soil for it to breakdown properly.
A PackTowel is a good option to bring for when you do get in the lake, rather than a regular towel. It barely takes up any space at all!
What about the BUGS?
Generally, most people say that the bugs in the Boundary Waters are insane. But every time we have gone in August, the bugs have been essentially non-existent. This time was no different. I could not believe it, but I don't have any mosquito bites! There were also several portages that were really tight, where during tick season, we would have for sure been coated in ticks.
Don't get me wrong, we did take preventative measures against the bugs. We treated our clothes and gear with permathrin. I sprayed myself with 100% DEET (I used this brand.) I brought along this bug suit that several friends swear by, but I didn't need it. In fact, most evenings, we sat outside until the sunset and the mosquitoes just weren't a problem. It was shocking! In summary, the bugs in August are nothing like the bugs in June and July.
I mean, there were SOME bugs. Like this creepy beetle!
Where do you go to the bathroom?
All of the campsites have a latrine somewhere nearby; they are often quite a hike from the actual campsite and are just a big pit in the ground. Bring your own toilet paper and hand sanitizer!
Note that if your trip takes you across the Canadian border (which requires a different permit), there won't be latrines at the campsites; you'll need to dig your own trench to bury waste or carry it out.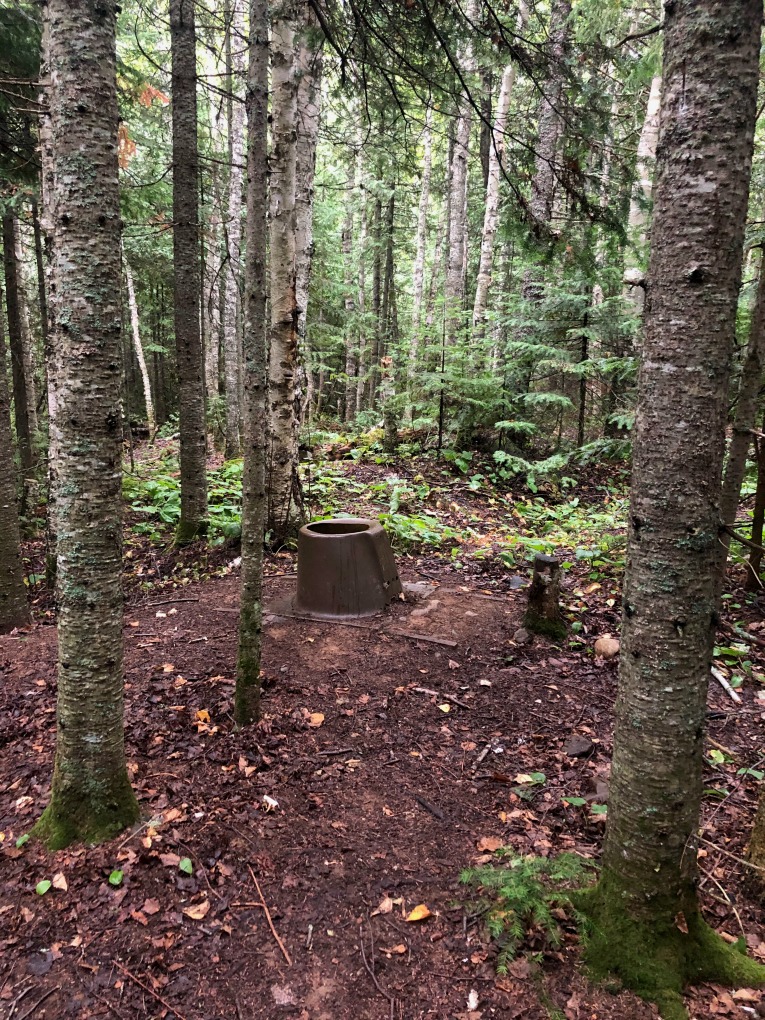 Yikes! 5 days without a shower. How did I handle it??
I admit that I can be a little high-maintenance day-to-day, but I'm proud of myself for also being able to be outdoorsy when I need to be. Of course, I very much was looking forward to sleeping in our king bed with soft sheets and my pillow!
A Water Filter:
Ours is a Platypus WaterGravity High-Capacity Filter System. It was quick-working and easy to use. Yes, you will need to filter your water for cooking, drinking, etc. Some people say that you can safely drink straight from the lake, but I wouldn't risk it! You can rent a filter from your outfitter too if you don't want to purchase one.
NUUN- lots of it!
Even after filtration, the lake water might have a bit of a funk. We brought a few tubes of NUUN along to throw into our Nalgene water bottles to make the water taste better. Our outfitter also included several packets of Crystal Light, but I didn't love those flavors that much.
Waterproof Sandals:
Your feet are going to get wet; you generally unload the canoe with your feet in shallow water. I also brought along my Goretex Brooks Cascadia trail shoes, the same ones I brought along to Antarctica when I ran the marathon there.
I wore the Brooks for the paddling/portaging as the portages were treacherous (in my opinion!), and I wanted full foot protection.
But a pair of Tevas were great for hanging out at the campsite.
And when I wanted to, I could rock the ever-fashionable socks/sandals look with dry SmartWool socks!
SmartWool socks:
A must. I brought 3 pairs and could have used 4, since I often got them wet with my Brooks Cascadias when paddling and it was good to be able to alternate a dry pair at the end of the day.

Rainjacket/rain pants:
Though we got lucky and didn't need them, that definitely isn't always the case! I brought the same jacket and pants that I brought to Antarctica.
Boxed/bagged red wine:
…if you're into that sort of thing.
Beer or white wine doesn't make sense since you really can't bring coolers plus glass and cans are forbidden. Everything you bring, you have to carry across all those portages. Weight matters. Plan accordingly!
The Right Fit in the BWCA?
Truthfully? I mostly wore Oiselle, sprinkled with a little Patagonia. I had one SmartWool sports bra, but most everything was Oiselle, even my hat.
A bag in the car with clean clothes for that post-BWCA shower.
Be sure to pack your favorite shampoo and scented lotion for that post-camping shower!
It felt like a 5 star spa in that bunk house shower! Putting on clean, dry clothes after a hot shower was seriously heaven. I often say a post-flight shower or a post-marathon shower is the best type of shower, but a post-BWCA shower could definitely top those.
If you have any questions about our trip, our outfitter, our gear, or anything else, please don't hesitate to ask!
I'm linking up with Running on the Fly and Confessions of a Mother Runner as part of their Weekly Rundown. Check it out!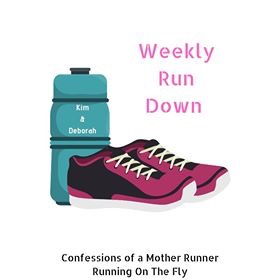 (Visited 2,039 time, 2 visit today)