This was an odd week of training- not as much running, but a whole lot of paddling and portaging in the Boundary Waters Canoe Area. If you're curious about the BWCA, I hope to write a more detailed post about our adventures, but Dustin and I also went last summer and I wrote about that trip HERE.
On to the recap!
Monday: 6 miles with Christie, Sarah, and Ruth the vizsla pup! 9 min/mile average.
Barre at the Bar Method after work.
Tuesday: A longer run with some alternating marathon pace and tempo pace in the middle, (2:30 tempo, 4:30 marathon pace straight for 7 sets or 49 minutes of straight work), 9.4 miles total, 8:45 min/mile average. I had to modify the marathon pace a little to still be able to pick it up for the tempo, as it was pretty humid out there. But I got it done, and was happy to have that one behind me before we hopped in the car to head up the North Shore to the Boundary Waters!
I have 4 sisters (yep, there's 5 of us total!) We've started a bit of a tradition when each sister turns 40 of taking a trip together. For the oldest, we went to NYC, then Napa for the next, then Florida for the middle sister, and now me! I don't actually turn 40 until October, but it's too cold to go to the Boundary Waters then, so we planned this celebration trip a little earlier. It was outside of the norm for most of my siblings and their spouses, but I think it's safe to say it was a fun adventure that we will all remember for years to come!
One sister and spouse had to drop out, so there were 8 of us on this trip: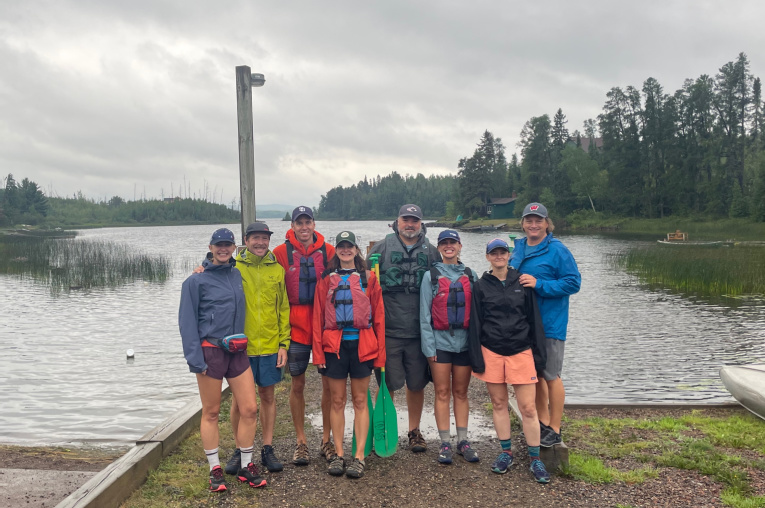 I plan to share more about our trip this week, but decided to just a short recap post for this week instead here, so I'll gloss over the BWCA part.
Wednesday: Entered the BWCA bright and early. Paddling and portaging was my exercise!
Thursday: Day 2 in the BWCA, lots more paddling and portaging.
Portaging means carrying all your gear AND your canoe over dry land to the next lake. This isn't car camping; everything you need, you carry with you.
I was proud of myself for portaging a canoe all by myself!
Friday: Day 3 in the BWCA. Guess what? More canoeing and portaging.
Saturday: We survived! We exited the BWCA around 10 am, made our way back to the outfitter to shower (after not showering for 4 days, that felt amazing!), packed up the car and headed back down south. We stopped in Grand Marais for lunch, then drove to Duluth for the night, as the two sisters/spouses who flew in had flights on Sunday out of the Duluth airport.
We had a fun final night in Duluth with dinner at OMC Smokehouse and beers at Bent Paddle.
Sunday: Dustin and I were up early to take one of my sisters and her husband to the airport. Then we headed out for a long run along the Duluth lakeshore path.
After 4 days of not running, I thought I'd feel refreshed, but I was pretty tired! I managed 15.75 miles, with a few sets of 2 miles at marathon pace, 1/2 mile recovery in there.
Hello Lake Superior!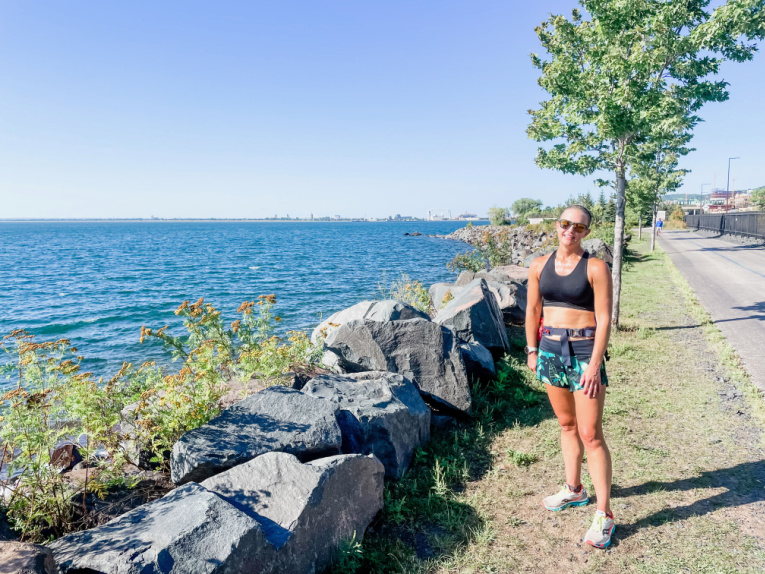 After the long run, we showered and hit the road to go back to Minneapolis.
Summary: Only 31 miles of running, 1 barre class, lots and lots of canoeing and portaging. I'm tired!
I'm linking up with Running on the Fly and Confessions of a Mother Runner as part of their Weekly Rundown. Check it out!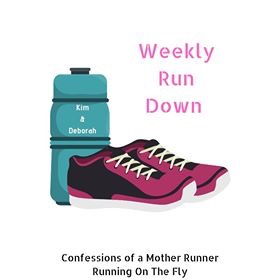 (Visited 219 time, 1 visit today)