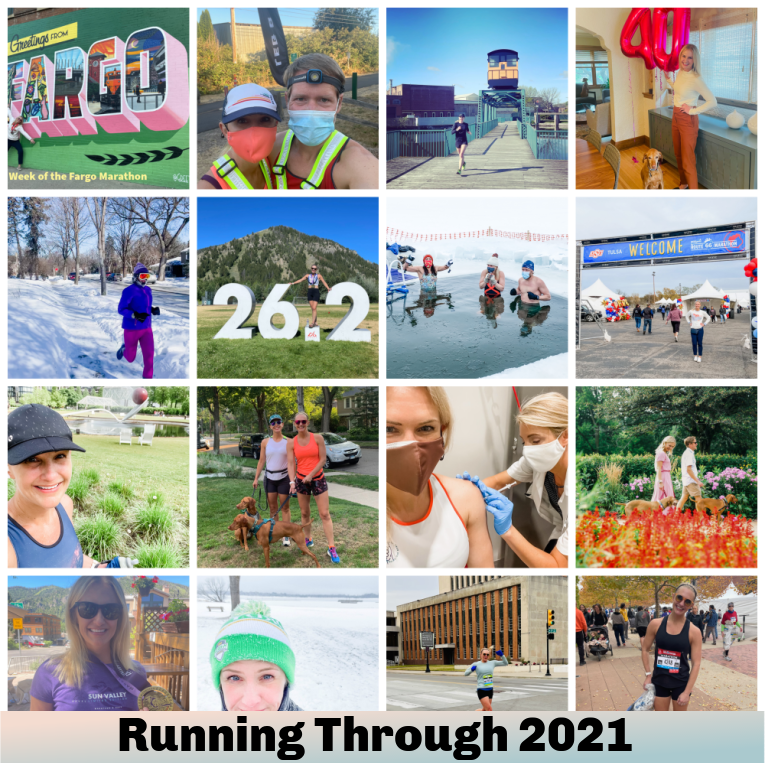 Happy New Year!
I love to look back at my little space here on the internet each year-end and reminisce about running (and life) over the past 12 months. I've had this blog for many many years; my main reason for keeping it going is to be able to have an online journal of sorts to look back on!
So here goes- a quick look back on the year of 2021!
January: Like many Minnesota Januarys before it, January 2021 was a mix of cold, snowy runs and basement treadmill runs.
It was still very unclear if/when marathons would return, so I was just running for the fun of it. It was really the only time I was hanging out with friends at the time- outdoors felt safer, so running was my social life!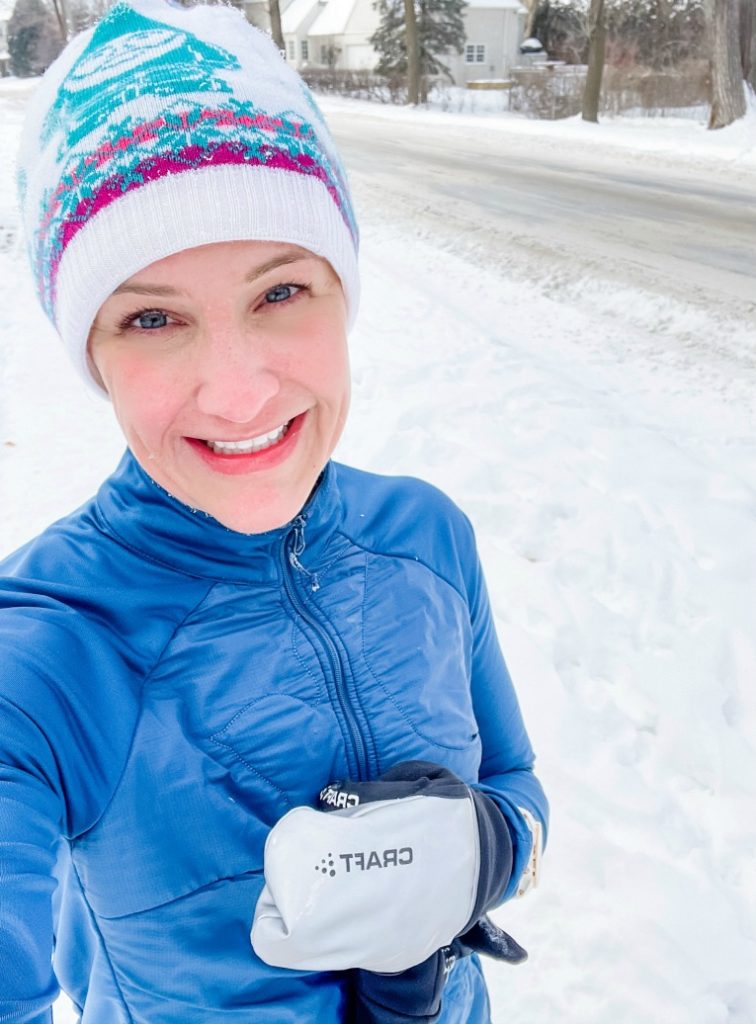 There were a few ice baths in Lake Harriet too in January 2021. What a rush. Definitely want to do that again in 2022!
February: I think I had a temperature "PR" run with a President's Day run at actual temperature of -14. Yikes. Plenty of treadmill time this month, but at least it was a short month!
March: Optimism, sunshine and warmer runs!
News of the vaccines was promising; like many others, March had me feeling hopeful about the end of the pandemic.
March also gave us some incredible sunrise runs!
April: Vaccinated!
I naively thought the vaccines meant the end of the pandemic, but as we know now, that wasn't really the case.
But the vaccines did mean the return of some smaller marathons; during this month, I registered for the Sun Valley, Idaho marathon and was back into serious marathon training. Woohoo!
May: May included a visit back to my hometown of Beloit, Wisconsin for my grandmother's funeral; I lost both grandparents to Covid/Covid complications over the pandemic. It was a sad reason to get together, but it was lovely to see family again.
May was also a big month of training for the Idaho marathon.
Spring had sprung! Running was so much more fun in the sun.
June: I just love summer…June was great.
I ran my first marathon since Atlanta in March 2020, my first marathon "post"-pandemic. It had been quite a long time! Read all about the Sun Valley, Idaho marathon HERE.
I think I had hyped up this marathon in my head- a downhill marathon, my comeback race, perhaps a big PR!
But it didn't go quite as well as I had hoped…but it was still awesome to be running a marathon again. We had a fabulous time in Idaho.
July: The heart of summer. This month included a 4th of July 5k and then diving into training for the Fargo marathon!
My niece had a graduation party so my sister Erin and her family were able to visit for a long weekend. She even brought her vizsla Ollie, who joined us for some runs!
My running friend Isabelle also got married in July. A lovely month!
August: One of August's highlights was a Boundary Waters Canoe Area sister trip for my 40th birthday. Read all about that adventure HERE.
I also had a blast at the Hood to Coast relay race in Oregon. My first relay!
September: I ran the Fargo Marathon in September and had an incredible time. I felt so strong the whole way, and had such a blast. Great weather, great course, great times.
This marathon was most definitely a highlight of September! Read all about it HERE.
October: In October, I tagged along with Dustin to Boston where he ran his 3rd Boston Marathon.
I also celebrated a monumental birthday in October. Officially a masters runner!
November: In November, Dustin and I ran the Route 66 marathon in Tulsa, Oklahoma. Read my full recap HERE.
Hills, wind, and more hills! It was still a good time, and I was happy to check Oklahoma off the list.
December: December started out strong with a trip to Arizona for my mother-in-law's 80th birthday followed by a few days of hiking and trail running in Sedona.
The month ended with snow and cold and miles on the treadmill, but that's okay- that's part of running in Minnesota in the winter!
What's on tap for 2022?

I'm racing the Charleston Marathon in January. Then I am running my 2nd Boston marathon in April; my goal for that is just to run faster than what I ran in 2017!
I haven't planned out much farther than than, as there are still a lot of unknowns. We deferred our Patagonia trip/marathon from 2020 to 2021, and then deferred again to 2022. We will probably defer that one again until 2023 when we can travel internationally with a bit more confidence that there won't be any cancellations.
Compared to 2020, 2021 was a bit more of a success with regards to the 50-state goal: 3 marathons for 2021, 3 states checked off my 50-state quest: Idaho, North Dakota, and Oklahoma.
According to Strava, I covered over 2,555 miles this year (excluding walks.) I also joined the Peloton community- only for strength training- but I have enjoyed adding that in my routine and hope that it helps to keep me injury free in 2022.
I've enjoyed sharing my journey here with you, and I am grateful for those of you who continue to read. I keep this online journal as a means to keep myself accountable as well as a place to reflect. I love how this blog has provided a really great community of friends and I look forward to continuing to share my running (and life) in 2022.
Cheers to YOU and wishing you all the best in the upcoming year!
(Visited 270 time, 1 visit today)