Last Saturday, I ran my 36th full marathon, and checked off North Dakota as my 25th state in my quest to run a marathon in all 50 states. (See the list of marathons I've run HERE.)
Dustin and I drove up to Fargo from Minneapolis on Friday, which is about a 3.5 hour drive. We arrived around 1 pm, had a quick sandwich at a Potbelly's chain, then went to the expo at the Fargodome. (The Fargodome is a sports center for North Dakota State University.)
Quick note- The Fargo Marathon is usually in May, but was postponed to September this year due to Covid. It's always a Saturday marathon though, which I LOVE!
It was a small expo, as expected for a small marathon. I believe there were about 800 marathon finishers this year, though there was also a half marathon, a 10k, a marathon relay, and a 5k, so the overall event is probably more like a few thousand participants.
It was crazy windy on Friday; I was worried about how the race would be the next day battling that wind, but spoiler alert, it was not that windy on race day- whew!
After the Idaho marathon that I ran at the end of June, I originally wasn't registered to run another marathon until the Tulsa, Oklahoma one at the end of November. But Dustin is running Boston in October (postponed from its normal date on Patriot's Day in April) so I decided to look for a race that I could do closer to his; we're usually training for the same marathons, so it would have felt odd not to be training when he was! It's a little silly, but I also kind of liked getting a state ahead of him on our 50 state quest- he'll catch up quickly, I'm sure. 🙂 We'll always plan to "finish" all 50 at the same time.
The Fargo marathon was the perfect option, as its just a short drive from Minneapolis and was rescheduled to September 25 this year. I was a little concerned about running a marathon in September, as it could potentially be pretty hot, even in the midwest. Yet I really lucked out with the weather- it was 45 degrees at the start and overcast. It probably got up to the low 60's by the finish, but honestly never felt that hot until right at the end when the sun came out. That sun makes a big difference!
Friday night was low-key as it should be, with a take-out margarita pizza from Rustica in Moorehead (thanks for the recommendation Sydney!) and lots of nuun hydration.
Race Morning: The marathon was scheduled to start at 7:30 am, and our hotel was about a 15 minute drive from the start line. My alarm went off at 5:30 am; I ate a toasted english muffin with peanut butter, drank a cup of coffee and some Gatorade and water, and put on my race kit!
The Right Fit in Apparel! Since the start line is inside the Fargodome, I didn't really need any extra throw-away layers, even though it was in the mid-40's at the start. I had originally brought along a shirt to toss, but I gave it to Dustin before I went into the starting corrals.
Can you find me in the corral?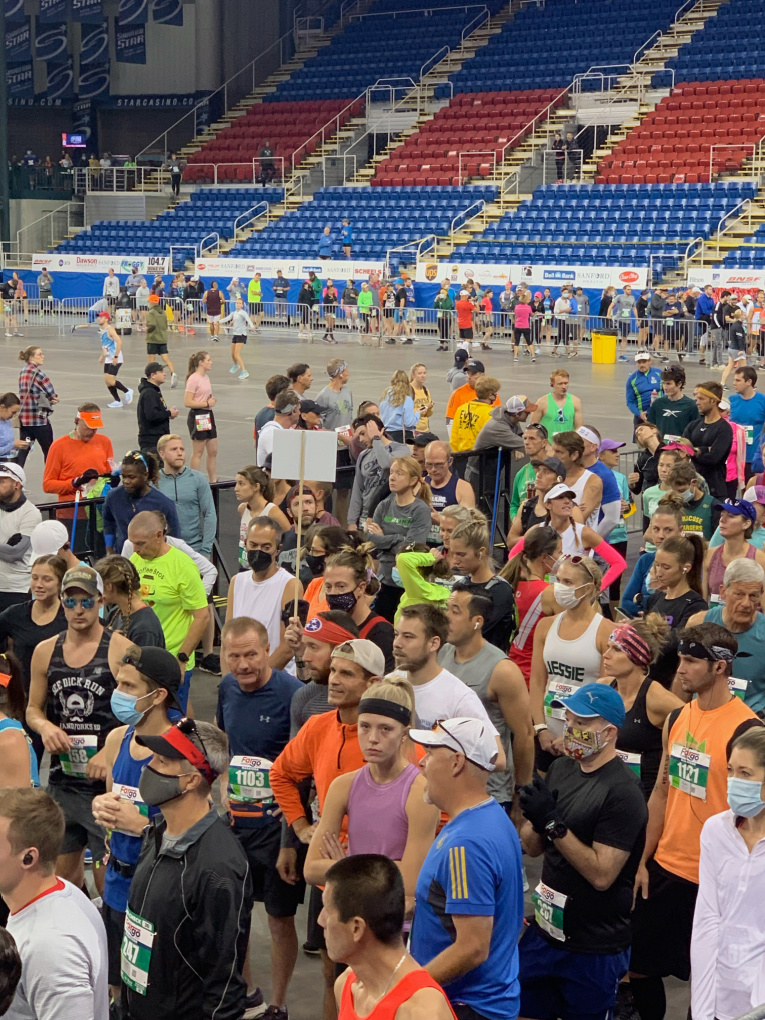 I wore a white (kind of more off-white) flyout racer-back tank from Oiselle, Tracksmith Lane Five Short Tights (my new favorites! The material is amazing and I absolutely love the fit), a Sweaty Betty stamina sports bra, Swiftwick socks, a pair of Goodr sunglasses that I wore on top of my head until the very last mile, and the Saucony Endorphin Pros for shoes (I've been wearing the Endorphin Speeds for training but the Pros for racing.)
Meb Kelfezighi actually posted once that he puts his bib on his singlet by first putting his singlet on a pillow- it worked pretty well for my bib and my name. I give you "Pillow Jessie" instead of Flat Jessie!
Start Line: Starting inside the Fargodome was quite nice; it was warm, there were plenty of actual bathrooms, and it was easy to get to the starting corrals!
Quick note: there was no mask requirement, vaccine requirement, or negative Covid test required at Fargo. I had to complete a survey on my vaccination status and whether I had been exposed recently, but that was it. Masks were encouraged, but as you can see in the above picture from the starting corrals, they were not very common.
I wore one until we were out of the dome and running; I actually had it around my wrist the entire race and never noticed it! I had brought another one in my shorts pocket to put on at the finish, but then just ended up putting the same one on from my wrist.
You can see it in the below official race photo: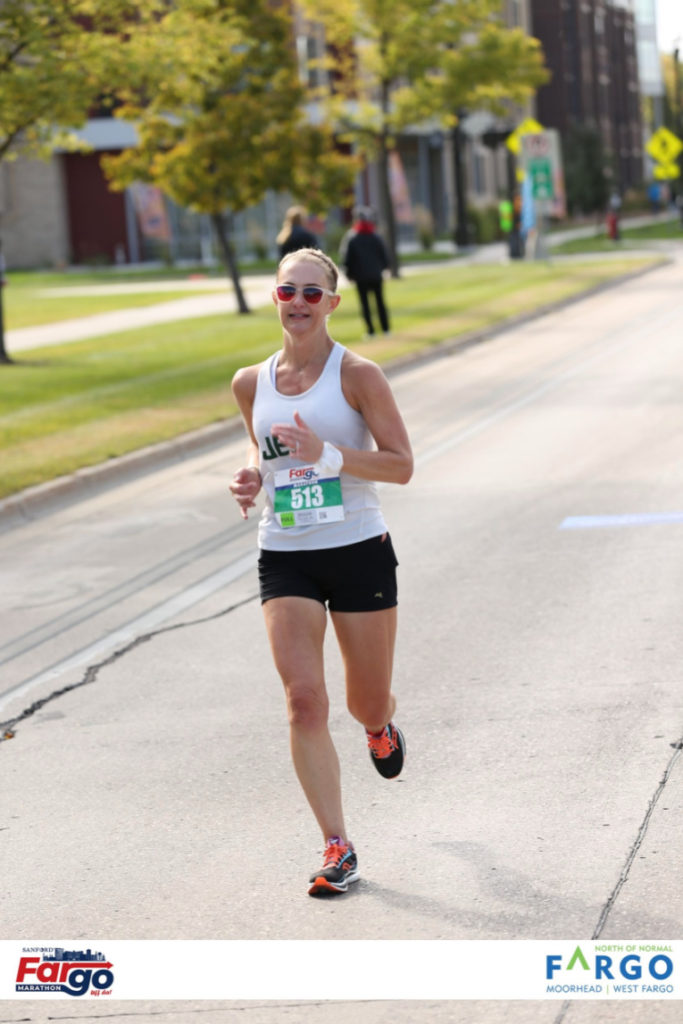 A nice thing about the Fargo marathon was the free race photos- all races should do this! I don't mind paying extra for registration if it means I get the pictures.
A few of the official race photos show me holding my neck as though I'm feeling for a heart beat – weird! I have no idea why I was doing that…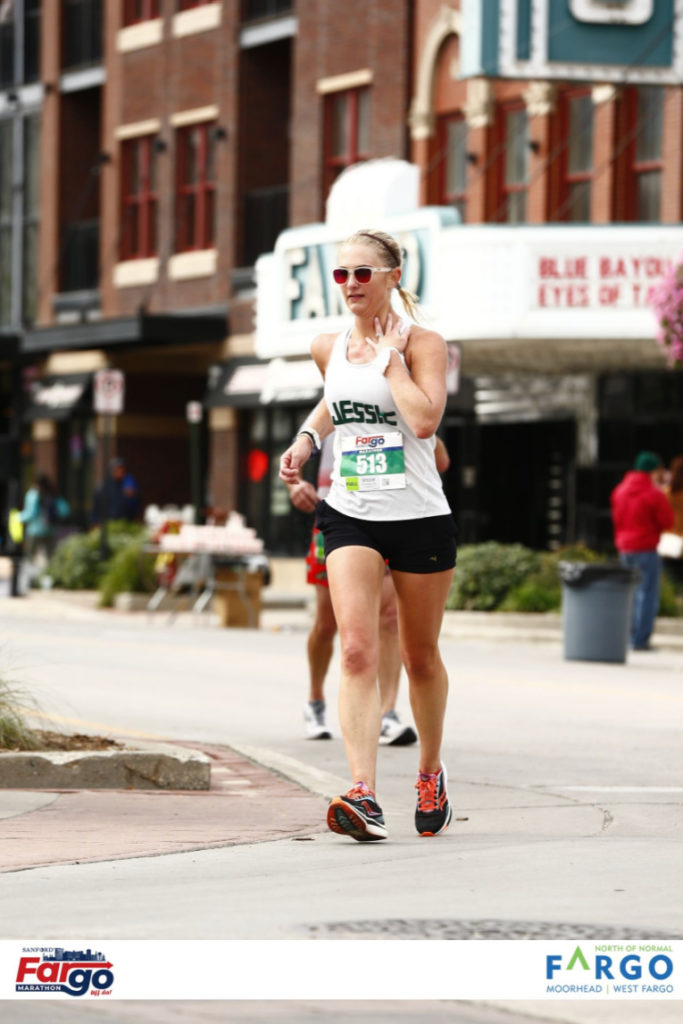 Back to the race!
Around 7:15 am, I left Dustin and got into the corrals between the 3:40 and the 3:45 pacer groups. There were some words from the Fargo mayor and then the national anthem.
The race actually started 2-3 minutes late; it was supposed to begin at 7:30 am, but by the time the national anthem was done, it was past 7:30. Oh well! (The soloist who sang the National Anthem was pretty amazing, by the way!)
And we were off! I'll share my mile splits per my Garmin:
Mile 1: 8:43
Mile 2: 8:29
Mile 3: 8:31

Mile 4: 8:30<–I chatted with a woman from Houston for awhile around here; she was hoping for a 3:48 (her BQ time would be 3:55). I hope she got it! We split ways after a mile or so. Everyone has to run their own race! Sometimes that's hard when you start talking to someone, but it's the right thing to do.

Mile 5: 8:40 <– took one Maurten gel here

Mile 6: 8:19

Mile 7: 8:15 <- saw Dustin for the first time here and I definitely sped up! He said he saw me at 8 different spots, which was so fun. I could always spy his green jacket from pretty far away and it was such a treat to have him cheering for me; we're usually running the same marathons, so it was so special to have such a great cheerleader on the course.
He ran about 14 miles total from spot to spot along the course- he said several runners would recognize him and ask if he was running the whole thing, ha!


Mile 8: 8:22
Mile 9: 8:34
Mile 10: 8:36 <– took another Maurten gel here
Mile 11: 8:33
Mile 12: 8:46

Mile 13: 8:28 <– I think this is where we ran through a college campus (Concordia college, maybe?) with all kinds of 'dragon' stuff- that must be their mascot- and plenty of hungover college kids who came out to cheer! The University of Minnesota Moorehead campus was around this point too. I'm impressed college kids got up that early!

Mile 14: 8:38
Mile 15: 8:22 <– took a salted watermelon GU here
Mile 16: 8:37
Mile 17: 8:11

Mile 18: 9:06 <– bathroom stop. There were plenty of porta-potties on the course, but at this point, I happened to be right by a dog park with a bathroom, so I stopped there. According to my Garmin, I lost a minute (55 seconds of extra elapsed time.)

Mile 19: 8:36
Mile 20: 8:31 <— took one more Maurten gel here
Mile 21: 8:33

Mile 22: 8:17 <– I must have still been feeling good!
Honestly, I am so happy with how I felt the whole race. I felt in control, strong, happy.
I was running the marathon, the marathon wasn't running me.
Yes, the final 2-3 miles were hard, but aren't they always hard? The first 23 were seriously such a joy!
I can't remember which elite runner said that smiling helps during a marathon, but I TOTALLY believe it. The races where I smile at spectators and laugh at signs are the races where I feel the best! This was one of those races. It's best for me to take the focus outside of my own performance and outwards to the incredible experience and magic that is the marathon. I friggin' love it. It's like no other.
Fargo was such a sharp contrast to Sun Valley, Idaho, which had no spectators whatsoever and was truly a solo-race for performance. That kind of marathon is fine sometimes, and I'm still glad I ran it, but I do better with some spectators and distractions (yet not as well at the huge marathon majors, even though I've run all six of those!)
At this marathon, we seriously ran through every college campus and neighborhood in the Fargo/Moorehead area (yes, this race technically crosses from North Dakota into Minnesota, but is still considered a North Dakota marathon for the 50-states!)
Yet running through all the random streets was a great distraction. So many cute dogs to distract me, ha! I also saw several elderly couples come out in their front yards- it was so sweet and warmed my heart. Some good people in Fargo, that's for sure!
(I'll look past the mask protest that was going on at mile 23….)
The marathon had dozens of bands playing along the way- from bagpipes to high school marching bands to 80's rock cover bands – I loved it!
Just look at the course map- so many turns!

Mile 23: 8:39 <– I'm not 100% sure, but I think I took one more gel here, so either 4 or 5 total over the whole race; I grabbed a few at an aid station so I'm not sure if I took a 5th.
The aid stations were every two miles to start, with both water and Powerade, and then every mile in the final 10k. Great volunteers plenty of support. Great job Fargo!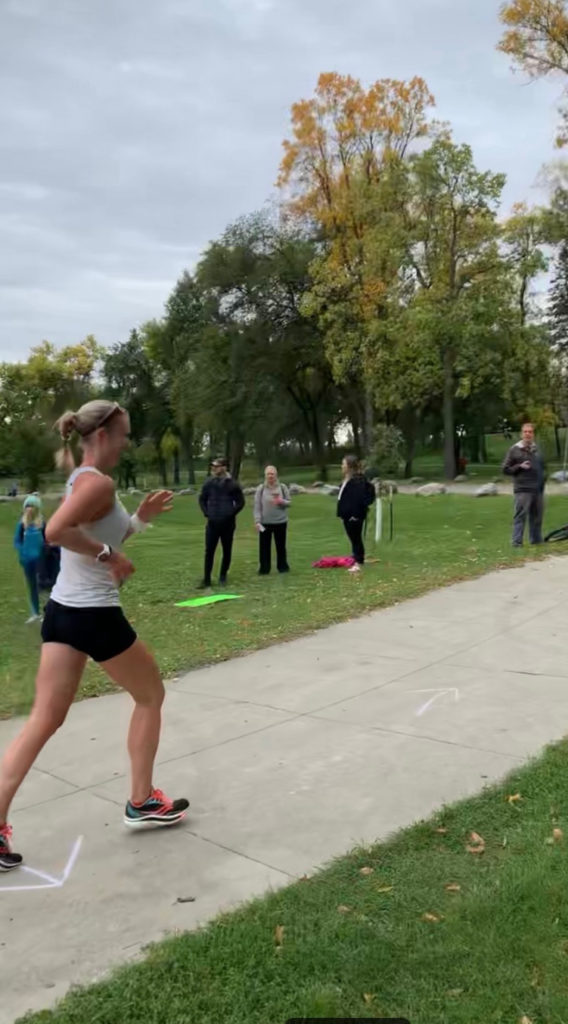 Mile 24: 8:54

Mile 25: 9:13 <– I saw Dustin again at this point and was moving a bit more slowly. Apparently he was jogging behind me a bit but decided against anymore cheering, ha! I was just concentrating on continuing to move forward, no matter the pace. I was proud of myself for never walking, even through any water stops. I just kept motoring along! At Hood to Coast, we tracked "kills" or the number of other teams we passed; I think I got a lot of "kills" in the final 10k of this marathon, which felt pretty great!
Here I am coming around the final bend before the Fargodome. Full send!

Mile 26: 8:34 <– the finish line is right inside the Fargodome, which was kind of neat! I don't think I've ever finished a marathon inside before, that was a first.

Official time: 3:42:16
My garmin technically only showed 25.95 miles, but Fargo is a certified course; I think it got a little off because we started inside the Fargodome and I didn't have a satellite connection yet. I guess one tip for others is to go outside shortly before the race to get a satellite connection and then come back inside! I didn't even think about that.
I found Dustin right away at the finish; I made my way through the finish chute and received my medal:
I also grabbed some water, chips, and a fruit cup. Apparently there was a lot more post-race food somewhere, but I must have missed it! I ran into a Strava friend, Nate, and we chatted for a bit as I made my way out. I believe he set a PR with 3:38. Way to go!
Dustin and I waited in line for what I thought was the free post-race Sam Adams beer, but all they had was Truly, which I don't really care for, so I skipped it.
We walked out to the car, drove back to the hotel (we stayed at the Element in West Fargo), showered, and then headed to Sol Ave. Kitchen in Moorehead for some food. Post-lunch, we went next door to Junkyard Brewing Company for a celebratory pint.
After Junkyard, we visited the historical Moorehead Dairy Queen, home of the Dilly Bar!
It was kind of a neat little place; they are grandfathered into the original franchise agreement with regards to royalties, so they are able to keep prices surprisingly low! We had some ice cream (a banana shake for me, and a "chipper sandwich" for Dustin, which was basically a dilly bar between two cookies!)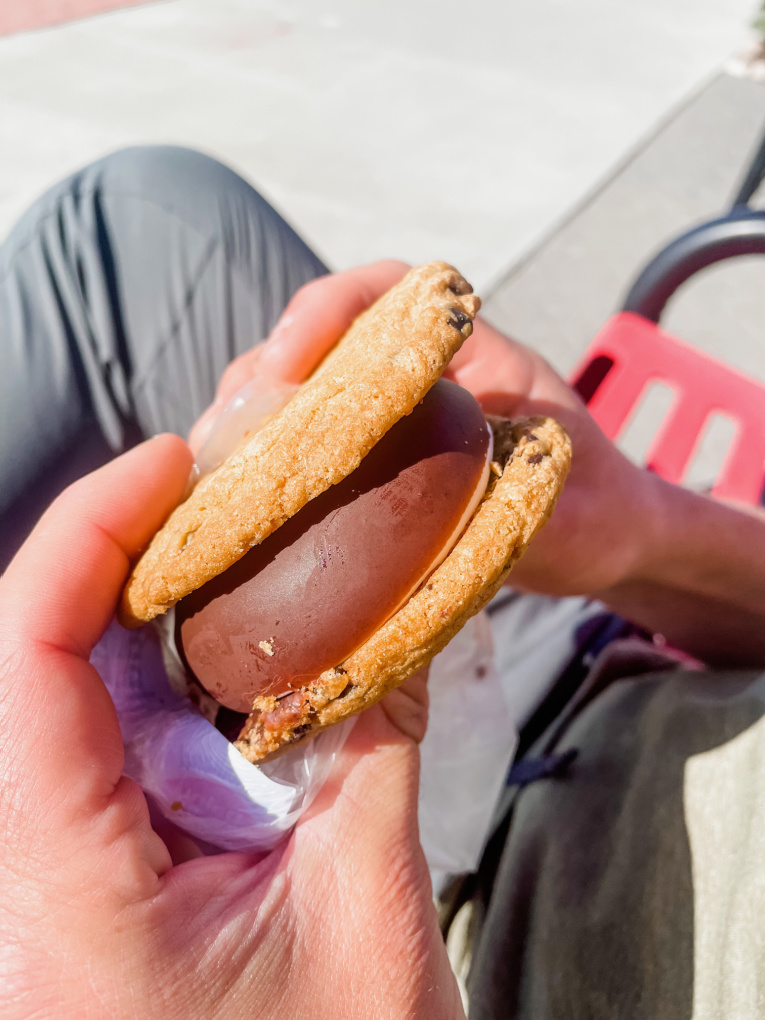 We went back to the hotel for a bit of a nap for me, but eventually did make it back out to downtown Fargo to explore a little bit more. It was a beautiful evening and the historical downtown area is quite charming!
Post-race, both the day of and the days after, I wasn't anywhere near as sore as I was after the Idaho marathon; apparently my legs like flat Fargo more than downhill Idaho, ha!
I'm really glad I ran Fargo this year. The weather was perfect, the course was flat and fast, and the town and residents were friendly. Normally, this marathon is in May (it was postponed due to Covid), so the weather might not always be so kind, but it was great marathon weather this year!
I love the marathon distance and Fargo definitely rekindled that love! I can't wait for the next one.
I'm sharing this post as part of Kooky Runner and Zenaida's Tuesday Topics link-up. Their official topic this week is "What's on your fall bucket list?" I thought my race recap would apply since running a strong marathon was definitely on my list!
Be sure to check out their blogs for more running (and fall bucket list) inspiration!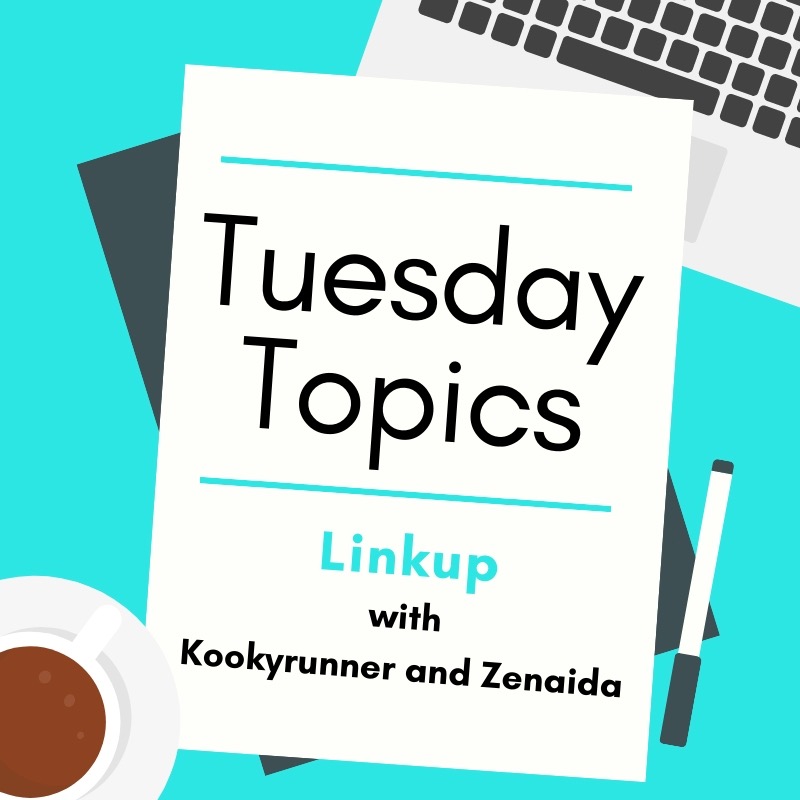 (Visited 745 time, 1 visit today)