Well, I did it. I ran my 36th marathon and 25th state (officially halfway done) yesterday. I will share a race recap this week- stop by! But first, I wanted to recap the week of the race, as that's an important one too!
Monday: Short little workout- 3 miles easy, 6x 1/2 mile at marathon effort with 1 minute jog in between, 1 mile cool down, 7.75 miles, 9:05 min/mile average.
The idea with this workout was to find that 8:30 min/mile rhythm which was my goal marathon pace for Fargo (or a 3:45 marathon.)
After work, I did a few core for runners classes on the Peloton app, but pretty much cut out strength training this week. My focus was rest!
Tuesday: 6 miles with Ruth, 8:40 min/mile average.
Wednesday: 4 early solo miles, 9:15 min/mile average
Thursday: A coworker from our NY office was in town, so I met him and another coworker for an easy lap around Lake of the Isles (plus a little extra distance), 3.6 miles total, 9:30 min/mile average. It was such a beautiful morning, Lake of the Isles was looking very pretty for our visitor!
Friday: 4 mile shakeout run, 9 min/mile in Minneapolis before hitting the road to Fargo.
We arrived around 1 pm, grabbed a quick sandwich at Potbelly's, and then picked up my bib at the expo at the Fargodome.
That evening was lots of nuun and a margarita pizza from Rustica.
Saturday: The marathon started at 7:30 am at the Fargodome. There was plenty of parking there, so Dustin came in and hung out with me until the race started.
Spoiler alert- I finished under my 3:45 goal and felt pretty amazing the whole time.
I think 3:45 is my sweet spot, where I can run and smile and be happy. Getting back to my PR (3:35) might involve a little less smiling, ha!
But seriously, I had so much fun at this race and my love for the marathon was rekindled, (I admit I was a little discouraged after Idaho.)
Post-race, post-shower, we had a delicious lunch at Sol Ave Kitchen, followed by a celebratory beer at Junkyard Brewing Company, and then a stop at the historical Moorhead Dairy Queen- home of the dilly bar!
I did crash for a bit of a nap after that, but then we had a bit more time to explore Fargo Saturday night, which was more interesting than one might expect. Fargo is a friendly town with nice people. 🙂
I'll share more in my race recap, but I recommend this race- flat, fast, friendly, good weather, easy logistics. Great choice for North Dakota!
Sunday: We had breakfast at BernBaum's in downtown Fargo, picked up some donuts from Sandy's to bring home, and hit the road back to Minneapolis! Easy-peasy logistics on this marathon trip. Since Dustin didn't run this race, we will probably be back to Fargo in the future for him to check off North Dakota as well! (He's running Boston in two weeks instead.)
Summary: 52 miles of running, limited strength training this week since it was race week.
I'm linking up with Running on the Fly and Confessions of a Mother Runner as part of their Weekly Rundown. Check it out!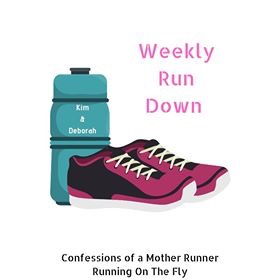 (Visited 356 time, 1 visit today)