Another week, another weekly recap of training for the Fargo marathon in 5 weeks! As far as I have heard, the marathon is still on, though I have started to see races get cancelled (Air Force Marathon, New Jersey Marathon.) Dustin is running Boston in October; so far they also haven't mentioned anything about a cancellation.
I'll keep training as though it's on for now!
(One quick thing- in addition to my weekly recap, I'm recapping my recent trip to the Boundary Waters HERE, check it out! The devastating news right now is that the BWCA is CLOSED to any visitors due to wildfires and drought. So sad!)
Here's how this past week went:

Monday: 7 miles, 9:20 min/mile average before work with Christie. I was still SOOOO tired from the BWCA. I am surprised I got up. Felt like I had run a marathon over the weekend!
We gained a dog on Monday; meet Odin! We were dog-sitting him while his humans were in Alaska. He's super chill and Ruth and Matilda love him.
Tuesday: I just couldn't get up before work. Sleep was much more needed. I was able to sneak out over lunch with Ruth for 7 miles, 8:45 min/mile average. It was a little warm for her, so we only did 5 together and then I went back out to get my full mileage.
Wednesday: Workout Wednesday! 3 mile warm-up followed by 4x(4 minutes at marathon pace, 1 minute faster), 5 minute recovery jog between sets, and then another 4x(4 minutes at marathon pace, 1 minute tempo), 1 mile cool-down. 10.6 miles before work, 8:58 min/mile average, Whew!
After work, I did a few strength classes on the Peloton app- some upper body and core.
We had a bocce game that evening and we played so poorly! I don't know what was up…we got crushed. No longer undefeated!
Thursday: Another tired morning. I slept in again and ran over lunch, this time 8 miles, 8:45 min/mile average, 5 with Ruth, 3 alone.
Ruth followed up the run with a power nap. I wish I could have done the same!
Friday: 5 easy miles with my friend Vicki (and Ruth again- she's getting lots of runs in this week!), nice and easy 9:35 min/mile average. Humid out there!
After work, I did 30 minute "Strength for Runners" class with Matt Wilpers on the Peloton app.
Saturday: 16 mile long run with some marathon pace in there, 9 min/mile average. I started out really easy for me, like 10:30's. I was tired, but eventually warmed up and settled in and was able to do some miles at goal marathon pace. My workout was supposed to be 4 miles easy, 5x(1 mile at marathon pace, 0.5 mile at tempo, 0.5 mile recovery), cool down to 16-18. I struggled to pick it up on the tempo 1/2 mile but did my best. I checked my phone at the end and Dustin had texted asking if I was home and if I could pick him up. Similar to my run a few weeks ago, where Christie gave me a ride, he was not feeling great. So I cut the cool-down short to get home to head to where he was for a rescue!
Same sports bra twice in one week! Don't worry, I washed it, ha! It's a really old Flyout bra from Oiselle that I still love; it has a secure pocket on the back for your phone and wide supportive straps. It's a winner; if they bring it back, I will definitely be purchasing another one!
Saturday evening, we had tickets to the Van Gogh Immersive Exhibit (the one that is making its tour across the country.)
After the 35 minute show, we grabbed dinner on the patio at Centro in NE Minneapolis and it was just one of those perfect summer evenings…
Speaking of Van Gogh, I was reminded of the time many years ago that my sister Erin was in town around Halloween, and we went to a party dressed as Frida Kahlo, Van Gogh and…a paintbrush! I put a lot of work into my paintbrush costume and everyone thought I was a troll. Ha!
Sunday: Sunday run with Dustin and Ruth; maybe a strength class with Peloton later today.
Summary: 60 miles of running, some strength training classes on the Peloton app.
The week started out hot and humid, but ended on a much milder note, making for a really nice weekend. But I'm not ready for summer to be over yet!
I'm linking up with Running on the Fly and Confessions of a Mother Runner as part of their Weekly Rundown. Check it out!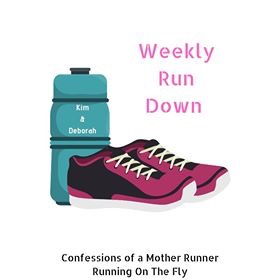 (Visited 278 time, 1 visit today)